Business Matters
Portal Container Village adds businesses and improvements
Bellingham's waterfront center looks ahead to 2024 season
July 7, 2023 at 4:50 a.m.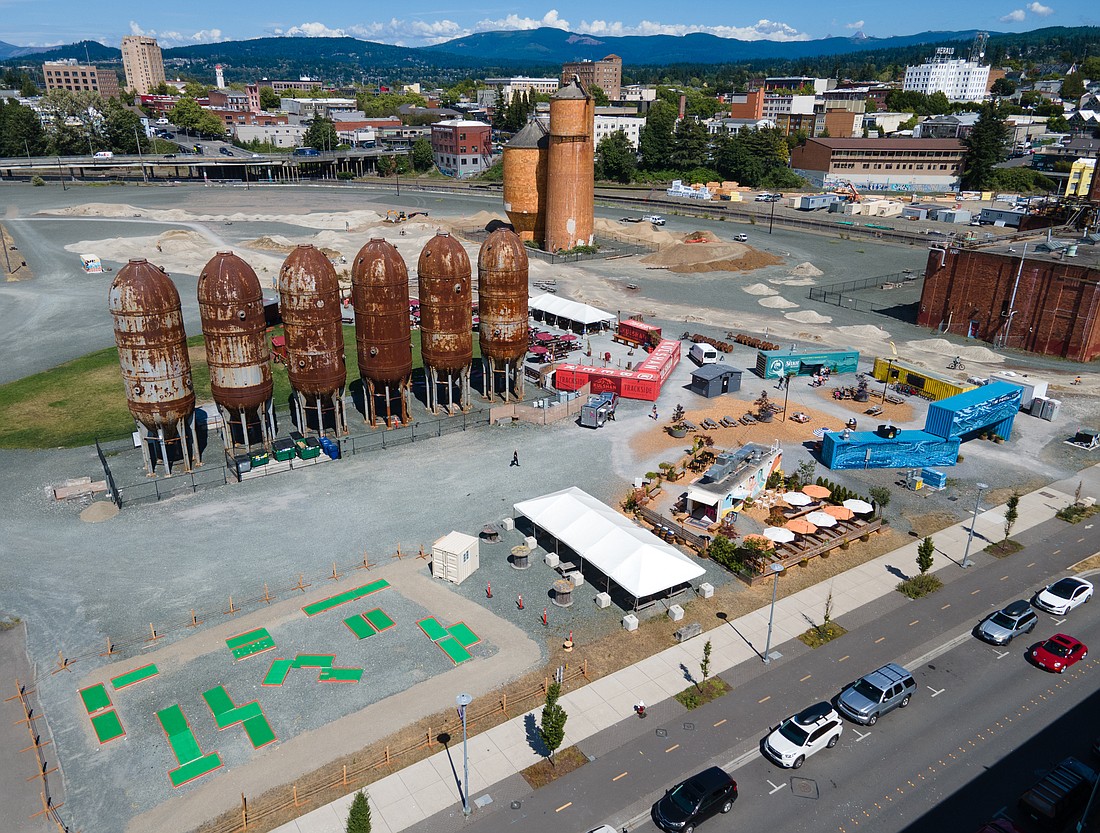 ---
---
An enlarging Portal. A unique restaurant, retail and entertainment center on downtown Bellingham's waterfront has welcomed summer with visible signs of an expansion promised last winter. 
Earth-moving equipment has been at work behind existing businesses at The Portal Container Village, in part preparing 296 W. Laurel St. for new seasonal tenants in the Portal's signature repurposed metal shipping containers. 
First to move into an area framed by The Selkie Scoop and Kulshan Trackside Beer Garden will be Bin 13 Wine Bar, which expects to open in September in what the Port of Bellingham's Mike Hogan said will be two 20-foot containers with a rooftop deck. Bin 13 will be followed in the 2024 season by Zeeks Pizza in one 40-foot and two 20-foot containers nearby, Hogan said, along with a second rotating container shop housed in a 20-foot space available for rent by local artisans and vendors. 
The latest arrivals will join current Portal anchors Kulshan Brewing Company, The Selkie Scoop, Our Kitchen, Rain or Shine Riviera Club and Sun-E-Land Bikes, plus the original rotating Container Shop.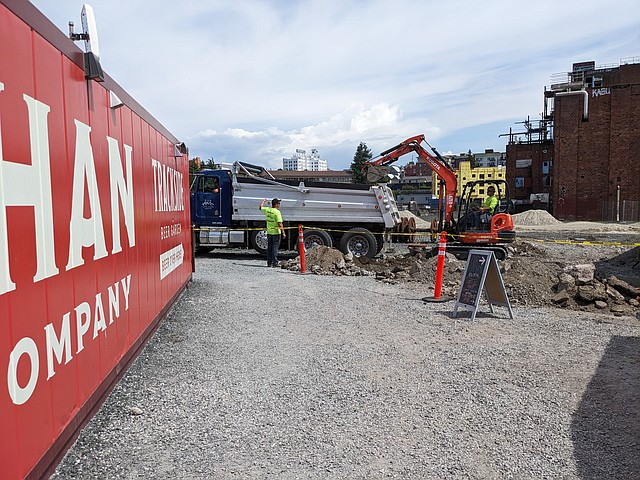 And visitors won't have to wait until fall to see new stuff that's not inside a container.
Portal Putt opened Saturday, July 1. Billed as "Bellingham's only outdoor mini golf course," Portal Putt's nine holes — of a wooden-platform style — are more about technical play than themed decorations, according to co-owner Jeff Nelson. Portal Putt's season will run through October, and it hopes to expand to 18 holes in 2024 (this year, mini-golf fans can buy a discounted two rounds to play a full 18). 
"They are designed to be fun and challenging for all ages and levels," Portal Putt's Kirsten Lutes said. "We are really excited about offering another outdoor, family-friendly activity to this burgeoning waterfront district."
Other changes already completed include string lights throughout The Portal and expanded parking across West Laurel Street. Even the connected bike park is growing: the Port and Whatcom Mountain Bike Coalition have been adding advanced dirt jump lines around the old pulp storage towers before the Northwest Tune-up festival begins Friday, July 14.
It's a continuing transformation for land on the former site of a Georgia-Pacific pulp and tissue mill.
Hogan said the improvements and related Portal events have been "extremely well received" with the Portal itself starting to become a tourist destination on Bellingham's downtown waterfront.
Oahu, meet Everett
Alaska Airlines is adding its longest flight from Paine Field in Everett. Again.
Honolulu will be the Seattle-based airline's newest nonstop destination from Paine Field starting on Friday, November 17. During the 2023 holiday season, Alaska will fly a 9:10 a.m. outbound flight to Oahu and an overnight return that leaves at 11:25 p.m. But in January 2024, that returning red-eye to Everett will instead become a late-arriving 2:40 p.m. flight from the island.
The first-ever Alaska flight connecting Everett to Hawaii follows the first-ever Alaska flight connecting Everett to Anchorage, a route the airline began serving in November 2022. At that time, Anchorage was the farthest destination it served from Paine Field. 
In its announcement, Alaska said the year-round service will be on Boeing 737 aircraft. Most flights out of Paine Field, where Alaska and its corporate sibling Horizon Air are the only commercial passenger carriers, are on Embraer 175 regional jets. Exceptions, Alaska said, are certain 737 flights to Phoenix and Las Vegas and now Honolulu.
Alaska and Horizon have direct flights to a total of 10 destinations from Paine Field, including San Francisco, Los Angeles, Orange County and San Diego;  two of them, Palm Springs and Tucson, are seasonal. Earlier nonstop flights to Boise and Spokane from Paine Field have been discontinued. Pre-pandemic destination Los Angeles was re-added in April of this year.
A quick check with the Port of Bellingham found no changes to Alaska service for Bellingham International Airport, other than anticipation that the airline will begin to reverse reduced flights between Bellingham and Seattle — caused in part by a shortage of pilots — by next year.
Tulip totals
Numbers are in for the 2023 Skagit Valley Tulip Festival, and they're up. An estimated 300,000 people attended the month-long April event, according to Cindy Verge, the festival's executive director. That's an increase from the 250,000 visitors in pandemic-depressed and weather-challenged 2022, but not quite back to 2019's estimate of 385,000.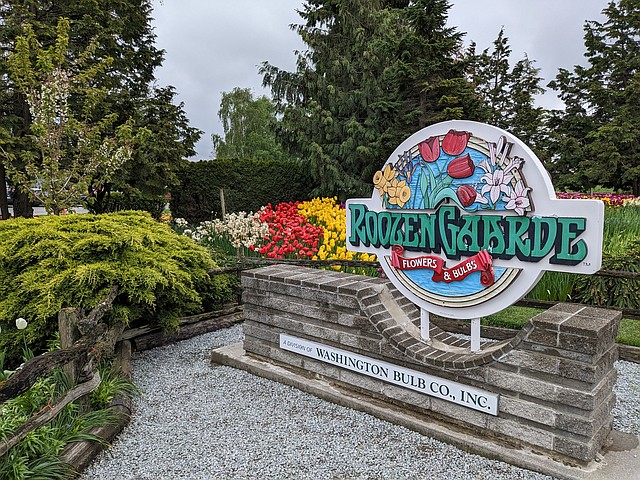 Verge said the late tulip bloom this year kept the numbers down, but the PACCAR Technical Center open house in Mount Vernon during the festival had "historic" attendance of more than 3,500 people. Also successful, she said, was the Kiwanis Salmon Barbeque that raised $100,000 for community projects.
Retiring execs
Meanwhile, Skagit Valley Tulip Festival Executive Director Cindy Verge has announced she's retiring this fall. Verge joined the Tulip Festival staff in 1999 and became executive director in 2003. Verge is credited with increasing online sales of festival merchandise that began with an official poster and expanded to 10 different items. The festival said online sales made up 14% of the Mount Vernon organization's gross income in its last fiscal year.
North Coast Credit Union President and CEO Marilyn Brink will retire at the end of 2023. A news release from the financial institution said Brink, who joined Bellingham-based North Coast in 2002 and has been in her current role since 2017, made the announcement at the credit union's annual meeting. North Coast has branches in Bellingham, Ferndale, Mount Vernon, Anacortes and Sedro-Woolley, and said it had a record 20,818 members at the end of 2022.
Places & Things
Skagit Valley Malting in Burlington appears to have abruptly shut down. The craft malthouse, which said it provides ingredients for "craft beer, distilling and baking customers," notified the Port of Skagit on June 16 that the company had closed, according to Port Communications Director Linda Tyler. The business is located at 11966 Westar Lane near Skagit Regional Airport, Chuckanut Brewery and Garden Path Fermentation. The company did not respond to emails requesting comment. 
(For the latest Places & Things, check here throughout the week.)
Frank Catalano's column is published online and in print Fridays. Email: frankcatalano@cascadiadaily.com; Twitter @FrankCatalano.