Travel
10 miles of hikes on Orcas Island
Exercise, gorgeous views and a bit of history
July 5, 2023 at 5:00 a.m.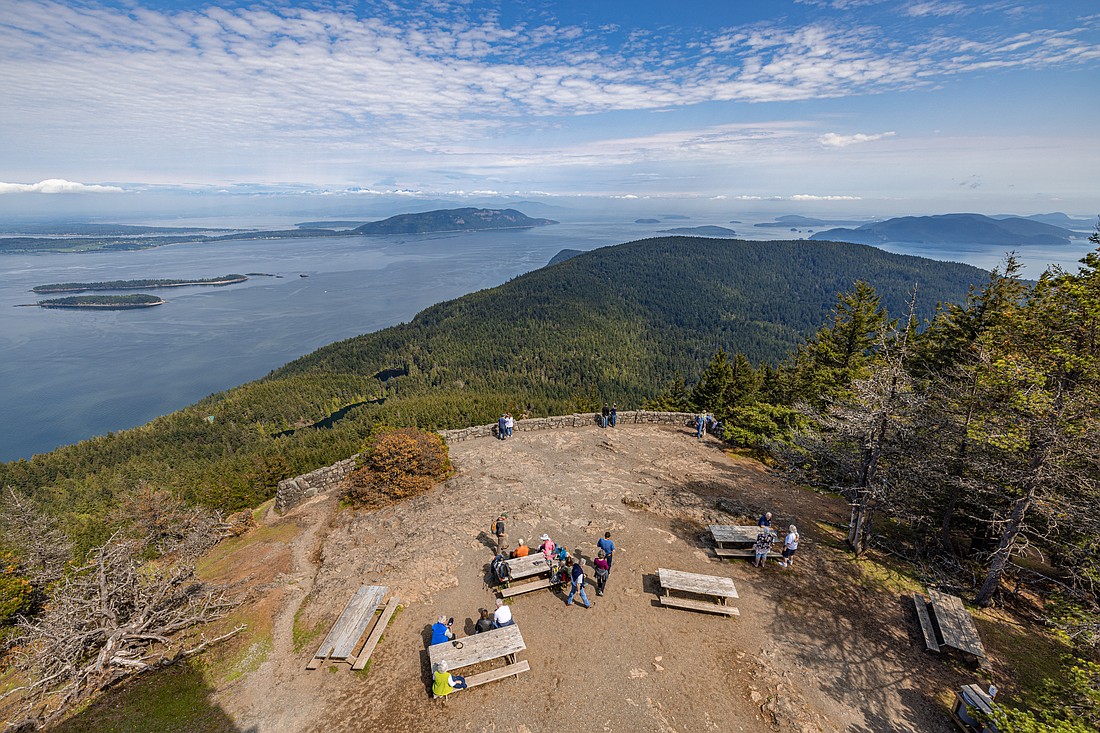 ---
---
EASTSOUND, San Juan County – Dave Zoeller could hardly wait to share his knowledge of Orcas Island.
This is what happens when someone has lived in a sublime locale for 50 years.
Zoeller, 73, met a group of Hamster hikers at Darvill's Bookstore & Coffee Bar in Eastsound as they fueled up for a day's worth of hiking on the largest island in the San Juan archipelago.
It didn't take him long to start feeding us information at a trailhead at Moran State Park.
"I got lost after you said, 'Pull over and park here,'" Bellingham realtor Ken Harrison said.
Zoeller scheduled four hikes totaling more than 10 miles to give us a flavor of a horseshoe-shaped isle that rises beyond Lummi Island from Bellingham Bay.
At 5,424 acres, Moran State Park is outdoor central with woodlands and five lakes.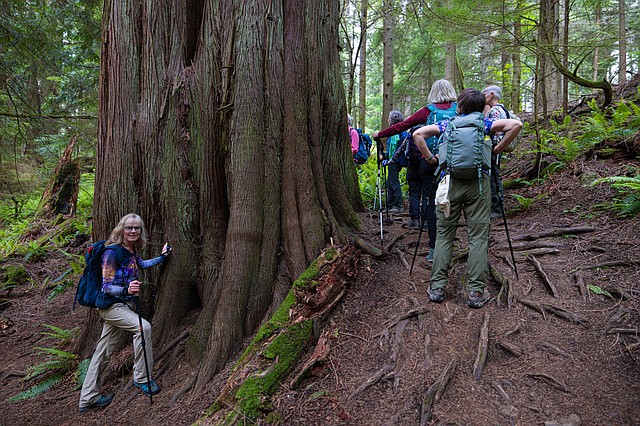 The state park's namesake, Robert Moran, arrived in Seattle in 1875 with hardly any money. He built a successful shipping business and served as Seattle's mayor.
Moran retired to Orcas Island after accumulating a big chunk of property. In 1911, he tried to donate some of his land to the state for a public park, but state officials didn't have a way to accept the offer. 
The 106-year park system started in 1915 with Larrabee and Jackson House Heritage Site in Chehalis.
State officials finally accepted Moran's offer in 1920 to donate 2,732 acres to the Parks and Recreation Commission. It is the state's fourth park and the largest in Western Washington.
"The gift of land for public use makes Orcas pretty special," Zoeller said.
Zoeller, the commissioner for Orcas Island Health Care District, led us through a second-growth forest to Mountain Lake Dam below the summit of Mount Constitution. The tranquil lake has an alpine feel, though close to roads.
Moran State Park's 38 miles of trails exude such vibes. Visitors aren't far from civilization, yet the place feels isolated.
The aura has survived a more than doubling of the island population since Zoeller arrived in the early 1970s. It has about 6,000 residents, changing the character a bit.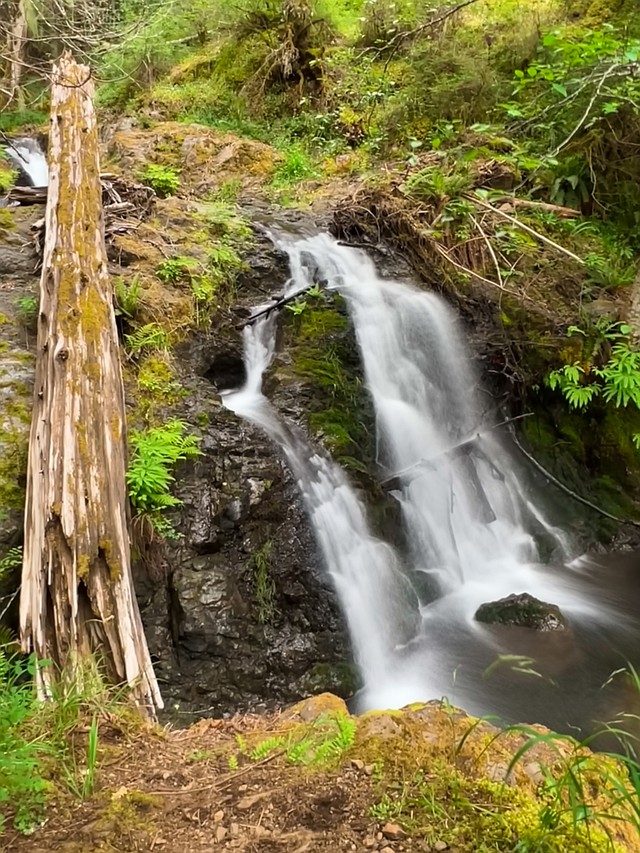 "But people kind of self-select," Zoeller said. "If you come here and want to bring everything you left — Walmart and all that stuff — after a while, it doesn't work for you."
After leaving the small dam at Mountain Lake, Zoeller led us down a side trail past a series of gushing waterfalls on a hikers-only trail next to Cascade Creek. 
At 40 feet, Cascade Falls is the tallest waterfall on the San Juan Islands. But it's not the height that made the trail special. It was a series of cascades — Rustic, Cavern and Hidden falls — and some big conifers that turned the area into a fairyland.
Afterward, we stopped at Coho Preserve, a small parcel managed by the San Juan County Conservation Land Bank. The group covered a three-quarter-mile lollipop loop through a gorge carved by Paul Creek — named for Robert Moran's brother.
For lunch, we drove past the village of Olga to Obstruction Pass State Park at the southern foot of the island. The Department of Natural Resources managed the 76-acre parkland until 2005 when it became the property of the state park system.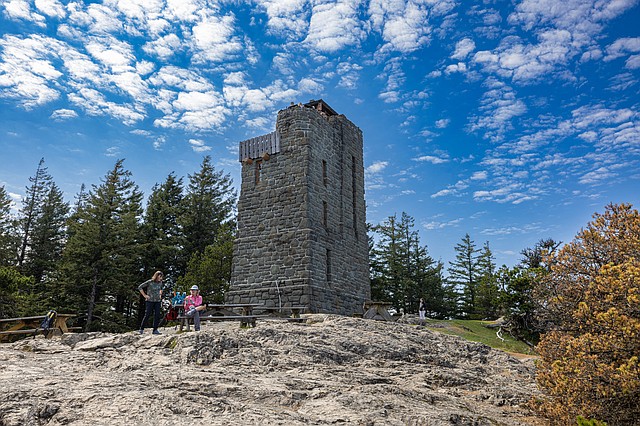 The trail descended through a forest, ending at a pebble beach with driftwood logs for seating and views of Lopez, Blakely and Obstruction islands.
It's one of Orcas' rare public beaches with 1 mile of saltwater shoreline. With 10 primitive campsites, the park is a stopover for kayakers on the Cascadia Marine Trail from South Puget Sound to the San Juans.
I could have lounged at the sunny beach, but Zoeller had one more trail to cover. We drove halfway up to Mount Constitution, the highest point in Western Washington between the Olympic and Cascade ranges at 2,407 feet.
Zoeller took us up a steep incline popular with mountain bikers until we reached the Mount Constitution parking lot. As if the day didn't already have a treasure chest of scenery.
On clear days, the summit offers sweeping views of other San Juan islands, Bellingham, Vancouver, Mount Baker and Mount Rainier.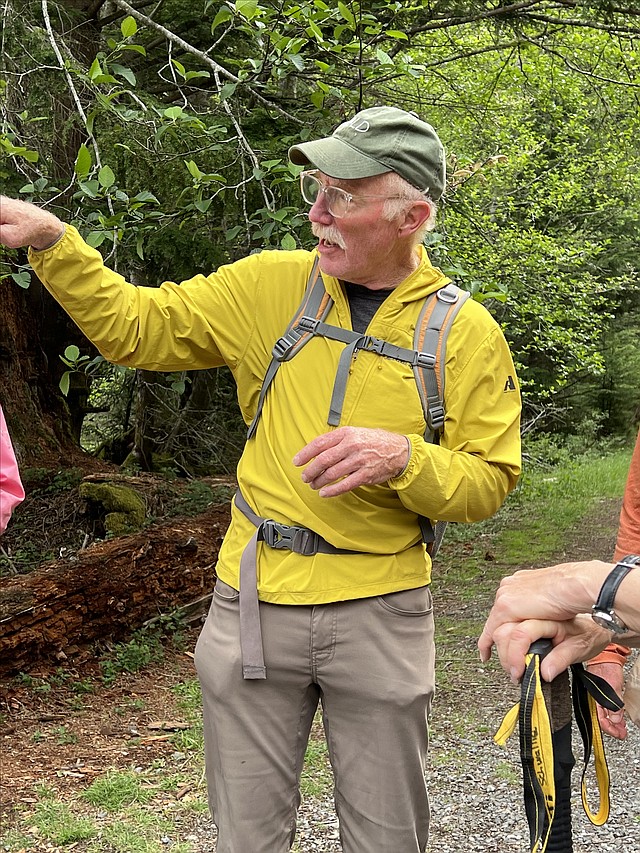 It also features a stone tower replica of Russian watchtowers constructed in the Caucasus during the 12th century. The Civilian Conservation Corps built the tower in 1936.
Many visitors drive to the summit. The park also has an 8.3-mile roundtrip hike from Cascade Lake with an elevation gain of 2,237 feet.
Or, if pressed for time, park where the Cold Springs trail intersects with the road and zip up the Little Summit route to the top.
While Moran is the main place to recreate, Turtleback Mountain Preserve — part of the Conservation Land Bank — has 8 miles of trails on the west side of Orcas.
"It is one of my favorite views on the island," Zoeller said.
But really, how can anyone pick just one spot when all 57 square miles of Orcas are heavenly?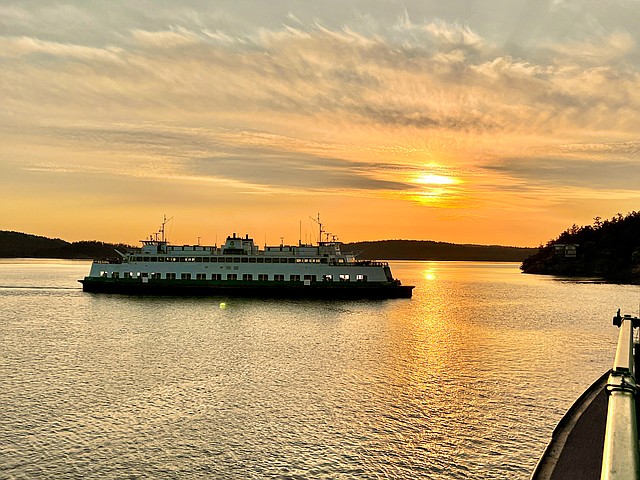 If you go
Resources
The Orcas Chamber of Commerce, 65 North Beach Road, Eastsound. Info: 360-376-2273.
San Juan Islands Visitor Bureau
Getting there
Make reservations throughout the summer — and probably whenever planning a trip — at Washington State Ferries.
Dining
The Inn at Ship Bay — Chef Geddes Martin grows his own produce in an extensive garden, orchard and greenhouses. 
Matia — Received a 2022 James Beard Award for Best New Restaurant — the only one in Washington state. 
Mijitas — Where our group ate, makes everything fresh daily, including their salsas and tortillas. 
Wild Island — This breakfast and lunch spot features a primarily plant-based menu, plus a juice bar and espresso drinks. Indoor and outdoor dining, and free outdoor concerts throughout the summer.
Other recommended spots include The Barnacle and Buck Bay Shellfish Farm.
Places to stay
Kangaroo House Bed and Breakfast, 1459 North Beach Road, Eastsound. Info: 360-376-2175.
The Orcas Hotel and Cafe, 18 Orcas Hill Road, Orcas Island. Info: 360-320-6415.
Doe Bay Resort & Retreat, Doe Bay Road. Info: 360-376-2291.
More places to stay: visitsanjuans.com/stay-orcas-island.
Kayaking
Shearwater Kayaks, offers guided tours. 138 North Beach Road, Eastsound. Info: 360-376-4699.
Orcas Outdoors, offers guided tours from the ferry terminal. Info: 360-376-4611.
More options: visitsanjuans.com/kayaking.
Cycling
Wildlife Cycles, 350 North Beach Road, Eastsound. Info: 360-376-4708. To rent bikes: 206-714-3348.
Whale Watching
Outer Island Excursions, 414 North Beach Road, Eastsound. Info: 360-376-3711.
Wandering Around
Olga, south of Moran State Park, is known for its artists' co-op, Orcas Island Artworks. It is housed in a historic 1936 strawberry packing plant along with the Catkin Cafe, which features locally grown ingredients.
Deer Harbor is located at the farthest western point of the island. It's a good place to rent kayaks, bikes, power or sailboats, or take whale/wildlife tours.