News Obituaries
Remembering the heart of Nelson's Market
Jon Ostby was more than a good neighbor
January 28, 2023 at 3:21 p.m.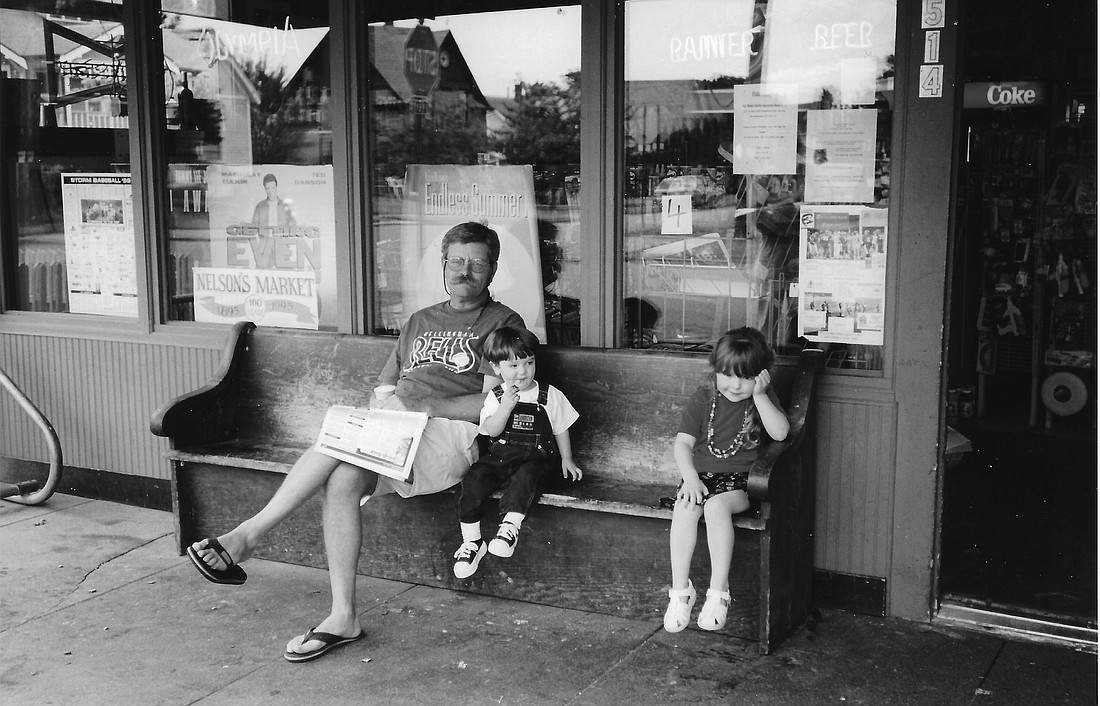 ---
---
Friday night was busier than usual at Nelson's Market.
The historic convenience store known for serving Bellingham's York neighborhood since 1895 was the site of a Jan. 27 tribute to longtime owner Jon Ostby. Friends, family, neighbors and loyal customers gathered together to share memories and pay their respects to a man known for his generosity and kind spirit.
It had been less than a week since Ostby, 75, passed away in the apartment above the store he shared with his wife, Anne Mackie, but members of the community he fostered in the 38 years he owned and operated Nelson's — as well as people he'd known since his youth — arrived in droves, coming from near and far.
Ron Smith — Ostby's friend since they met in Kennewick, Benton County, in the sixth grade — drove from Seattle to attend the event. He shared that when they were young, he and Ostby both had dogs, Bowser and Lucky.
"That's how I felt about our relationship — lucky," Smith said. "He was one of the dearest friends I ever had, and was a true character. That was evident very early on in life. There was a different tune playing in his head. He was a 'don't sweat the small stuff' kind of a guy and went through life at his own pace."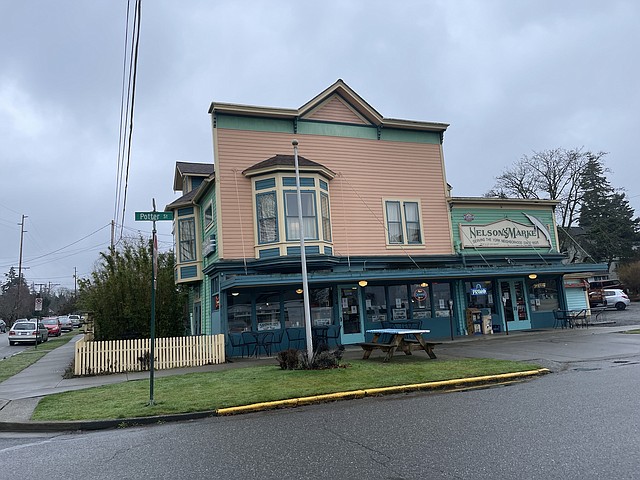 Smith was one of the many people in attendance who called attention to how Ostby and Mackie nurtured their neighbors, whether it was through hosting events such as horse-drawn caroling rides during the Christmas season and community cleanups; offering free ice cream cones to kids on the first and last days of school; keeping tabs for local customers; waiting with kids when the bus dropped them off in front of the store and their parents were late to pick them up; and providing a place to gather for a beer or have a conversation.
"He always had time to talk to you, to learn about you," said Rick Bullman, who was also part of Smith and fellow attendee David Swanson's friendship group. "He was a decorated [Vietnam War] veteran, but never talked about it.
"This was my 'Cheers' for decades," Bullman added. "If my wife couldn't find me, she knew where I was. It was a second home. I knew if I came here, I'd know other people. It was a magnet."
Mackie echoed many of the sentiments of those gathered to celebrate her husband's life. After hugging her two young grandsons and pointing out to them the photographs of their grandfather circulating on the television in Marlin's Cafe, she took a moment to reflect on his legacy.
"He was just salt of the earth," Mackie said. "He created a safe space for everybody and shelter from the storm. That's Jon. I'm heartbroken, but this is just lovely."
"This" was an assemblage where in every corner of the store and cafe, and spilling out to the front walkway and the patio, people — including Bellingham Mayor Seth Fleetwood and firemen who arrived in fire trucks — shared stories about what Nelson's Market and Ostby and Mackie meant to them.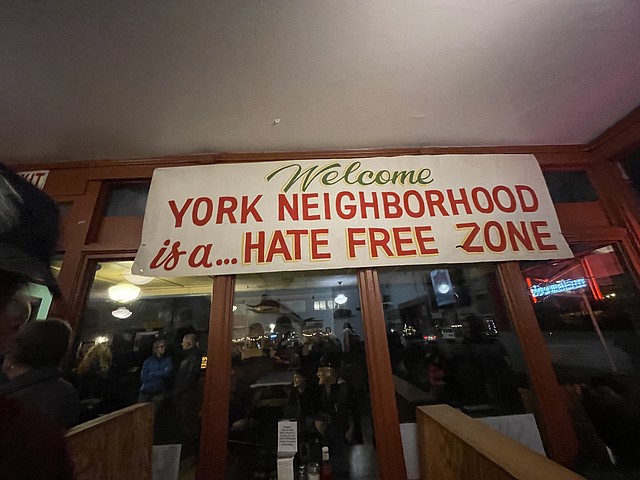 David Lofgren, a former employee at Nelson's who remained a regular even after he'd moved out of the neighborhood, said he looked at Ostby and Mackie as the de-facto mayors of York.
"Jon knew everybody and their kids," Lofgren said. "He also knew everybody's secrets — but not in a bad way. When you're the heart of a community, you're the keeper of all of this knowledge."
Other topics discussed at the event included Ostby's love of baseball, his disdain of modern technology (including cell phones and email), how he got into sailing later in his life with some of his aforementioned friends, and that he was well-read and philosophical.
Also mentioned was the fact that Nelson's Market recently sold to York neighbors Ben and Urania Shaklee, who live next door. The couple took over operations of the 128-year-old business this week as the new owners.
"Jon was in many ways defined by his generosity and love for the community," Urania Shaklee said. "In that spirit, the business proceeds from [the] event will be given to the Boys and Girls Clubs of Whatcom County in memory of Jon."
A celebration of Jon Ostby's life will be held this spring.