Basketball
Sehome girls foil Ferndale's comeback attempt
Cooper scores 22, Mariners earn crucial 64-56 road win over Golden Eagles
January 23, 2023 at 11:25 p.m.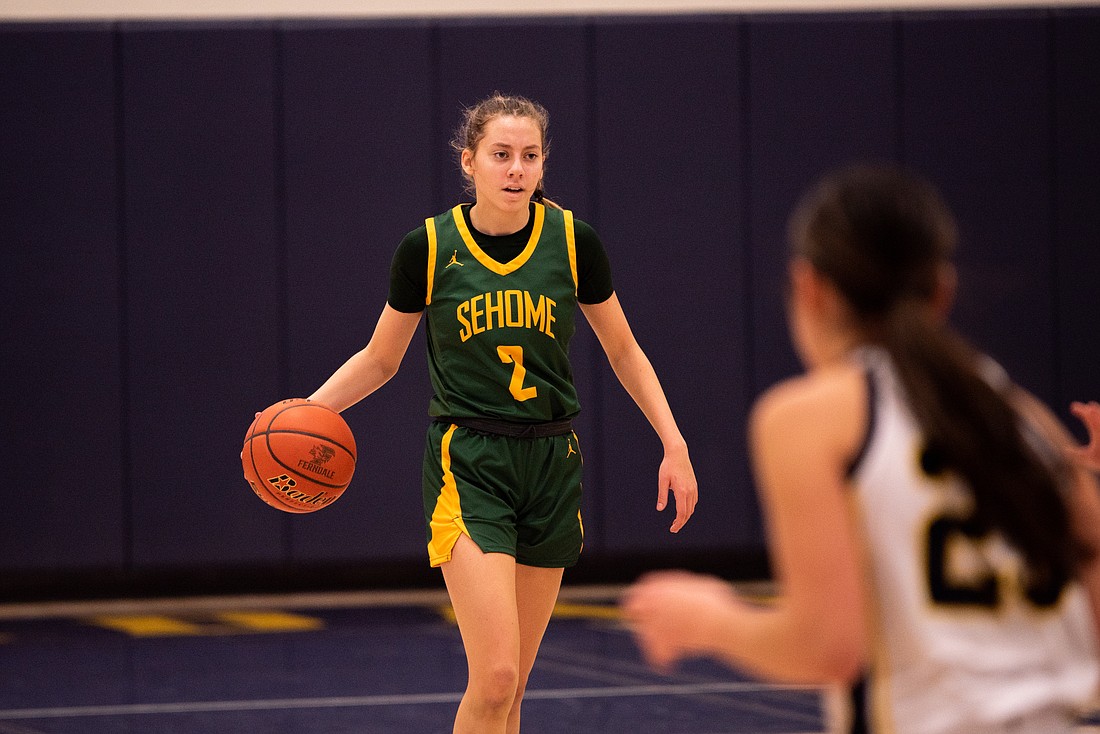 ---
---
FERNDALE – Sehome girls basketball survived a late comeback attempt by Ferndale on Monday night, emerging with a 64-56 road win.
Both teams came into the contest with a nearly identical point differential in league games. Sehome averaged 55.9 points while allowing 38.9, compared to Ferndale with 56.5 points and 37.6 allowed.
The game started off surprisingly lopsided with Sehome going on a 12-0 run from the first possession. The Golden Eagles got on the board after four minutes, but the Mariners simply could not miss. Sehome sank six 3-pointers and closed out the first quarter up 26-9.
Sehome junior guard Madi Cooper scored 10 points in the first quarter, finishing the game with a team-high 22 points.
"We were looking forward to this [game] before the season," Cooper said. "I saw a lot of opportunities out there to take it so I just went for it."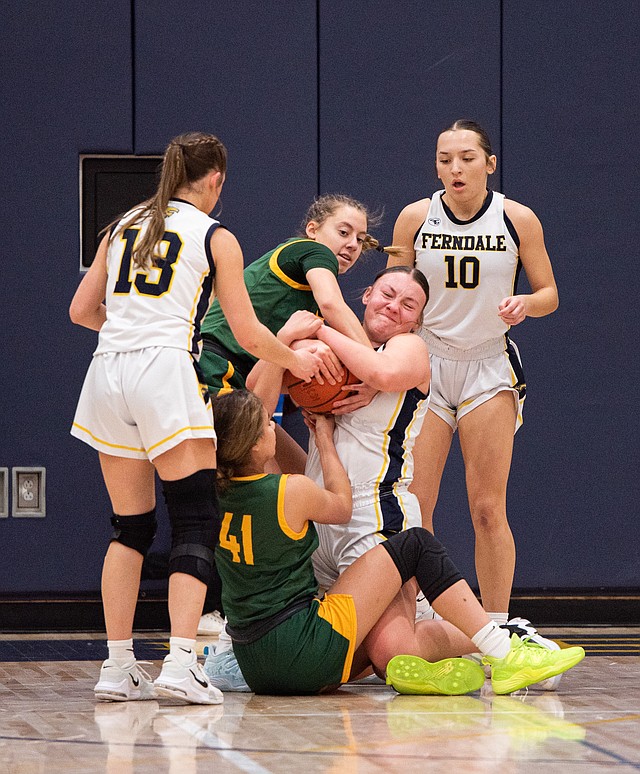 Fellow Sehome junior guard Emmy Hart became a consistent thorn in the Golden Eagles' side, knocking down an additional 18 points for the Mariners.
"We knew [the game] would be hard," Hart said. "I'm glad that we won."
Cooper and Hart have become a dual threat and are a key factor in Sehome's success this season.
"The dynamic duo: between them, I think they'd average 5-foot-5 … but they put a ton of time in during the off-season and 100-percent deserve all the credit for where they're at with their game," said Sehome head coach Kim Stensgar. "I was really happy to see both of them in such a big game be able to be successful."
Ferndale came out swinging in the second quarter. Paired with a defensive adjustment, the Golden Eagles began to reach the rim easier, outscoring Sehome 17-14 in the period led by senior guard Cailyn Kessen who finished the night with 16 points.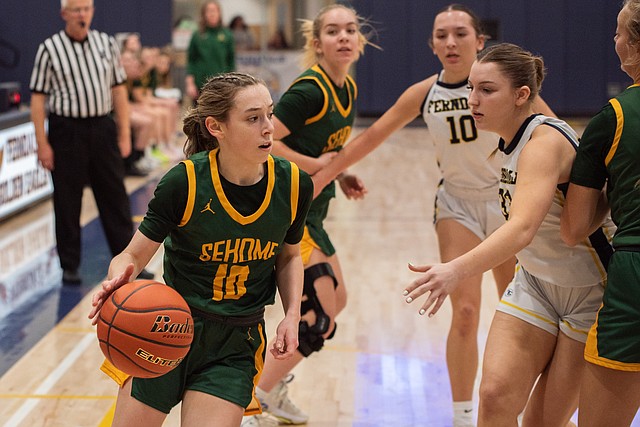 That effort allowed Ferndale to build some momentum despite going into halftime trailing by 14.
The third quarter featured scrappy defense on both sides, and Sehome narrowly outscored Ferndale 13-10 in the period.
It looked like the Mariners could continue to run away in the fourth quarter, but the Golden Eagles had other plans.
Ferndale's Kessen splashed two 3-pointers and was joined by an air raid of three teammates who finished with double-digit points: senior guard/forward Madisyn Butenschoen (11 points), senior guard Ellie Ochoa (10) and junior guard Mallory Butenschoen (10).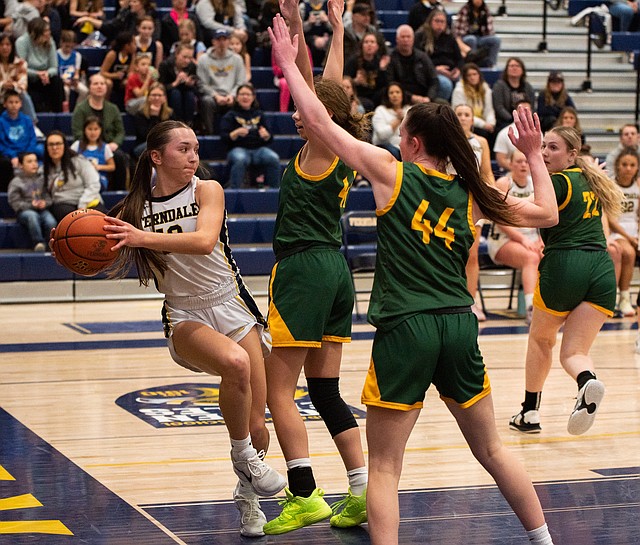 Despite outscoring Sehome in the final quarter 20-11, Ferndale was unable to match the Mariners, losing by eight.
In the wake of last week's crushing loss to Lynden Christian, Stensgar said the win felt really good for the Mariners.
"I have a pretty fearless group of kids and they knew we could've competed better than we did last week," Stensgar said. "This was kind of a big redemption game and a step in the right direction of playing the basketball we know we can play and playing the basketball that we need to be playing into February."
Sehome moved up to 14-2 overall (10-2 NWC) and will face another challenge when they head to Lynden (14-3, 9-2 NWC) this Friday, Jan. 27, at 5:40 p.m.
The Golden Eagles were knocked down a peg to 10-7 overall (9-3 NWC) and will travel to Lynden Christian (14-2, 9-1 NWC) on Saturday, Jan. 28, at 2:30 p.m.
Score by quarter
| | | | | | |
| --- | --- | --- | --- | --- | --- |
| Team | 1st | 2nd | 3rd | 4th | Total |
| Sehome | 26 | 14 | 13 | 11 | 64 |
| Ferndale | 9 | 17 | 10 | 20 | 56 |