Environment
New Fairhaven facility to bring clean energy storage to marine vessels
Corvus Energy opens its first U.S.-based manufacturing location
January 23, 2023 at 5:58 p.m.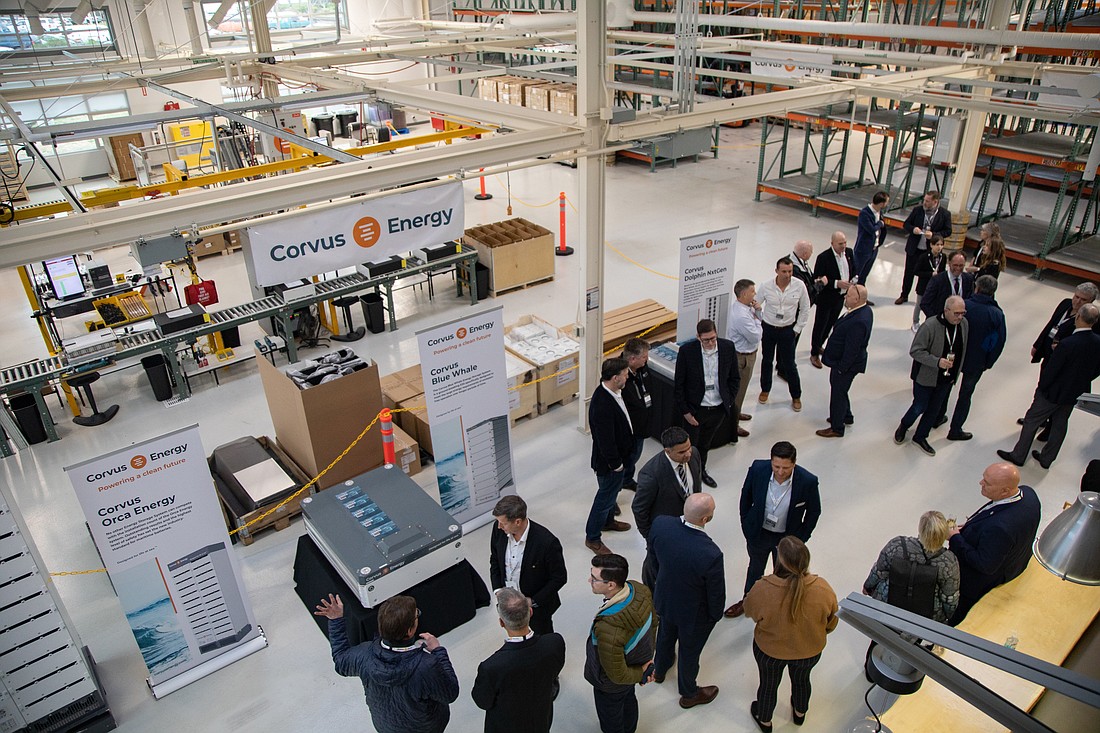 ---
---
Corvus Energy, a Norway-based energy storage company, celebrated the opening of its first U.S. production facility in Fairhaven Monday with informational tours, flowing champagne and a delegation of foreign dignitaries. 
The company, which produces "sustainable energy storage" for ships, ferries and commercial sea vessels, will launch operations in Fairhaven over the coming weeks, bringing in about 40 staffers to help create its battery storage products, including the Orca, the Blue Whale and the Dolphin battery packs.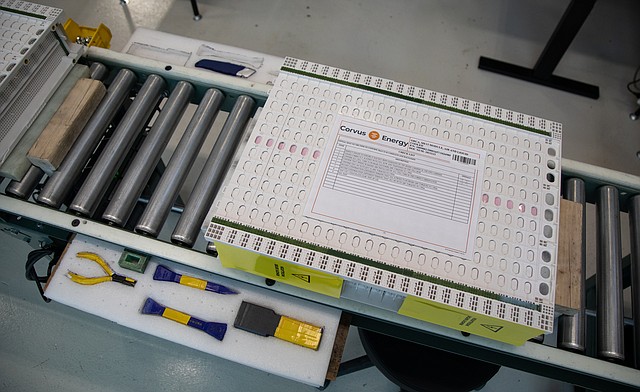 "Any time a governor can have 40 new jobs in a high-tech community that pays 40 percent over the average wage of the county, it's joyous," Gov. Jay Inslee said during the event. "Any time a governor can celebrate a new company that has no big smoke stacks coming out of it ... that's joyous." 
Local leaders, including U.S. Rep. Rick Larsen, Bellingham Mayor Seth Fleetwood, Whatcom County Executive Satpal Sidhu and Port of Bellingham Commissioner Michael Shepard, agreed with Inslee, citing support for growth and development of green energy jobs in the county. 
Shepard said Corvus Energy is a great addition to the growing clean tech manufacturing hub in Whatcom County. 
"We're really seeing this hub of industry choose Whatcom County as their destination and their home," he said after the event Monday. "We've got an electric bus manufacturer in Ferndale. We have a solar panel manufacturer at the Bellingham Waterfront. We have a marine battery propulsion company here in Fairhaven." 
The prospect of a "clean tech manufacturing hub" in Northwest Washington is appealing to legislators, who want to attract both jobs and environmentally conscious industry to the region. 
"This continues to put Washington state and our northwest corner of it on the map for green jobs and the commitment to electrification of the economy," Larsen said.  
Larsen serves as the lead Democrat on the House Transportation and Infrastructure Committee, and has pushed maritime investments throughout his tenure to "create jobs and build a cleaner, greener, safer and more accessible transportation system."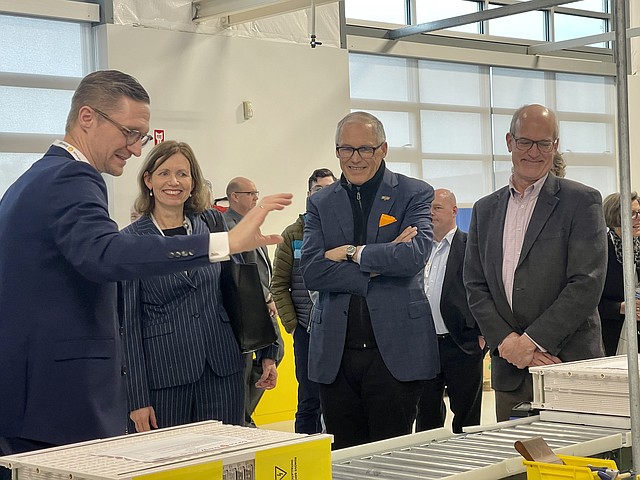 The facility is still in the process of being set up, with a production line running and bare shelves throughout the property, leased to Corvus by the Port of Bellingham. 
Corvus was wooed to the county by the Port of Bellingham, employees said, after a Port delegation visited the Bergen, Norway facility in 2019. 
Inslee stressed the importance of electrifying Washington's ferry fleet in the future to help fight rising carbon emissions, as well as to support local orca and salmon populations. 
Transportation consistently ranks as one of the largest sources of greenhouse gas emissions in Washington, and in 2018, it accounted for 44.9% of emissions in the state, according to data from the state Department of Ecology. 
"We know we have to decarbonize all of our transportation system, including maritime," Inslee said. "I've seen this battery in operation in ferries in Norway. I rode on one of them last September. It was beautiful, quiet, clean. There's no vibration. It's a wonderful technology. It's proven. It's working. There's no reason not to use it."