Profiles
The leveling chair: Barbershop and salon owner brings values, culture to craft
Customers leave Busy B's with 'more than just a haircut'
January 22, 2023 at 5:00 a.m.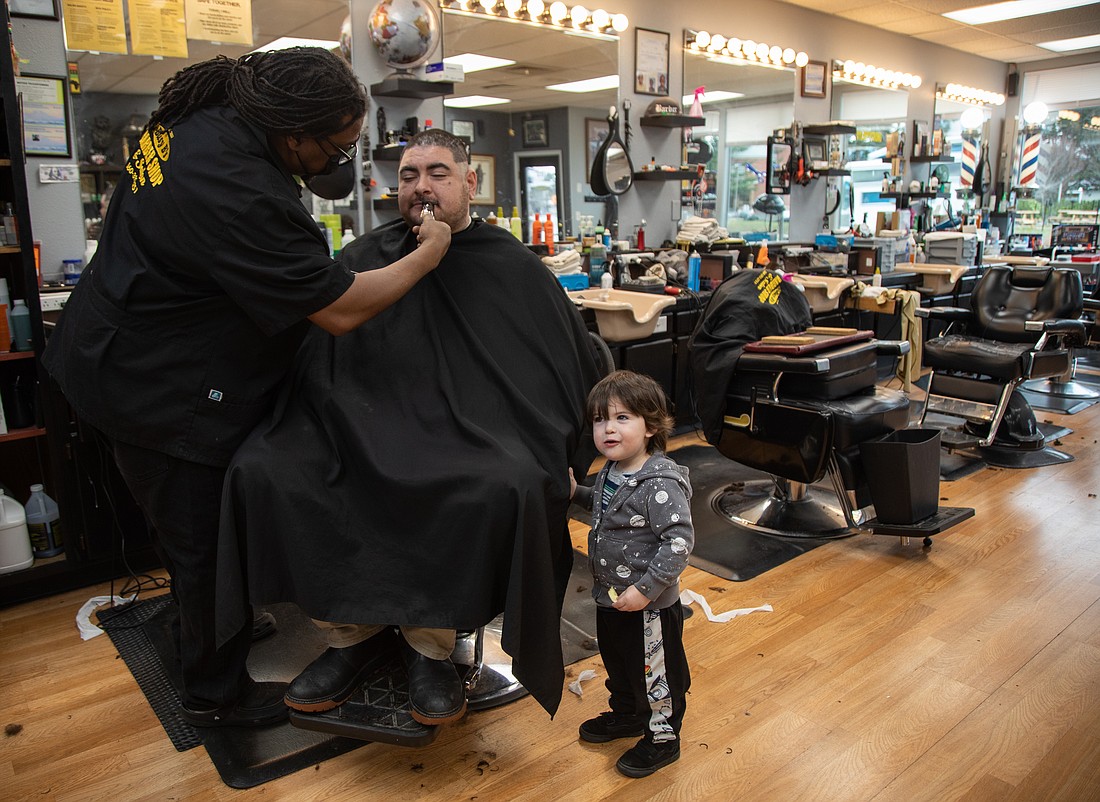 ---
---
Walking into Busy B's Barber Shop & Salon, there are five chairs to choose from, some worn from 15 years of new and regular customers cycling through. African art, posters of political figures, photos and quotes that shop owner Bernard Franklin has curated or been gifted over the years leave little real estate on the walls. Snipping scissors and buzzing razors compete with the academic lectures, interviews and documentaries that play from a TV in the corner. 
Regardless of race, creed, wealth, gender and age, customers of Busy B's all sit in the same level chair. 
"Whether you're a street bum or a college professor, I value both," Franklin said. "If you're a street bum, you have just as much power, leave just as strong an impact — whether you was a drug dealer or a nobody — than the person from the university, the judge from the courthouse, or the doctor from the hospital." 
And customers seldom exit the shop with only a fresh cut.
"I have clients say, 'I came here for a haircut and got an education,'" said Franklin, 52.
The barbershop and salon, located at 2207 Elm St. in the Fountain District, celebrated 15 years of business last month. Though Busy B's might suggest it's named after Franklin, he said the shop actually pays homage to The Busy Bee cafe in Atlanta, a city where racial violence was rampant during his childhood but businesses like the restaurant served as a cultural bridge. 
"The Busy Bee cafe — if I was in there eating dinner, our families might sit down and break bread at a table together," said Franklin, who grew up in the housing projects of Conyers, Georgia, a suburb of Atlanta. 
"I wanted to create that kind of society, that type of atmosphere here in my shop," he added. "It's more of a family-type environment, but at the same time, you can feel comfortable speaking on what you want to speak on, and not feel threatened or feel like you said the wrong thing."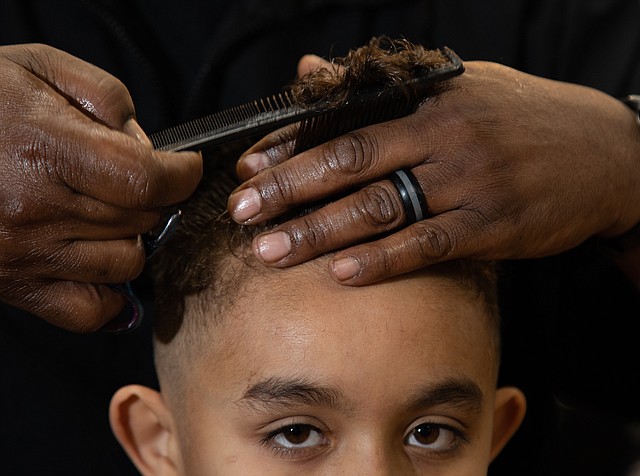 First-time customer Joy Dudley immediately felt welcomed on a Tuesday visit to the shop. She brought her boys, Quincy and Jamal, to get their hair cut "the right way," after difficulties finding a place in Bellingham that could cut and style Afro-textured hair. 
"You walk in and you're family," Dudley said, as she watched Franklin and barber James Dixon work on her kids' hair. 
But it was more than just a haircut for her boys, Dudley said. Her late husband, Antoine, would buzz and style their hair, teaching them to take pride in it. When he died a year and a half ago, Dudley had yet to find a barbershop for her 8- and 10-year-old boys that made a haircut personal. Until Busy B's.  
"We're holding true to that tradition here," Dudley said, noting that her husband would be happily watching from above. "We'll definitely be back." 
While all four of Busy B's barbers and hairstylists proficiently work with textured hair, they will cut, dye and style any hair, from straight platinum blonde to coiled curls. Franklin's wife, Patricia "Tish" Couture, braids and dreadlocks hair, and one of the couple's daughters, 16-year-old Nzingha Mekada Chenawa, also pitches in as a "part-time, part-time worker."
Franklin accredits "99.9 percent" of his existence to his mother, aunties and female cousins, who inspired his thirst for knowledge, particularly of his heritage and culture. But his uncles and male cousins provided something different: lessons on how to "be a man in that society" — and how to barber.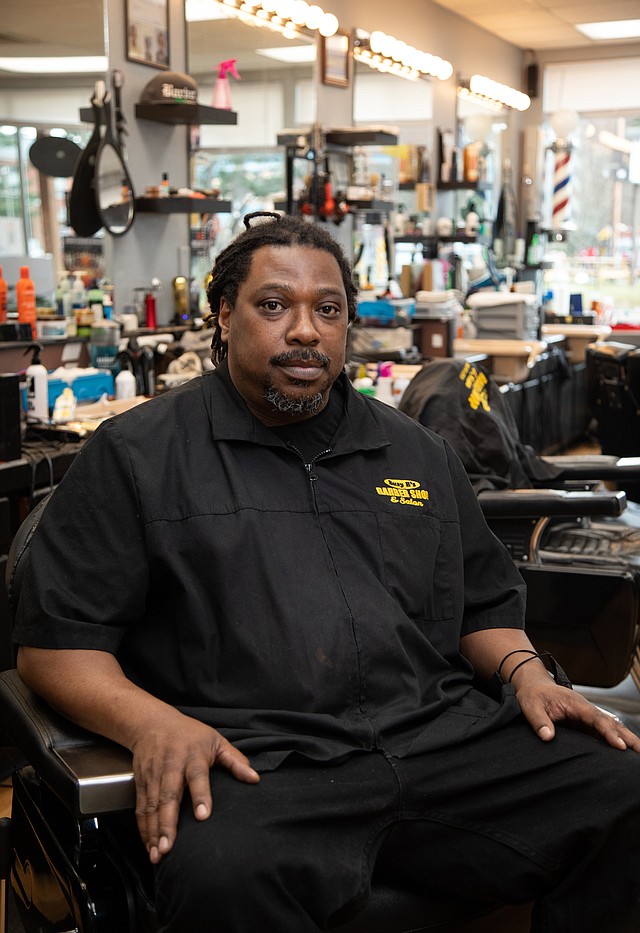 When Franklin entered the Navy at 19, he "started cutting people from all walks of life." As a plane captain and aviation ordnanceman, he still found time to be one of the most popular guys around because he could provide a haircut that would "make a lady smile." 
After leaving the Navy, Franklin moved to Bellingham in 1996 to be with his girlfriend, now wife, Couture. He graduated from Whatcom Community College two years later with an associate's degree in arts and sciences, then went to cosmetology school, graduating in 2002.
The Pacific Northwest is a stark contrast to the vibrant, Afro-centric community he grew up in. And not just because there are fewer melanated people, he said. His strong sense of identity was challenged in Washington by a decentralized culture.
"You lose part of your value to enter into another group's value," he said. "In Bellingham, you have people that call themselves Black and white, but it don't have to do with your complexion as much as it does your state of mind … I always say, same complexion don't mean the same direction. You come here and people think because you're Black, you're all on the same page. No." 
When asked what he brings to Bellingham, Franklin said he has already brought it: himself, his culture and values, and his wealth of knowledge. Couture yelled in agreement from the back of the shop. 
"Instead of trying to give your child everything you never had, teach them everything you never knew," Franklin said. "We get instituted with a lot of indoctrination that doesn't have any values and definitely doesn't bring us together."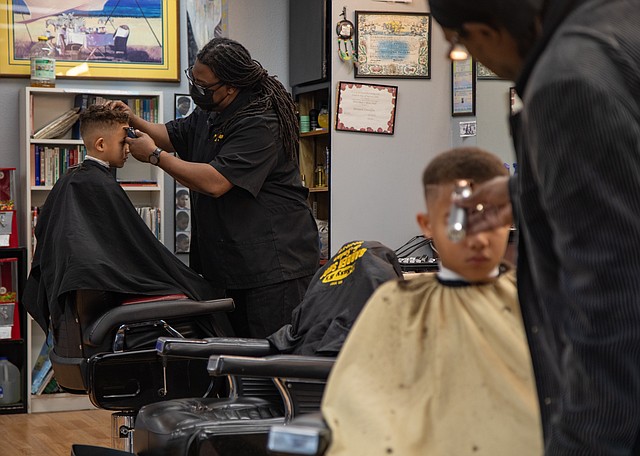 Franklin brings that philosophy to his shop, which he opened in December 2007, one month after being let go from his previous barbering job. There isn't a client that sits in silence in Busy B's. The atmosphere inspires discourse, from the YouTube videos playing on the TV to Franklin's own passion for Afro-centric history. 
"I love people. I love to find ways that we have more similarities than differences," he said. "Think about the chaotic society we've been in for the last 10 years … we can take it back farther than that — a lot of time we're so focused on our differences." 
Longtime customer Fernando Martinez, who stopped in for a buzz on Tuesday, said he's had conversations in the shop ranging from aliens to deep talks of culture. He's seen Franklin whip out a notated history book during a visit to Busy B's. 
"He's always reading a book," Dixon said.
"Books, history, community," Couture chimed in, describing her husband. 
Being an intellectual person and working in the beauty industry do not conflict, Franklin said, even though people often hold the misconception that barbers and hairstylists are uneducated. In reality, they must graduate from a cosmetology school that requires at least 1,600 hours of training in Washington state. 
"They think that because we're behind the chair that we don't know much or don't value much," Franklin said. 
Busy B's obliterates the notion with one glance at its walls. The shop's Shawna Zimmer breaks down another stereotype that women don't belong in barbering.
"It don't matter which chair, which barber you sit at, you're going to get a great haircut and a great experience," Franklin said. "That I know for a fact." 
"I'd say we're one of the most diverse shops in Whatcom," he added.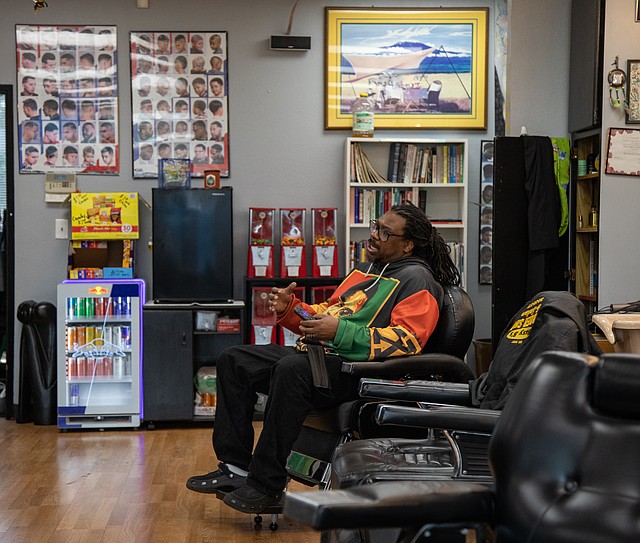 After briefly shutting down during the pandemic, Busy B's is busier than ever. The recently instituted appointments have cut down on the sometimes three-hour waits for walk-ins. 
As for Busy B's future, Franklin plans to keep the shop where it's at: with a view of the mountains on a sunny day and a steady stream of satisfied customers.