Food
Even in winter, a bounty of local food awaits
From markets to backyard surprises
January 20, 2023 at 5:00 a.m.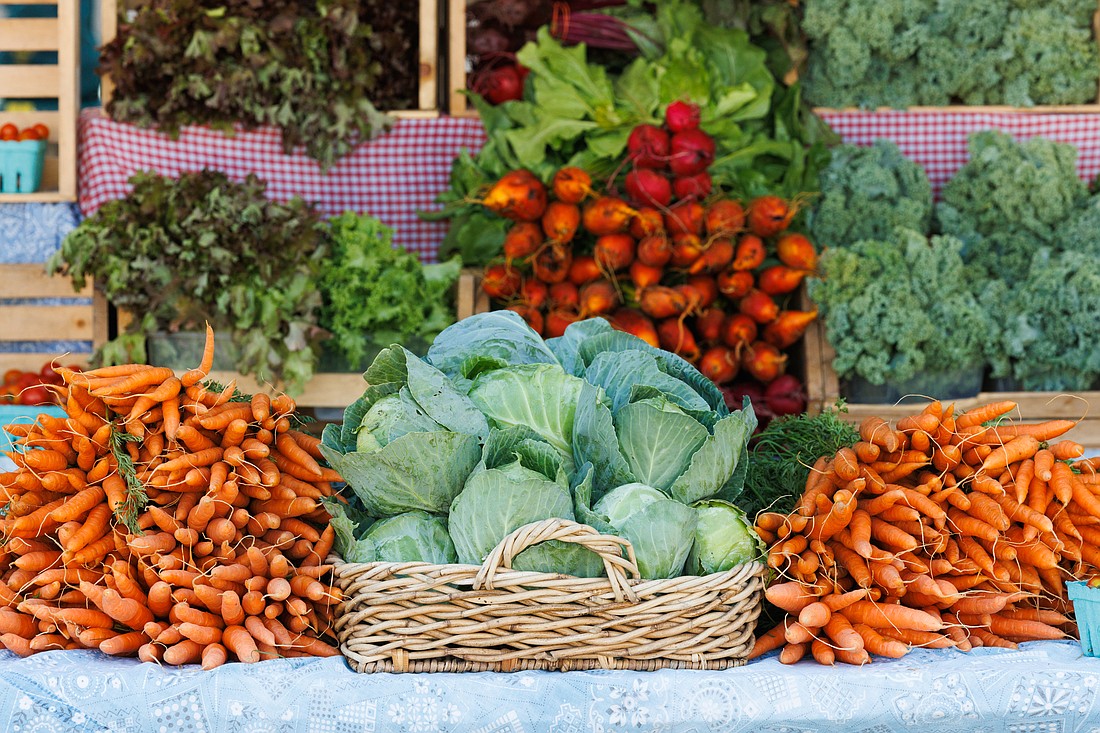 ---
---
Last Saturday, while doing backyard cleanup during an unusually warm and sunny January afternoon, I came across a surprise patch of red kale. I use the word "surprise" not because I hadn't planted the leafy vegetables there — I did, from seed — but because I thought the plants had perished during last month's frigid temperatures and snowfall.
After sharing some of the greens with our quartet of resident chickens, I harvested a bunch and looked around for other food items I could bring to the kitchen. I clipped some rosemary, thyme and sage and grabbed a handful of garlic bulbs from the storage shed, planning how I'd use the haul in that night's dinner plan of baked salmon, mashed potatoes and sauteed green beans.
While sometimes eating locally and seasonally is as easy as walking out the back door and foraging for food, I'm well aware not everyone has that luxury. It can be even more difficult if you're not quite sure what's in season or where it's available.
The pink salmon I cooked that night was procured at the first Bellingham Dockside Market of the year at Squalicum Harbor's Fisherman's Pavilion. It was caught in southeast Alaska by Bellingham residents Chelsea and Peter Keutmann of Sea to Shore Seafood. Based on previous experience with their seafood offerings, I knew the fish from the two frozen fillets I'd purchased had been sustainably harvested and was sure to be delicious.
For those who prefer their seafood live, the next Bellingham Dockside Market — taking place from 10 a.m. to 2 p.m. Saturday, Jan. 21 at Squalicum Harbor — will likely have fresh oysters from Blaine's Drayton Harbor Oyster Company, plus Dungeness crabs from the Lummi Fish Market and Ficus Chan of Crab Bellingham, who often supplies mussels and clams sourced from Taylor Shellfish. Once again, Sea to Shore Seafood is apt to be on hand with a variety of frozen and canned seafood.  
Pro tips: Bring a cooler along, and stick around for a noontime Keep It Simple Seafood (KISS) cooking workshop, where Bellingham SeaFeast will be using halibut from Jean C. Fisheries to demo bacon-wrapped halibut sliders.
The Bellingham Farmers Market will also be open from 10 a.m. to 2 p.m. on Jan. 21 for its monthly winter market, which takes place the third Saturday of the month through March before reopening on a weekly basis the first Saturday of April. I was reminded in an Eat Local First newsletter of the plethora of produce that can still be secured in the winter. The list of what's fresh and in-season started with apples and pears and continued with vegetables like beets, kohlrabi, winter squash, greens and much more.
For those residing in or passing through Skagit County, the Anacortes Farmers Market will host a monthly Saturday market on Feb. 11, March 11 and April 8 at the city Depot Arts Center, 611 R Ave.
For more fresh seafood, find what you need at Black Rock Seafood, which works with local providers to augment what they catch on their own vessels. Located in Anacortes at 8991 Stevenson Road, their motto is "If it's not frozen, it never was!"
Speaking of fresh, I used the ingredients from my backyard wander to augment Saturday's salmon feast. Small bits of chopped kale, minced garlic and shredded herbs were added to the salmon before it was baked, and also mixed in with the mashed potatoes.
My dining companion couldn't be quoted because he was too busy devouring his plate, but he was thrilled about his memorable mid-winter meal.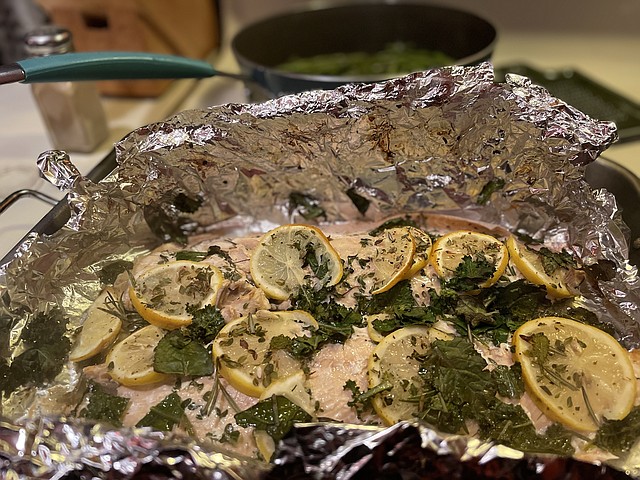 Recipe: Simple baked salmon
Ingredients
Two pink salmon fillets (mine equaled 1 pound)
Olive oil
One lemon, sliced into thin, round pieces
Various chopped herbs (I used thyme, sage and rosemary)
Chopped kale (optional)
Salt and pepper
Preheat oven to 400 degrees. Put the two salmon fillets on aluminum foil in a baking pan. Add olive oil, dashes of salt and pepper and half of the herbs. Place sliced lemons on top, then add more herbs and chopped kale.
Cover the fish with the foil, place in oven and set timer for 12 minutes. I cooked mine for an additional 5 minutes, but depending on your oven, 12 minutes might be enough. Take out and let sit for 5–10 minutes before serving.
Serves two people with big appetites with enough left over for a lunch serving. Pair with potatoes or rice, sautéed vegetables or a big green salad.