Basketball
Sehome topples Lynden Christian with fourth-quarter run
Grey Garrison scores 26, Mariners best Lyncs 76-64
January 19, 2023 at 10:46 p.m.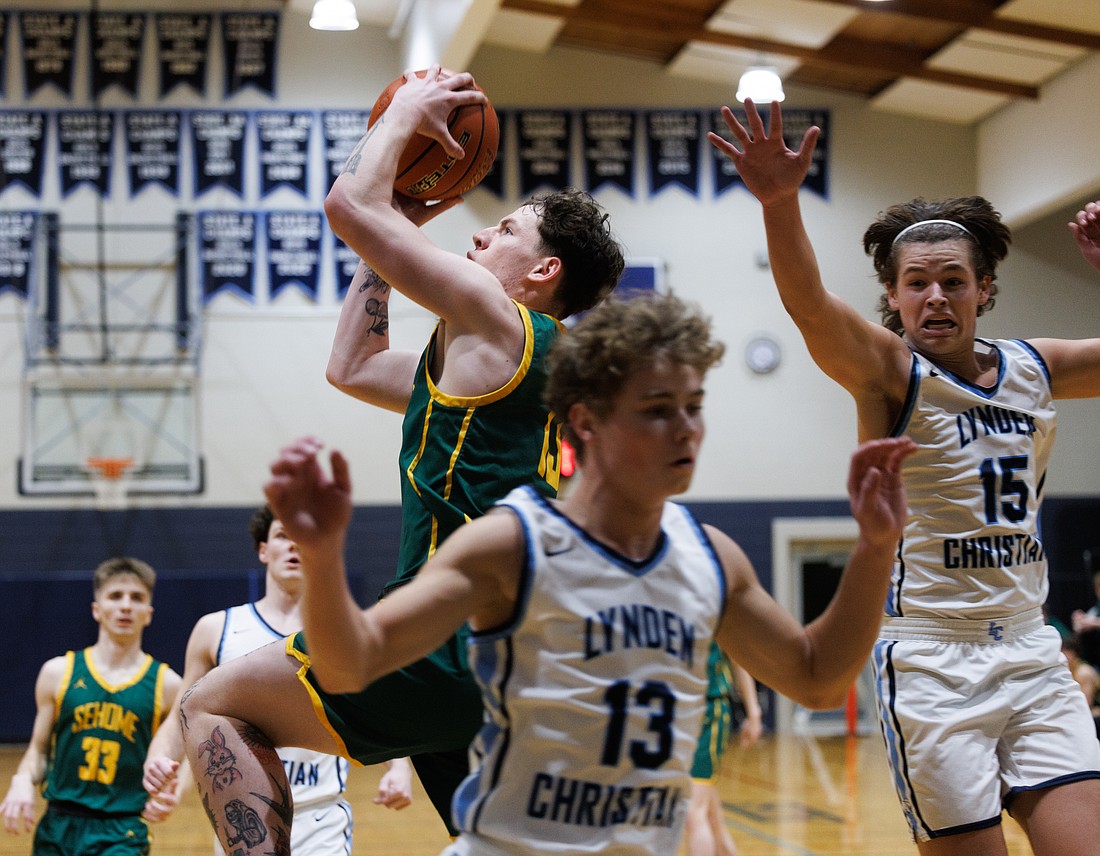 ---
---
LYNDEN – Sehome edged Lynden Christian on the road, 76-64, on Thursday night in a much closer game than the final score assumes.
The Mariners bounced back from a painful overtime loss to Anacortes on Jan. 17 via an assertive win over a talented Lyncs team. Senior center Grey Garrison added a healthy scoring dose for Sehome with a game-high 26 points.
"For these guys to come back [after the loss to Anacortes], knowing that we had to play here — and to be able to be ready to go and play as we did — it was really encouraging," said Sehome coach Brad Jackson.
The Mariners' four double-figure scorers helped lead the team to victory through various close moments throughout the contest, handing LC its second loss of the season. 
Sehome senior guard Dane Dominguez drained all four of his free throw attempts in the fourth quarter to help seal the win. Freshman guard Nolan Wright dropped in seven key points during the period to nourish the Mariners' lead.
"Tonight, we just maintained our focus the whole game, and then obviously we had some really big plays," Jackson said. "Grey [Garrison] had a monster game, but we had really good performances [all around].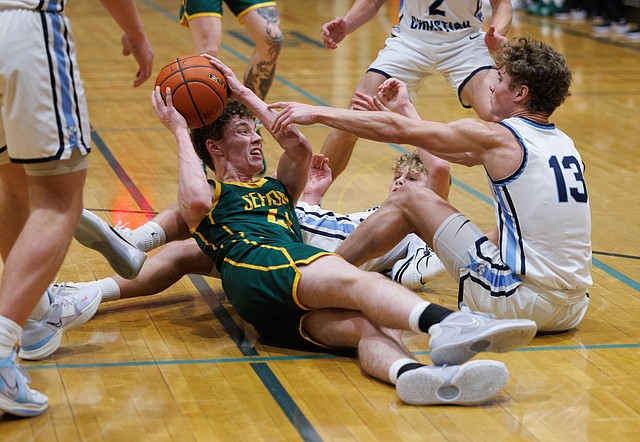 Sehome held a 13-11 lead after four minutes of play, narrowly out-scoring the Lyncs in an early-game shootout that included five combined 3-pointers.
A high-scoring first quarter concluded at 24-20 in favor of the Mariners. Garrison scored 14 of his 26 total points in the first period, fueling Sehome's early offensive attack.
"My teammates just found me cutting, and they just did a really good job passing," Garrison said. "I was able to knock down my shots tonight."
LC embarked on a 13-4 run spanning just over half of the second quarter, allowing the Lyncs to gain a 33-28 advantage with 3:48 remaining before the break. 
Junior forward Jeremiah Wright was a menace to the Mariners all game, consistently getting to the line en route to tallying a team-high 21 points for LC.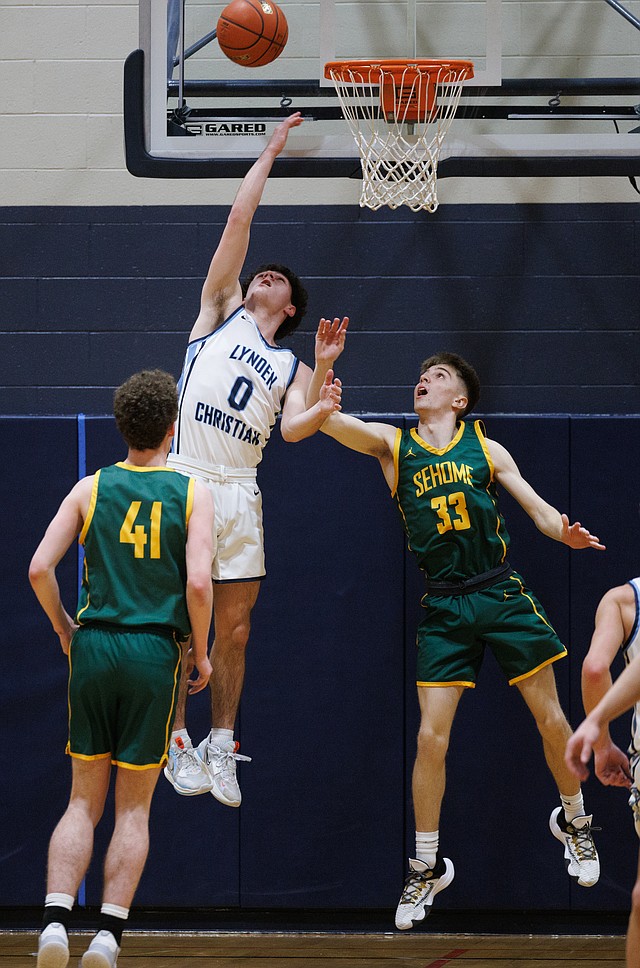 Sehome responded to the tune of its own 11-5 stretch, capped off by a short jumper from junior center Braddock Duckworth to give the Mariners a one-point lead at halftime.
LC nabbed a slim 48-47 lead in the third quarter before Duckworth sank an and-one for Sehome, converting the ensuing free throw to put the Mariners back ahead.
Garrison, who grew quiet in the second and third quarters, scored the first bucket of the final period for Sehome to give the Mariners a three-point lead. He scored eight points in the fourth and LC wasn't able to recover.
"I thought we executed good down the stretch, we just didn't make shots, and that's hard to keep pace when they're making shots," said LC coach Tim Zylstra. "I'm still proud of our boys, we fought hard and that's a two-to-three-point game the whole way."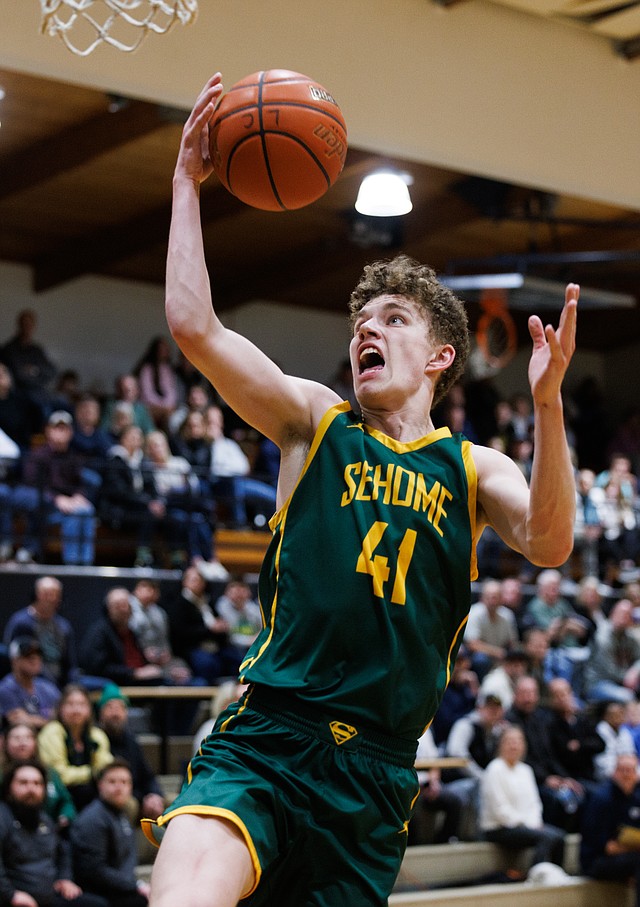 Sehome senior guard Grant Kepley added 16 points for the Mariners. Dominguez and Wright each added 12 while Duckworth added eight.
For LC, senior guard Griffin Dykstra totaled 18 points on four 3-pointers. Senior guard Tyler Sipma added 16 for the Lyncs while junior guard Dawson Bouma totaled five.
"I'll give them all the credit. They played a really good game and they hit shots in our gym," Zylstra said. "When we can't get stops it's hard to go back and forth and trade. It's just one of those things: You've got to be able to get stops, and we weren't able to get stops when we really needed them."
Sehome advanced to 12-3 overall and 9-2 in Northwest Conference games. LC dropped to 14-2 overall (8-2 NWC) with the loss.
The Mariners will host Ferndale (1-14, 1-9 NWC) on Monday, Jan. 23 at 7:15 p.m., while the Lyncs will welcome Lakewood (7-8, 4-5 NWC) on Tuesday, Jan. 24 at 7:15 p.m.
"We're just trying to get better and better every game," Garrison said. "I think we took a step forward, so I'm happy about that."
Score by quarter
| | | | | | |
| --- | --- | --- | --- | --- | --- |
| Team | 1st | 2nd | 3rd | 4th | Total |
| Sehome | 24 | 15 | 14 | 23 | 76 |
| Lynden Christian | 20 | 18 | 14 | 12 | 64 |