Swim
Bellingham, Squalicum look to postseason with high hopes
Bayhawks outlast Storm 119-60 in late-season, community-driven dual
January 19, 2023 at 3:23 p.m.
---
---
A late-season dual between the Bellingham and Squalicum boys swim teams — both among the top three programs in the Northwest Conference this season — saw Bellingham emerge with a 119-60 victory and set a new school record on Jan. 17.
Dual wins can be hard to come by, but the community connections between the two groups placed less emphasis on the victor and more on postseason preparation.
Squalicum coach Randy Elsner said he knew Bellingham had the talent and depth to win the meet, so he was focused on getting the most of out his swimmers. Both teams actively motivate one another.
"Good teams can make other teams better," Elsner said. "Swimming, a lot like running — when you see a good performance it inspires a good performance, so they actually kind of push each other in a good way."
A handful of swimmers on both teams also competed side-by-side for the Bellingham Bay Swim Team, a year-round club competition team and affiliate of Pacific Northwest Swimming.
The athletes know each other well.
"It was just another testament of people who are all in support of each other and this swimming community," Bellingham coach Matt Buckmaster said of the meet.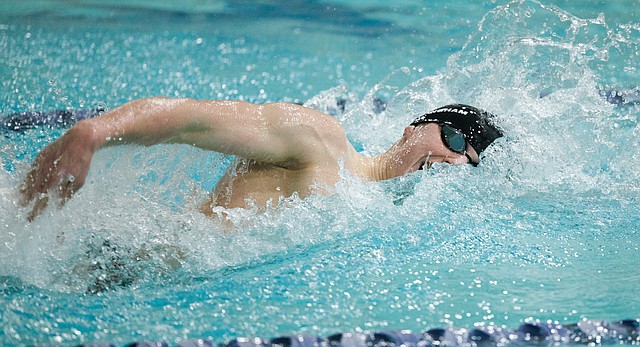 Bellingham was led by a historic performance from junior Miles Cratsenberg, who set a new school record in the 200-yard freestyle race with a time of 1:42.44. The previous record was held by Dean DeKoster and stood for over 40 years.
"To have Miles be in a position to set a new record and kind of push things forward was really exciting to see," Buckmaster added.
Dylan Fisk, Squalicum's leading swimmer, and Cratsenberg faced off in the 500-yard freestyle, each finishing with impressive times. Cratsenberg edged past Fisk by five seconds after a late push in the final 100 yards.
Fisk is leading Squalicum with six state-qualifying times while his Storm teammate, Mathias Synnott, has four. Two of Squalicum's relay teams have also qualified.
Synnott, as well as Fisk, Trey Rippon and Hayden Nelson finished first in the 200-yard medley relay with a time of 1:39.41 against Bellingham's top group.
Bellingham is led by three state-qualifying times from Cratsenberg, one from Alec Rodriguez-Stiff and two of their three relay teams have also reached that mark. 
Rodriguez-Stiff finished first for Bellingham in the 100-yard breaststroke by a 20-second margin, clocking in at 1:06.07.
Bellingham swimmers Derek Jones and Isaac Bates are on the cusp of qualifying in a few other events, which they should hopefully reach in time, Buckmaster said.
"Right now we're kind of in that place where we're looking ahead at state," Buckmaster said. "Our team is the strongest team that I've coached since I've been here."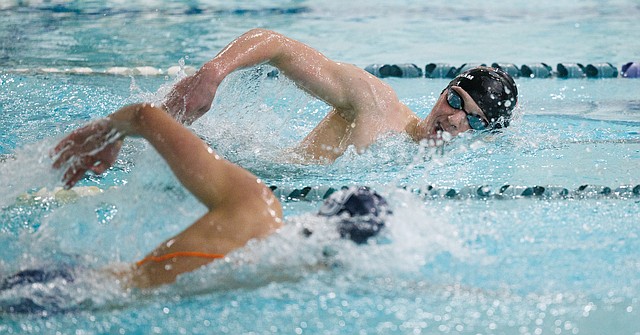 Squalicum's top eight competitors are rounded out by Nelson, Finn Smith, Matthew Aussem, Michael Ciatti, Matt Costa and Mac Hofstedt in addition to Fisk and Synnott, Elsner said. 
As the postseason rapidly approaches, Squalicum is hoping to build off its 13th-place state finish a year ago. 
Bellingham, which placed second at districts last season, is looking to win that meet and finish within the top five at state after placing ninth last year.
"On paper, I could see the real potential for three or four district titles," Buckmaster said. "Our team goal is to win districts and kind of ride high into state with that confidence and then that experience."
The District 1 boys swim and dive championships are from Feb. 10-11 at Fidalgo Pool in Anacortes.