Visual Art
'Arbitrary Borders' increases access to artists of color
Exhibit will expand beyond gallery walls
January 17, 2023 at 3:00 p.m.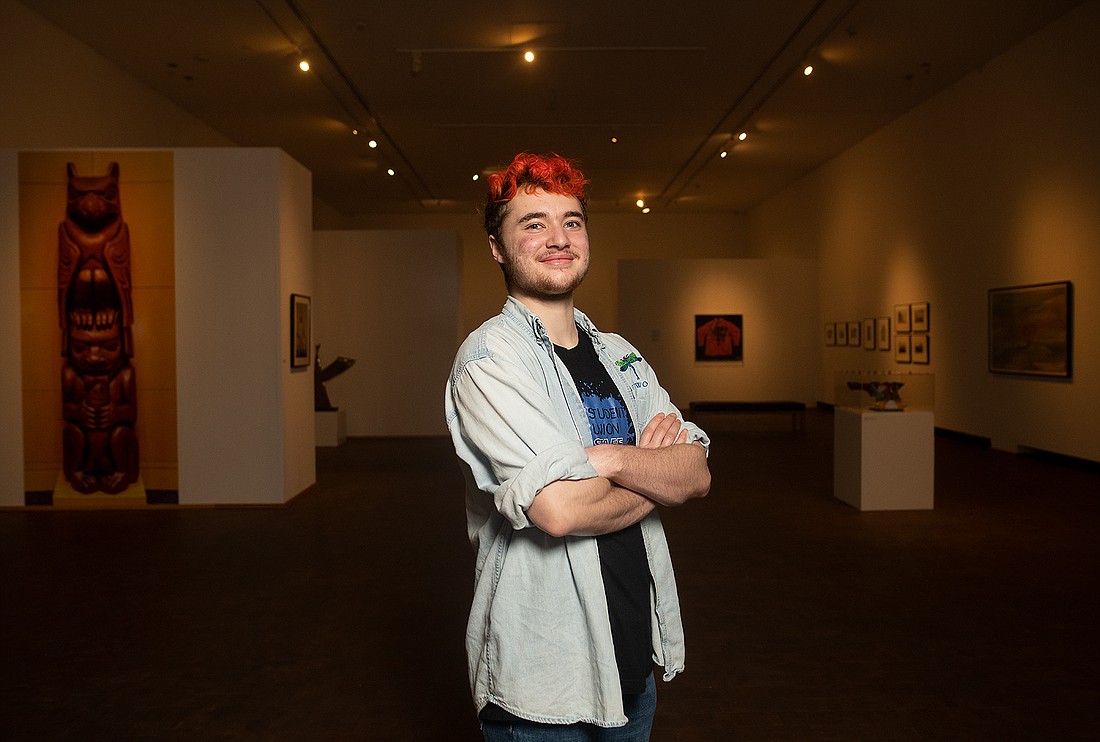 ---
---
By bringing attention to the "Arbitrary Borders" exhibit, which opened last week at Western Washington University's Western Gallery, Quincy Ingalls is not only championing artists of color, he's also simultaneously learning more about the past.
As a Fairhaven College student senator tasked with helping fulfill the Black Student Coalition's demands — one of which is to increase and spread Black artwork across campus — Ingalls, 20, said finding out more about the 19 creatives represented in the wide-ranging exhibit, which Western Gallery says "concentrates on Black, Indigenous/First Nations and Latinx artists," has opened his eyes to a range of topics spanning the decades before he was born.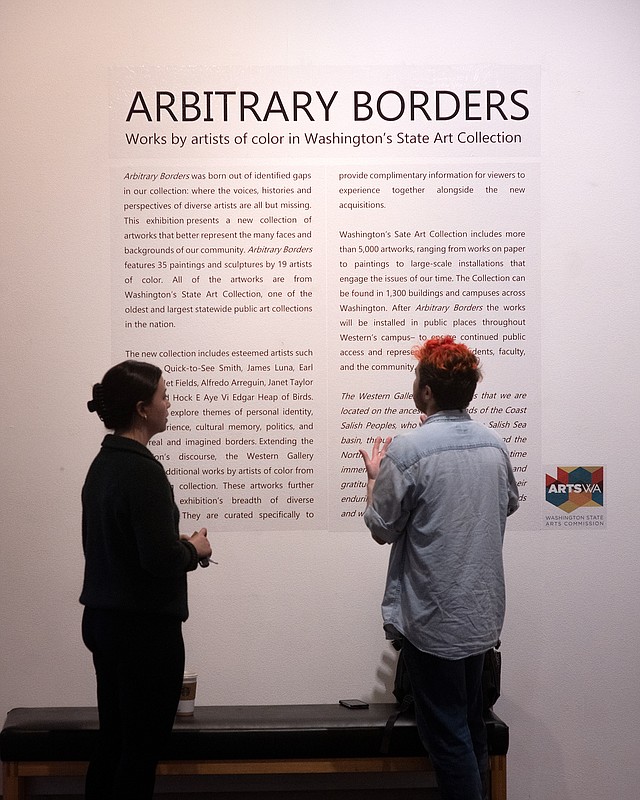 For example, two of the abstract artworks acquired by Washington's State Art Collection were painted by the late Earl Miller, who was active with the Spiral Group. The collective of African American artists was created in New York City in the 1960s to form a unified artists' response to the civil rights movement and the shifting landscape of American art, culture and politics.
"I had no idea the Spiral Group was a thing until yesterday," Ingalls said during a tour of the exhibit on Friday, Jan. 13. "I'm learning history, respecting history."
Western Gallery Museum Educator Zoë Fejeran pointed out the Spiral Group's conversations also included topics such as whether their works needed to have a clear narrative message as a response to the civil rights movement, or if "Black abstraction and Black abstract work was radical in its own way."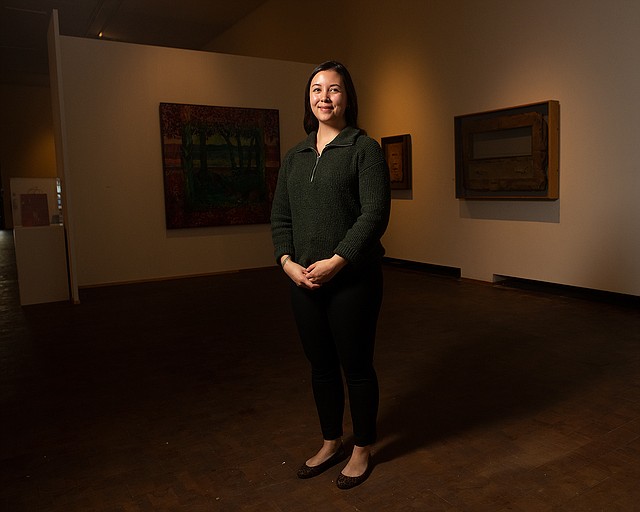 Fejeran and Ingalls both hope the themes found in "Arbitrary Borders," mainly those of personal identity, cultural memory and politics, will help spur conversations among those who view the exhibit. Fejeran said related gallery events are in the works for Black History Month in February, and "Perspectives" programs will feature Western faculty and community members sharing their own expertise as it relates to the different artworks in the show — which was created to fill identified gaps in the school's permanent collection, especially related to diversity.
"I'm really motivated to use the gallery as background context and a platform to talk about the different student groups, like the Native American Student Union we have on campus, and the Black Student Coalition," Fejeran said. "I'm interested in finding ways to get other groups, students of color, community members of color and other advocacy groups in here to try and use the gallery as a gathering space to talk more about what's happening on campus and in our community."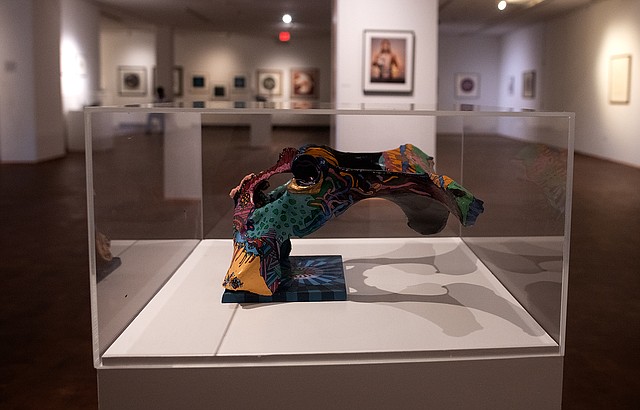 To ensure the conversations continue even after the exhibit comes off the Western Gallery walls on March 17, Ingalls has been tasked with distributing the 35 paintings and sculptures throughout campus for permanent display. He's already started meeting with fellow senators — there are two per college — to walk around the exhibit and make note of their preferences.
"The most important aspect of distribution is that it has to be in really visible places, or places with high traffic," Ingalls said. "The Black Student Coalition and the Ethnic Student Center get first choice, and have tentatively chosen their pieces. It's another factor of equitable distribution."
Fejeran said there will be messaging included with the distributed artworks relating to the "Arbitrary Borders" exhibit, but urges people to drop by Western Gallery to get the full experience, which includes related works from Western's permanent collection, as well as informational videos featuring a number of the artists sharing their creative processes.
Fejeran and Ingalls called attention to a few of their favorite works, including celebrated Mexico-born and Seattle-based painter Alfredo Arreguín's 1976 masterfully vibrant "Caletilla"; African American artist and poet Violet Fields' 1990 mixed-media piece "Third Call"; and Jaune Quick-to-See Smith's monotype print, "War is Heck 3," which features a stalwart horse spurting blood from four different parts of its body.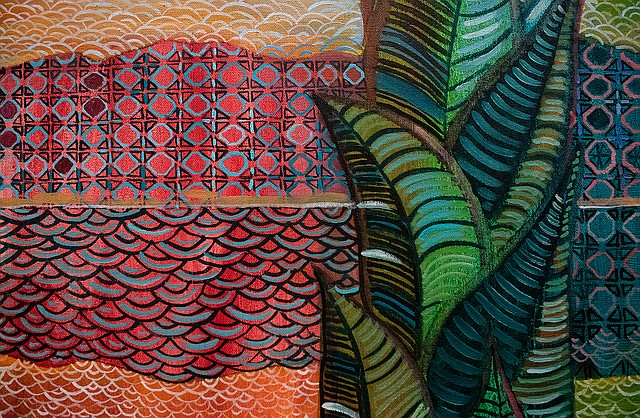 As a member of the American/Confederated Salish and Kootenai Tribes of the Flathead Reservation, Smith's title of the piece and the graphic imagery are in contrast with each other. But make no mistake, "War is Heck 3" is designed to draw attention to the atrocities of war. Tucked behind a wall in the rear of the exhibit, it's a startling work to come across.
"It's incredible," Fejeran said. "I tried to place it somewhere else before this but was told it was too violent to be in the public space. But that's kind of the point, especially when you see and read the background of the piece. We've become so desensitized to imagery and the idea of warfare and violence."
"That piece really speaks to me personally," Ingalls added, noting he first became politically conscious during the 2016 election. "Being desensitized to violence isn't good, but in a sense, I kind of have to be in order to be able to cope with what's going on in the world."
View "Arbitrary Borders" from 10 a.m. to 4 p.m. Monday through Friday, and noon to 4 p.m. Saturday through March 17 at the Western Gallery on the WWU campus. Entry is free and open to the public. Info: westerngallery.wwu.edu.