Restaurants
At Boomer's Drive-In, Boomuary is back
Join the crowds for cheap burgers, nostalgia
January 13, 2023 at 5:00 a.m.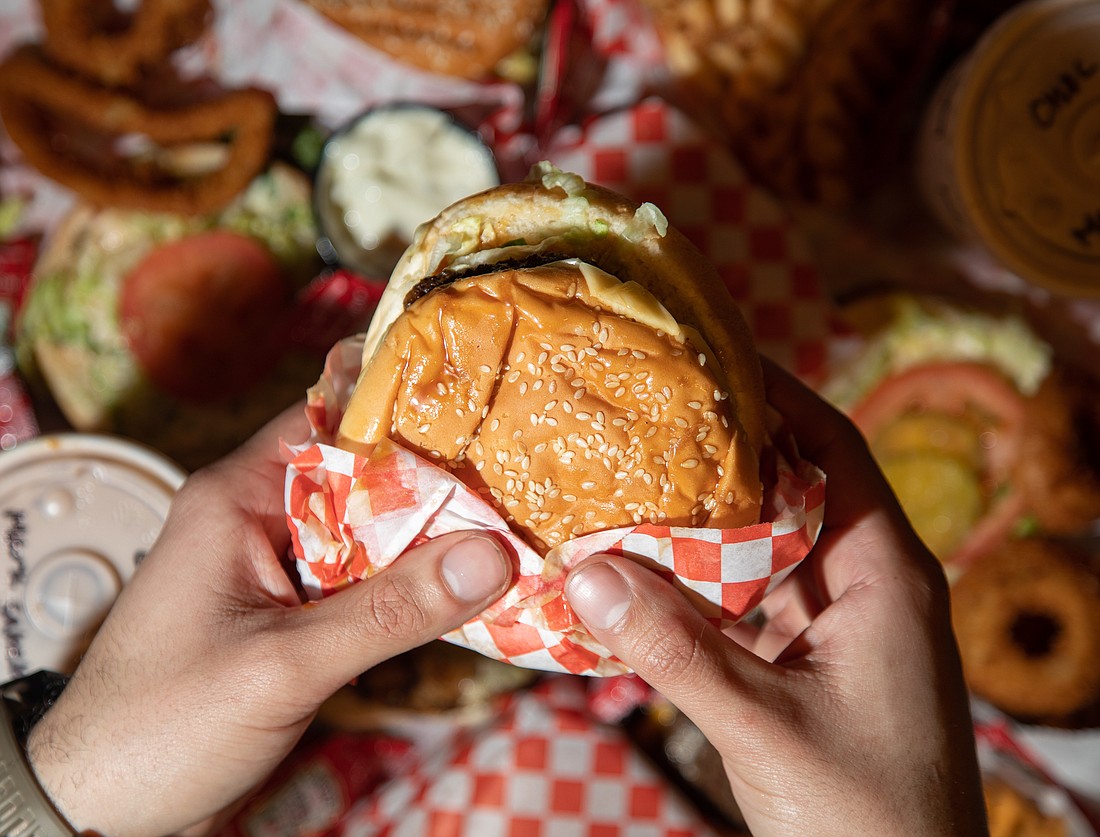 ---
---
At the start of every new year, crowds descend en masse upon Boomer's Drive-In for "Boomuary." Every year, from the beginning of January to the end of February in honor of the anniversary of their opening, every burger is just about $3 and some change. I say "just about" because research indicates the price has increased from $2.99 in 2013 to $3.44 in 2023. This is still an excellent deal — made more impressive by the proximity to Western Washington University. With a price that good, ordering a lot is a matter of financial literacy.
Approximately 25 minutes after placing a massive order, I arrived to pick up my items. Five bags and a full drink carrier later, I was on my way. To the picker-upper go the spoils — in this case, free rein to munch on waffle fries for the drive home. And therein I rediscovered the primary problem with Boomer's. 
While sitting, the fries had cooled down to just above room temperature, and in doing so, began to transform into potato-flavored cardboard. With a production line of burgers and fries that would make Henry Ford weep with pride, the bottleneck reveals itself within the sheer quantity of people ordering. Walk-ins, phone and online orders all merge at the single register, while servers run from car to car in the drive-in.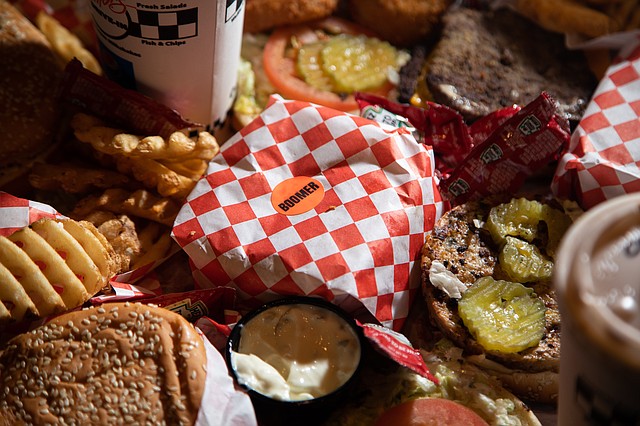 But this gripe can be revisited shortly. While CDN's own Hailey Hoffman posed the veritable mountain of burgers into a photogenic mass, all present reminisced on what Boomer's meant to us. For just about anyone who's gone to college in Bellingham, an experience like the following has happened:
Freshman year. You've made a few friends in the dorms and, even better, one of them has a car. One of you is a local or, at least, one of you can use Yelp. You've all heard of Boomer's, just down the hill from the university. A blustery October evening comes, quintessentially Bellingham. You might not be rolling in cash, but you can all scrounge up enough for some burgers.
You all jam into the car, testing the limits of its speakers with your favorite summer tunes. Pulling into an open drive-in spot, perusing the menu and trying to remember to flip on your headlights to order. Dipping waffle fries in milkshakes, picking fallen bits of shredded lettuce off the upholstery of your friend's car, music thumping.
Snap back to reality. You're not a freshman anymore. The camera flash casts an unflattering light across these burgers. Cast out of the rosy glow of nostalgia, nine burgers, three orders of fries ($2.79 each), two of onion rings ($3.59 each), and three milkshakes ($4.29 each) suddenly didn't seem like a great idea. But, for you, dear reader, I persevered. 
The Boomer burger is the most basic of them all — bun, patty, cheese, lettuce, tomato, pickle and special sauce. The sauce (no doubt an amalgamation of ketchup, mayo and some kind of pickle), while being the absolute cornerstone of Boomer's flavor profile, can combine with the overly generous handfuls of shredded lettuce to produce an overly wet experience. As a rule, I don't eat Boomer's burgers in my car, lest I end up with a lap soaked in special sauce. It's a completely adequate burger, don't get me wrong. It's just so basic I can't speak further on it. 
Moving on to my personal favorite, the teriyaki burger takes the wetness up a notch. Adding teriyaki sauce and a pineapple ring to the basic Boomer Burger, this one is genuinely hazardous to your upholstery. Stains aside, the tanginess of the pickles and pineapple work together with the creaminess of the special sauce to produce a really, really good burger.
The sides are standouts, and I'd be remiss to not mention them. The waffle fries are fantastic, as long as they're hot. If you dine in, get a second order and a milkshake of your choice to dip your much-more-likely-to-be-fresh fries in them. Boomer's mixes up excellent hard ice cream shakes, and the difference between their milkshakes and your typical "frozen dairy beverage" is jarring. The onion rings are superb, even stone-cold. They're shatteringly crispy with a sweet breading that plays perfectly with the onion. Pro tip — pay the extra 35 cents and get tartar sauce to dip the onion rings in.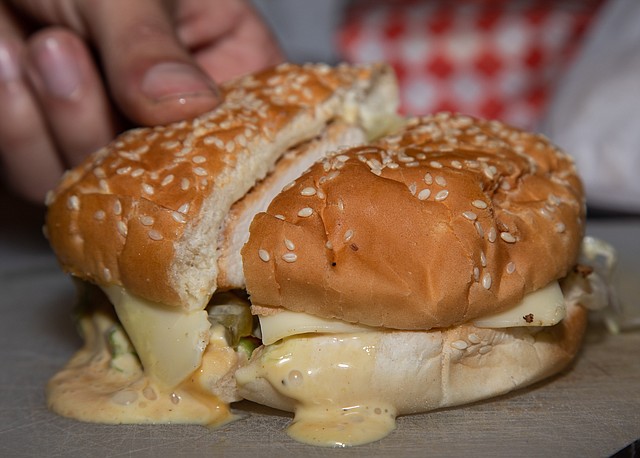 In no particular order, I tried the mushroom Swiss burger, the Big Boom (a double), the regular chicken burger, the honey dijon chicken burger, and the vegetarian garden burger. The classed-up burgers all offer a little more culinary complexity. I can't recommend the chicken; being a skinless breast, I've found they come out dry and bland. Anyway, what are you doing ordering a chicken sandwich at a burger joint? 
A common thread was found between the burgers. They all feature a near-identical build — differing only in what additional sauces and toppings were added. While this makes for a lightning-fast service, it means stepping up to something a little fancier than the Boomer burger without asking for less sauce, or even omitting one, which ensures you're going to be wearing it. 
That focus on assembly line efficiency has no doubt played a tremendous part in Boomer's success, but it cements them firmly in place as a college spot. But that's OK, because they don't have any illusions of grandeur at Boomer's. They know what they are — a near-mythic establishment, a cornerstone of the college experience in Bellingham and without a doubt the most well-known burger joint in town. 
While they're extra-appealing in the two months of Boomuary, pretending they're not an iconic part of the Bellingham food scene is disingenuous. They're not trying to be anything they're not, and they deliver on everything they claim to be: a solid, low-cost, high-speed drive-in. If you're ever feeling that tugging of nostalgia, look no further than Boomer's.
Boomer's Drive-In is open from 11 a.m. to 10 p.m. Sunday through Thursday, and 11 a.m. to 11 p.m. Friday and Saturday at 310 N. Samish Way. Info: 360-647-2666 or boomersdrivein.com.