Wrestling
Bellingham girls wrestling muscles past Meridian, Blaine
Younger, less experienced wrestlers prove the difference in four-team meet
January 12, 2023 at 1:04 p.m.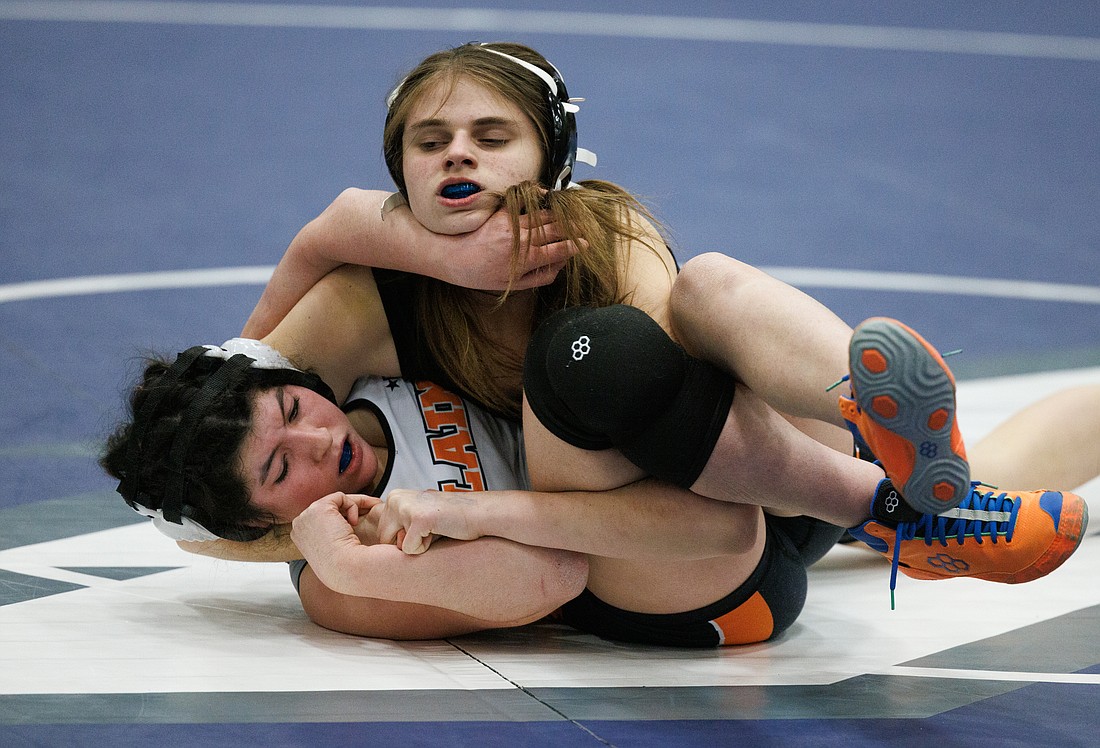 ---
---
The Bellingham United, Blaine and Meridian girls wrestling teams took to the mat on Tuesday at Squalicum High School in a battle of developing Whatcom County programs.
Each team competed in two duals. Bellingham went 2-0, Blaine went 1-1 and Meridian dropped both its matchups. Anacortes also had four wrestlers compete.
Bellingham, which incorporates wrestlers from Squalicum, Sehome and Bellingham high schools, is a moderate dual team, said coach Brian Porteous. The roster is split between highly experienced wrestlers and fresh, first-year competitors.
Even though the experienced wrestlers consistently win matches, Bellingham has gaps in some weight classes that restrict its ability to post high team scores.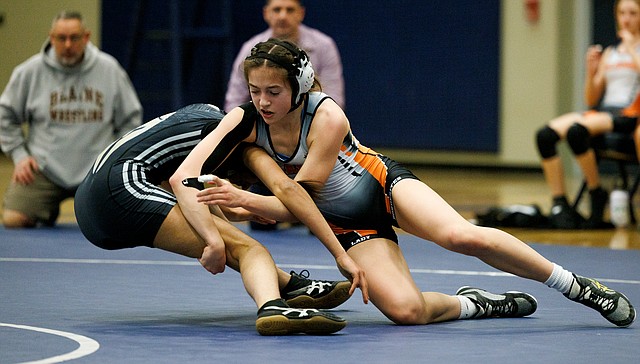 "When you give up four weights to forfeits, you're down 24 points before you ever start wrestling," Porteous said. "That's hard to overcome."
Bellingham is led by senior Frances Porteous, who wrestles at 155 pounds, and junior Isabella Phillips at 190 pounds. 
Frances will wrestle at the University of Providence next year in Great Falls, Montana. 
"We have those two that kind of carry us competitively. It's great in tournaments because they're going right up to the [semifinals] and finals," Brian Porteous said. "But in duals, two kids can only do so much for the whole team."
Both have represented Washington state at national tournaments, and Phillips placed third at the Mat Classic XXXIII a year ago. Phillips is also ranked second in the state within her weight class this season.
"Her growth has been amazing, too," Brian Porteous said of Phillips. "She is strong, she's athletic and she has been really dominant at 190 [pounds]."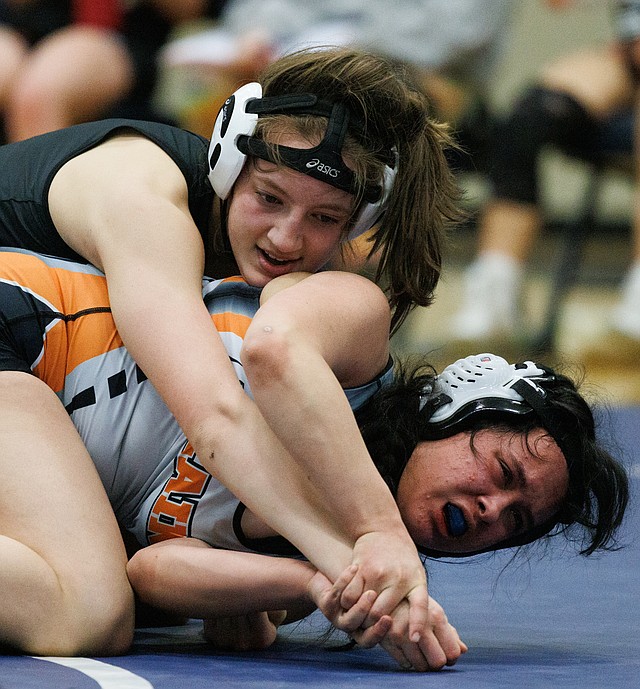 Blaine and Meridian are in similar places with their rosters: a few strong, experienced competitors, some weight class gaps and mostly inexperienced wrestlers.
Brian Porteous said he was impressed with the top-end athletes for both the Borderites and Trojans. The closer matches between the less experienced wrestlers were what decided the duals.
Blaine, in particular, had as many forfeited weight classes as Bellingham, Brian Porteous said. At that point, it came down to who made the winning move. Bellingham's group pulled through for the team.
"Because of those wins, we were able to win both duals," Brian Porteous said. "It was because of some of those younger wrestlers wrestling out of their minds."
Bellingham and Meridian met once again on Wednesday, and the Trojans won the dual 46-35. 
Mount Baker is currently atop the Northwest Conference standings with a 9-0 overall dual record. Sedro-Woolley is a close second at 8-1. 
Blaine moved to 4-4 overall after the Jan. 10 matches and sits in fourth place in the NWC standings. Bellingham, following the loss to Meridian on Jan. 11, is now 3-5 overall while the Trojans are 2-6. 
All three teams will meet once again in a six-team event in Mount Vernon at 6 p.m. on Thursday, Jan. 19.
Dual scores, Jan. 10:
Bellingham United 46, Blaine 36. 
Blaine 33, Meridian 18. 
Bellingham United 36, Meridian 28.