Root-to-Leaf
Seasonal eating: Low-emission sunchoke ravioli
Recipes to reduce food waste
January 8, 2023 at 5:00 a.m.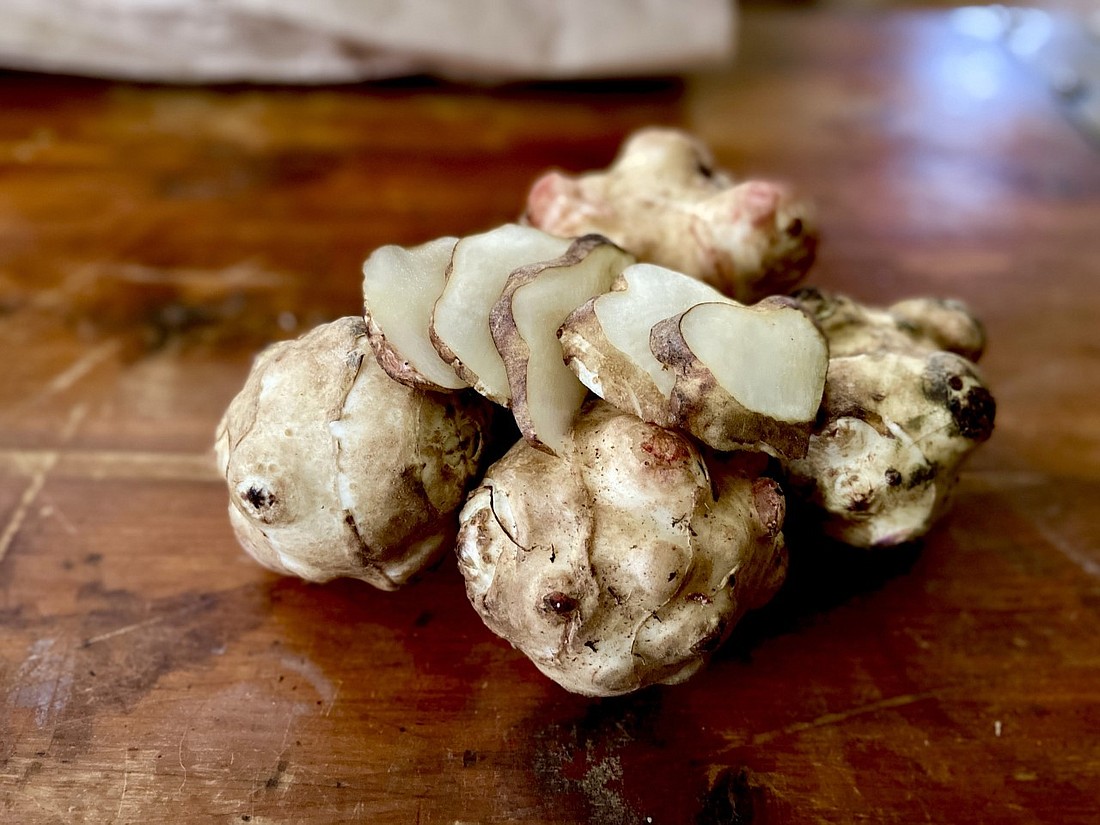 ---
---
This monthly column explores root-to-leaf cooking, which uses all edible parts of the plant, with a focus on ingredients grown and sold locally. Our green ingredient this month is sunchoke, a mellow root vegetable that belongs to the sunflower family.
Despite the sunchoke's common moniker, Jerusalem artichoke, it is neither from Jerusalem nor related to artichokes. It has a firm, crisp texture and mildly nutty flavor, and can be eaten raw or cooked. Its very thin skin is edible and savory.
Sunchokes can get a bad rap — the little veggies are known to cause, shall we say, gastrointestinal activity. Inulin is the culprit behind the occasional distress. Inulin is a starchy substance and a type of prebiotic. Bacteria in the gut consumes inulin, converting it into gas. Inulin can be neutralized, though; cooking the sunchokes in an acidic liquid for about 15 minutes before using it in a recipe will dissipate this effect.
I've tested this initial simmering step with a high-acid white wine, which I believe flavor-matches most sunchoke recipes, and lemon juice, which is more acidic than wine. The result? The white wine and the lemon juice both added a brightness to the sunchokes, though the white wine added a more subtle flavor. If using lemons, you may want to add a teaspoon of honey to the simmering liquid to balance the more tart flavor. I used a Grenache Blanc and Sauvignon Blanc blend, both of which are higher-acidity white grapes, which worked beautifully. An unoaked chardonnay, Chenin Blanc or even a dry riesling all have relatively high acidity and would work in this recipe.
Simmered sunchokes and roasted garlic are flavored with nutmeg and combined with ricotta to make the ravioli filling. The dish is served with crushed hazelnuts and chives in a brothy sauce for a simple but elegant dish. I like to use wonton wrappers to make ravioli, which I find easier to work with than fresh pasta dough.
Sunchoke and roasted garlic ravioli with roasted hazelnuts 
Ingredients
1 head garlic
4 oz hazelnuts
12 oz sunchokes, about two medium bulbs
1 cup white wine or juice from 2 lemons
6 cups low sodium chicken or vegetable broth, or 4 cups broth and 2 cups water
8 oz ricotta
1/8 tsp nutmeg
1 package wonton wrappers (you'll use about 30)
salt and pepper to taste
olive oil
leftover parmesan rinds, or parmesan for shaving
chives
Roast the garlic first: Preheat oven to 400 degrees. Slice off the top of the head of garlic, about 1/4 inch, exposing the cloves. Wrap the garlic, drizzled with olive oil, in a foil pouch, sealing the foil. Roast until completely softened, about 40 minutes.
Roast the hazelnuts: During the last 10 minutes of roasting the garlic, spread whole hazelnuts on a baking sheet and roast in the oven. When hazelnuts are aromatic and lightly browned, remove from oven. When cool to the touch, rub hazelnuts between your hands to remove most of the papery skins. Crush nuts with a rolling pin.
Prepare the sunchokes: While garlic and hazelnuts are roasting, prepare the sunchokes. Clean and thinly slice sunchoke. Place in a wide pot and just cover with white wine. (If using lemon juice, add juice from two lemons and then add cold water until sunchokes are just covered.) Simmer lightly until sunchoke is softened, about 15 to 20 minutes. Remove sunchokes to a large bowl, leaving the cooking liquid in the pot. Add broth to the pot and save for a later step.
Combine filling: Squeeze softened garlic cloves out of the head and add to the bowl of sunchokes. Mash. Add ricotta, nutmeg and salt and pepper to combine.
Make the ravioli: Place wonton wrappers on a large cutting board or baking sheet in a single layer. Drop one tablespoon of filling in the center of each wrapper. Wet the wrapper along two adjacent edges, then fold over the opposite corner of the wrapper to make a triangle shape and seal. Using your finger or a fork, press into the edges of the wrapper. Repeat until all filling is used, making about 30 ravioli.
Bring the pot of broth to a simmer and then drop in ravioli, taking care they don't stick to each other, and cook for about three minutes each. Remove to a parchment paper-lined cutting board or baking sheet, still in a single layer. You may need to work in batches to prevent overcrowding the pot.
Once all ravioli is cooked and removed, turn heat to a low boil, add parmesan rinds if using, and reduce liquid by half. While broth is still warm, plate the ravioli in a shallow bowl and ladle warm broth over the ravioli. Shave parmesan over the bowl if using, add hazelnuts, and sprinkle with chives. Makes three or four servings.

Hannah Green's Root-to-Leaf column runs on the first Wednesday of every month.