Restaurants
Review: Antojos Locos food truck
Mexican street food makes its way to Burlington Boulevard
January 7, 2023 at 5:00 a.m.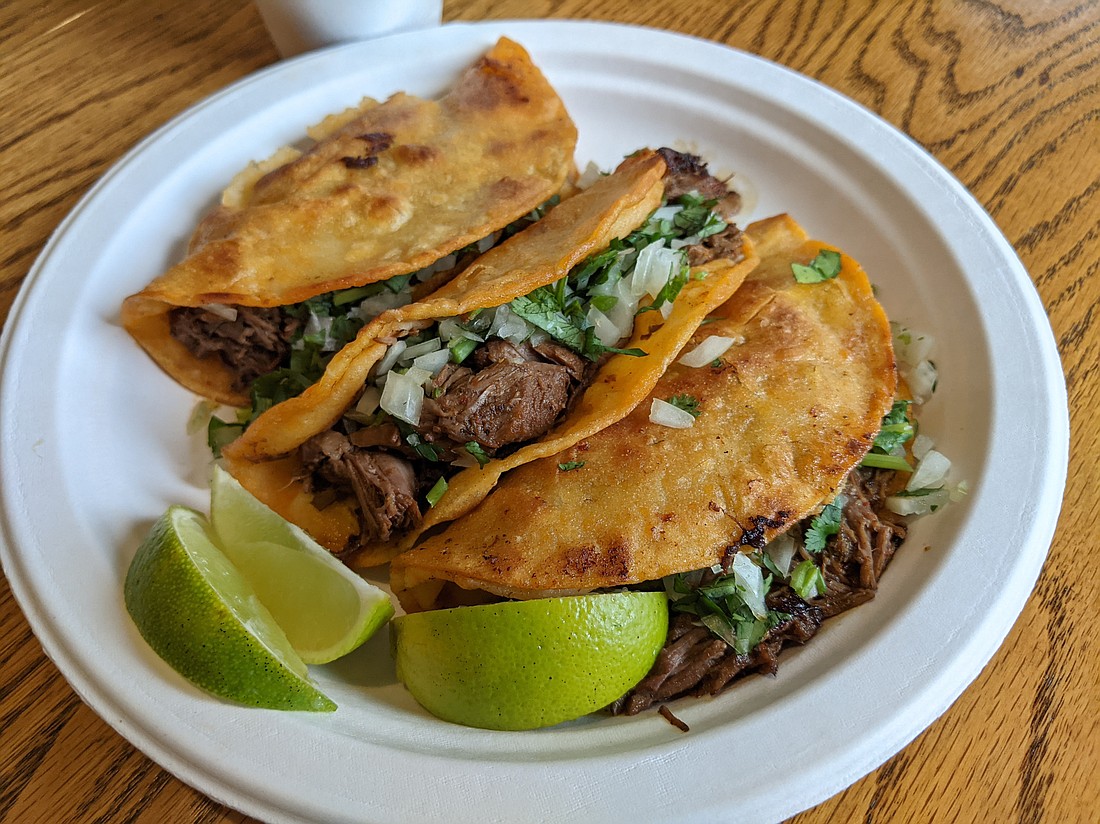 ---
---
On a drive through Mount Vernon and Burlington, you might pass half a dozen different places to get tacos. Some are better than others, but most offer the same typical street tacos, burritos and tortas. But if you see a brightly painted truck in the Burlington Coat Factory parking lot, make sure to stop. 
This truck, Antojos Locos ("crazy cravings" in Spanish), offers something a little different. Yes, they have tacos and burritos, but they also — and especially — have "antojos," also translated as snacks, from the owner's native Guadalajara.
Snacks range from the healthy to the aggressively unhealthy, depending on your mood. A cup of fruit salad might be a nice contrast to your burrito, but sometimes you might just want a bag of hot Cheetos covered in queso. I won't judge.
I have personally barely scraped the surface of the antojos offerings, but "elote en baso" (corn in a cup) is a wonderful snack for a cold day: a Styrofoam coffee cup full of steaming-hot corn topped with your choice of mayonnaise or sour cream, then topped with hot sauce and crumbled cheese ($5.75). Stir in the mayo before you dig in to avoid getting a solid mouthful of mayonnaise with hot sauce (speaking from experience).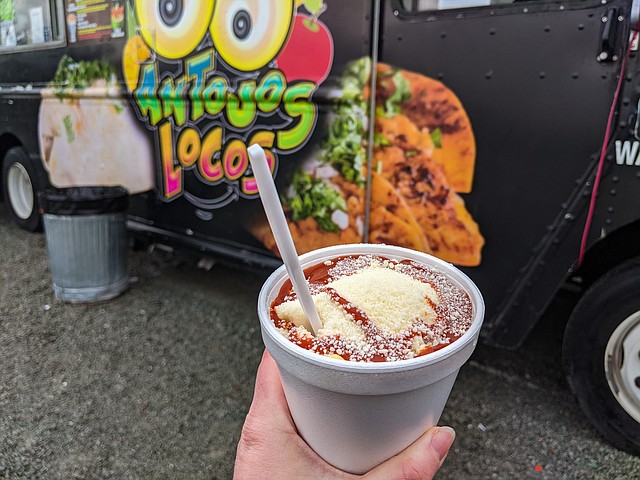 The "bionico," a big fruit salad with granola and sweet cream, is popular and looks beautiful, while the "tostiloco" — a bag of Tostitos covered in cucumber, peanuts, lime, mango, tamarind candy and pickled pork skin — sounds complicated but intriguing. I had hoped to try the mango cup with tamarind candy, tajin and chamoy before the recent snowy weather closed the food truck down, but fully intend to get it as soon as I have a chance. I'm also looking forward to trying the strawberries and cream, and yes, the hot Cheetos with nacho cheese. 
The regular food menu includes tacos, burritos, quesadillas and "L.A.-style" hot dogs, which seem to be bacon-wrapped sausage on a bun (new to me). For a quick hunger fix, you can't go wrong with a burrito ($12.50). These are of the larger-than-your-head variety, big and sturdy enough to double as a weapon, and securely wrapped against leaks. Rice, refried beans, onions, avocado, the meat of your choice, and plenty of sour cream fill out the burrito, and I have been very pleased to find they are built correctly so you get the full variety of fillings in every bite, with no worries about having all the sour cream in one end. 
My favorite burrito I've tried is the chili verde, but the asada is also excellent. Burritos come with a tub or two of house salsa, which is very perky (especially the red), and I find the addition of acid and heat from the salsa helps with the burrito's heaviness.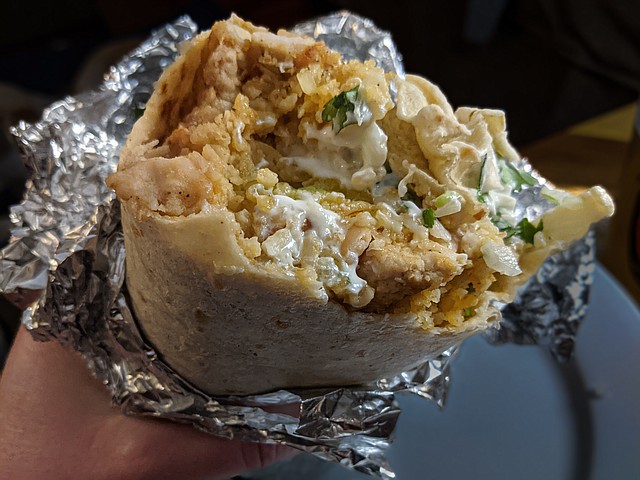 Most of the tacos are standard street tacos ($3.50 each), nicely topped with plenty of onion, cilantro and lime, and they don't scrimp on the meat. Antojos Locos doesn't have the meat range of other taco trucks (no lengua, cabeza or tripas here) but their chicken is very nice and the asada is excellent. You can also get them with shrimp or just vegetables. However, what you really should be getting is the birria.
Birria tacos are this truck's big specialty. Richly seasoned braised beef tucked inside tortillas and griddle fried, these are available with and without cheese. They are very good without, but get the cheese for the full experience, where it melts on the griddle and crisps up the edges of the tortilla for a rich, umami-filled effect. Three tacos are only $10.50 and are very substantial (I can only eat two at a sitting). Make sure you get the consommé, a deeply flavored broth for dipping your tacos, which comes free with each order.
To drink there is Mexican soda and "raspados" (shaved ice) in a variety of flavors. Sometimes they have "atole," a hot drink made from masa, or "champurrado," Mexican hot chocolate.
In the summer there is plenty of seating arranged around the truck with umbrellas, but the food travels well if you prefer to take it home and make a huge mess of yourself in private — or maybe that's just me every time I eat birria tacos. 
Antojos Locos also has an arrangement with local food delivery service Munchie Dude if you'd like to experience having excellent Mexican street food delivered straight to your door. No matter how you get it, make sure this truck is on your radar when you pass through Burlington.
Antojos Locos is open from 11 a.m. to 6 p.m. Mondays, Wednesdays, Thursdays and Sundays, and 11 a.m. to 7 p.m. Saturdays and Sundays in the parking lot of the Burlington Coat Factory, 1540 S. Burlington Blvd. Info: 360-540-8731 or facebook.com/antojoslocosburlington.