Environment
What we can learn from dead birds
2022 Whatcom, Skagit bird deaths can be indicator of environmental change
January 6, 2023 at 5:05 a.m.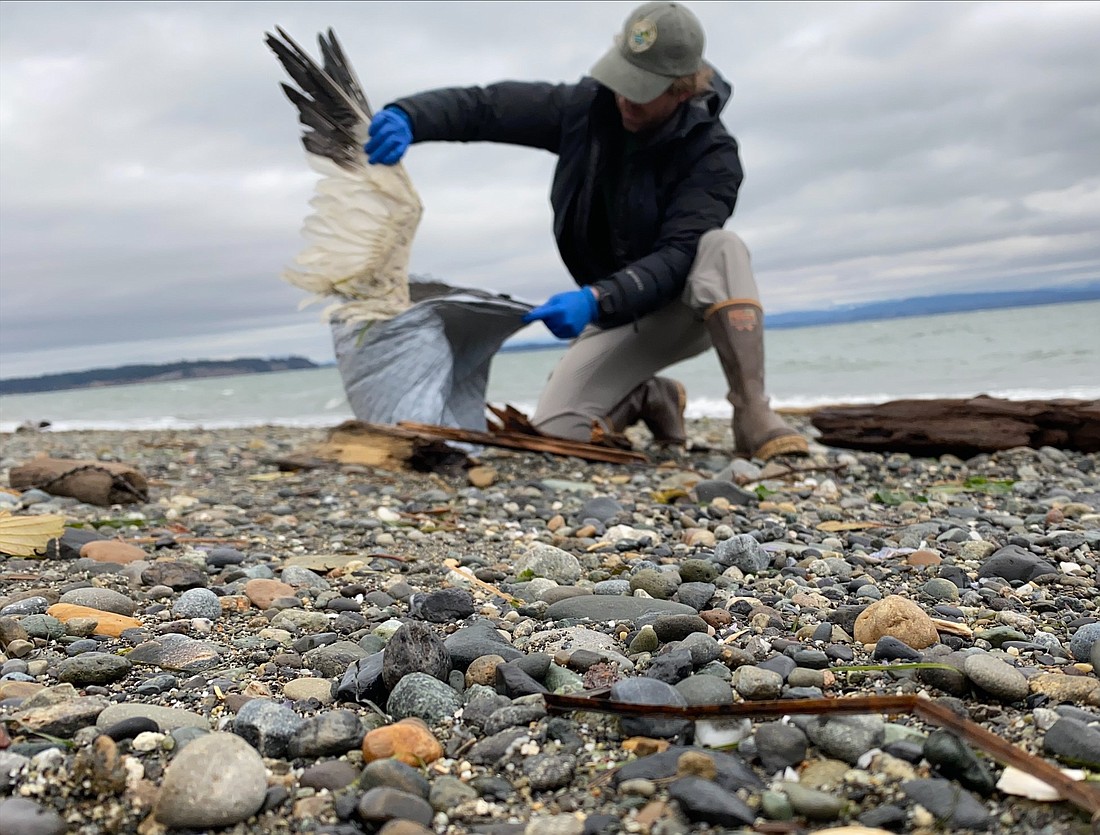 ---
---
Scientists are using dead birds to understand how climate change is impacting marine ecosystems, and they're learning a lot, according to Julia Parrish, a professor of ocean fishery sciences at the University of Washington. 
Birds are considered an indicator species when studying climate change, meaning they're easily observed and incredibly sensitive to environmental change. 
Parrish, who also leads the Coastal Observation and Seabird Survey Team, spoke about bird populations, marine heatwaves, mass mortality events and citizen science programs across the West Coast during a presentation at Western Washington University Thursday. 
The survey team monitors dead marine birds, in part because it allows them to understand why birds are dying in the first place, and in part to understand how environmental triggers — like illness and extreme heat — may impact other populations. 
"We're trying to figure out the source of the mortality," she told attendees. "The very first thing we do is ask questions about toxins and disease because we want to know: Should we get people out of harm's way? Is this something that could [harm] a dog or pets?"
Though Parrish lectured about regions of the world drastically different from Whatcom County — including sunny Mendocino, California, and Kotzebue, Alaska, in the Arctic Circle – she highlighted recent bird mortality events in northwest Washington. 
One of the world's largest colonies of Rhinoceros Auklets (which are neither rhinos nor auklets) persists on Protection Island in the Strait of Juan de Fuca. Each year, more than 70,000 of the species return to the island to nest and raise fledglings. Although in 2016, the population took a major hit, and the following year, the population saw a 23% decline in burrow occupancy. 
The local focus, Parrish said, helps scientists understand the global phenomenon of falling bird populations. 
"We have to look locally for [the cause of death] and figure out what's going on here," she said. "This is happening everywhere, and what you're seeing and what you're recording in places like Boundary Bay and Protection Island are part of a much larger-scale picture." 
Northwest Washington has seen significant shifts in bird populations over the last few years, with 2022 bringing multiple major fatality events. 
In late November last year, more than 400 geese were hauled out of Wiser Lake in Lynden due to highly pathogenic avian influenza. Later in the year, another 700 — primarily juvenile geese — were collected from the waters around Skagit Bay. 
Disease is a major cause of bird die-offs in the region, Parrish said, but not the only thing contributing to mass fatality events: Harmful algal blooms, food scarcity and competition also contribute to falling populations. 
Though solutions to these problems are not easy to come by, Parrish said citizen scientists can help by identifying dead birds, witnessing climate change and documenting issues in their community. 
"We can ring alarm bells early and say locally, 'We have to deal with this,'" she said. "The knowledge of what's going on allows us to predict, and that allows us to plan."