The Beat Goes On
A cult favorite makes his way to Mount Vernon
From punk to rock, Jonathan Richman stretches the limits of music
February 28, 2023 at 5:05 a.m.
|
Updated March 2, 2023 at 9:41 a.m.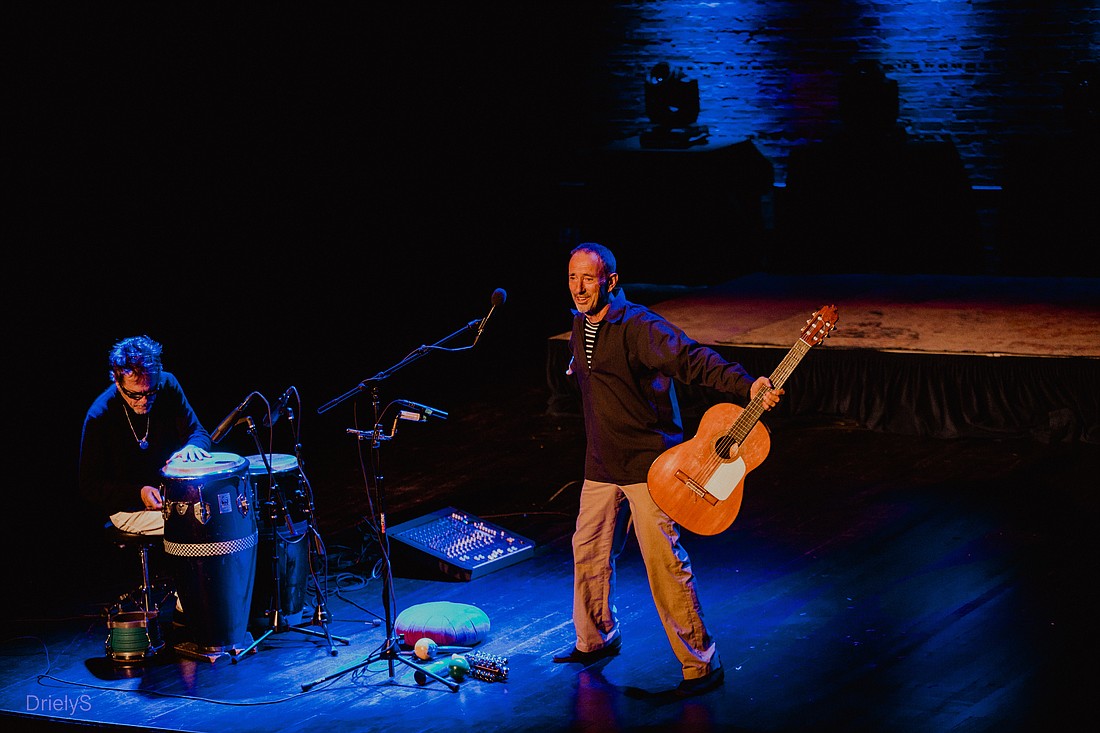 ---
---
Musician Jonathan Richman first came to prominence in the proto-punk scene of the early 1970s, with his band The Modern Lovers. That band's only album would go on to be an influential classic, best known for the single "Roadrunner," but by then he had already dissolved the original lineup in pursuit of a more stripped-down sound.  
Working with a rotating cast of backing musicians, Richman moved in a rootsier direction, combining simple rock and roll guitar riffs with lyrics that seem simplistic at first but reveal great depths of thought and meaning when you pay closer attention.
Since 1992, Richman has performed live in a duo with drummer Tommy Larkins, and that's who you'll see onstage at the Lincoln Theatre Wednesday, March 8.
If you go, be prepared for a performance that stretches the limits of what one might expect from a singer playing an acoustic guitar. Will Richman wander away from the microphone to sing un-amplified to the audience? Will he stop singing and just dance for a while? Or will he start to sing in Spanish or Italian? These are all strong possibilities. 
On the other hand, don't show up expecting any one particular song. Richman's performance style emphasizes spontaneity, direct connection and raw emotion, with a strong dash of humor. Although he's had a few brushes with popular culture — most notably his on-screen role performing the music in the film "There's Something About Mary" — he remains what some would call a cult favorite. Unlike joining the scary kind of cult, though, becoming a Jonathan Richman fan is a pure and simple joy, and all you have to do is show up to see what it's all about. 
Jonathan in his own words:
Jesse Stanton: So many of your songs are about connection, community and affection. I'm wondering how you see the state of live music at this moment. Are people coming back out and coming together like they used to?
Jonathan Richman: If our shows are any indication, audiences are coming out to see "live" music. Our shows, at least, are doing very well since the re-opening of "venues."
JS: How did you end up working with Jerry Harrison (his ex-bandmate, also of the Talking Heads) again?
JR: At a recording session in Oakland, five years ago, there was a keyboard instrument in the room. And I thought "Jerry would sound good on that." And so he did. And now we work together often.
JS: I understand that you mostly play more recent songs when you perform live. Are there any newer songs of yours you think are particularly representative of what you are trying to do as a songwriter now? What do you think are the biggest differences in how you write or what you write about between now and 10 or 15 years ago?
JR: I don't really see what I do as songwriting. I just make up stuff. And I sing other peoples' songs too. Sometimes I feel like singing "Dancing in the Moonlight" or "I'm in a Dancing Mood" or whatever. As to what recent song of mine represents how I feel lately, they all do. Otherwise I wouldn't sing 'em.
JS: I noticed you are playing a lot of shows in Washington on this tour, including three nights in a row in Seattle. Do you have any favorite stories about this area or things that you like to do when you come here?
JR: When I have extra time in Washington state, I have friends that I visit. But usually the tours are too tight to do this very much.
JS: For people who haven't seen the two of you play before, how would you describe your collaboration with Tommy Larkins, and what he brings to the stage?
JR: Tommy swings! 
ALERT: Jonathan Richman's shows in the Pacific Northwest have been postponed due to sleet, snow and ice of major proportions. Richman's shows are being moved to June. All tickets purchased will be honored for the new date (TBA). The Lincoln Theatre will reach out to all ticket buyers with information on how to exchange/refund your tickets.
In other news, Aaron Guest (of Polecat/Petty or Not/numerous other projects) recently announced not one, but two new albums coming out this spring. One is a full-length studio album, entitled "Guest," which will come out on vinyl. The other is called "One Takes" and consists entirely of solo performances live in the studio with no editing. He'll be celebrating both releases with a show April 29 at the Blue Room. 
We've got another announcement from the Northwest Washington Fair. Southern rockers .38 Special will be there Aug. 12, tickets are available now. 
A special event is happening at Aslan this Saturday. To celebrate the one-year anniversary of the Black Noise Records weekly DJ night, they're hosting an all-ages record fair during the day, followed by a night of live hip-hop.
Finally, KMRE is looking for a new host for their local music radio show, The Local Jam, at 8 p.m. Wednesday nights. I'm not sure who the right person would be for that but I feel like the odds are good they read this column. If you think it might be you, email program@kmre.org for more information. 
Live music listings 
Tuesday, Feb. 28
Aslan: 8 p.m., Jazz Night
Boundary: 6 p.m., Paul Klein on piano
Culture Cafe: 7 p.m., Open Mic
Greene's Corner: 6 p.m., Tenderpile's Smile Aisle
Menace: 7 p.m., Invitational Blues Jam
Wednesday, March 1
Boundary: 6 p.m., Aaron Guest on piano
Greene's Corner: 6 p.m., Karaj (folk)
Honey Moon: 8 p.m., Open Mic
Katt's: 6:30 p.m., Leo Bootes and friends (rock/blues)
New Prospect Theatre: 6 p.m., Open Mic
Rockfish: 6 p.m., Whistle Lake Jazz Quartet
Stones Throw: 6 p.m., The Hipocrats (Americana)
Underground Coffeehouse: 7 p.m., Jade House, Kitty Obsidian, Pure Halcyon
Thursday, March 2 
Blue Room: 6 p.m., Open Mic; 8 p.m., Jam:30 (open jam)
Brown Lantern: 8:30 p.m., Open Mic
Greene's Corner: 5:30 p.m., The Problem (jazz)
Honey Moon: 8 p.m., Jazz Jam
Shakedown: 9 p.m., Filth is Eternal, Dead Bars, Disaster Queen (hardcore)
Thirsty Badger: 7 p.m., Open Mic
That's What I Like: 6 p.m., J.P. Falcon and Friends (folk/rock)
Wild Buffalo: 7 p.m., Heist, Flais
Zeeks: 7 p.m., ELK (funk/rock)
Friday, March 3
Aslan: 8 p.m., BJ Block Trio (jazz/funk)
Blue Room: 8 p.m., Jade House, Jackie, Kittie Obsidian
Birdsview: 6 p.m., Uncle Doug
Brown Lantern: 7 p.m., Deep River Blues
Fireside: 7 p.m., Will Byrne (acoustic covers)
Honey Moon: 8 p.m., Quickdraw String Band (folk)
McIntyre Hall: 7:30 p.m., The Reverend Shawn Amos (blues/roots)
Shakedown: 8 p.m., No Guts, Sons of Rainier, Dryland, No-Fi Soul Rebellion, The Phone Books, Lipstitch
Skylark's: 8 p.m., Kazmyn (folk)
Stones Throw: 6 p.m., High Mountain String Band (bluegrass)
Wild Buffalo: 9 p.m., Enumclaw, Foxy Apollo, Careen (rock)
WinkWink: 7 p.m., Smithers, Roland Olayvar (rock)
Saturday, March 4
Aslan: 7 p.m., Slap Serif, OG Neeks, Ca$h McClane, Estimate, BlkSknn (hip-hop)
Conway Muse: 8 p.m., Jack Mattingly
FireHouse: 5 p.m., Linda Allen and friends (singer-songwriter)
Fireside 4 p.m., Singers' Saturday
Honey Moon: 8 p.m., Ivan Sandomire, Zach James, Eleanor Gordon (singer-songwriters)
Karate Church: 8 p.m., Analog Brass, Counterproductive, The Hobby
Make.Shift: 8 p.m., Fraxiom, whoTF, Emma Ecstasy, Niko Haley (electronic)
Rockfish: 7:30 p.m., Cardova (soul/funk)
Skylark's: 8 p.m., Whitewing Duo (blues/R&B)
Stone's Throw: 6 p.m., Aloha Danny (folk)
Wild Buffalo: 8 p.m., Black Eyes and Neckties, Sugar Sugar Sugar, Lands Farther East, Dog Shredder, Smooth Kiwi
Sunday, March 5
Kulshan: 5 p.m., Lynn Street Ramble (acoustic rock)
Main Street: 6 p.m., Open Mic
Make.Shift: 7 p.m., Black Eyes and Neckties, Mom Sport, more (rock)
Old Edison: 5:30 p.m., Ron Bailey & The Tangents
Monday, March 6
Greene's Corner: 6 p.m., John Whelan & Sean Cleland (traditional Irish)
Kulshan: 6 p.m., Rob Hutchings (singer-songwriter)
Tuesday, March 7
Aslan: 8 p.m., Jazz Night
Boundary: 6 p.m., Paul Klein on piano
Culture Cafe: 7 p.m., Open Mic
Greene's: 6 p.m., Open Mic
Menace: 7 p.m., Invitational Blues Jam
Wednesday, March 8
Shakedown: 8 p.m., The Sadies (alt-country/rock)

Before heading out to listen to live music, check with individual venues to make sure the event is still taking place as scheduled. 
Jesse Stanton's music column, The Beat Goes On, runs Wednesdays. Email: jsbhammusic@gmail.com or Twitter: @JSBhamMusic.
Jonathan Richman's tour was postponed due to weather-related complications. The story was updated March 2 at 9:42 a.m. to reflect this change.