Child Care-less: Part II
Whatcom County, state are 'championing' child care cause
Healthy Children's Fund, state legislation, citizens all tackle issues
February 22, 2023 at 5:55 a.m.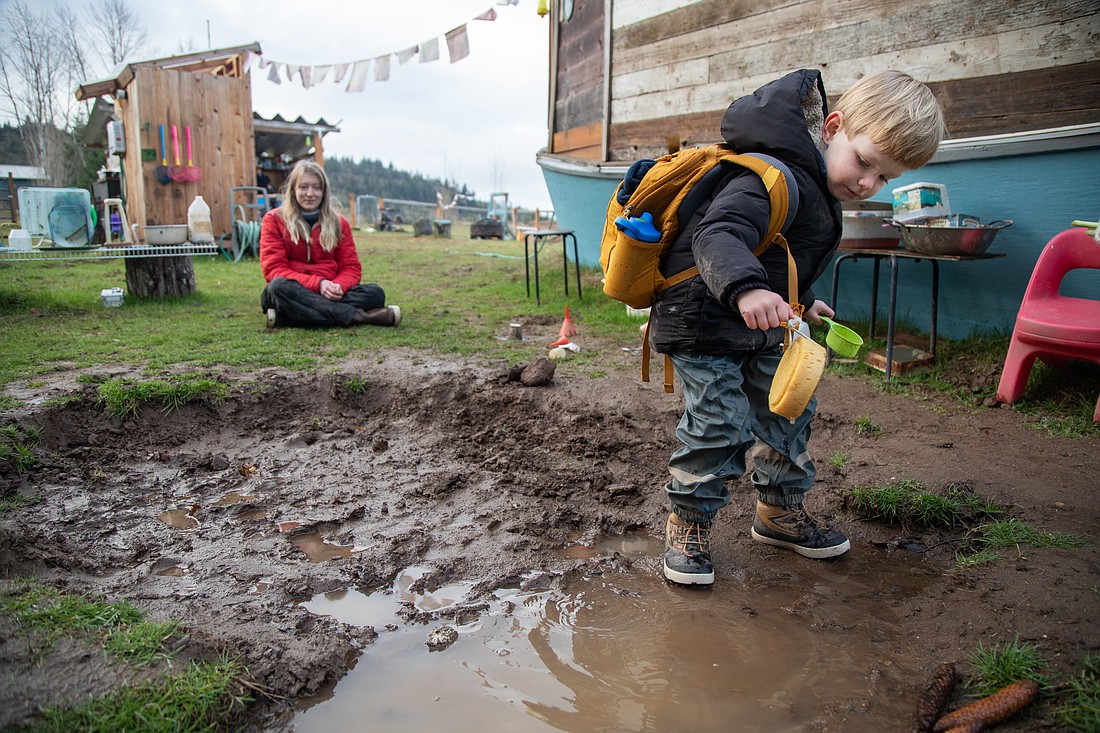 ---
---
Editor's note: Child Care-less: A search for solutions is a two-part series about the child care landscape in Whatcom County. Part two details the ways people at the local and state level are addressing child care.  
The child care crisis in Whatcom County has been a "slow-warming bathwater" for more than a decade, said David Webster, director of early learning and family services for Opportunity Council. 
To parents and providers, that bathwater is now scalding. 
Opportunity Council became the regional coordinator for Child Care Aware, a national nonprofit that acts as Washington's central resource and referral network for parents and providers. Webster said Opportunity Council noticed providers begin to shutter in its multi-county coverage area during the 2008 recession.
"Most providers had really lengthy waiting lists, they were maxed out state-wise," Webster said. "There just was a real disconnect between what the community needed and what the sector could provide." 
The child care crisis has become more complex, too. When limited child care options are available, some parents need to leave the workforce, which can result in financial instability, insecure housing and a decline in mental health for both parents and children, according to the Healthy Children's Fund implementation plan. 
Considering 90% of brain development happens by the age of 5, those unstable conditions can hamper a child's readiness for school. Just half of Whatcom County kids enter kindergarten "fully ready to learn," the plan states. 
That's why when community leaders and stakeholders began planning the Healthy Children's Fund, which passed in the November 2022 election, they didn't just focus on child care, rather how access to secure child care promotes overall wellness in Whatcom County children and families. 
"The lack of child care is one of the persistent problems that keeps us from making sure our kids are thriving," said Meredith Hayes, a member of the Whatcom Child Care Coalition.
The countywide levy is expected to collect $9.97 million this year to support those causes. An implementation plan presented to the county council Feb. 21 details the financial breakdown, timeline and focus areas of the fund. 
Between 55% and 68% of the levied amount will be allocated to early learning and care. The other piece of the pie will go toward supporting vulnerable children.
There is no catch-all to addressing the crisis, as evidenced by the 55 solutions to early childhood well-being listed in the implementation plan. But there are four key levers that "need to be pushed at the same time" to effect change, Hayes said: affordable child care; high quality and culturally relevant child care; accessible child care as parents want and need it; and a stable and thriving workforce.  
Citizens and legislators alike are stepping up to the task. 
Providers needed, but process is difficult
Local residents trying to chip away at the child care shortage by launching new services say progress has been slowed by complicated realities.
Bellingham mother of four Taylor Connot, 46, is planning to open her own child care center with her sister this year, called New Moon Preschool. The former school teacher and her familial business partner, MacKenzie Curry, both received state certifications to become early childhood providers. 
"Now it's just trying to find the money and where it will go," Connot said. 
She assessed the child care needs of different Bellingham neighborhoods, but quickly determined anywhere in town could use a center. Connot, a stay-at-home mom, also recognized the need for full-day care, not just a few hours. 
Although she knows nonprofits can get more help from the state, Connot will start her business as a privately owned center and plans to accept around 15 children, both subsidized and unsubsidized. If a family qualifies based on income for subsidy benefits, the state pays a sliding percentage of up to 95% of their child care, and parents cover a co-pay. 
Bringing her ideas to fruition has been challenging. Connot needs to secure three licenses: a state child care provider license, a state small business license and a city business license.
To start her own child care business, she was first directed to watch two modules totaling four and a half hours on the Department of Children, Youth, and Families (DCYF) website. After that, Connot received a "laundry list" of what to do to secure a license, with some hyperspecific requirements like "the outside has to have so many wood chips," she said.   
"I'm trying really hard to figure out how to get help with it, but I feel like it's maybe not out there. Maybe I need to make a couple more calls or knock on some more doors, but it's interesting," Connot said. "If you're working for a place that already exists or if you're doing one from within your house, it's easier." 
Connot axed the idea of operating her business in her own home because the state counts the kids already living in the home in child-to-provider ratios. With four children, Connot would have only been able to take on an additional six children. 
"It helps, but it's like a drop in the bucket," Connot said. 
So she began looking for places to rent or buy. Then zoning laws came into play — to build in a residential zone, Connot would need to secure a conditional use permit from the city, which can take months. 
The Center for Retention & Expansion of Child Care NW (C-RECC) was created in 2020 through a partnership with the Bellingham Regional Chamber of Commerce to help providers like Connot navigate starting a child care facility, then support them in staying open and even expanding their businesses. 
Webster said C-RECC is having conversations with county council to bring symmetry between the county zoning laws, state licensing and fire marshal requirements. 
"There have to be regulations for there to be quality child care, but I think we can streamline it," Webster said.   
Connot also worries about longevity. Child care facilities aren't lucrative businesses, and many struggle to break even month to month. 
"We crunched the numbers and we're making very little. And it's hard because you don't want to charge so much that you block people out from choices. I'm thankful right now my husband has a job," Connot said. 
"I think it's going to be like building the plane while it's flying," she added. 
Webster empathizes with the daunting task. 
"Even when the government is investing [in child care], the interface between a small business person who went into child care because they love children and the bureaucracies that are a natural part of government — it's a big misfit sometimes," Webster said.  
A recent state law boosted a unique kind of child care provider that requires less stringent regulations because it's not inside. 
Outdoor preschools are easier to start, but harder to sell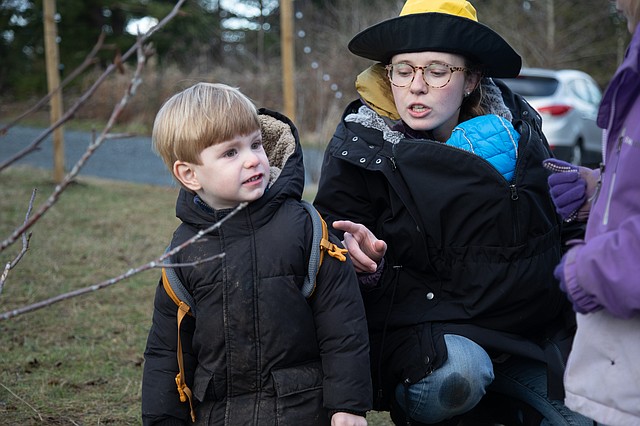 In 2021, Washington became the first state in the nation to license outdoor child care permanently. Out of 17 outdoor preschools statewide, four are in Whatcom County. State Sen. Sharon Shewmake of Bellingham helped work on a bill that preceded the law.  
Starting an outdoor child care program is easier than starting an indoor center since there is no building involved, said Erin Majeske, director of Barefeet Farm School, located 5 miles northeast of Bellingham.
Barefeet just became licensed by the state, Majeske said, meaning it can now accept subsidies to serve low-income children. She and two other employees currently oversee seven kids, but they are licensed to serve 12 kids per day. In the summer, their program fills up swiftly and they serve 15 kids per day. 
However, outdoor preschool year-round can be a harder sell to parents since it operates only four to six hours during the day and in all seasons. Though they have a shelter on site, the idea of rainy Pacific Northwest winters puts off some families. 
"If next year is the same as this year enrollment-wise, it's not sustainable," Majeske said. "Right now, I'm personally not being paid for the work I'm doing because we're not enrolled enough, but I see the future of the business and it's so important to me to provide this for the community."
Majeske, who previously worked at an indoor child care facility, said the benefits of outdoor play are plentiful, and it motivated her to move away from indoor care. She recalls always needing to tell her kids to use "inside voices" or to stop moving around or throwing things. 
"I didn't get any learning done in my classroom because I was constantly telling them not to be children," Majeske said. "Preschool-aged kids need to be moving when they learn. We know kids learn through their bodies. When they're like 5 or 6, then their learning goes into their brain."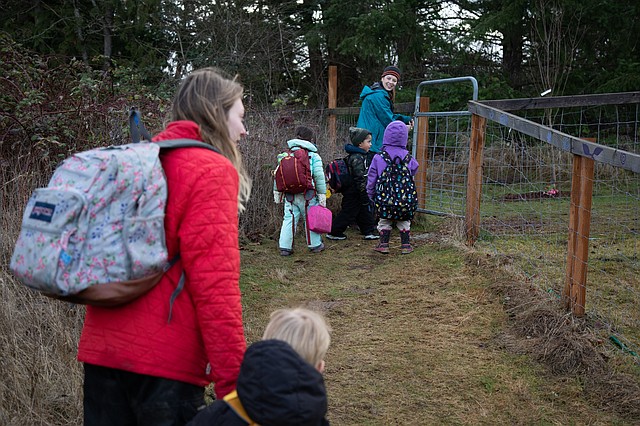 While licensed outdoor preschools are still a novel idea, Majeske thinks the movement is building momentum. 
"In the preschool education field, people are noticing that outdoor education is a lot easier for everybody and a lot more advantageous for the kids, so I think more and more outdoor preschools are popping up," Majeske said. "We're at the forefront, is what the licensers say." 
State lawmakers mull legislation; federal aid needed
Asked what she hears from constituents as being the greatest need when it comes to child care, Sen. Shewmake said "everything."
The Fair Start for Kids Act, signed into law in 2021, is a promising start to addressing "everything." Webster called it a "landmark investment" in child care and early learning, with $1.1 billion set aside to help families and providers, according to the DCYF. 
"I think it's transformative," Shewmake said of the act. "It's not going to go the whole way, though. That's where the children's fund really comes in as well."
Whatcom Child Care Coalition member Hayes said funding child care is a dual effort between local and state governments. 
"The Healthy Children's Fund is a tool we can use locally to help supplement, to help complement some of the other funding strains and the other efforts that are happening across the state and on the federal level," Hayes said. "It's going to be really important to fit these pieces together to have a really holistic and well-rounded approach to meeting the needs of children and families." 
"That's the story of my life: progress, but more to do." — David Webster, OPPORTUNITY COUNCIL
The state also increased the number of Early Childhood Education and Assistance Program (ECEAP) slots and bumped up subsidy rates. More than 1,300 slots — made available to children based on age and family income status — were added for the 2022-23 school year, according to DCYF. In 2022, the subsidy base rate increased by 16%, and this year, a Child Care Aware team is asking the Legislature to further raise rates to incentivize providers to accept more subsidized children. 
The team is also asking lawmakers to direct DCYF to develop plans to cap the amount families are paying for child care at 7% of their household income and to extend living wages to child care educators.  
Also this session, state Rep. Alicia Rule of Blaine introduced a youth development bill, part of which seeks to expand after-school and summer child care opportunities. 
Bellingham parents Matt Hinz and Kate Kershner likened securing summer care to getting a Taylor Swift concert ticket. All of the summer camps in Bellingham opened their registration on the same day this year, Hinz said, meaning the couple had to sit at the computer waiting with an Excel spreadsheet of all the different camps they would send their elementary schooler to over summer break. 
"It's Ticketmaster," Kershner said of signing up for camps. "It feels like the bots got them all. Can you buy them from a bot?"
"In this case, you can't," Hinz laughed. 
Shewmake also nodded to transitional kindergarten, a free early learning program for 4-year-olds that began in Bellingham Public Schools and has since been adopted by school districts statewide. In the 2022-23 school year, the district moved transitional kindergarten to a full-year schedule, shooting the number of kids up from 185 during the 2021-22 school year to 250. Transitional kindergarten, or TK, has been implemented in all but one Whatcom County school district. 
TK is essentially a new grade level, but it's not meant to serve everyone, said Debbie Haney, assistant director of early learning and family engagement for Bellingham Public Schools. 
Haney said the program is designed to span an opportunity gap when it comes to finding early childhood education for families that don't meet the low-income requirements to be subsidized but who can't afford or find other forms of early learning. 
While TK isn't meant to be a solution to the child care shortage, Haney said it has helped families "caught in the middle." But it also has the potential to take business away from existing providers, an unintended consequence of expanding the schedule. 
Barefeet Farm School Director Majeske said she lost 24 previously filled spots this school year, and some students moved to TK. Stories like hers are why the district is focused on recruiting families with no existing or stable child care. 
"It really can rock the economic model of a small child care provider, so we've been working with the district to try to plan better on the recruitment and enrollment side of things to make sure we're not redirecting customers who already have a good home in early learning," Webster said. 
Whatcom County has made waves when it comes to innovatively approaching the child care crisis, and it doesn't go unseen by legislators. Similarly, Webster said Washington is "championing" child care legislation nationwide. 
"We're very fortunate in Washington that there's been a collective spirit in the Legislature spanning both parties that have invested significantly," Webster said. "The pandemic highlighted for policymakers and corporate leaders and parents, the value of child care in their life."
Shewmake said she's proud of what's being done at the local and state level, but a federal investment is needed. 
Webster agreed that more funding is one, short answer to an incredibly intricate problem.
"We have to increase our investments because these are such pivotal years in children's lives, in families' lives," Webster said.
"That's the story of my life," he added, "progress, but more to do."