Ron Judd
An ode to a deserved legend — Boeing's 747
Built by Puget Sound hands, the retiring bird changed the world
February 8, 2023 at 5:05 a.m.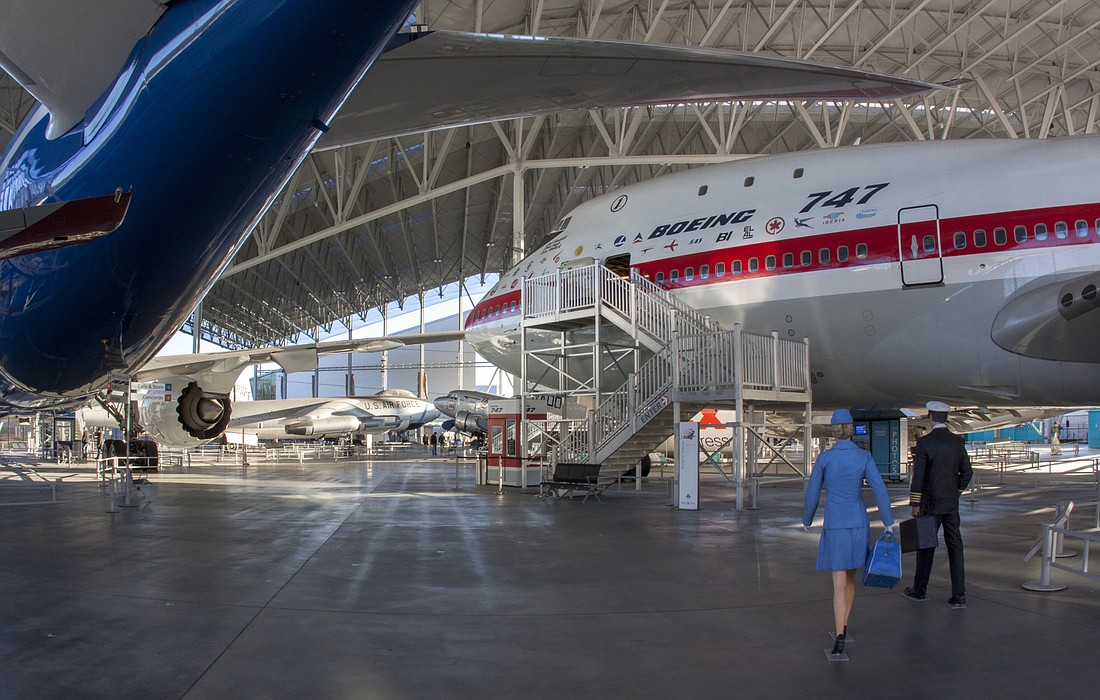 ---
---
The older one gets, the more the memories of major youthful events tend to pixelate. But somehow for me, the first airborne ascent of what later would be termed The Queen of the Skies remains as sharp as an obsidian blade. 
I was 5, hellbent on 6. My dad, the first Ronald Judd and a lifetime Boeing machinist, was one of thousands of Puget Sound workers who took the kids to watch history unfold before our eyes, with the first flight of the Boeing 747, which ended a five-decade production run at the Everett Boeing plant last week.
That day, Feb. 9, 1969, gains luster in my memory with each passing year. I don't remember driving from our home in Duvall, or any of the particulars about making our way out onto a viewing area near the tarmac at Paine Field near Everett. 
But the plane itself: Oh yeah. Like yesterday.
It was unlike anything anyone had ever seen, and to this day, watching one float down from the sky, like a skyscraper with wings, still gives me a chill. The first 747, designated RA-001, was painted all white with red and black trim and you could spot it from miles away.
Over the coming decades, a big bunch of us Boeing brats did just that, exulting with each spotting of regal Number One as it made its rounds across the Northwest, on test flights emanating from Seattle or Moses Lake — hometown to both of my parents. I would spend many a later day in Grant County watching, close-up, the big bird's progeny make touch-and-go landings out of Grant County Airport.
A testament to ingenuity
Few things in life are more mesmerizing than watching a couple hundred tons of aluminum and chutzpah drop from the sky and lift gracefully back off. It was a testament to ingenuity, and to the generations of Northwesterners who literally drew it up on paper, riveted it together, and sent it off into the world. 
The plane, with a payload of 480 souls and range of 6,000 nautical miles, would be credited with "democratizing" air travel. And when the last new one, a model 747-800 cargo jet, took to the skies last week, it received deserved acclaim for changing the world.
On that original first flight day, no one could have imagined that. But the awe was palpable. The thing was literally 2.5 times bigger than its passenger-jet predecessor, the 707. I still chuckle over early accounts of its design.
The plane was sketched on paper by Joe Sutter, who grew up in Seattle, watching planes take to the sky at Boeing Field. Sutter dreamed big. And given the chance to create what then was conceived primarily as a cargo plane, he sketched an oddly humped behemoth that would become a global icon. 
It looked huge. Still does. Legend has it that airline executives, walking through a wood mockup, commonly expressed a two-word testament to the plane's biblical dimensions: "Jesus Christ!"
Sutter recalled in a book why the 747 always felt so comforting to passengers. Because of its size, "It felt like a place, not a conveyance," he said.
On first flight day, of course, nerves were on overdrive. In spite of reassurances by countless engineers citing every law of aerodynamics, a lot of skeptics honestly doubted the beast would ever leave the ground. Among them, Sutter later recounted, was his wife, Nancy. 
Early that morning, Sutter drove her to the airstrip, guiding her to a spot where he predicted RA-001, its four massive turbofan engines roaring, would slip the surly bonds of Earth. Watch her go, he said. And she did, right where he predicted. 
The plane looped around Puget Sound for almost two hours, returning home to a gentle touchdown.
"It's a pilot's airplane," test pilot Brien Wygle said afterward. "This is a flying arrow."
Everybody cheered. Puget Sound, and its home planet, have never been the same. 
A machine that changed people, place
The 747 changed our people and place for the better, luring aerospace workers from around the globe, creating a transnational culture of innovation and technology that would serve as fertile ground for next-gen companies such as Microsoft and Amazon. It helped make the old Boeing a successful business that created a multigenerational middle class in our midst — both features now sadly in decline in the company's current iteration.
The 747 stands today as a rare — and unfortunately, in our digital world, fleeting — example of people of all means coming together to build something with their hands that would change the world.
All of which makes the plane, which will continue to fly for years to come, largely as a cargo carrier, all the more special to many. 
A picture of 747 Number One, given to my dad at his job site after the first flight, hangs on the wall of my home. It now bears an autograph of the man who conceived it, Joe Sutter, whom I had the pleasure of meeting some years before his death. It reminds me every day of the power of teamwork and bold initiative.
In 2012, a piece I wrote about the old plane's then-sorry state, for The Seattle Times Sunday magazine, Pacific Northwest, lit a fire under a bunch of Boeing retirees, who dusted off their tools and refurbished the long-neglected big bird from the wheels up, restoring it to its original first-flight glory. I'll always be proud of that.
Today, the restored plane stands on grand static display, protected by a massive roof outside the Museum of Flight in Seattle. 
Next time you're up for the fight with traffic and get down there, stop by and say hello to an old friend. Behold its girth, walk through its doors, and appreciate the miles it flew and the minds it opened.
They don't make them like that anymore. Nor anything else, for that matter. 
Ron Judd's column appears on Wednesdays; ronjudd@cascadiadaily.com; @roncjudd.