Business Matters
Lynden bookstore & coffee shop balances liveliness with legacy
Formerly Katz!, Eucatastrophe owners foster community connections 1 year later
August 29, 2023 at 4:50 a.m.
|
Updated August 30, 2023 at 5:25 p.m.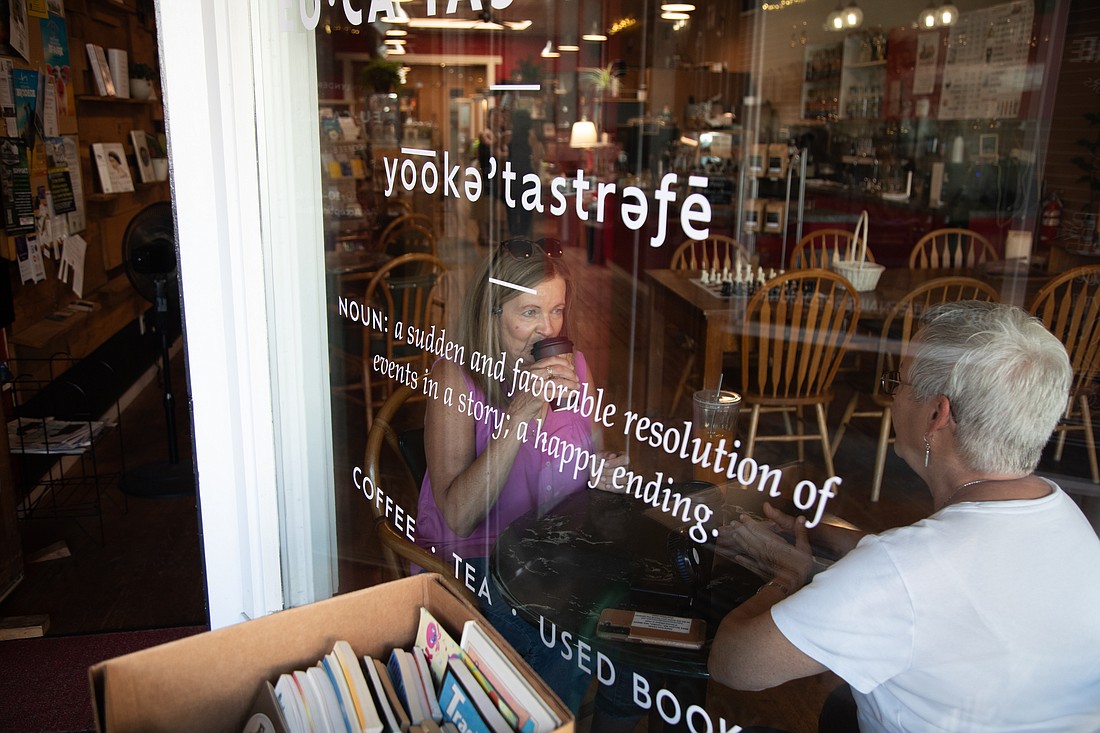 ---
---
A Katz! Blend. One year ago, Cutzi and Justin Jobes bought a Lynden landmark, renamed and reconfigured it. But its legacy remains intact — even if longtime regulars had to learn a bit of Tolkien. 
In September 2022, Katz! Coffee and Used Books at 515 Front St. in downtown Lynden became Eucatastrophe Coffee and Used Books. In the year since, the new owners have made several changes, from adding more seating to expanding the children's section. 
On the whole, noted Cutzi Jobes, it's been a good 12 months.   
"We've been busier than we thought we would be and have had to bring on some additional staff because of it," she said. "Somebody told us to be prepared for sales to go down in our first year but that has not been true for us, and we are very grateful."
But it's also required carefully balancing legacy with, well, liveliness.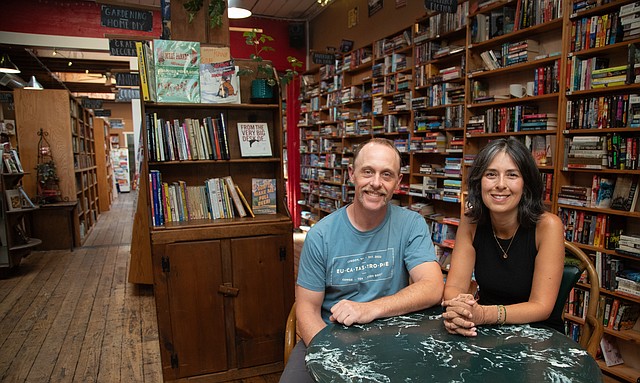 The business, and the building it's in, has a storied history and a relationship with books that is so lengthy it's documented on a plaque near the front.
Built around 1925, the marker reads, the historic Frith Building became home to the Lynden Book Shop in 1947. It's been a bookstore ever since, selling to John Stap a year later for its initial focus on Christian books and office supplies. Then, it changed its name to Katz! Coffee and Used Books in 2005 under continued ownership by the Stap family after a remodel.
"You are still able to enjoy the unique and original sheet metal art on the ceilings, planked flooring and can even find the builder's initials in the cement flooring and .22 shells wedged in between planks where locals used to shoot ducks out the back window," the Katz!-era plaque explained.
But in 2022, after 75 years and three generations of family operation, Ken and Sherri Stap wanted to retire and, Cutzi said, posted about selling the store on Facebook. 
"We had friends tag and message us that we needed to buy it — that it was perfect for us" as homeschooling, coffee-drinking book lovers, she recalled. But it was a financial stretch. "Quite frankly, we took out our retirement to purchase it."
The Staps also "wanted to make sure it stayed a used bookstore/coffee shop, so they were very selective about who they chose to take over," Justin said.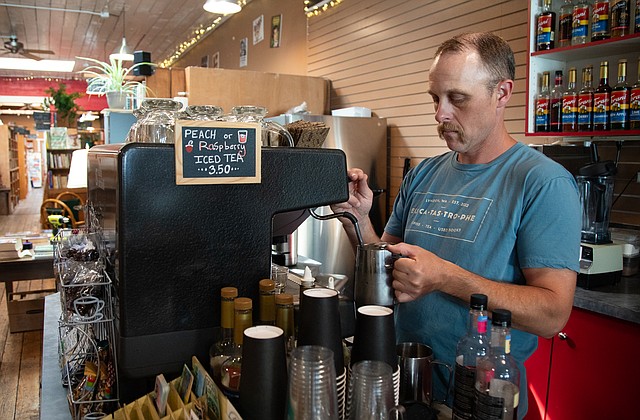 Now Justin, a former firefighter, and Cutzi, a self-described homemaker, work in the store along with their two teen daughters and four staff members. Cutzi said she still homeschools the remaining four kids (out of five) they have at home.
Neither are new to business or, for that matter, to coffee. Cutzi said the two of them owned a Jazzercise studio in Ferndale nearly 15 years ago, and both worked in coffee in college.
The coffee continuity is clear when you enter Eucatastrophe. On the right, nestled between the front windows and the coffee bar, is a 1-pound roaster flanked by signs and shelves for the various blends that the owners roast themselves to sell and serve. They include Katz! Blend, which an older sign calls the bookstore's "signature coffee," and specialty roasts in bags with black Eucatastrophe labels, like the very-dark-yet-sweet Black Pearl.
Other changes in the past year may be less obvious to a casual visitor scanning the tall wooden bookshelves that extend back into the narrow store over its wooden plank flooring, peppered with illumination from a series of overhead skylights. 
Up front, Cutzi said, bookcases were removed to make more room for tables and space for people to meet. In the rear, the children's section was expanded and a sale book room was turned into a meeting room that's now used for classes and community groups.
All told, Justin estimated, the store holds 15,000 books in its 2,100 square feet, not counting the 400-square-foot classroom space.
And then there was the new name.
"We are asked about it a lot!" Cutzi said. "Eucatastrophe is a word coined by [author J.R.R.] Tolkien which means: a sudden or favorable turn of events in a story, which results in a happy ending. It's basically the event that looks like it's going to be catastrophic, and it turns out amazing instead."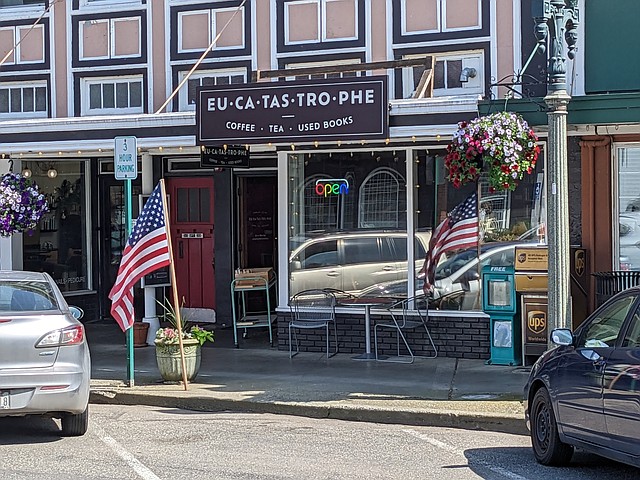 Helpfully, the exterior sign above the store breaks it into syllables — EU-CA-TAS-TRO-PHE — a word surprisingly easy to pronounce without relying on Google audio prompts. Out loud, it's simply "yoo-catastrophe" with emphasis on the "tas." 
"Tolkien says that the greatest eucatastrophe story of all time was the death and resurrection of Jesus," Cutzi said. And that connection nods to another continuing legacy for the store which is embedded in its stacks. 
"Uniquely, we also carry a wide range of Christian books — everything from Christian living to doctrine and theology," Cutzi said. "We have a lot of local pastors who have studied extensively and they bring us amazing books."
Overall, Cutzi said paperback fiction is the most popular category of books.  
"Because of our history in the local homeschool community, we are also paying special attention to our children's section. We hope to help foster a love of learning, reading and thinking," she said.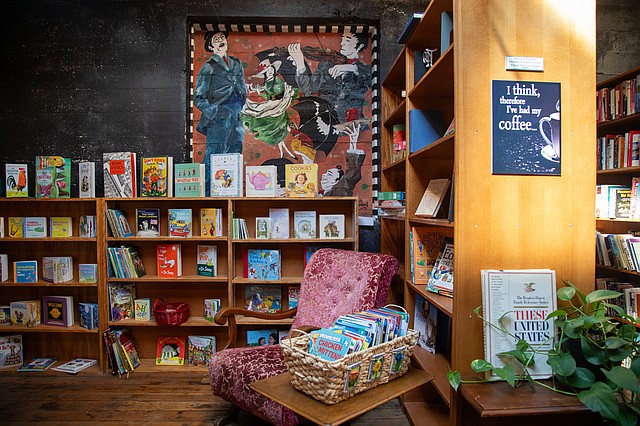 The Jobeses continue to try new things as they enter their second year of ownership. In July, Eucatastrophe held its first author event with local science fiction and fantasy writer R.J. Jewell, and has several more events planned for fall with Christian authors. 
The store is providing a space for education, following a spring chess club and kids' summer Spanish group classes, with fall classes announced in writing, literature and Spanish aimed at homeschoolers. 
It's the activity that's led to longtime regulars describing the bookstore as "more lively," according to Cutzi. "I think people said it was just a little more quiet in here before and felt more library-ish."  
Yet it seems to align with what the new owners hope to be known for as they slowly and intentionally make changes, surrounded by heritage like the clever posters around the bookshelves promoting coffee and original Katz! and Lynden Book Shop signage hanging inside and out. 
"Our vision," Cutzi Jobes said, "is to provide local, not-too-pretentious, simple but yummy coffee and treats in an atmosphere where the community — both old and young — can gather for fellowship or solitude, to learn and to grow." 
Places & Things
Happiest Tees on Earth held its grand opening in Sedro-Woolley on Saturday, Aug. 26. The business, at 816 Metcalf St. next to the Sedro-Woolley Chamber of Commerce, was previously an online-only retailer featuring T-shirts, sweatshirts, kids' items and accessories with Disney-esque themes. 
"It is our desire to create apparel that will bring the magic & joy of Disney to your wardrobe," the owners wrote on their website, "whether you are skipping down Main Street or dreaming of it from home!"
(For the latest Places & Things, check here throughout the week.)
Editor's note: This is Frank Catalano's final Business Matters column for Cascadia Daily News. Please send story tips and ideas to biztips@cascadiadaily.com.