Caras en la Calle / Faces in the Crowd
Luis Casillas: Owner of Mi Rancho
CDN's weekly community profile
August 25, 2023 at 5:00 a.m.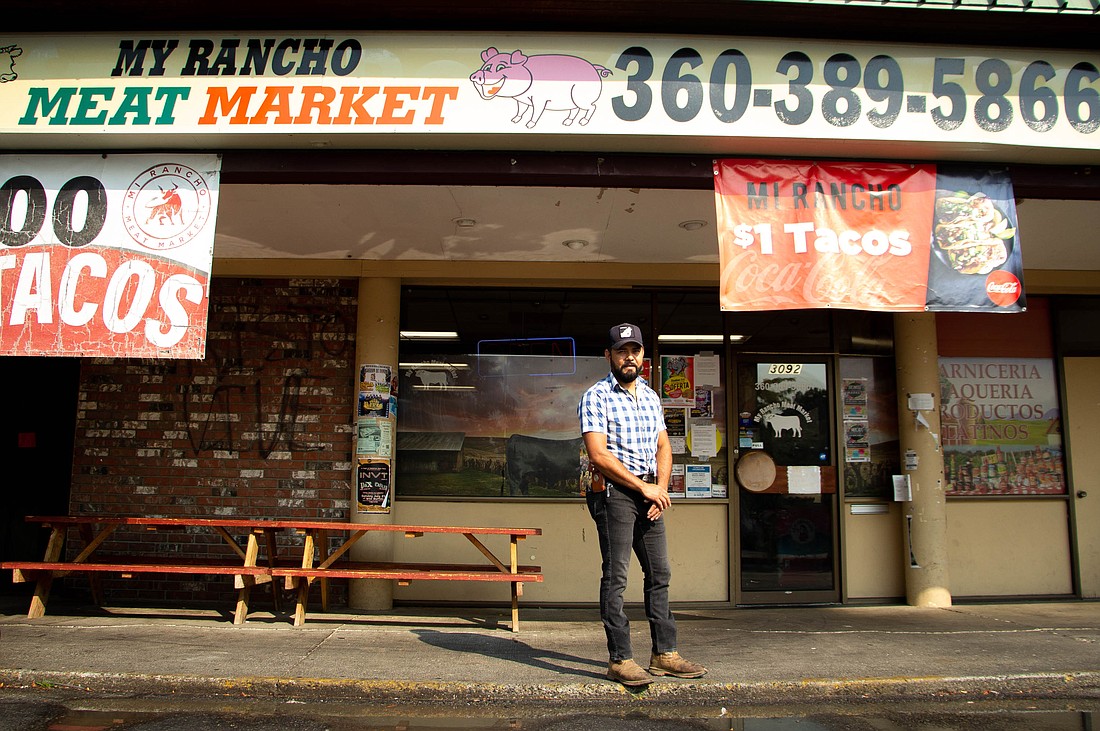 ---
---
Luis Casillas (he/him)
Age: 38
City: Bellingham
Lived here for: 15 years
Originally from: Jalisco, Guadalajara, Mexico
Notable: Owner of Mi Rancho Meat Market and Taqueria, a restaurant in the Columbia neighborhood known for its $1 tacos.
*Note: Scroll down to read Q&A in English.
¿Cómo llegaste a Bellingham? 
Trabajé en el área de Los Ángeles desde 2001 en mercados por la comunidad lantinoamericana, como la que tengo ahora, así que esa experiencia me permitió venir a Bellingham en 2008 para ayudar a abrir una tienda mexicana local en el parte oeste de la ciudad y trabajé allí desde 2008 hasta 2014. 
¿Qué servicios ofrece Mi Rancho? 
Empezamos con la carnicería y a partir de ahí añadimos una tienda, panadería y taquería. Tenemos los cuatro bajo un mismo techo porque me gusta que la gente venga y encuentre un poquito de todo los servicios que ofrecemos. 
¿Cuál es su sección favorita de la tienda para trabajar y por qué? 
La verdad es que mi favorito es la carnicería porque es donde más trabajo con la gente. Por supuesto que trabajo en la tienda, la panadería y todo eso, pero la carnicería es lo que más me llama la atención y creo que es lo que más le gusta a la gente también. Lo que más le gusta a la gente es donde me gusta dedicar mi tiempo. 
Después de casi 10 años en el negocio, ¿cuál es la parte más difícil de su trabajo? 
Lo más difícil es atender a todo el que entra en la tienda, porque quiero complacer a todos los clientes que entran, y dirigir a casi 20 empleados. No tenía mucha experiencia dirigiendo empleados antes, así que resultó ser lo más difícil. Nunca habría imaginado que tendría tantos empleados trabajando conmigo, pero mi esposa y yo lo hemos conseguido. 
¿Ha hablado alguna vez con su familia sobre lo que ocurrirá cuando usted decida jubilarse? ¿Se hará cargo uno de sus hijos o hay algún plan? 
Sí, ya lo hemos hablado. Llegará un momento en el que no pueda llevar el negocio y ahora me siento un poco estresado por la carga de trabajo, así que hablar con ellos sobre un plan para que poco a poco haga menos trabajo y finalmente me retire me ayuda a aliviar ese estrés. Les dije a mi hijo y a mi hija que debían trabajar y aprender a manejar cada parte del negocio para que, si algún día quieren hacerse cargo, tengan conocimientos en todas las áreas. Si por alguna razón no quieren hacerse cargo, no he descartado la posibilidad de vendérselo a alguien de fuera de la familia. 
¿Tiene alguna recomendación de platos para su restaurante taquería?  
Recomiendo a cualquiera que venga y pruebe los burritos y los tacos, oh el plato de tacos de birria también es muy popular. Todos los platos son buenos y no lo digo porque sea el dueño, lo digo porque es la respuesta que recibo de los clientes.
Mi Rancho Carnicería y Taqueria se encuentra en 3092 Northwest Ave. en Bellingham.
"Caras en la calle" se publica en Internet y en papel los viernes. ¿Tiene alguna sugerencia para un tema de "Caras en la calle"? Envíenos un correo electrónico a newstips@cascadiadaily.com.
---
How did you get to Bellingham? 
I worked in the Los Angeles area since 2001 in markets and shops catering to the needs of the Latin American community, like what I have now. So that experience allowed me to come to Bellingham in 2008 to help open a local Mexican store on the west side of town. I worked there from 2008 until 2014. 
What are all the services Mi Rancho provides? 
We started with the meat market and from there we added a bakery, store and taqueria. We have all four of those under one roof because I like it when people come and find a little something from each service we provide.  
What is your personal favorite section of the store to work in and why? 
Truthfully my favorite is the meat market because I get to work with people the most. Of course, I work at the store, bakery and all that but the meat market is what calls my attention the most and I feel it's what the people like the most as well. Whatever the people like the most is where I like to dedicate my time.  
After almost being in business for 10 years, what is the most difficult part of your work? 
The most difficult things are attending to everyone who comes into the store, because I want to please every customer that walks in, and managing almost 20 employees. I didn't have much experience managing employees before, so it proved to be the most difficult. I would have never imagined that I would have so many employees working with me but me and my wife have managed to do it. 
Do you ever talk with your family about what will happen when you decide to retire? Will one of your kids take over or is there a plan?  
Yes, we have talked about that. There will come a time when I can't run the business and I am at a point now where I am feeling a little stressed with the workload so talking with them about a plan for me to slowly do less work and eventually retire helps relieve that stress. I told my son and daughter they should work and learn how to run every part of the business so if they ever want to take over, they will be knowledgeable in every area. If for some reason they don't want to take over I haven't ruled out selling it off to someone outside of the family as well.   
Do you have any dish recommendations for your taqueria restaurant? 
I recommend anyone come and try the burritos and tacos. The birria taco plate is also very popular. All the dishes are good and I am not saying that because I am the owner, I say it because it's the feedback I get from customers.
Mi Rancho Meat Market and Taqueria is located at 3092 Northwest Ave. in Bellingham. 
"Faces in the Crowd" is published online and in print Fridays. Have a suggestion for a "Faces in the Crowd" subject? Email us at newstips@cascadiadaily.com.