Outdoors
Buzzing bugs, distractions hamper stargazing the Perseid meteor shower
Bug spray, avoiding light pollution doesn't always fix such problems
August 23, 2023 at 5:00 a.m.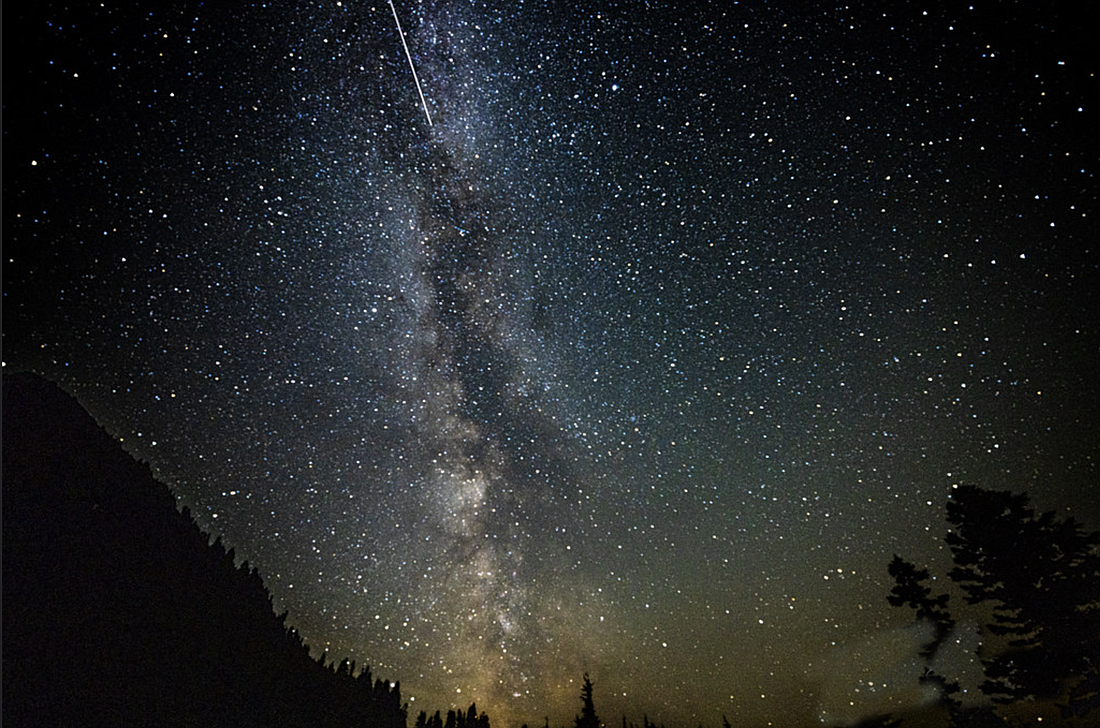 ---
---
Planetariums herald the Perseid meteor shower as one of the greatest shows in the night sky.
As a result, my expectations were as high as Mars while camping during the recent new moon. I had visions of a celestial extravaganza worthy of Walt Disney.
Then I noticed a couple of mid-sized flies hovering around my ankles as I raised my tent in the North Cascades. 
I shooed them away, forgetting this was the 25th anniversary of an episodic event better left in the recesses of my mind.
In the summer of 1997, I walked out of the bone-dry mountains as a survivor of the Great Goat Rocks Wilderness Massacre. Ron Judd, the editor and driving force of Cascadia Daily News, chronicled the fuzzy details of insect hell in a Seattle Times column. He started the opus wistfully:
"Sooner or later, you've gotta stop swatting. Besides, I reasoned, lying back on a flat rock and scanning the magnificent Cascade peaks south of White Pass, there are many worse places to go out."
Back then, we fought tooth-and-nail against a triumphant mosquito swarm. Last week, scores of biting flies injected their anticoagulant-containing saliva into the skins of seasoned Bellingham outdoors folks. 
Everyone applied copious amounts of bug spray over gobs of creamy sunscreen as protective armor from the elements. The flies, which came in L, M, S and XS, mocked our countermeasures. Not even death swats discouraged the constant buzzing and biting from the airborne warriors. 
The predicament led to a conversation about the efficacy of the popular toxic repellent called DEET. Conclusion: DEET sometimes works for mosquitos but not against bloodsucking deer flies and their assembled relatives.
Elizabeth, one of the group's gazelle-like hikers, displayed a knee as swollen as a melon as exhibit A.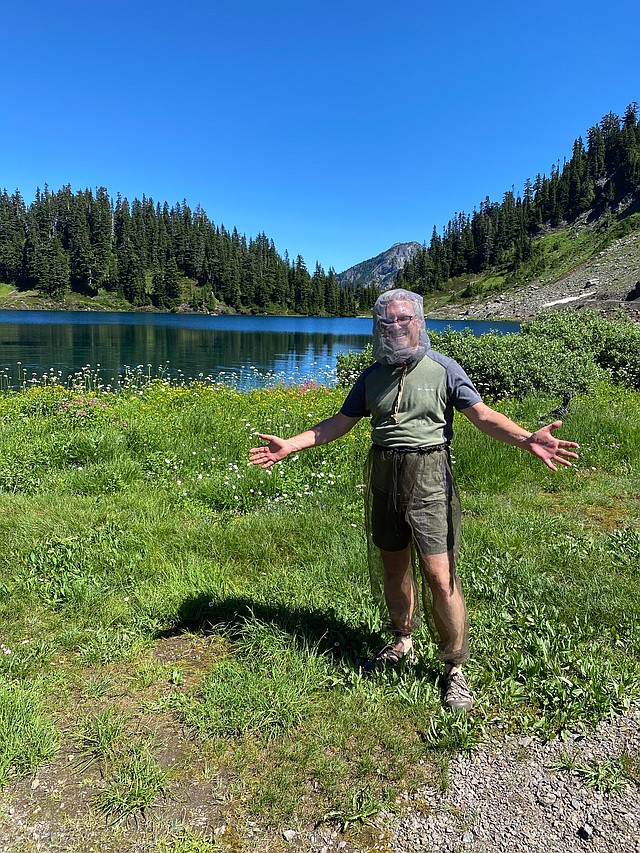 I inquired about borrowing a spare biohazard suit as five little buggers left a trickle of red liquid oozing down my ankle. No luck.
We were on our own below a jagged rock curtain separating us from All Things Canadian.
Hamsters mostly endure a winter of lowland hiking and adventuring with the anticipation of enjoying magnificent Cascadian peaks during the summer window.
We pray for a smokeless sky, mild temperatures and halfhearted insects. The Magical Meteor Tour coincided with wildfire smoke, excessive heat and bad, bad bugs.  
Nightfall could not arrive soon enough on the first day with cooler temperatures and the insects off digesting their pounds of flesh.
"They seem to go away at night," said one camper, sipping wine to perhaps dull the memory of parasitic predators.
The sky blackened, creating silhouettes of towering peaks as we arranged folding chairs side-by-side, Fourth of July style. The Milky Way splattered the black canvas like a Jackson Pollock brushstroke.
Let the show begin.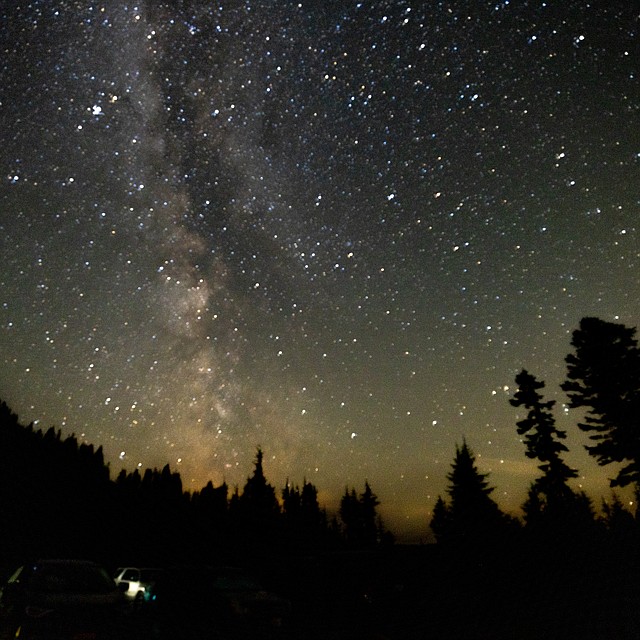 Perseids can create 100 to 200 meteors an hour at times of little lunar light, said Dr. Toby Smith, associate teaching professor of astronomy at the University of Washington.
As I fiddled with my iPhone trying to find the time exposure setting, the guy sipping wine let out a whoop, followed by the awes of the others. A shooting star had cut through the darkness.
I will catch the next one, I rationalized, as space satellites buzzed Capricornus and other constellations.
Roger, another Bellingham camper, recommended that I keep my head tilted toward the heavens even while in conversation. The crowd let out a collective oooh as I watched him telling me to look up. 
Missed another one. My friends kept pointing to meteors. I kept missing them as the clock ticked well past bedtime. 
I finally saw one just before slipping into a restless sleep. A bolt of light streaked down somewhere in the distance toward Mount Shuksan. It disappeared in a nanosecond.
The annual showers are caused by streams of cosmic debris called meteoroids entering the Earth's atmosphere at high speeds, the American Meteor Society says.
Perseid — named after the constellation Perseus — is detritus from comet Swift-Tuttle. 
Smith said one of the attractions of stargazing events like meteor showers is the simplicity of it.
"Telescopes and binoculars are useless," he said. "All you need is a dark sky and someplace to lie down or sit down."
He forgot to mention the part about looking up.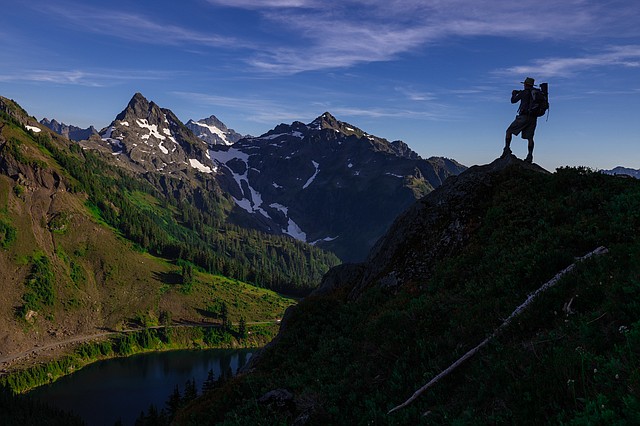 The next heavenly act is the Orionids shower that peaks between Oct 21–22 during the first quarter moon. It has 10 to 20 streaks an hour in optimal viewing locales. 
Then comes another showstopper, Geminids, on Dec. 14. Its particles come from the asteroid 3200 Phaethon.
Geminids gets less attention than Perseids because it peaks during our famous winter gloom. But no need to wait for special occasions.
"Any given night, we have meteors shooting through the sky," said Fatima Kamal of the Pacific Science Center in Seattle.
Kamal recommends downloading the free planetarium app, Stellarium, to follow the night sky activity. Also, DarkSky Washington has information about local viewing sites.
Night sky photography has become part of the outdoor experience, as I witnessed last year in a Mountaineers-sponsored instructional event at Artist Point. On clear summer weekend nights, the parking lot is jammed with tripods and cutting-edge gear as photographers chase the Milky Way and meteor showers. 
Smith said humans love the showers because "it is us interacting with the rest of the solar system. It's another piece of evidence that the Earth is part of something bigger. Things are happening that have absolutely nothing to do with us."
In other words, we're in no danger of debris crashing into Peaceful Valley any time soon.
The real concern was lower to the ground on some of the hottest days of summer. I needed entomologists more than astronomists.
Yet no amount of scientific theorizing would have helped. We were doomed, plain and simple.
Perseids returns to town next August. Let's hope the flies stay home.
Elliott Almond's outdoor column appears monthly. Email: elliottalmond4@gmail.com.