Visual Art
Indigenous artists collaborate on 150-foot painting during mural festival
Flagship Bellingham event featured live painting, competition, music, workshops
August 21, 2023 at 8:04 p.m.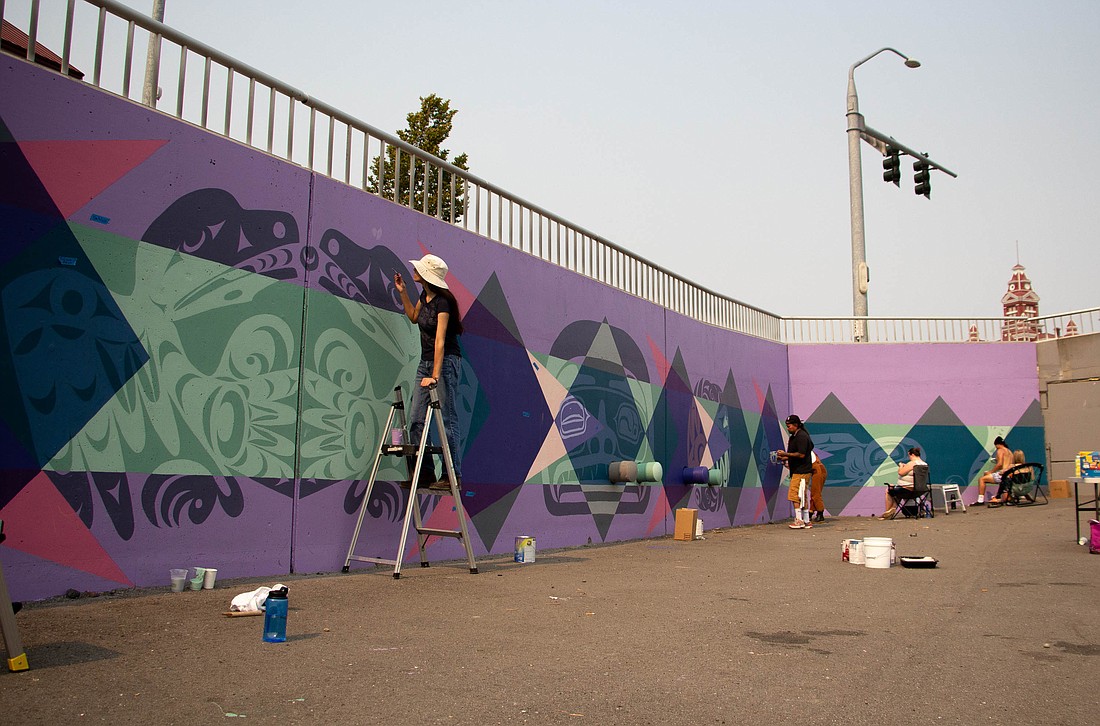 ---
---
In an unassuming corner where Granary Avenue meets West Chestnut Street, 10 Indigenous artists worked to complete a mural on a 150-foot-long wall as part of the first Noisy Waters Mural Festival.  
Paper Whale, an organization focused on bringing art to Bellingham's waterfront, created the event that ran from Aug. 18–20. It featured a mural competition, spray-painting workshops, music and live painting from the "Indigeversal Collective," a group of Indigenous artists representing tribes from across North America.  
While some of the collective were familiar with one another, others were meeting for the first time.  
Savannah LeCornu, 31 — of the Tsimshian, Haida and Nez Perce tribes — was new to the world of murals but is experienced in various Indigenous art styles. She works in traditional art, digital art and beading, among other forms.  
"I'm really excited to collaborate with these artists," LeCornu said on the first day of the festival. "That's kind of the big pull."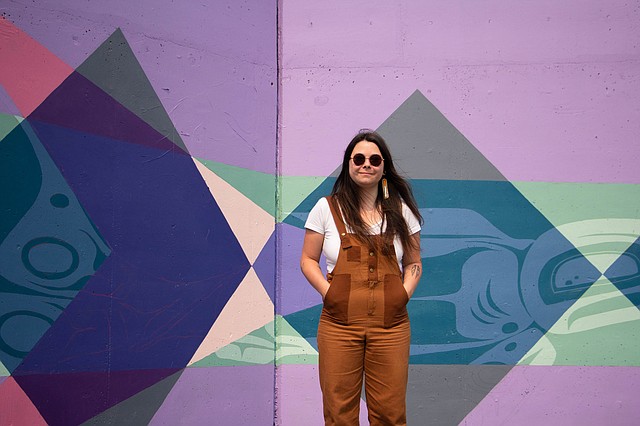 A few years ago, LeCornu experienced a shift in how non-Native people perceived her art — more people began to embrace it and appreciate its Indigenous roots, she said. LeCornu hopes this will continue.  
"The purpose is to expand the knowledge base of art," said Kaplan Bunce, 45, an Apache artist and leader in the collective. "Whatever we can share to help Native people, Indigenous peoples, globally traverse the world of art."  
The artists were eager to learn from each other. Bunce took each artist's artwork and overlaid it with his own, creating a collaborative piece with each individual represented.  
Bunce got his first mural commission in 2016, when he painted a memorial piece for a community member who had died in a car crash.  
"I decided to turn that painting into a prayer, essentially, to dedicate to his family, to his memory," Bunce said. "And so it was really his spirit that kind of helped train my mind." 
That experience influenced the emotion and purpose Bunce has put into the rest of his work since then, he said.   
Another contributing muralist was Coast Salish artist Jason LaClair, 40, who grew up around talented artists and master carvers and started making art when he was just a kid. Now as an adult, LaClair has painted murals big and small, including "The Salmon Run" — a well-known Bellingham mural on Forest Street.  
Like LeCornu, LaClair stepped outside of his comfort zone for this project.  
"For the last five years, I've been creating Coast Salish designs strictly," LaClair said. "So switching styles was definitely interesting, but I want to make sure if I'm representing the Coast Salish people. I want to make sure it's right."  
Lummi artist and active community member Free Borsey, 25, based his contribution to the project on a Lummi story about a coyote.   
"A long time ago, coyote would take his eyes out and he would juggle them to impress people," Borsey said. "But one day, he threw one of his eyes too high up, and it got stuck and it became a star."  
In the mural, Borsey painted the coyote looking up at his own eye in the sky.  
Other Indigeversal Collective artists include Káa Sháyee, Brian Perry and Thayne Yazzi.   
"The point is to give uplift and magnification to voices that are oftentimes unheard," Bunce said. "That's the real purpose of it; and to share knowledge, you know, share stories and share good times."  
In addition to the Indigeversal Collective artwork, the competition portion of the festival featured eight artists, chosen from around the country to paint 8-by-8-foot portable murals. The winner, Dom Laporte, received a mural commission of $10,000. 
"Everyone is amazing," Laporte said following his win. "Every piece was so deserving of that top prize."