Recreation
Competitors don flamingo, chicken suits in return of Bellingham Traverse relay
Multi-sport race returns after pandemic and smoke-caused cancellations
August 19, 2023 at 6:01 p.m.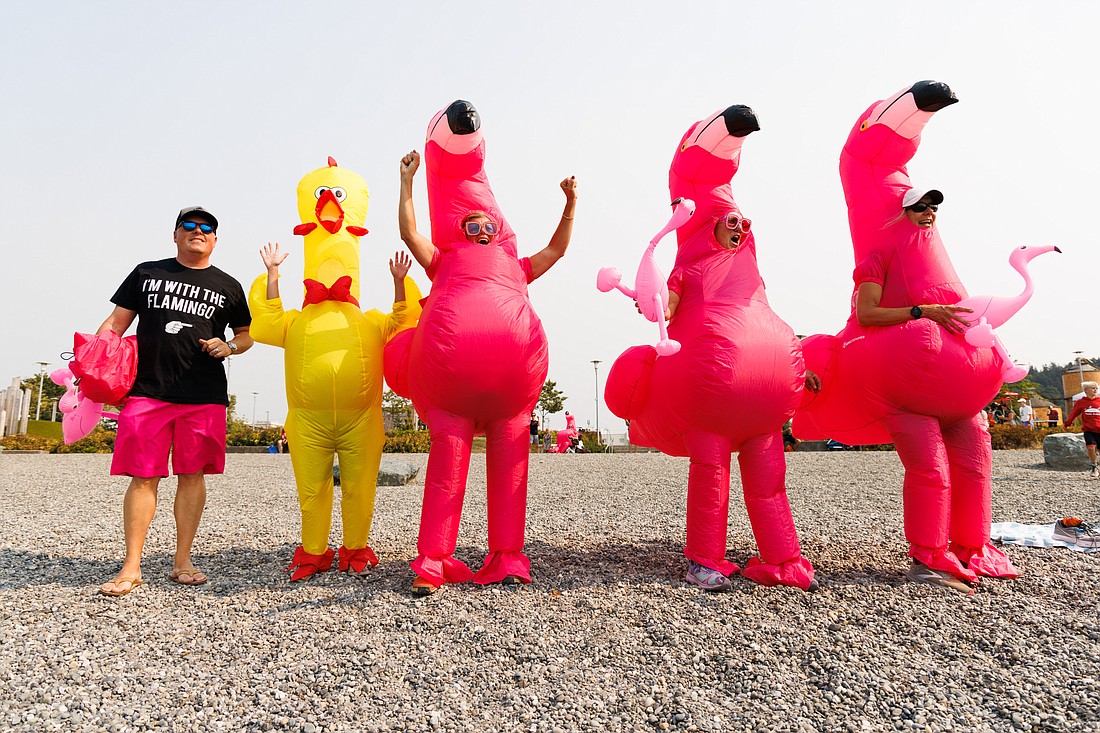 ---
---
As the clock hit noon on Saturday, Aug. 19, the blaring horn of a fire truck signaled the start of the 2023 Bellingham Traverse relay race at Waypoint Park. 
Now in its 20th year, Bellingham Traverse is a run, bike and paddle race that made its return after not being held the past three years. This year saw around 170 total participants split into 49 teams of individuals, pairs and larger groups.
The course includes six legs: three runs, two bikes and one paddle. It begins with a 5.9-mile run from Waypoint Park to Lake Padden, followed by a 5.6-mile bike ride along and past the lake, looping back to where the ride began. 
From there, the route takes you on a 2.7-mile run around Lake Padden which leads into a 21-mile bike ride down to and around Lake Samish and back to Waypoint Park.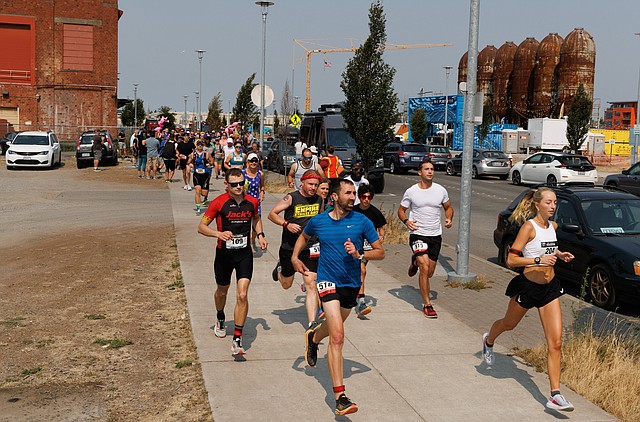 At the park, contestants pick a boat of their choosing, primarily kayaks and canoes, which were supposed to be taken out on a 4.4-mile paddle past Boulevard Park and back. But, because of strong winds, the route was changed for paddlers to make four laps around a buoy placed a half-mile out from the Waypoint Park shore. 
This leads to the last leg of the race: A 0.6-mile run that starts and ends at the park. If on a team, this is done with the entire group, with the completed time clocking in when the last member crosses the finish line. 
Pacific Multisports Founder Marc Blake bought the race from Recreation Northwest back in 2019 and was able to host it that year. Because of the pandemic, the race was canceled in 2020 and 2021. Last year, the race was all set up and ready to go, but due to heavy amounts of smoke in the area, it was canceled the morning of. 
"This is such a fun race for the community and it's my favorite race," Blake said. "So, I've kind of stuck with it even though we've had to cancel it and it's been a little bit costly. But we know how much everybody loves this race and we wanted to keep it on the calendar."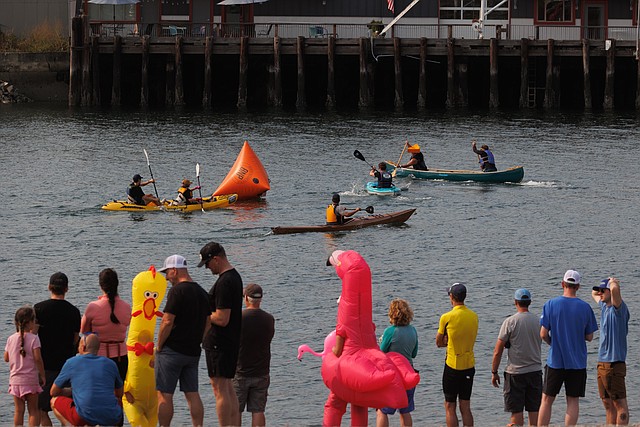 The race was traditionally held in the middle of September but was moved up a month this year to try and break the bad luck streak, Blake said. The date change seemed to work, as Saturday's event went smoothly. 
Some participants completed part of the race in flamingo and chicken suits. The flamingos were part of the YMCA Department of Fun, a team comprised of six women who all, at some point, worked at the YMCA. Jen Gallant, one of the team members, said they do a special costume every year, finding out what it is the night before the race. 
Gallant said the group's No. 1 priority is fun, hence the name, stopping just before the finish line to run around a playground and go down a slide. Then, after completing the race, breaking out into a dance party with their inflated flamingo heads and tails bouncing up and down. 
Birch Equipment placed first for the 10th straight time, finishing the course in 2:34:58. Team captains Michael Finley and Jeff Hilburn have been competing in the Bellingham Traverse since 2011, and have finished first every year since then. Finley completed the 21-mile road bike for the team and Hilburn did the paddle leg. 
"It's nice to have the race back," Finley said. "It's fun to get a bunch of local guys that are super good dudes. Everybody pushes each other and it's fun to see a lot of good athletes out here." 
Trailing Birch Equipment was the Bellingham FireFighters at 2:45:23 and Kaskade Vendovi at 3:01:42. Calvin Collander was the first individual to finish, coming in with a time of 3:24:12. 
For full results, visit Pacific Multisports' website.