Ron Judd
A new fight in old war for a free press? Sign this kid up
The Kansas raid as a watershed free-speech moment
August 18, 2023 at 4:55 a.m.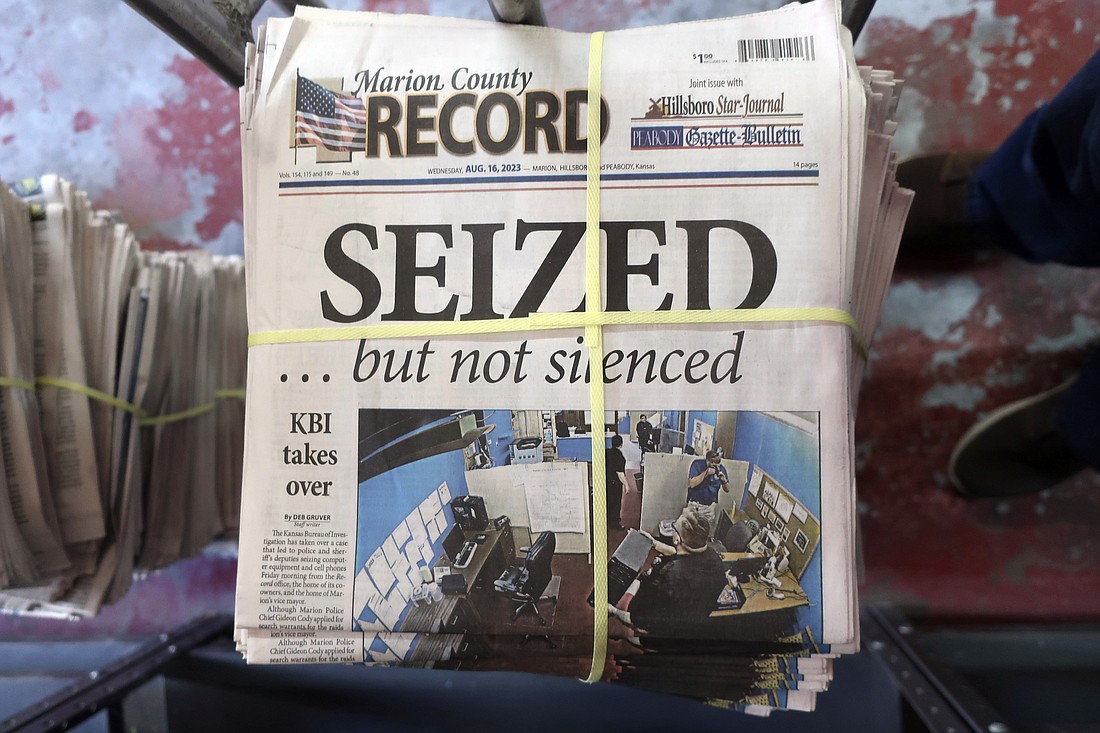 ---
---
As a punk of 17, my nascent urges to overturn rocks, explode myths and gleefully skewer convention tended to be bottled up, with no real outlet. 
My small high school, in Carnation, Washington, had no school newspaper. So me and a couple buddies did what troublemakers do: We created one for ourselves. 
This was far more complicated then than in the digital now, where any jackass with a broadband connection and cash (nods toward Elon Musk) can be an influential publisher. We had no means of production, as it were, so we did the best we could. 
We picked a lock to a storage room containing what would become our printing press: A decrepit "ditto" machine (kids: ask grandparents) which took a carbon copy of a typed document and created piles of somewhat exact copies. 
It worked, allowing us to create our own closet-created scandal sheet: "The Malignant Tumor." 
The first edition carried several news stories about high school events. But the beating heart of the rag was inside on page 3 — a raging, unsigned editorial. 
It was a vituperative protest over what I, the author, saw as an unjust failure to renew the contract of a popular English teacher who had inspired me to follow my inner compass by challenging authority. This screed was addressed personally to the school principal, who, above all else, hated to be addressed personally (still not sorry, Chuck).
I held absolutely nothing back, spouting off about principles of freedom of speech — right down to the ideals of the American Revolution; you're goddamn right I went there — as well as the black-hearted nature of tyranny.
A bit over the top, sure. But those fires, long lit, still burn.
Of course, The Man was not pleased. A couple days later, literally cornering me one day at a school pep assembly (irony noted), Principal Chuck dropped this in my developmental punchbowl:
You and that little rag sheet of yours, he said. I know you did it. What you said about me was irresponsible, inaccurate — and defamatory. 
"I could sue you," Chuck told me, "for defamation."
Not an idle threat
Chuck was mistaken. First, as written content, it would be libel. Second, I was operating under the hallowed principles of the First Amendment to the Constitution of the United States, under which prior restraint, in my mind, qualified as a four-letter word. Also, I was putting out my newspaper using school equipment, which surely must have been authorized, because let's face it, they don't give the keys to the ditto machine to just anyone. 
"I don't think you can sue me for libel, Chuck," I said. "Basically you're my publisher."
Chuck was not amused; I never forgot that confrontation, which still makes me bristle. It matters today because that was the last time in my life, I honestly believed, that I, as a journalist, would be threatened with being silenced — with a very real possibility of success — by an agent of the state. 
That confidence persisted for four succeeding decades in the trade — through, even, the national goose-stepping rightward drift of the Trump years; through ongoing spates of threats and violence against U.S. working journalists, falsely proclaimed "Enemies of the People." Mocking that principal and embracing the principle, I stubbornly took this for granted. The law, and the will of the people, I believed, was on my side.
Then came last Friday, when American journalism got raided.
Acting on a search warrant, police in Kansas seized computers and mobile phones from the Marion County Record, a small newspaper in a town southwest of Kansas City with a penchant for pot-stirring. Cops just marched in and walked out with the tools of the trade, also stopping to raid the home of the editor and publisher, Eric Meyer. The next day, his mother, newspaper co-owner Joan Meyer, 98, died, reportedly due to stress from the incursion.
For any defender of free-press rights that enable self-rule, this should have been a state-of-the-nation red flag the size of Wyoming. Outside journalistic circles, it was not. Not everything can be as important as the "Barbie" movie. 
But as a student and past teacher of American press history, I see it as a potential watershed moment in a constitutional republic with high stacks of case law protecting the right of journalists and dissidents and grandmas to speak truth to power. Or at least one that should be.
Which brings us to us. Do I fear that local cops might one day show up at our State Street office with a warrant to seize our computers? Certainly not. Law enforcement agencies, to date, have been faithful to constitutions both state and federal in this upper left corner of America. 
But wouldn't our brothers and sisters in that Kansas newsroom have answered that question the same way before last week? Even though a Kansas prosecutor has since pulled the initial search warrant and returned the materials, the dark deed has been done. And that local police chief, Gideon Cody, is apparently still in uniform.
The Kansas City Star reports that before becoming police chief of Marion and leading the raid, Cody left the Kansas City Police Department under a cloud, facing possible discipline and demotion, according to police sources.
The long view — and reason for hope
This hamfisted attempt, be it intended or stupidly accidental, to silence a community voice might prove to be a one-off — an exercise in overreach by local yahoos. Especially if the cops are appropriately chastened.
But American newsrooms face less-oafish, equally lethal, threats every day. A Las Vegas investigative reporter was slain in 2022, police say, for his reporting on a local elected county official. His colleagues immediately continued reporting the stories he left unfinished.
Already weakened by the collapse of the industry's business model, the craft's very right to exist is under relentless assault by those who see voting rights and free speech as the final barrier to de facto minority rule.
A bright side, perhaps, looms in what could and should be a renewed fight for an independent U.S. free press: Where there is a will, there are giga-millions of digital ways. We have seen this, sadly, in the recent past as technology is used as a tool to mislead and incite. We might see it, in the future, as a tool more effectively used by those of us inclined to defend the First Amendment.
To the army of insidious rats who would destroy press freedoms one nibble at a time via the annual gnaw-fest over open records and meetings laws in Olympia every year; to those who relish keeping student journalists on a submissive short leash; to those who would discourage and deny public discourse by any other means, I say this: We see you, and will be pleased to expose you.
Some of us stubbornly believe threats to independent journalism will be met with equal, opposing and perhaps surprising force. There is reason to at least hope: One consequence of the shrinking of America's press corps is that for the first time, many independent news outlets are hard at work less as competitors and more as co-survivors. 
They are on a mission, remembering historic free-press heroes such as John Peter Zenger, who pointed the way toward the First Amendment; Ida B. Wells, who laid bare American lynchings, and the martyred Elijah Parish Lovejoy, whose presses were smashed and burned, but whose abolitionist voice never wavered. 
As then, our means of production can be seized, yes. We might even eventually be attacked, locked up — or worse. But as the headline in the 153-year-old Marion County Record ("SEIZED ... but not silenced") boldly proclaimed this week, truth finds a way.
The Record responded to an existential threat by putting out the newspaper. Readers of our young publication should rest assured that this newsroom and thousands of others around America would do the same in similar circumstances.
Marion County is a small incident but a large reminder: It's long past time for the American press to educate, celebrate and embrace its foundational role in our democracy. The news matters. It always will. You want a war over the right to publish, over the people's right to know?
Bring it on. Some of us were born for it.
Ron Judd's column appears on Fridays; ronjudd@cascadiadaily.com; @roncjudd.