Education
Bellis Fair provides entertainment, supplies for kids during back-to-school event
Event focuses on engaging, connecting children
August 17, 2023 at 4:54 p.m.
|
Updated August 18, 2023 at 4:17 p.m.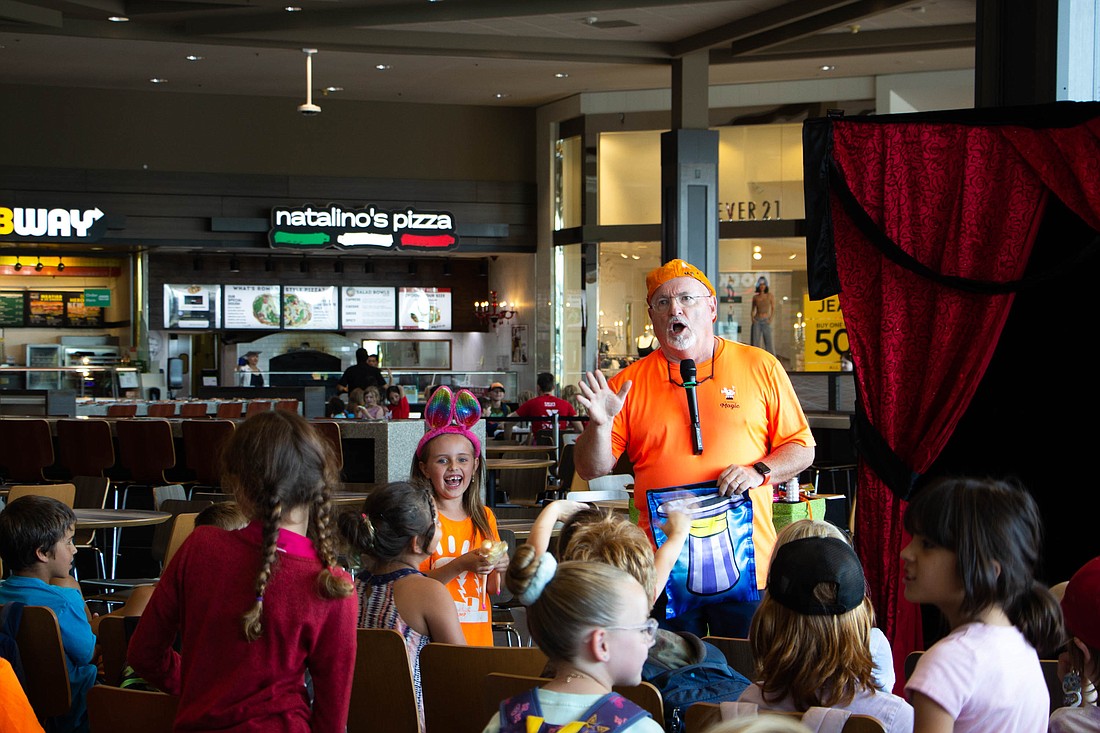 ---
---
Joyous laughter echoed across the metal beams and concrete floors of the Bellis Fair food court during a Tuesday, Aug. 15 back-to-school event organized by the mall.  
For a few hours, YMCA summer camp kids ages 5–7 enjoyed a pizza-making lesson from the recently opened Natalino's Pizza. Natalino's and Bellis Fair collaborated to provide ingredients for the children, and Carlos Rodriguez, his wife Stephanie and father Pedro, put in time prepping for and leading the lesson on Tuesday. 
Bellis Fair mall also hired JR Russell, a retired U.S. Air Force pilot and owner of JR Russell Magic, to provide the entertainment. Russell said the key to putting on a magic show for young kids is an engaging back-and-forth element. 
For YMCA camp counselor Lena Bowe, engagement through fun activities such as the mall's event is how kids learn social skills and emotional maturity, which is important for an age group that started kindergarten during the COVID-19 lockdowns. 
"I think it's really great for them to have an opportunity to be in a big group setting with a bunch of other kids doing activities," Bowe said. 
At the end of the event, the children were given a school supply bag consisting of pencils, markers, erasers, glue sticks, a notebook and a plush doll, courtesy of the mall.
The YMCA serves all families in Whatcom County, but offers assistance to low-income families in the form of the state's Working Connections Child Care subsidy benefits or through a direct scholarship program, said Shannon Millican, Whatcom YMCA Elementary & Teen Program director. 
"Our summer camps enrollment serves 35 to 40 percent [of kids] that are either subsidized by the state or on scholarship with the YMCA," Millican said. 
The YMCA doesn't have a cap on how many low-income families participate in their programs and most of their groups consist of mixed-income families, such as those who attended the back-to-school day event, Millican added. 
The summer camp operates out of the Alderwood and Happy Valley elementary schools, said Kelsey Melvin, program supervisor for Whatcom Family YMCA who also goes by Sunflower during summer camp.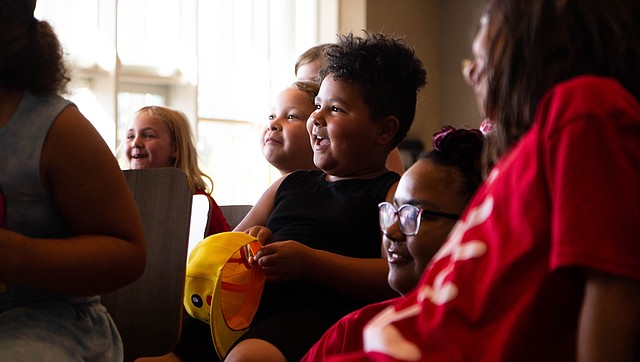 The counselors' nicknames are easier to remember for the kids and provide an extra layer of privacy, said Bowe, who goes by the nickname Squirtle.
"All counselors have camp nicknames, so the kids don't know anyone's real names until the end of summer if counselors choose to tell them," Bowe said. 
Bowe added the YMCA currently has a waitlist for kids to join due to lack of staff, so they are looking for workers to join the organization so they can let in more kids. Registration is open for age-specific fall camps and some before/after school programs at the YMCA website. 
A previous version of this story attributed the organizing of the event to the YMCA. The back-to-school event was organized and funded by Bellis Fair mall. This story was updated at 4:17 p.m. Friday, Aug. 18 to correct this information. Cascadia Daily News regrets the error.