Rodeo
Rodeo contestants rope, race and ride their way to victory
Lynden PRCA Rodeo concludes 2-night, 7-event contest
August 16, 2023 at 5:00 a.m.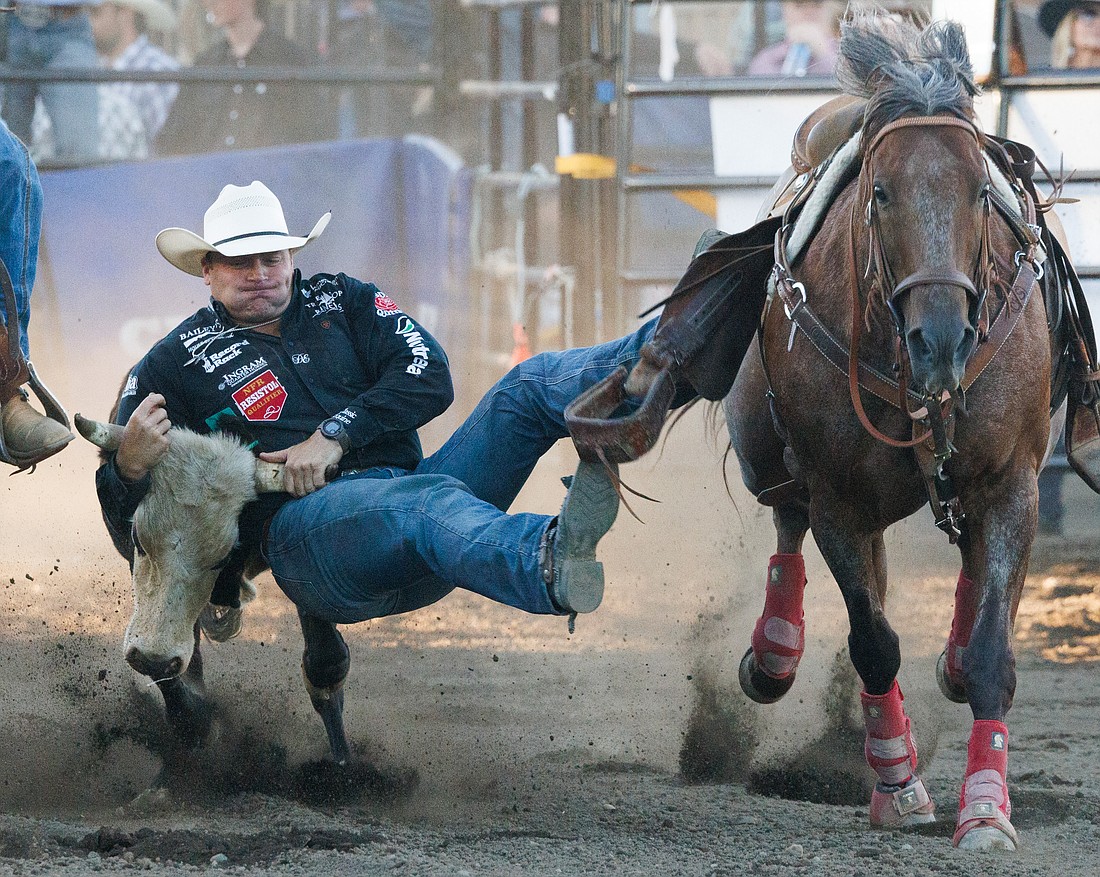 ---
---
LYNDEN — Local and faraway rodeo contestants alike competed in a two-night, seven-event contest at the Lynden Professional Rodeo Cowboys Association (PRCA) Rodeo Aug. 14–15 at the Northwest Washington Fair.
Rodeo announcer Jody Carper and rodeo clown Matt Merritt were once again tasked with entertaining an energetic Lynden crowd. Contestants did everything from rope cattle to ride bulls to race around barrels on horseback in "the last blue-collar sport in America that believes in God, country and freedom," as Carper put it.
The rodeo also raised more than $10,000 for the Hawaii Community Foundation's Maui Strong Fund, which focuses on "rapid response and recovery for the devastating wildfires on Maui," according to its website.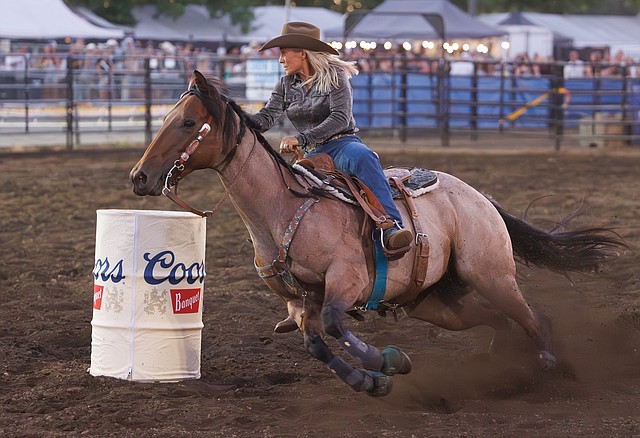 "Tonight, we're going to help the people in Maui," Carper said after the funds raised were announced late in the rodeo's second night of events. "We're going to try to make the people in Hawaii happy. They didn't know we were going to do this; we didn't know we were going to do this."
Night two was the event's military appreciation night, with a speech led by Carper in salute of active service members and veterans.
"The United States has the best military in the world, period," Carper said. "Rodeo fans, the military has been standing for you, so how about we stand for them tonight."
Rodeo events included bareback riding, steer wrestling, team roping, saddle bronc riding, tie-down roping, barrel racing and bull riding. While no competitors from Washington state won any events, a few placed in the top three.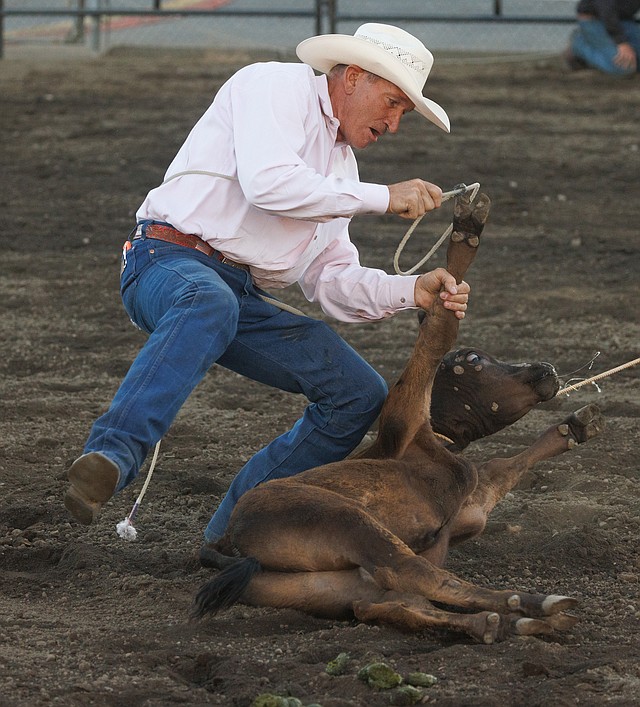 The likely highlight for all in the stands was mutton busting — an event that tests the mettle of small children to see how long they can ride on the back of a sheep. This year's winner, 8-year-old Colin Kroeker from Canada, who had previously ridden only three sheep in his life, was awarded a T-shirt, sticker, belt buckle and trophy with a silver sheep on top.
The second night's most hotly contested event was team roping, where four consecutive duos posted event-best times. Kolton Schmidt and Logan Spady from Alberta, Canada finished with the top time of five seconds flat.
During one of the later tie-down roping entries' runs, the calf a participant was attempting to lasso was jolted backward more violently than many of the others. After the calf writhed on the ground — failing to stand back up on its own after an apparent neck injury — it was placed on a tarp and carted off the dirt field in the back of a trailer. The calf's condition remained unknown after the rodeo.
The top three finishers from each event over the two-night Lynden PRCA rodeo are listed below.
*denotes arena record
Bareback riding
1. Clay Stone, 80 (Blackfoot, Idaho)
2. Dylan Riggins, 78 (Airway Heights, Washington)
T3. Cooper Cano, 75 (Carlton, Oregon)
T3. Colton Clemens, 75 (Blackfoot, Idaho)
Steer wrestling
T1. Jesse Brown, 4.4 seconds (Baker City, Oregon)
T1. Kyle Irwin, 4.4 seconds (Robertsdale, Alabama)
3. Dakota Eldridge, 4.9 seconds (Elko, Nevada)
Team roping
1. Kolton Schmidt/Logan Spady, 5.0 seconds (Alberta, Canada)
2. Bryan Reay (Caldwell, ID)/Jason Minor (Ellensburg, Washington), 5.5 seconds
3. Riley Minor/Brady Minor, 5.8 seconds (Ellensburg, Washington)
Saddle bronc riding
1. Kade Bruno, 89.5* (Challis, Idaho)
2. Tucker Bourdet, 80 (no hometown available)
3. Quintin McWhorter, 79 (San Luis Obispo, California)
Tie-down roping
1. Ty Harris, 8.2 seconds (San Angelo, Texas)
2. Jason Minor, 9.2 seconds (Ellensburg, Washington)
3. Kass Kayser, 10.9 seconds (Ellensburg, Washington)
Barrel racing
1. Karen Gleason, 14.73 seconds* (no hometown available)
2. Kathy Grimes, 14.92 seconds (no hometown available)
3. Lindsey Ham, 15.04 (no hometown available)
Bull riding
1. Roscoe Jarboe, 86.5 (New Plymouth, Idaho)
2. Trey Kimzey, 83 (Strong City, Oklahoma)
No other qualified riders