Business Matters
Charity thrift stores use retail to fund causes
Whatcom County's shops grow as interest in sustainability, savings increases
August 15, 2023 at 4:50 a.m.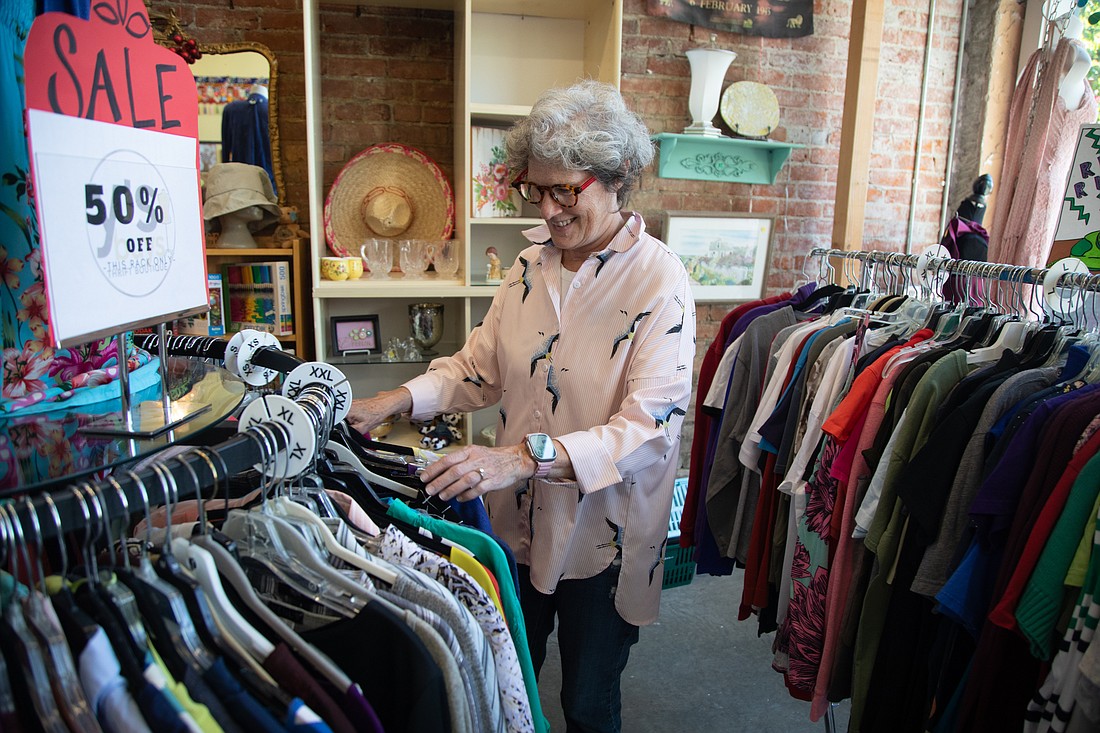 ---
---
A national day. For consumers, charity thrift stores are places to shop for bargains, attracting college students, sustainability advocates, those on a limited income or hit by inflation and anyone who loves the thrill of finding a one-of-a-kind deal.
For the stores, it's a business with a cause attached.
"A common misconception by the public is that nonprofits cannot make a profit," said Helen Moran, a volunteer and chair of the public relations committee for the Assistance League of Bellingham. 
The reality, she said, is that profits from charity thrift stores, such as the Assistance League's shop in the Columbia neighborhood, support an organization's programs after expenses and taxes are paid. 
Nonprofit thrift — as part of all secondhand retail sales — can be big business. Market numbers for just apparel from GlobalData, cited in online secondhand retailer ThredUp's annual Resale Report, estimate the total U.S. market in 2023 at $44 billion, growing to $70 billion by 2027, with what it calls "traditional thrift and donation" making up 52% of this year's total. 
The bigger picture includes for-profit resale firms including consignment shops, online retailers and physical businesses such as Bellevue-based Savers Value Village, which runs Value Village stores and went public at the end of June. It famously had sometimes confusing relationships with charities, which led to a legal battle with the Washington state attorney general over the charity claims; the then-private-equity-owned company ultimately prevailed in court in February. 
Thrift's economic impact is large enough that the U.S. Census Bureau issued a news release, with stats, noting the observance of National Thrift Store Day on Thursday, Aug. 17.
Nonprofit operators include not only well-known names like Goodwill, but also a plethora of smaller or more specialized local shops that can be as different as the charitable purposes they support.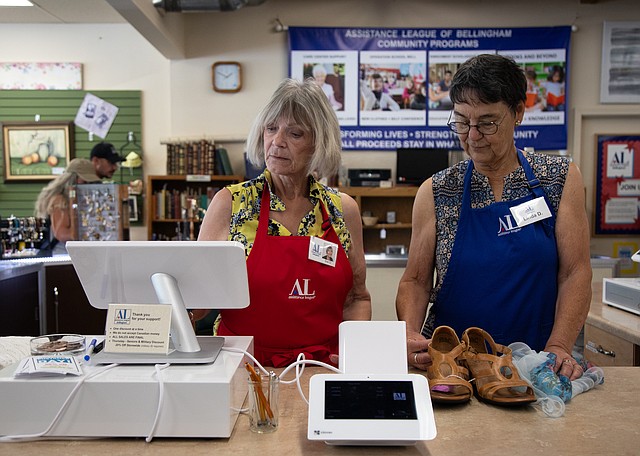 The Assistance League of Bellingham Thrift & Gift Shop at 2817 Meridian St. is one example. The neat, well-merchandised store is filled with racks of men's and women's clothing flanked by wood furniture, housewares and art (including originals) with five jewelry cases surrounding its two registers. 
Moran said the store is completely staffed by trained volunteers and opened 10 years ago in its current location. It's the main source of funding for the organization's five philanthropic programs in Whatcom County. 
The store is selective in what donations it chooses to resell.
"Our goal is to offer quality merchandise to our customers. Items that do not meet our standards are donated to other local charity organizations such as animal shelters, homeless shelters, Ragfinery, to mention a few," Moran said. 
But that type of selectivity and attention to detail — she said each donated garment is steamed before it's put on the sales floor — has led to what can only be called fans.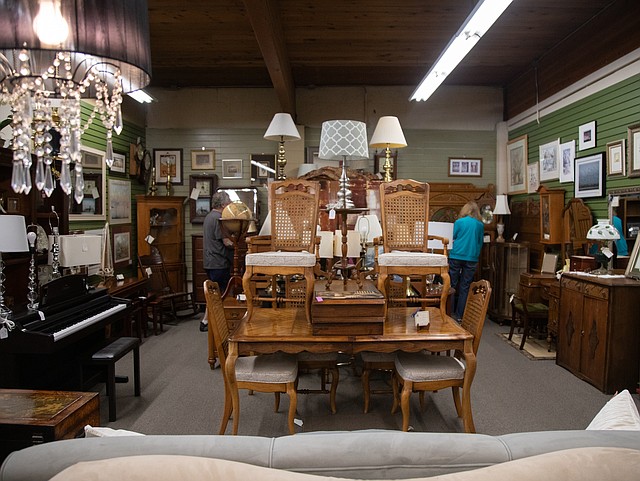 "Many stop in on a weekly basis and you also might see a local resident with an out-of-town guest who is showing them a 'must-see' store and takes personal pride when a treasure is found," Moran said. "A frequent statement made is 'I love this shop.'" 
A similar well-organized feel encompasses Y's Buys Thrift Boutique at 1224 N. State St. in downtown Bellingham. But the focus of this store is as narrow as parts of its brick interior: women's clothing, shoes and accessories. 
Manager Marilyn Romaker, who reopened the store in March 2021 for YWCA Bellingham, said the original Wise Buys thrift store with a broad variety of merchandise dates back more than 40 years when it was begun by women who volunteered at the YWCA. Over time, it changed hands and was run by Lydia Place. When the pandemic hit, the store closed and Lydia Place offered to sell it back. 
The store was then refocused and renamed. It now has outfits displayed on mannequins and walls, shelves of shoes, donated new undergarments and a room full of gowns upstairs.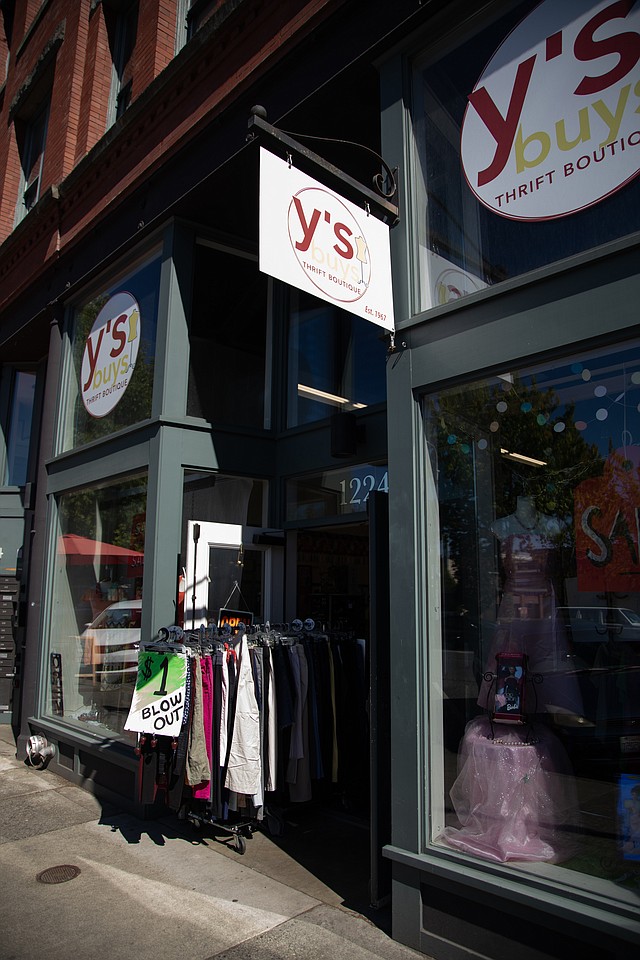 "We are all-volunteer based except for myself and another employee who works the two days that I am not there," Romaker said. "I also work with other agencies like Work Opportunities to help train and give work experience for their clients."
The causes supported by Y's Buys include emergency and senior housing for women, as well as the clothing it stocks: Romaker said it offers clothing vouchers to agencies for women in need. 
For other nonprofits, the cause supported by the charity thrift shop may be even closer to home, and include the store in its mission.
Allied Arts Reuse Thrift Store (AARTS) at 1418 Cornwall Ave. in downtown Bellingham is tucked in the back of the building housing Allied Arts of Whatcom County. The single room is a creative jumble of everything from art books and frame mats to crafting and fine art supplies, plus some office and school supplies.
"The Thrift Store helps to fund our other programs, especially our arts in the schools' programs — we have over a dozen teaching artists who teach intensive art sessions in the elementary schools throughout Whatcom County," said Kelly Hart, Allied Arts' executive director. 
Hart said AARTS has expanded from 800 square feet to 3,000 square feet since it opened in 2016 and now has three part-time staff and about a dozen volunteers, interns and others working through job training programs. 
"By contributing unwanted art, school and office supplies to the store, donors are reducing items in the waste stream and getting the supplies to others that will really value and appreciate them for what they are," Hart said.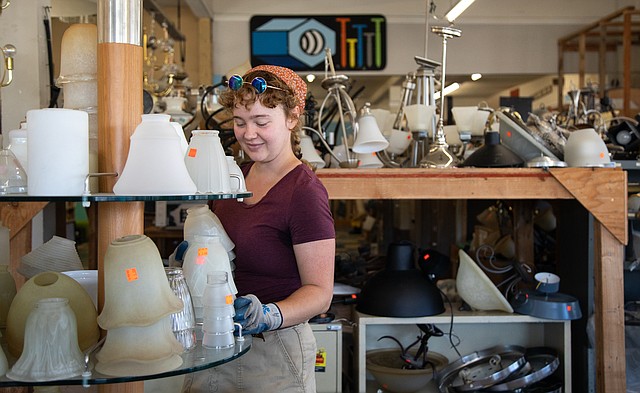 A parallel philosophy permeates The RE Store at 2309 Meridian St. in Bellingham's Fountain District — in this case, keeping building materials and decor out of landfills through RE Sources' nonprofit program that includes the store itself. 
Though calling it a "store" seriously understates the multi-building, over 20,000 square-foot complex. It more resembles a comprehensive building supply warehouse and storefront with its mix of reusable doors, plumbing parts, lumber, windows, electrical components and almost anything else building-related.
RE Store Director Tim O'Donnell said 2023 marks The RE Store's 30th anniversary, and sales support both the operation of the store as well as a related Community Jobs Training program to provide on-the-job skills training to underserved populations. 
"So far in 2023, we have had 18 individuals recruited into our training program," O'Donnell said in early August. "Of the 15 trainees that successfully completed their training with us, 14 have found meaningful employment."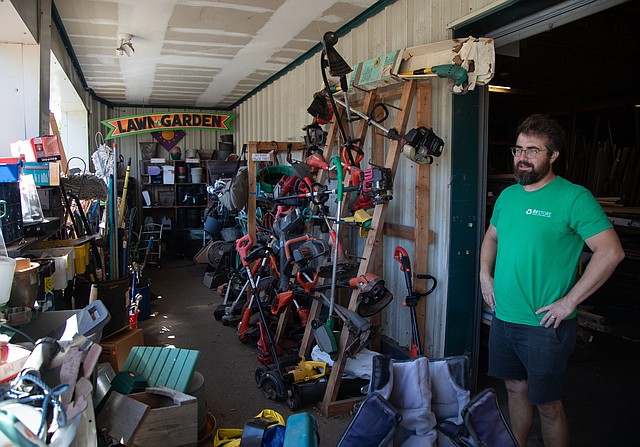 O'Donnell said the store's part in providing community service is "accepting, cleaning, processing, repairing and reassembling usable building materials for resale." The RE Store currently has 17 employees.
"It takes a whole team of staff and volunteers to move this stuff into the store and warehouse and then move it out when it sells," he said.
Still, as consumer interest in sustainability and saving money intersect, a market continues to exist for the traditional, everything-except-the-kitchen-sink charity thrift shop. That's where the Whatcom Humane Society Thrift Shop fits. 
"A true thrift shop, the shop has a little bit of everything including clothing, household items, pet supplies, artwork, books, knick-knacks, furniture and one-of-a-kind gems — the kind only found in a thrift shop," said Laura Clark, Whatcom Humane Society executive director.
Clark said a need for more space, as well as a "significant" rent increase, is prompting the store to move from 4151 Meridian St. in the Cordata neighborhood where it's been since WHS took over ownership from WeSNiP (Whatcom Education Spay Neuter Impact Program) in September 2020.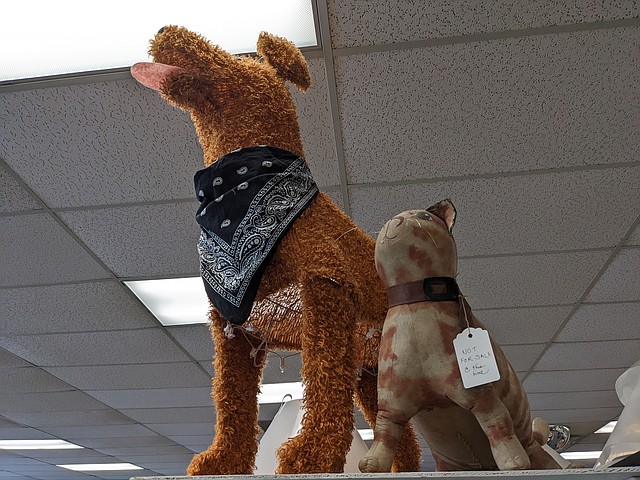 The new location will be at 1534B Birchwood Ave. in a space sharing the same parking lot as Big Lots in the Birchwood neighborhood. Clark said it opens Wednesday, Sept. 27. The final day in Cordata is Sunday, Aug. 27. 
Sales will continue to help fund care for the domestic, wild and farm animals in the organization's shelters. Clark said shoppers are "thrilled that their money is going to help support animals in need." 
Yet when asked what the single biggest or most common misconception shoppers have about the store is, Clark was straightforward.   
"I guess the biggest thing would be reminding customers that the shop is a business," she said. "Regardless of the fact that it's operated by a charity, it's still a retail business." 
Places & Things
Tim's Bike Shop has opened in the former Kona Bike Shop space at 1622 N. State St. in Bellingham. It's the second location for Tim's, said Jay Hiester, who also owns the original Tim's Bike Shop in Everett, a store he used to visit before buying it in 2000.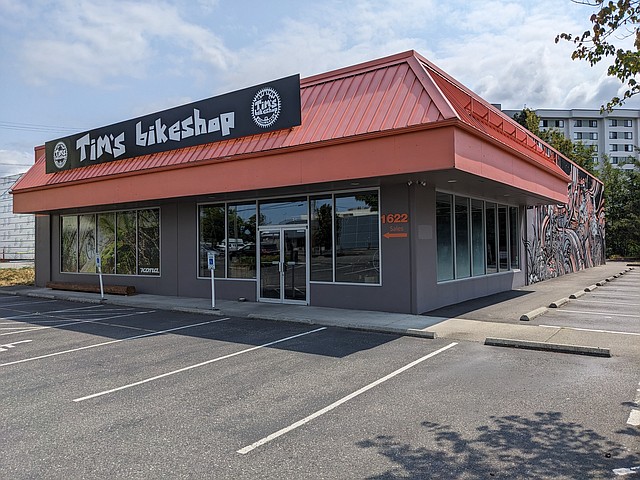 "I am very excited to serve the Bellingham community with what has been my passion since I was a kid," Hiester said. The Sunnyland neighborhood store had a soft opening in July; a grand opening is planned to start Sept. 12. 
(For the latest Places & Things, check here throughout the week.)
Email Frank Catalano at frankcatalano@cascadiadaily.com.