The A-List
Amy's picks: Murals, parades, festivals and fundraisers
A curated selection of happenings in Whatcom and Skagit counties
August 10, 2023 at 5:00 a.m.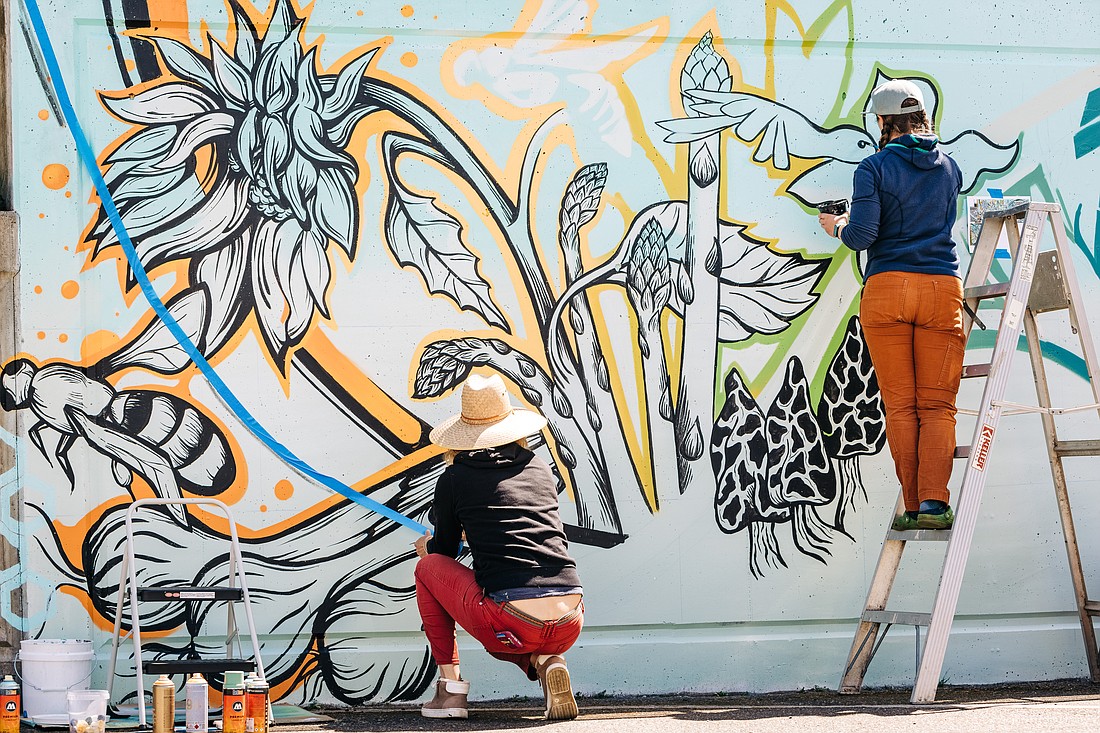 ---
---
AMY'S PICKS 
Story Pole Fundraiser 
5–7:30 p.m. Friday, Aug. 18, Hotel Leo, 1224 Cornwall Ave. 
Children of the Setting Sun (CSSP) will host this fundraiser with Lummi Nation artist Jason LaClair. The muralist and carver is nearing the completion of this unique art object, and the event is designed to help answer questions about who will receive the story pole, if it will be a gift or a donation, and more.

When Cascadia Daily News first wrote about LaClair and this project in late May, he was still in the process of forming the centerpiece of an ad-hoc gallery dedicated to honoring local Native and Indigenous artists. The next phase of the pole's journey involves raising enough funds to deliver the pole as a charitable community gift, according to CSSP Executive Director Darrell Hillaire. That's where you come in. Sign up in advance for the event, which will feature a silent auction to help raise those funds. Info: settingsunproductions.org.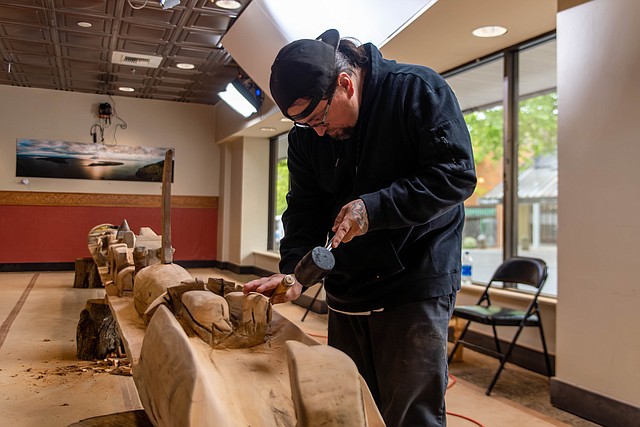 Cascade Days
Aug. 18-19, throughout Concrete 
Like me, if you have always been curious about the history of the blink-and-you'll-miss-it town of Concrete — which author Tobias Wolff chronicled in his memoir "This Boy's Life" — the return of Cascade Days will be a good time to get caught up on its storied past.
In addition to finding out more about how the longtime event grew from a campaign to build a highway connecting Skagit County to Okanogan County, visitors can also attend a variety of happenings through the weekend. Live music, shows at the Concrete Theatre, a parade and a car show, a duck race, a farmers market, food and pie-eating contests, tours of the Puget Sound Energy Visitor Center and more will take place. Oh, and did I mention there will be a petting zoo? Info: concrete-wa.com. 
Noisy Waters Mural Festival 
Aug. 18–20, Bellingham waterfront 
If you see a bunch of people wielding cans of spray paint on a mural wall near the Peter Paulson Stage adjacent to the Trackside Beer Garden, don't be alarmed. As part of this inaugural festival taking place Friday to Sunday, muralists from Seattle to Honolulu, California, Canada and beyond will be creating portable murals during the three-day festival. Attendees at the free event can vote on their favorites, and the top three artists will receive commissions to paint large murals in central Bellingham. Eleven runner-up finalists will also be painting a large blockbuster feature of "Noisy Waters."
Additionally, the festival will showcase a new mural project led by Kaplan Bunce dubbed the Indigversal Collective. Seven Indigenous artists will create a 160-foot-long installation along Granary Avenue, including Lummi Nation's Jason LaClair (mentioned above) and Free Borsey. An interactive kid's wall, music, parties and other happenings will take place. Info: noisywatersmuralfest.com. 
Reefnet Festival 
11 a.m. to 8:30 p.m. Saturday, Aug. 19, Legoe Bay, Lummi Island 
Growing up, I didn't really pay attention to the fact that the pink and sockeye salmon we'd regularly feast on when spending summers on Lummi Island was sustainable. I just knew the fish caught on reef-net boats from the waters of Legoe Bay was delicious — especially when paired with Walla Walla onion salad, fresh corn on the cob and blackberry cobbler. 
These days, I know better. And so does the Salish Center for Sustainable Fishing Methods, which will host this seventh annual event to revive community support for this rare and valuable salmon fishery. Attendees will be able to find out why reef-net fishing is one of the most sustainable fishing methods on earth and take rides out to the reef-net gears to get a better understanding of how it works. But that's not all. Live music, food booths and a beer garden, arts and crafts and more will be part of the day's festivities. A shuttle van will be on hand to drive people to and from the ferry dock on the island. Tickets are $10. Info: salishcenter.org. 
Handbags for Housing
5–8 p.m., Saturday, Aug. 19, Fisherman's Pavilion, Squalicum Harbor
Have you seen the view of Bellingham Bay from the Fisherman's Pavilion? After having attended a number of events there in the last year — from a wedding to a musical, numerous Dockside Markets and SeaFeast — I'm confident those attending this annual fundraiser for Lydia Place will be gobsmacked by the panoramic scene of Bellingham Bay from the large, wide-open venue. 
The money raised for the Bellingham-based nonprofit is dedicated to disrupting the cycle of homelessness, 
Attendees at the "Riviera Chic"-themed event can sip on cocktails, watch a runway show, take part in a live handbag auction, see what's up at the beauty bar and enjoy live entertainment. Tickets are $30–$125. Info: lydiaplace.org. 
Big Band Bonanza
Noon to 5 p.m., Sunday, Aug. 20, Fairhaven Village Green, 1207 10th St.
For years, I've been getting emails from various members of the Swing Connection Big Band alerting me to the ensemble's public concerts. The perennially popular gigs are typically free, family-friendly and are designed to get people off their seats and onto the dance floor.
For the Big Band Bonanza, the Bellingham-based band will feature swing songs from the 1920s through the early 2000s, presented by Swing Connections' 17 musicians. Also on the lineup are the 18-piece Skagit Swings All Star Big Band, and the 17 members of the A'Town Big Band — who hail from Anacortes and are known for playing the music of Count Basie, Buddy Rich and many others. More than 50 musicians are slated to take the stage at this free event, and I dare you not to dance. Info: swingconnections.org. 
Art in the Garden Bash
2–5 p.m. Sunday, Aug. 20, Skagit Valley Gardens, 18598 Skagit City Road, Mount Vernon
Hold on to your sun bonnets, because art, music and nature are set to combine at this Skagit Symphony fundraiser taking place at Lavonne Newell Reim's historic destination garden on Fir Island.
Attendees will find something new around every garden bed, including Master Gardeners who will discuss the unique plantings; the works of well-known Skagit artists such as Clayton James, Al Currier, Margaret Horak, Jennifer Bowman and others; and live music featuring various Skagit Symphony members and friends. Tickets are $30 and include refreshments. Sounds delightful (and delicious). Info: skagitsymphony.com.

ALL EVENTS 
Friday, Aug. 11
Northwest Washington Fair 
Through Sunday Aug. 19, NW Washington Fairgrounds, Lynden
We're at a point in the summer when it's time to head to area fairgrounds to gorge on elephant ears and obscenely large turkey legs, ride the Zipper until we feel queasy, listen to local and nationally sourced music, and admire local farm animals. This year's fair includes The Selena Experience, two nights of the PRCA Rodeo, country artist Chase Rice, Grammy Award-winning hitmaker NE-YO, and Russell Dickerson, another country music star.  Info: nwwafair.com. 
Steam Meet
Through Sunday, Blaine Harbor Marina, 235 Marine Drive
The Seattle-based Northwest Steam Society will celebrate its 50th annual Steam Anniversary Meet through the weekend. Boats of this vintage are modeled after nostalgic steamboats popular in the late 19th century. Visitors will enjoy a chance to see these historical vessels in motion as they travel along the scenic waterways of Blaine. Info: northweststeamsociety.org. 
Subdued Stringband Jamboree
Through Saturday, Deming Logging Show grounds, 3295 Cedarville Road 
Hear live music from a number of local, regional and national acts at this homegrown festival located just 15 minutes from Bellingham. The annual event welcomes attendees of all ages. "Freestyle" camping is still available. Info: stringbandjamboree.com. 
Summer Farmers Market
3–7 p.m., Rome Grange, 2821 Mt. Baker Highway
In keeping with their mission to promote agricultural-community interest, the Rome Grange will be hosting this market every Friday through Sept. 22. Info: romegrangewhatcomcounty@gmail.com. 
Children's Craft Fair
5–7 p.m., Bellis Fair Mall 
Bellingham Public Library presents its second craft fair of the summer; all items for sale have been handmade by kids and are priced at $5 or less. All sales will be cash only. Info: bellinghampubliclibrary.org.  
Birchwood International Market
6–8 p.m., 1538 Birchwood Ave.
Come celebrate the rich diversity of the Birchwood neighborhood with activities for kids, live music, food, craft vendors,and cultural performances. The outdoor event is family-friendly and open to all. Info: birchwoodneighborhood.org. 
'Chicago: The Musical'
7 p.m., New Prospect Theatre, 207 Prospect St.
Little Lemon Productions presents the teen edition of this world-famous musical Friday through Sunday, then again Aug. 18-20. The production is designed to redefine the look most commonly associated with the show and is geared toward what happens when women are in charge of their own stories. Tickets are $15. Info: newprospecttheatre.org. 
'The Taming of the Shrew'
7 p.m., Rexville Blackrock Amphitheater, Mount Vernon
Shakespeare Northwest wraps up its summer repertory series this weekend, with Saturday's showing of "The Tempest" ending its run. Tickets to see the comedies are $15–$18. Info: shakesnw.org. 
Over the Top Rope 
8 p.m., The Upfront Theatre, 207 Prospect St. 
Improv comedy will meet professional wrestling at this one-night-only show. Based on audience suggestions and old-school wrestling troupes, the performers will take you on a rowdy adventure of catchphrases, old-school smack-talk and elbow drops. Tickets are $10–$16. Info: theupfront.com. 
'Mad Max: Fury Road' 
7 p.m., Downtown Bellingham Parkade, 1300 Commercial St. 
As the culmination of Pickford Film Center's Rooftop Cinema series, Charlize Theron will be the featured actress as part of the "Hot Girl Summer" theme. Each woman in the three-film series offered viewers different representations of what a "strong woman character" means. Come early to party, then settle in for the screening at dusk. Info: pickfordfilmcenter.org.
Saturday, Aug. 12
Bellingham Farmers Market 
10 a.m. to 2 p.m., Depot Market Square, 1100 Railroad Ave.
Approximately 90 vendors from Whatcom and Skagit counties are on site at this weekly market, which continues every Saturday through Dec. 16. Info: bellinghamfarmers.org. 
Semiahmoo Sips
2–4 p.m., Semiahmoo Resort, Blaine
Every Saturday, head to a special wine tasting hosted in the Semiahmoo Wine Cellar, where a sommelier pours samples of four different wines from a rotating menu. Charcuterie and cheeses to pair with the wines are also available for purchase. Entry is $20 per person, and no registration is required. Info: Semiahmoo.com. 
BrewFest on the Skagit 
2–7 p.m., Edgewater Park, Mount Vernon
The historic Lincoln Theatre hosts this 21st annual fundraiser featuring craft beer, live music, leisure games, the coronation of the BrewFest Queen, food offerings, tie-dyeing courtesy of Tri-Dee Arts, vendors and local food trucks. Tickets are $35–$60 (designated driver's tickets are $23. Info: lincolntheatre.org. 
Student Showcase, Camp! 
5 p.m., The Upfront Theatre, 207 Prospect St. 
Come support spontaneity improv students as they showcase what they've learned this summer at this show hosted by teachers Brian Grote and Seth Thompson. At 8 p.m., attend Camp! An Improvised Musical. Entirely unscripted and inspired by audience suggestions, this will be a hilarious musical summer camp adventure you don't want to miss. Tickets are $5 for the early show, $10–$16 for the later one. Info: theupfront.com. 
Music for the Animals 
6–10 p.m., Bertelsen Winery, Mount Vernon 
The NOAH Center will host this 21st annual benefit auction in support of homeless animals. The outdoor event will happen rain or shine; bring a low lawn chair or blanket for general seating; VIP tickets include seating. Alder BBQ truck will be on-site, and there will be both silent and live auctions. Herding Cats will provide live music. Tickets are $100–$175. Info: thenoahcenter.org. 
Fairhaven Outdoor Cinema
6:30 p.m., Fairhaven Village Green
Cardova will present live music at this summer film series before "Field of Dreams" screens at sunset. The music and movies continue Saturday nights through Aug. 26. Entry is $7–$8. Concessions will be available for purchase. Info: enjoyfairhaven.com. 
Wines of Whatcom
6:30–8:30 p.m., Bellewood Farms, 6140 Guide Meridian, Lynden
This fourth annual event will feature wineries from Whatcom and Skagit counties providing tastings of their goods. General admission is $40 and includes 10 tasting tickets. VIP admission is $70 and includes 10 tasting tickets, reserve wine tastings, appetizers, early admission, and a commemorative tasting glass. Proceeds benefit Wild Bird Charity's work feeding kids in Whatcom County. Info: wildbirdcharity.com. 
Intergalactic Wrestling
7 p.m., Eagles Hall, 1125 N. Forest St.
Celebrate four years of 5CC wrestling with this space-themed anniversary show featuring new wrestlers and returning favorites. This could be your last chance to see live pro wrestling in Bellingham, so don't miss out. Tickets are $15–$40. Info: 5ccwrestling.com. 
Meteor Shower and Stargazing
9 p.m., Vanderyacht Park, 1945 Washington St., Ferndale 
As part of the City of Ferndale's Summer of Fun event, come enjoy the peak of the Perseid meteor shower using glow-in-the-dart star charts to locate your favorite constellations. Volunteers from the Whatcom Association of Celestial Observers will be on site with large telescopes to provide peeks at the moon and other celestial objects. Entry is free. Info: cityofferndale.org. 
Sunday, Aug. 13
Second Sunday Jazz 
2 p.m., Heart of Anacortes, 1014 14th St., Anacortes
Anacortes Public Library hosts this monthly concert featuring bassist and vocal jazz artist Marina Christopher. Her style brings back the sounds of a bygone era and also elevates today's hits with her original arrangements. Joining her will be Chris Patin on Drums, Jake Sele on piano and Carey Rayburn on Trumpet. Entry is free. Info: library.cityofanacortes.org. 
Make Me Wanna Holler
2–7 p.m., Pioneer Park, La Conner
The Skagit River Poetry Foundation hosts this free event at the park's amphitheater near the Rainbow Bridge. Hear music by the acoustic blues band Delta Promenade and indie originals by the Erik Christensen Band and poetry by featured Northwest scribes. An open mic will also be available for audience members who want to read a poem. Info: skagitriverpoetry.org. 
Monday, Aug. 14
Guffawingham
8:30 p.m., Boots Bar and Lounge, 1263 Barkley Blvd.
This weekly stand-up comedy show has returned from the ashes and can be attended every Monday. Each show will feature a host, and people can show up early to sign up for a slot on the roster. Info: Facebook.com/guffawingham. 
Tuesday, Aug. 15
History Sunset Cruise 
6–8 p.m., Bellingham Cruise Terminal, 355 Harris Ave. 
Join the Whatcom Museum every Tuesday through Sept. 12 for this popular summer cruise, which takes locals and visitors aboard the 100-foot Victoria Star tour boat. Participants get close-up views of parks, businesses, industry and neighborhoods from Bellingham Bay, with historian Brian Griffin serving as the tour guide. Tickets are $35–$40. Info: whatcommuseum.org. 
Vaudevillingham
7 p.m. and 9 p.m., Cirque Lab, 1401 6th St.
The Bellingham Circus Guild presents its monthly open-stage variety show said to be "uncensored, un-curated, unapologetic and unbelievable." Suggested donation to the fundraiser is $10–$20 per person, but give as you are able. The early show is family-friendly and appropriate for all ages, and the later show is "anything goes." Info: bellinghamcircusguild.com. 
Wednesday, Aug. 16
Katts Meow Comedy Show
8:30 p.m., Katts Westside Stories, 100 S. Barker St., Mount Vernon 
All are welcome at this bi-monthly stand-up comedy show. Entry to the 21-and-over venue is free. Info: kattswestsidestories.com.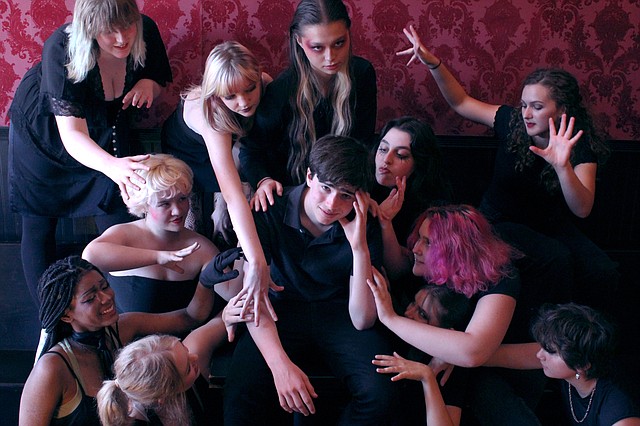 Thursday, Aug. 17
Barkley Market
11 a.m. to 2 p.m., Barkley Village Green, 2215 Rimland Drive
Local vendors will be on-site for this weekly market, which continues Thursdays through Aug. 31. Additionally, there will be live music and food truck options for lunch, so bring the family along for a picnic. Info: barkleyvillage.com. 
Summer Strumming
4–5:30 p.m., Lightcatcher Courtyard, 250 Flora St.
Bellingham's Community Ukulele Players will present their final performance of the summer at Whatcom Museum's Lightcatcher Building. Swing by to enjoy pleasant melodies with your family, a glass of wine from Bar Cicotti or both. Info: whatcommuseum.org. 
Commercial Street Block Party
6–9 p.m., 1300 block of Commercial St.
"Nerd Night" will be the theme of the third and final block party of the season. Spotlights will include the interactive circus stylings of Wren, face painting, chalk art, games, pinball, flow arts, food trucks, small business shopping and more. Info: downtownbellingham.com. 
Friday, Aug. 18
Kevin Murphy and Friends
5:30 p.m., FireHouse Arts and Events Center, 1314 Harris Ave.
Singer-songwriter Louis Ledford and vocalist Norah McLaughlin will join this longtime poet and musician for a selection of original songs and covers. Entry is free, but cash donations of appreciation will be gladly accepted. Info: firehouse-aec.com. 
'Cabaret'
7 p.m., Mount Baker Theatre, 104 N. Commercial St.
Bellingham Arts Academy for Youth's State Street Theatre Company presents showings of this musical, which will take place Aug. 18–20 and 25–27 at the MBT's intimate Walton Theatre. The storyline explores the dark, heady and tumultuous life of Berlin's natives and expatriates as Germany slowly yields to the emerging Third Reich. Tickets are $12–$20. Info: mountbakertheatre.com. 
Kristin Key
8 p.m. The Blue Room, 202 E. Holly St.
Key, a musical comedian and host of the weekly podcast, "Kristin Knows Blank," will bring her stand-up comedy chops to the stage tonight. Cory Michaelis will host, and local comedians will open for Key. Tickets are $15–$35. Warning: There will be some R-rated material. Info: blueroombham.com. 
Saturday, Aug. 19
Dockside Market 
10 a.m. to 2 p.m., Squalicum Harbor, Gate 5
Local fisherfolk will be selling their fresh and frozen wares at this twice-monthly market. Visit the dock early to find the best selection of seafood options. Details and participating vendors and products are posted 24 hours ahead of sale days. Info: bellinghamseafeast.org. 
Creative Avenue Market
10 a.m. to 3 p.m., Azusa Garden Center, 14904 State Route 20, Mount Vernon
More than 30 local artists and crafters will be selling their wares at this special event — which will also include all of the indoor and outdoor plants the nursery has to offer. Attendance is free. Info: creativeavenuenw.com. 
Artist Talk with Julie Paschkis
2 p.m., I.E. Gallery, 5800 Cains Court, Edison 
Julie Paschkis will talk about her solo exhibit, "A Sip of Mysteries," which includes paintings of labels for imaginary elixirs and potions. There are also 23 paintings comprising a new tarot — the Aurinka Arcana of the Parrot. The works will be on display through August. Info: ieedison.com. 
Ferndale History Walk
2 p.m., Pioneer Pavilion, 2007 Cherry St.
Join Connect Ferndale for a 2-mile walking tour and learn some of the city's history related to communities of color. Explore parks and downtown landmarks while learning about the important contributions of Indigenous, Black, Latino and Asian communities. The walk is flat and wheelchair-accessible. Info: connectferndale.org. 
The Davanos
3–8 p.m., Camano Island Yacht Club, 129 N. Sunset Drive
Hear classic rock, blues, country and originals when the ensemble who was voted Seattle's best rock band in 2018 performs two sets at this outdoor concert. The show will feature a special appearance by Rock & Roll Hall of Fame member Roger Fisher, a founding member of Heart. Tickets are $35 and include a boxed lunch. Info: camanoislandyc.com. 
The Jazz Explosion
7 p.m., Blaine Performing Arts Center, 975 H St.
As the culmination of Whatcom County Library System's Whatcom Grooves summer concert series, this free event will feature an ensemble led by jazz drummer and innovator Jerry Steinhilber, featuring some of the Pacific Northwest's most in-demand artists. Info: wcls.org. 
Before heading out to attend in-person happenings, check with individual venues to make sure the event is still taking place as scheduled.
The A-List appears weekly. To submit an event for consideration, email calendar@cascadiadaily.com.