Outdoors
Hiking group hits the mountains with grateful hearts
Wildhearts Bellingham smashes stereotypes about life after surgery
August 9, 2023 at 5:00 a.m.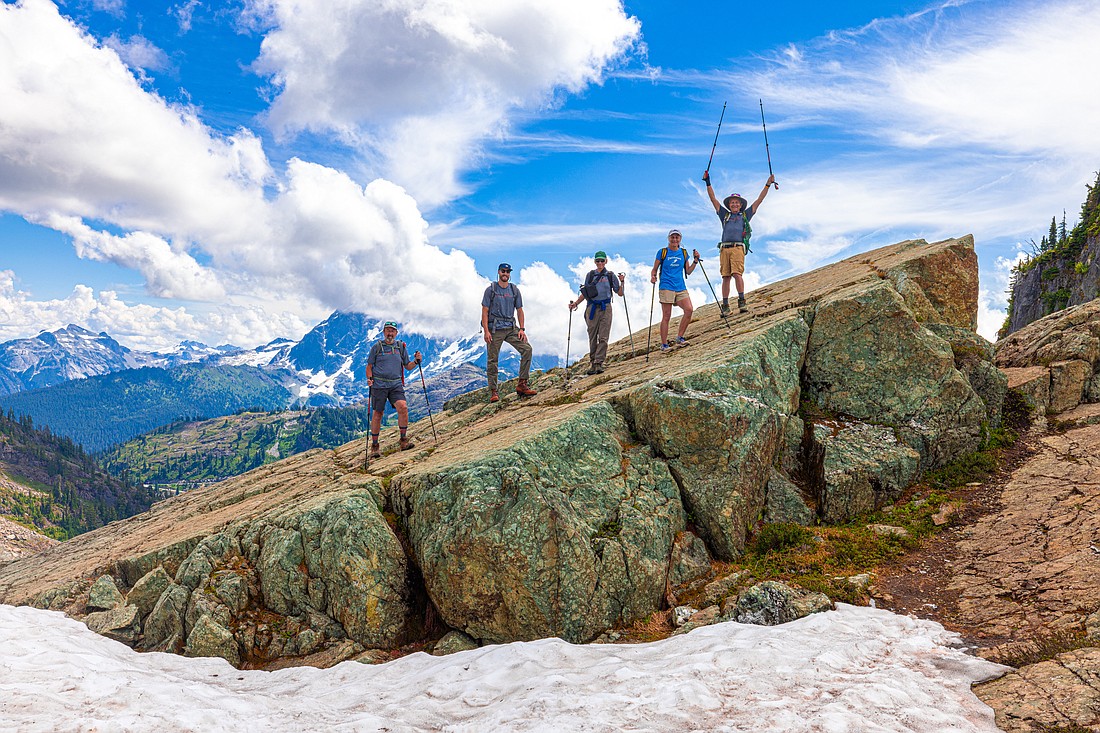 ---
---
A decorative carrot cake with one flameless candle sat on a table last week at the FireHouse Cafe in Fairhaven.
The cake commemorated the first anniversary of heart surgery for former triathlete Chris Airoldi of Bellingham.
Airoldi, 55, started the day with a slow 4-mile run before arriving at the cafe, where a group of lean and fit men and women gathered to help her reflect on a situation she never expected.
Despite the athletic appearances, many could relate to Airoldi's ordeal. They also underwent heart surgeries despite leading active lives.
Now they meet regularly as members of Wildhearts Bellingham, the area's newest — and perhaps most inspirational — hiking club. 
"We're not unlike other support groups; we just need to talk to people we can relate to," club founder Jim Kosa said. "When it comes to heart disease, there are a lot of questions."
Heart disease is the leading cause of death in the United States. About 695,000 Americans died from the condition in 2021, the Centers for Disease Control and Prevention reported.
The CDC states people with diabetes, who are overweight and obese, have an unhealthy diet, don't exercise and drink too much alcohol are at higher risk.
Fit athletes can suffer complications as well.
Kosa, 73, started the club after undergoing triple bypass surgery followed by an emergency angioplasty in February 2022.
The avid outdoorsman was familiar with the aftereffects of such an operation because he suffered a cardiac event in 2003 and has a long family history of heart disease.
"It was devastating to go from a high level of physical activity to not being able to get out of a chair," Kosa said. 
A workshop on mental well-being at the cardiac rehabilitation facility helped, he said. Kosa, who then lived in Philadelphia, found a Baltimore support group online for survivors of near-death trauma to continue getting the support he needed.
Kosa learned after his first heart attack that staying in shape saved his life. He said he had 100% blockage, but the body performed a natural bypass using ancillary arteries he had built up through distance running, cycling and hiking to move blood to the heart. 
Two decades later, Kosa lay on a bed at PeaceHealth St. Joseph Medical Center traumatized again. He thought about how much the Baltimore group helped and decided to create something locally for post-heart surgery patients. 
Kosa left a handful of flyers in St. Joe's cardiac rehabilitation center. Soon, people started calling.
His mailing list has 50 contacts, and 15 people who regularly attend Wildhearts events that are open to caregivers, family members and friends. 
About two months ago, Wildhearts started holding Wednesday hikes. The group also meets on Saturday mornings at the FireHouse Cafe to socialize and walk or hike near Fairhaven.
Airoldi contacted Kosa after seeing a flyer at the rehabilitation facility where she once worked as an exercise physiologist.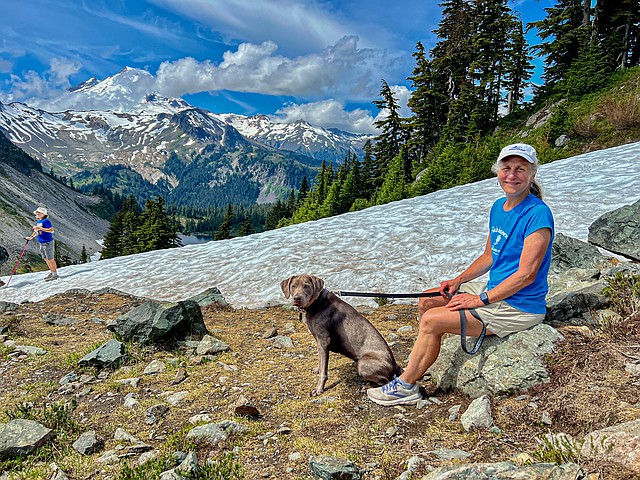 "It spoke to me because I wanted to get out and hike, given the way I felt after surgery," she said. "But I didn't feel up to going out into the mountains alone."
Airoldi ran her first 10-kilometer road race in middle school in Bellevue. She completed the Hawaii Ironman triathlon in 1992 and has remained a devoted runner and cyclist over the decades. 
She said her heart condition seemingly came on suddenly. Airoldi recalled going for a bike ride around Lake Samish last summer with a friend when she felt tightness in her chest as her heart rate elevated. Airoldi backed off when the tightness came on, she said.
She has a master's degree in biomechanics from Western Washington University and a good understanding of medical conditions.
Airoldi saw a physician who performed a scan for blood flow in the arteries. 
"I'll never forget what the doctor said: 'You need a bypass, and you need it now,'" Airoldi said.
Airoldi said she struggled with her situation because she stayed in good shape and ate a healthy diet. Her biggest challenge now is to refrain from going all out as she did as a runner and a triathlete.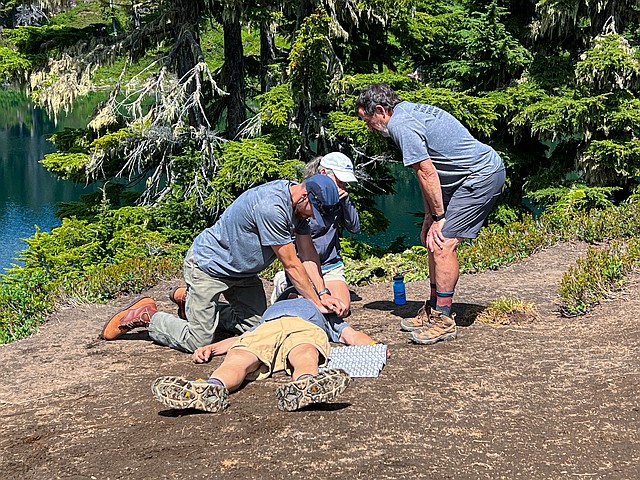 "In college, I'd get my heart rate up to 202 (beats per minute) and think that was great," Airoldi said. "But I think that does long-term damage to your heart." 
Kosa launched the Wildhearts with athletes like Airoldi in mind. 
He understands the connection between physical performance and identity. "It dictates who they are," Kosa said. 
Wildhearts, though, is more than a vehicle for staying active. Kosa has created an educational component to the outings.
The group starts hikes with a checklist, including discussing everyone's health condition, what medications they take, where drugs are located, and an understanding of how to administer them. The group has a good emergency plan, including how responders can reach them.
They also have Alex Honn, an emergency medical technician, who joined the group recently on the Chain Lakes Loop near Artist Point to demonstrate how to administer CPR.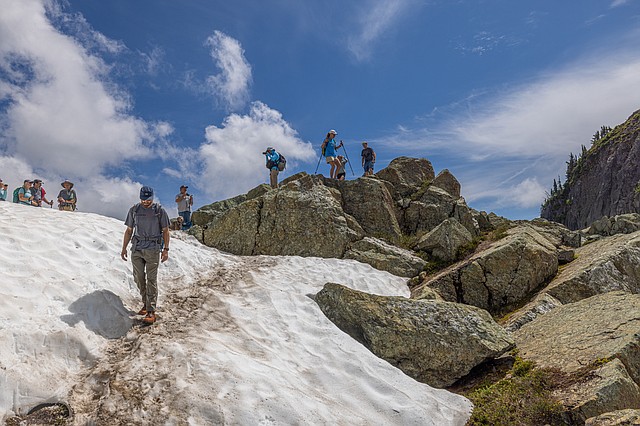 Honn's primary focus as the club's health education program manager is to prevent the need for CPR by watching for signs such as chest tightness and light-headedness.
Honn, 27, hopes to introduce clinics on mental health issues and nutrition as Wildhearts grows.
"It's inspiring to see people caring about themselves and in touch with what keeps them alive," Honn said.
Kosa, a former marketing executive, envisions introducing Wildhearts to Bellingham's cycling, running, paddle sports and pickleball communities. 
He said he loves smashing the stereotype that people must stop doing outdoor activities after heart surgery. Athletes like Airoldi and her fellow hikers are all proof of the possibilities.
Elliott Almond's outdoor column appears monthly. Email: elliottalmond4@gmail.com.