Faces in the Crowd
Doug Hudson: Artist, teacher, veteran
CDN's weekly community profile
August 4, 2023 at 5:00 a.m.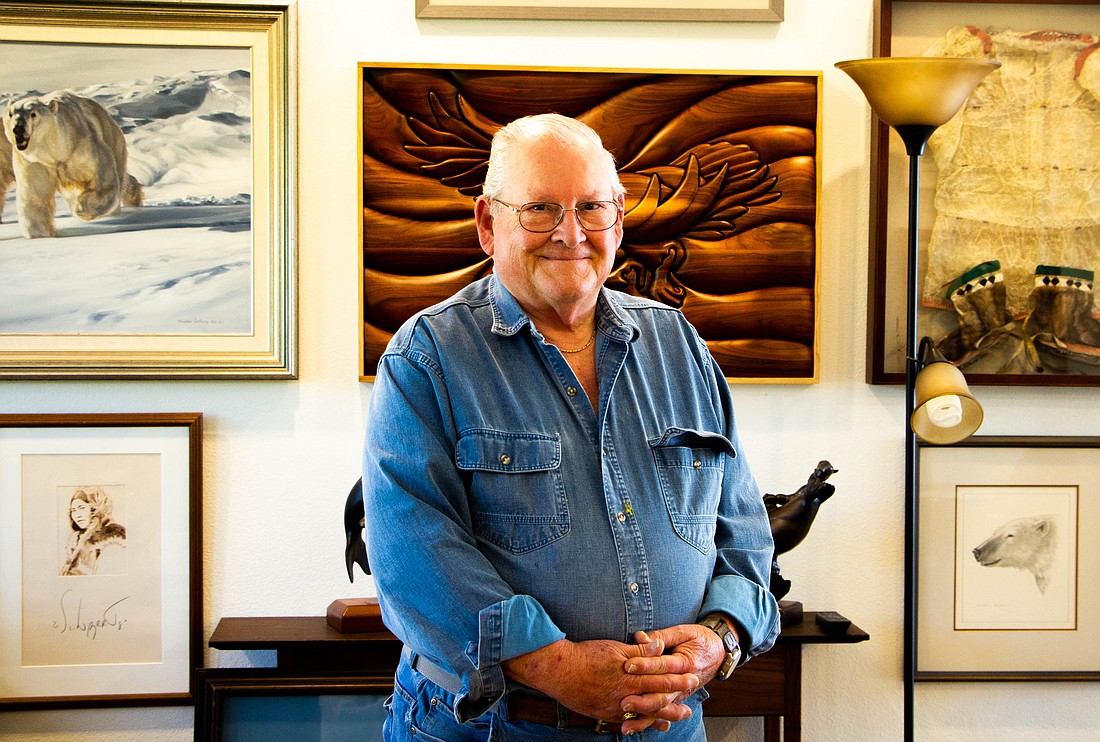 ---
---
Doug Hudson (he/him)
Age: 79
City: Ferndale
Lived here for: 4 years
Originally from: Kodiak Island, Alaska
Notable: The artist and veteran donated a carving and a painting to a recent Vietnam Veterans of America car show in Bellingham.
How did you get your start in art, and what do you do?
I taught art at Ketchikan Gateway Borough schools for 20 years.
I was teaching junior high school, and the Native people in Ketchikan had gotten a grant and they came into my classroom and said, 'We're going to take your Native kids and teach them how to carve.' And I said, 'No, no, no, you're not. You're gonna come and teach us all how to carve.'
So they taught us all to carve and taught me, and within two weeks they made these knives (pointing to a table in his garage) and brought them to me. I carved close to half a million dollars worth of sculpture with these things, or more.
I did paint a lot, too. I still do.
Which tribe were you working with? 
They were Tsimshian. The kids were Haida and Tsimshian. They all have a different carving style than they do here.
Have you sold a lot of your work?
They're all over the world. I had a guy that was a count in Italy [who] came in and bought two sculptures for one of his palaces in Italy someplace. And I do a lot of work for individuals. I think half of southeast Alaska has my carvings, too.
How do you navigate the issue of cultural appropriation in your art?
About my second year into it, I was doing a lot of carving using some of [the tribe's] older styles. And I realized that hey, you know, I'm not Native. I better be very careful with this. I found my style, which I've been doing now for probably 40 years minimum.
Tell me about your involvement with Vietnam Veterans of America. 
I joined them because I wanted to join a group. I had been in Veterans of Foreign Wars. I've been in American Legion. Basically, the Vietnam Veterans are like brothers. Everybody, whether they're Navy, Air Force or you name it, they all had a mission to survive. And I thought, I'm ready to go and help them if I can. So I'm giving back any way I can.
Do you talk about your experiences in the Army in Vietnam?
Most veterans try to not talk too much about it because we don't feel like most people would understand. 
I'll just tell you, the first experience I had was landing in the airport in Saigon and getting on a helicopter to go out to the base that I was assigned to. And the pilot said, 'Hear those bees? Those are rifle rounds passing by.' 
And that just woke me up, just like that. That's what you went through, and — I don't know. Some people fretted about it. Some people were just numb.
As I tell people who thanked me for it, I say it was my honor, and it wasn't pleasant. And that's where I leave it. But we survived.
"Faces in the Crowd" is published online and in print Fridays. Have a suggestion for a "Faces in the Crowd" subject? Email us at newstips@cascadiadaily.com.