Elections
New faces emerge in local school board races
Updated results released for Ferndale, Meridian, Blaine, Lynden primaries
August 1, 2023 at 10:07 p.m.
|
Updated August 2, 2023 at 6:15 p.m.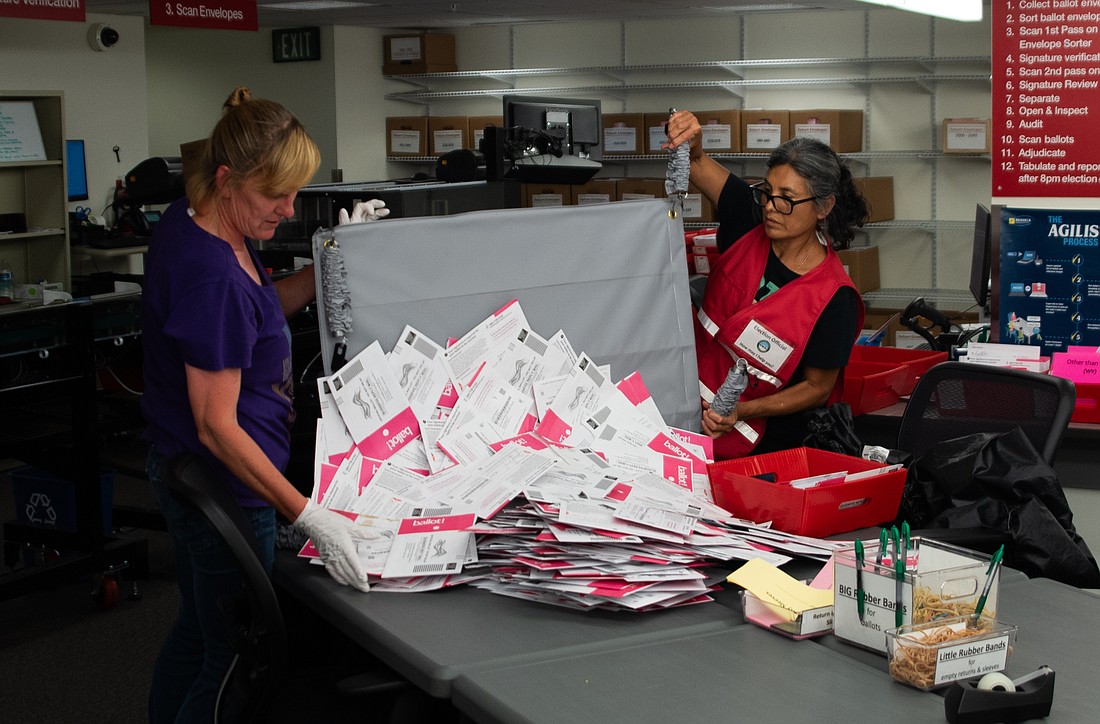 ---
---
Across Whatcom County's seven public school districts — Bellingham, Blaine, Ferndale, Lynden, Meridian, Mount Baker and Nooksack Valley — 24 school board seats are up for election. 
Updated numbers released Wednesday, Aug. 2, remained consistent with Tuesday's preliminary election results. 
In total, more than half of the school board seats are being contested, meaning this election has the power to change the dynamics of schools across the county as districts grapple with topics like curriculum, book banning, gender identity, safety and more. 
Ferndale
Brent Bode and Antonio Machado Catano will vie for the open director of District 2 seat on the Ferndale School Board in the general election. Machado has received 46.36% and Bode 39.72% as of Wednesday, Aug. 2.
Machado said he is extremely motivated by the results. He and Bode are anticipating a close race for the school board seat. 
"I'm looking forward to it. I'm excited," Machado said about the impending general election. "I'd like to focus on what I have to offer. I have a great desire to serve the kids, the students of the Ferndale School District."
"I feel really positive," Bode said. "I think I'm going to have a better chance to get out … and get more face time with those families and more time in the school district." 
Both Bode and Machado voiced their support for teachers and have goals of creating successful environments for students to learn and grow in. Machado hopes to ensure schools have the technology and tools necessary to prepare students for life post-graduation, and Bode ultimately hopes to garner community involvement and increase communication.
Bode works at Western Washington University as the senior assistant director of admissions, and Machado works for the Western States Petroleum Association.  Machado has three children who attend Ferndale schools.
Adrian Sheridan — an 18-year-old and recent graduate of Ferndale High School — isn't likely to receive enough votes to continue, with 13.63%.
Meridian
In Meridian, Michelle Simmons and Riley Sweeney will progress to the general for the District 5 director seat, after earning 44.82% and 26% of votes in the primary, respectively.
The two surpassed incumbent Craig Mitchell, who earned 15.23% of the votes.
"I'm so thankful that they're honoring my background and my service to the community and my knowledge of the district," Simmons said. 
In her voter's guide statement, Simmons promotes "honoring family values, cultural diversity and socio-economic conditions" in education. 
Simmons has been an active parent in the Meridian School District, serving on different boards and committees, and describes herself as an international businesswoman.
In the last few years as a representative of the Meridian Parent Coalition, where she has asked the district to improve communication and transparency, Simmons denounced Critical Race Theory and discussed sex education curriculum.
"When November comes, it's in the hands of the voters. I'm here to serve all the students and staff and families equally," Simmons said. "I'm not here to be a politician."
In his campaign, Sweeney said he is looking forward to learning how to support teachers and enrichment programs, and to make sure the schools are welcoming places for all families. 
"I'm thrilled. I'm so excited," Sweeney said. "It's clear my Meridian friends and neighbors are as excited by what I have to share for the school board as I am."
Sweeney voiced his support for teachers, arts programs and libraries. He also spoke to instilling a sense of belonging and working to expand the district as the population grows. Sweeney is the communications officer and recreation coordinator for the City of Ferndale.
The fourth challenger, Malia Pickett, will not advance with 13.68%.
Blaine
Ben Lazarus and Dean Berkeley will likely be on the ballot this November for the Blaine School Board District 2 director position.
Third candidate Tana Perkins Reneau — who is currently facing 11 charges of rape of a child, assault of a child and incest — received 22.69% of the vote.
Lazarus earned 43.69% and Berkeley garnered 33.05%.
"I'm happy to have come up as the leader," Lazarus said Tuesday night. "I'd like to thank all of the people who supported me and offered me endorsements."
Lazarus checked the preliminary results while at work Tuesday night, and said he was busy changing the brakes on an airplane instead of celebrating. Lazarus teaches aircraft mechanics and is a part-time mechanic at the Bellingham International Airport.
Berkeley is a retired firefighter and works for West Coast Engineering Group. He could not immediately be reached for comment. 
Blaine School District is currently struggling with its budget, largely due to the loss of COVID-19 funding and a nearly 10% drop in enrollment.
Lynden
In Lynden, Jim Verburg will try to overcome incumbent David Vis for the District 3 director seat on the Lynden School Board.
Vis has served on the school board for five years and received 41.05% of the votes. Verburg came out with 35.01%, surpassing Terry Montague with 23.06% of the vote.
Vis said he loves serving the students of Lynden and is happy to advance, but apprehensive about the upcoming general election.
"It's nice to advance, but I'm not confident about what my future holds," Vis said. "I just want this to be nonpartisan. I wish politics wasn't part of the process."
Vis is a lawyer and director of finance and care ministry at North County Christ the King Church in Lynden. Verburg works for the Western States Petroleum Association. 
Verburg could not be reached for comment. 
School board directors are elected and serve for four years. Each school board in Whatcom County has five seats. Directors oversee the superintendent, the budget and curriculum.
This story was updated at 6:15 p.m. Wednesday, Aug. 2, after additional ballots were counted.