Track & Field
WWU men, women clinch team titles at home invite
Vikings track and field teams combine for 11 event wins at Ralph Vernacchia Invitational
April 30, 2023 at 5:23 p.m.
---
---
Western Washington University men's and women's track and field teams each won their respective team titles as the Vikings hosted 14 other squads at the 41st Ralph Vernacchia Invitational April 30 at Civic Stadium.
WWU men and women combined to capture 11 first-place finishes, eight second-place finishes and six third-place finishes.
The Viking women, who placed second as a team in 2022, captured the team title this year with 131 points, ahead of second-place British Columbia (110 points) and third-place Central Washington (80 points).
The Viking men repeated their title finish from last year, totaling 214 points to easily outdistance second-place Central Washington (90.5) and third-place British Columbia (78.50). 
Freshman Maurice Woodring finished first in the men's 400-meter hurdles with a time of 53.61 seconds.
"Honestly, it felt phenomenal," Woodring said. 
He added that Ralph Vernacchia, a longtime mentor of the men's track and field and cross country programs, came and talked to the team the day before the meet to give them encouragement. 
"He talked to us about hard work, dedication, sacrifice, passion and believing in yourself," Woodring said. "I wrote in my journal, I believe I will run 53 low tomorrow and win the meet. … I told Vernacchia that I was going to put on a show." 
Men's highlights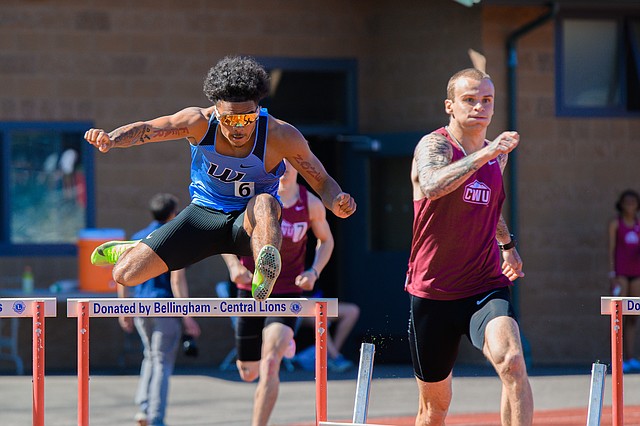 Sophomore Manu Greenlee won the high jump with a leap of 6 feet, 2.25 inches 
Junior Jaydon Tryon won the javelin with a toss of 196 feet, 3 inches
Sophomore Jeret Gillingham won the 3,000-meter steeplechase with a time of 8:57.80, followed by senior teammate Kaleb Korta, who took third place with a time of 9:28.43
Junior Ryan Greenwalt won the long jump with a leap of 23 feet, 4.75 inches, followed by teammate Seren Dances, who placed second with a mark of 23 feet, 3.25 inches
Senior Noah Johnson of Bellingham, who ranks first in the GNAC, won the 100-meter dash in 10.66 seconds
Sophomore Jonah Bloom won the 800-meter run (1:50.75), edging sophomore teammate Drew Weber who placed third (1:50.81), and who also holds the school record of 1:49.34
Sophomore Kevin McDermott won the 1,500-meter run with a time of 3:48.47, beating his previous personal best of 3:49.36
Andrew Oslin won the 5,000-meter run in a time of 14:32.83
Sophomore Aiden Jones won the men's 10,000-meter run with a time of 33:33.12
The Vikings' 4X400-meter relay team of Maurice Woodring, Jaden Edwards, Lucas Brenek and Drew Weber won with a time of 3:17.67
Women's highlights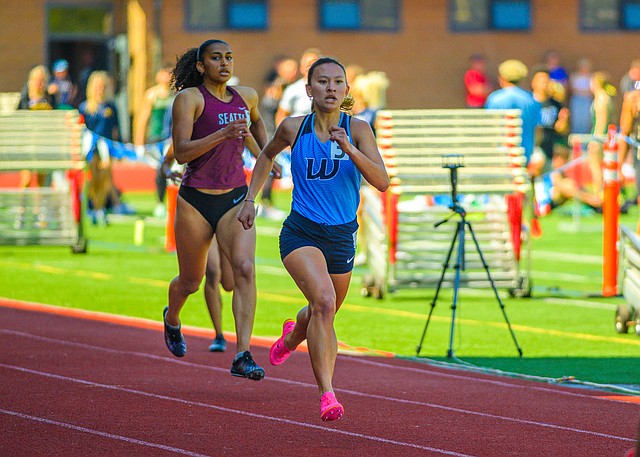 Sophomore Katie Potts won the discus with a throw of 153 feet, 1 inch
Junior Marian Ledesma earned a second-place finish in the 400-meter dash with a time of 57.69
Freshman Mara Parks finished second in the shot put with a throw of 42 feet, 10.25 inches
The Viking 4X100-meter relay team of Brooke Mansfield, Anna Miller, Hannah Polkinghorn and Caitlyn Cheney placed second with a time of 47.55
Freshman Brooke Mansfield took third place in the 400-meter hurdles with a finish of 1:04.18
Freshman Meaera Shannon placed third in the 5000-meter run with a time of 18:13.25
Caitlyn Cheney, Anna Miller, Marian Ledesma and Sophie Wright were first of five teams in the 4X400-meter relay with a time of 3:56.98, while a second relay team of Elie Bassett, Emmy Kroontje, Evelyn Collins-Winn and Mia Crocker posted a fourth-place finish time of 4:10.19. 
Full results can be found at the Track and Field Results Reporting Service website. The Vikings are set to compete next at the GNAC Combined Events Championships May 1–2 in Nampa, Idaho.