Recreation
Whatcom gymnast qualifies for Western championships
Charley Huffman, 13, is ahead of her game
April 27, 2023 at 5:00 a.m.
|
Updated April 27, 2023 at 12:02 p.m.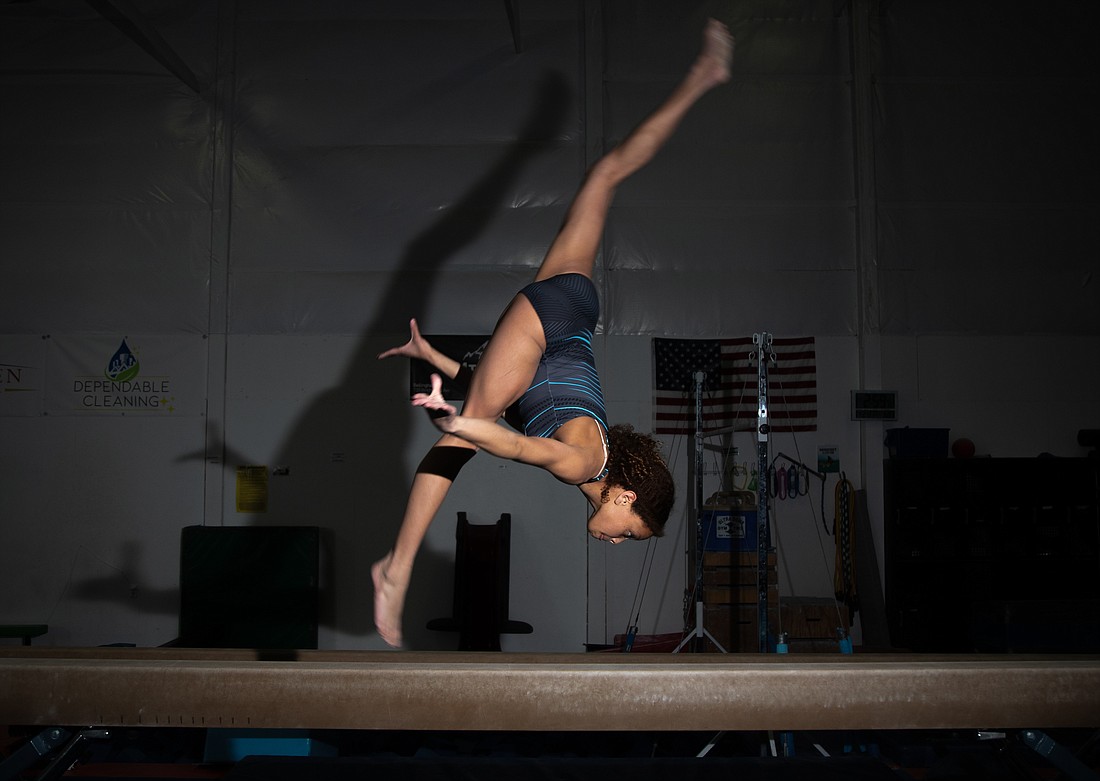 ---
---
For 13-year-old Whatcom County gymnast Charley Huffman, success has been swift and hard-fought.  
The Blaine Middle School seventh-grader qualified for the Western championships in Idaho after she was named all-around champion at the USA Gymnastics Region 2 (Idaho, Washington, Montana, Oregon, Alaska and Hawaii) competition in Tacoma.  
Huffman, confident yet soft-spoken, is an example of what happens when hard work meets talent and skill. Her calm demeanor is evident as she glides through somersaults, handsprings, leaps and cartwheels with agility and grace. 
"It was my best meet of the season," Huffman said. "I was really happy about it, but I didn't think I was going to win. I proved myself wrong."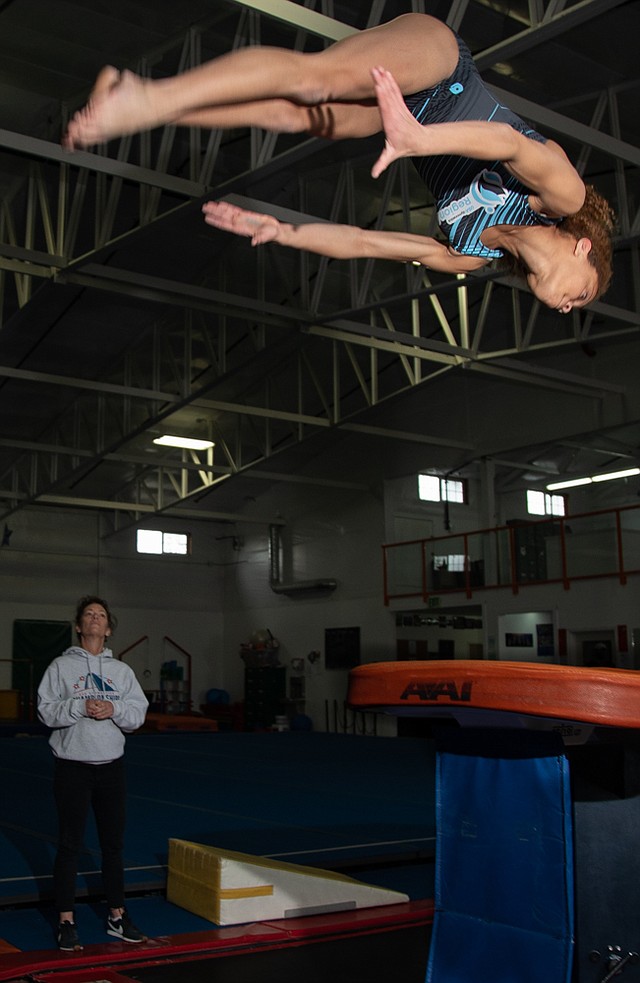 She placed third on the vault with a score of 9.500, and fourth on bars, beam and floor routines with scores of 8.825, 9.250 and 9.175, respectively. Her total score of 36.750 qualified her for a spot in the USA Gymnastics Women's Development Program Western Championships on May 5 in Boise, Idaho. 
Nikki Curry, Huffman's head coach at Ferndale's Gym Star Sports Center, said qualifying for the western championships is no small feat. 
"An athlete coming out of a small club, in an area where there's not a lot of higher-level gymnastics, is really awesome," Curry said. 
At her young age, Huffman is making incredible strides, reaching a level 9 gymnast status after four years of training. Reaching Level 9 — of 10 — this quickly is almost unheard of. Gymnasts must master a comprehensive set of skills including vault, beam and floor challenges.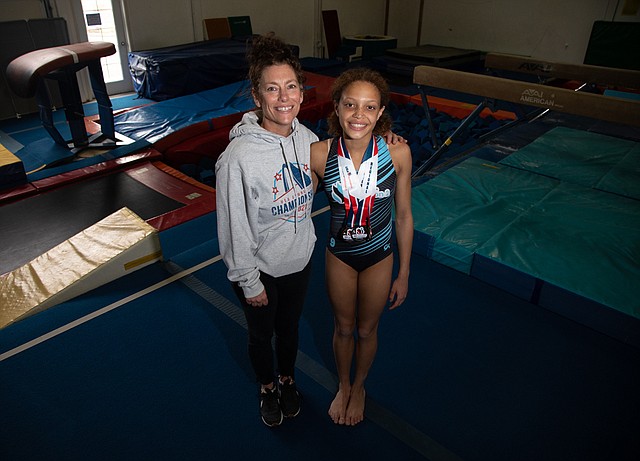 In January, she earned all-around gold at the Drop It Like It's Hot with Katelyn Ohashi meet, and finished second all-around at the Palm Springs Gymnastics Cup in California. She then added several more first-place finishes on vault, bars and floor, and second place on beam, to earn first all-around at the Viva Las Vegas meet in March.  
Huffman's aspirations are nurtured by the encouragement and support of her family. It also doesn't hurt having a well-known film and television actress for a mother who understands what it takes to be successful. 
"It takes a lot of work and dedication to do what she does, but she's so committed to it," said her mother, Alaina Huffman. "She has a lot of self-discipline … She's a 4.0 student, a good person and a good friend." 
Charley Huffman, who began gymnastics at 7 years old, got a later start in the sport than most of her peers, but she watched YouTube videos to catch up. 
She also doesn't take for granted the sacrifices her mother and siblings have made, from driving her to and from practices to being present at her competitions. 
"My family comes to my meets," Charley Huffman said. "Having that support system helps. It feels good when people are there to cheer me on." 
Charley Huffman's older brother, 18-year-old Elijah, and his friends are some of her biggest fans, as well as her sister Hannah and younger brother Lincoln.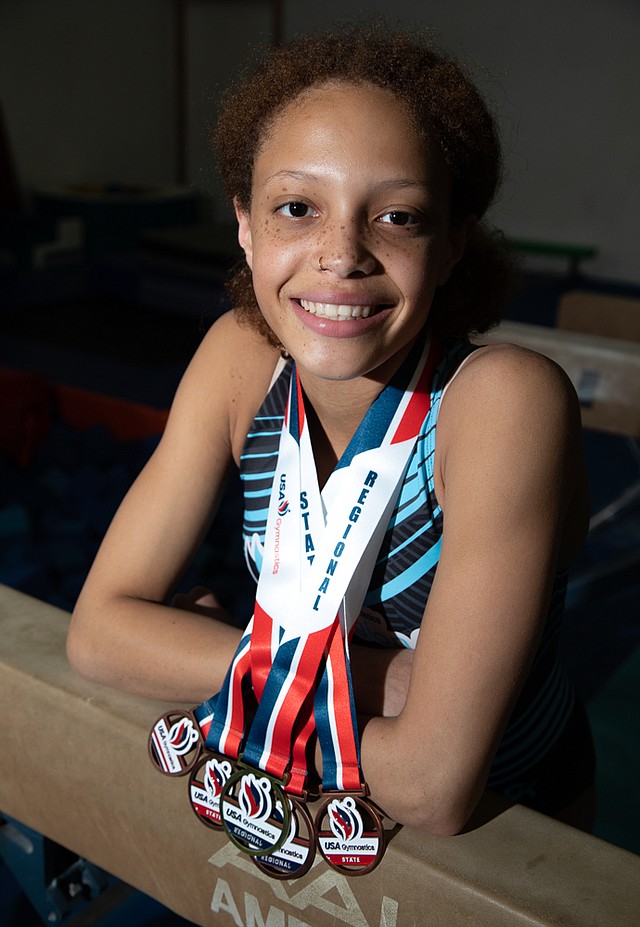 "It's such an honor to support Charley," Alaina Huffman said. "She was a star before she was born. I'm blessed." 
Charley Huffman said she's confident in her physical abilities, and meditation, visualization and journaling help her stay grounded and focused mentally. 
To prepare for competitions, Huffman trains 20 or more hours, four days a week, motivated by her desire to be the best. 
"My goals motivate me to do well," Huffman said. "My future goal of competing in the Olympics and continuing my gymnastics career as a college athlete also motivates me."  
Huffman has her sights set on attending University of California, Los Angeles; Louisiana State University; or Fisk University.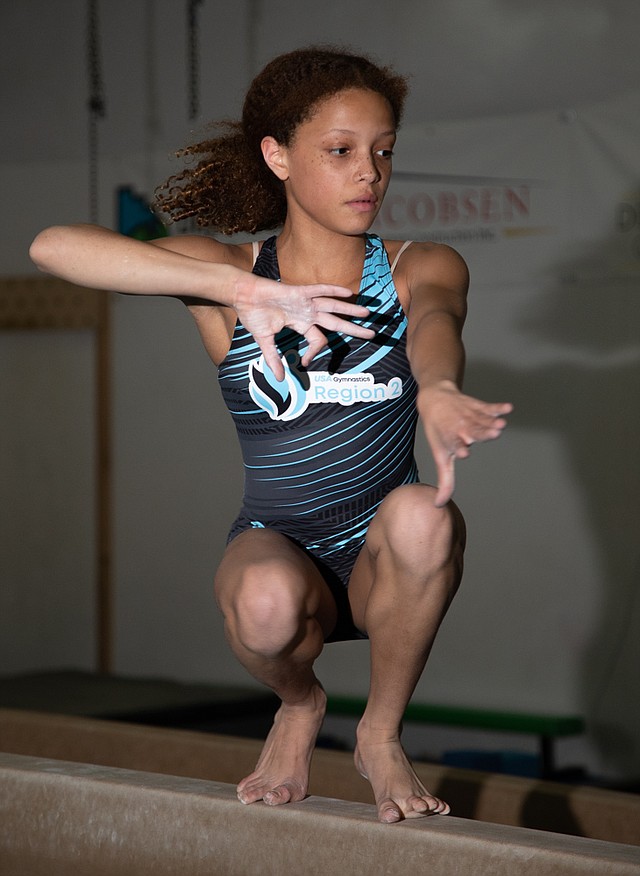 When Huffman's not in the gym, she enjoys baking, listening to her favorite rap artists, Kendrick Lamar and J Cole, and enjoying her favorite ice cream flavor, cotton candy from Menchie's Frozen Yogurt.  
Curry, who's been training Huffman for the last three seasons, said she has the ultimate faith in her at the upcoming western championships. 
"She's naturally talented, as you can tell from watching her," Curry said. "She's such a great team leader even though she's so young. She's also flexible and doesn't let disappointment or failure slow her down." 
The one drawback to Huffman's meteoric rise is her lack of competitive experience. At the Western championships, she will face girls who have been competing for eight or more years. 
"The fact that she's gotten as far as she has, this season, with so little under her belt, really shows how committed she is," Curry said.  
Now, Huffman gets the chance to prove herself once again against as many as 15 other Level 9 gymnasts from 25 states. 
"I'm so proud of Charley and all the girls here," Curry said. "I feel really lucky to get to work with her every day. She's like my baby, and I love her." 
Follow Huffman's gymnastics journey and her upcoming events online at https://www.mymeetscores.com/gymnast.pl?gymnastid=21625913. 
A previous version of this story incorrectly stated Charley Huffman received second-place all-around honors in Las Vegas. She received first place. Also, she qualified for the Western championships. The story was updated to reflect these changes on April 27, 2023, at 12:02 p.m. Cascadia Daily News regrets the error.