Kayaking
Kayak polo: Bellingham's long-running, lesser-known water sport
May marks 25th anniversary
April 26, 2023 at 5:55 a.m.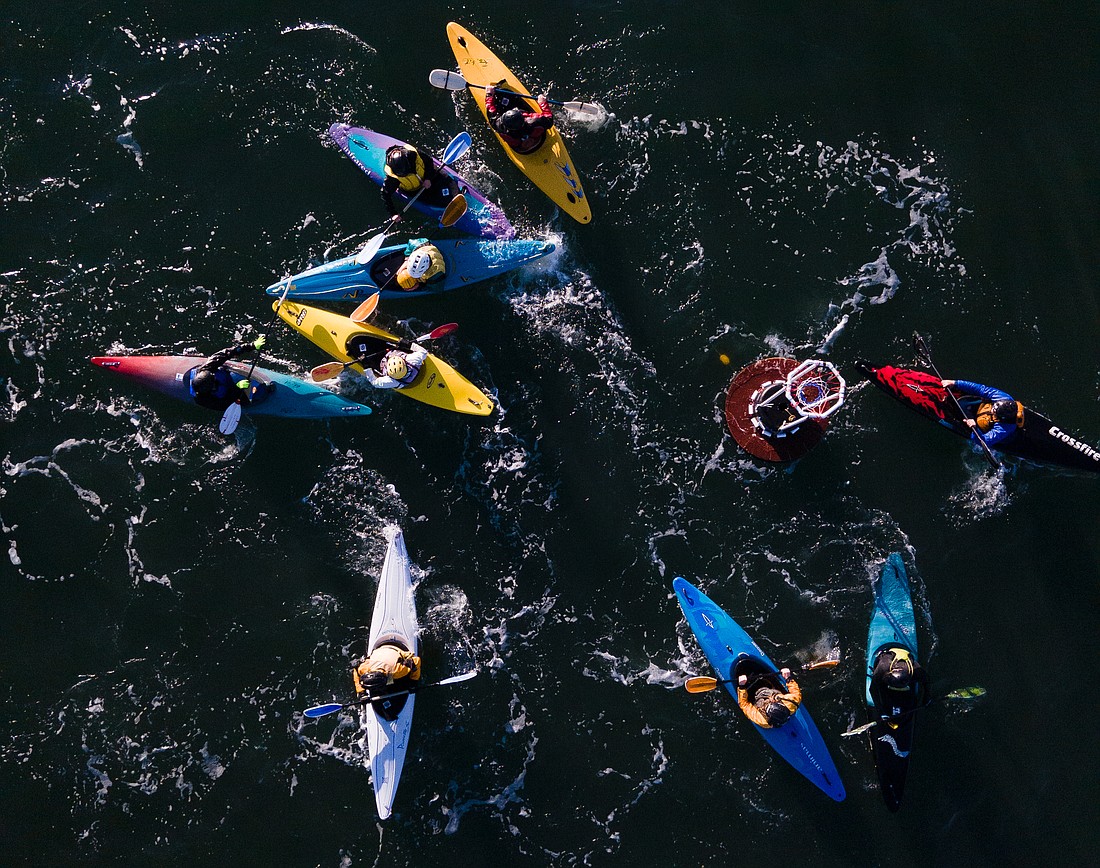 ---
---
On any given Wednesday night at Marine Park, you can likely find a few things: people playing fetch with their dogs, couples watching the sunset or cyclists taking a pit stop.  
Look out at the water, and you'll see one more thing, too — kayak polo.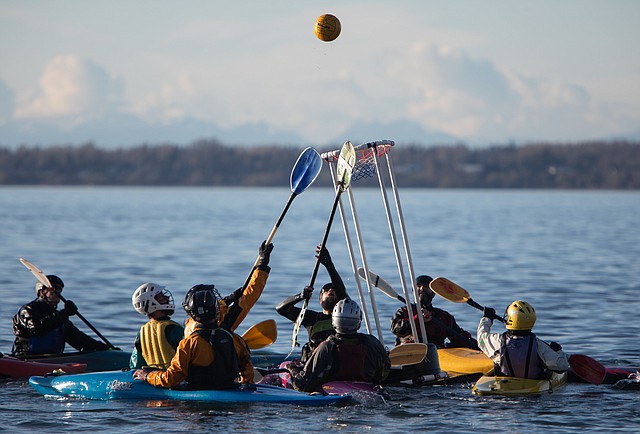 Every Wednesday night, around 6 p.m., a gaggle of players donning wetsuits and helmets show up on the beach with a trailer full of gear. The number of players who attend directly correlates to the weather that day, said founder Gary Southstone, 67, but the group plays year-round.  
Some players even prefer to play in wind, rain and choppy waters. 
"We like it rough," Southstone said.  
On a Wednesday in mid-April, though, the sun was shining and players were out in full force.  
The teams of five paddled back and forth between the floating goalposts, splashing and tossing a ball to each other. The objective of the game is to shoot the ball into the opposing team's 5-foot tall, floating basketball-hoop-like structure.  
But the game is less about winning, and more about getting a good workout, Southstone said.  
Southstone first started playing kayak polo in 1996 in Seattle; back then, it was a far more aggressive, injury-prone and alcohol-fueled activity compared to Marine Park's iteration.  
Southstone decided to bring a toned-down version of the game to Bellingham in 1998, and it's been going ever since — May marks its 25th anniversary.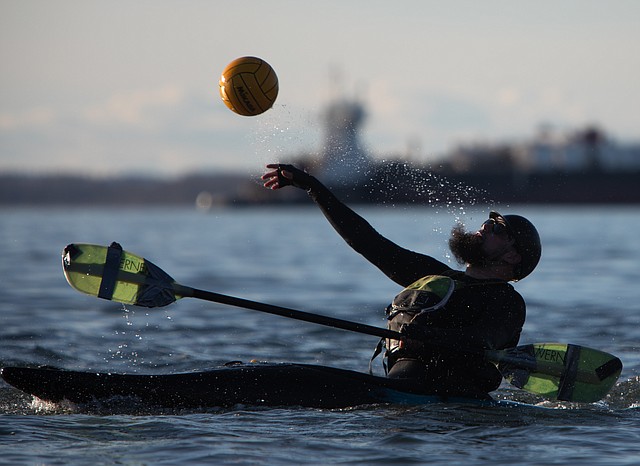 It's an informal, pick-up game, with a core group of players that have participated since its inception. New players are welcomed, too, even if they don't have paddling experience — but the learning curve won't be as steep if you do. Southstone rents a storage unit to store backup equipment for newbies to borrow if they don't have their own.  
"It's more about attitude," he said. "Skills don't really matter." 
Players can occasionally get hurt during games, despite best efforts to prevent it, so it's important that new players know the risks and don't play too aggressively, Southstone said.  
Players wear helmets that have face guards, protecting them from stray paddles flying through the air. Southstone also designed foam paddle attachments, dulling their edge to limit injuries. 
There are other safety rules, too: no ramming into another boat from the side, and you can't use your paddle to block other players' catches and throws.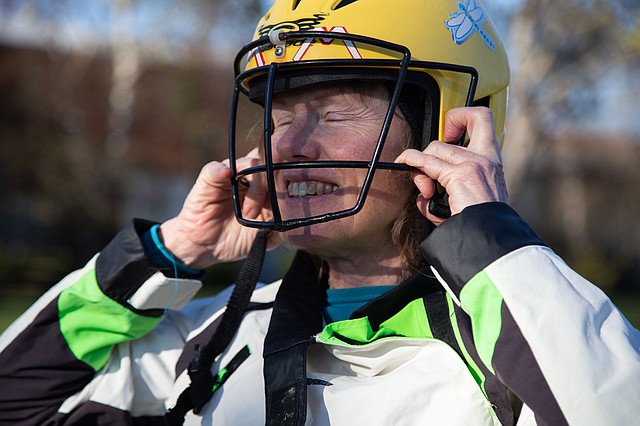 Most players are in their 40s, 50s and 60s and have already seen their fair share of injuries in their paddling careers. On a Wednesday in April, Southstone watched the game from the shore, his own arm in a sling after recovering from shoulder surgery. 
"People don't bump into each other as hard as we used to," he said. "We've gotten old." 
But that doesn't stop the game from getting competitive, said longtime player Dorothy Burke, 65.  
The game is all about speed, and the ability to sprint back and forth between goalposts. Many players use the game as interval training for their own paddling races, or to prepare for Ski to Sea.  
"To be good at the game, you really have to hustle," she said. 
For Glenn Biernacki, 58, that's one of the best parts: The pure fun of the game distracts you from how hard you're working your muscles.  
"It's always been a game that by the time you're in the parking lot and putting your boats away, you forgot who won," he said. "But while you're playing, you're playing to win."