Housing
Tenants Revolt hopes to propose local housing legislation
City Council will hear update on Bellingham's rental inspection program
April 23, 2023 at 5:00 a.m.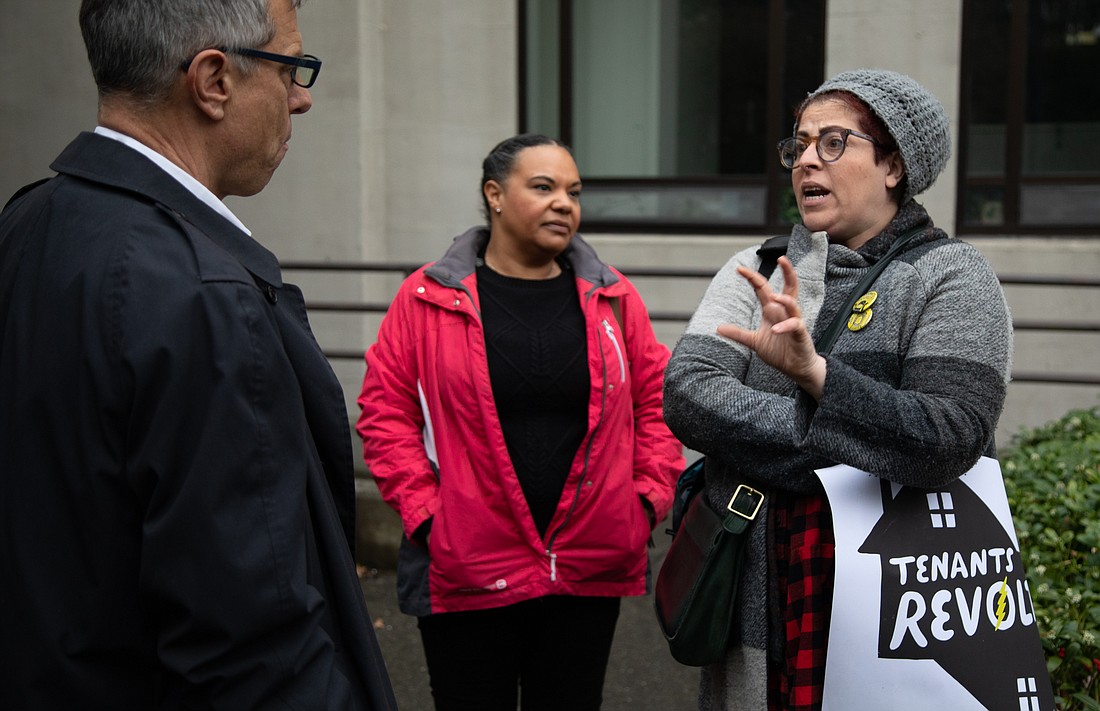 ---
---
Since first proposing a series of mass action lawsuits last July, Tenants Revolt has had more than 500 tenants sign on to pursue legal action against some of the largest property management companies in the region.  
Legal action is a lengthy, time-consuming process and takes longer than Tenants Revolt founder Rebecca Quirke would like. The process involves an extensive collection of tenants' information and their individual claims — and as claims against a particular property management grow, the more likely a case will succeed, Quirke said. 
Quirke and her team are currently gathering data from each of the more than 500 tenants who have requested to take part in the lawsuit and will vet each case to determine its viability.  
In the meantime, the organization is attempting to tackle renter protections from a "variety of angles," Quirke said. 
Rent control is outlawed in Washington state, but that hasn't stopped Tenants Revolt from drafting a series of proposed emergency legislations for the city the group says will not contradict state law, but still offer a higher level of protection for tenants and could be implemented quickly.  
The action is being spearheaded by Daniel Hornal, the same lawyer who has offered to represent tenants in the planned mass action lawsuits. Hornal, a graduate of Georgetown Law and a Washington state local, previously practiced law in Washington, D.C., where he specialized in tenants' rights.  
The proposed emergency legislation would effectively ban application fees, mandatory cleaning fees and short-term boutique rentals such as Airbnb.  
Quirke said the piece she's "most excited about" in the proposed legislation would address civil asset forfeiture. Quirke claims that by committing housing code violations, property management companies should have their properties seized. 
Tenants Revolt has yet to submit any formal requests to the city regarding these legislative proposals, said Blake Lyon, planning and community development director.  
In March, the city passed an ordinance that requires landlords to provide 120-days' notice before raising the cost of rent in residential units. The city council is also considering other potential renter-protection measures. 
Lyon is conducting preliminary research on which renter measures would be appropriate for Bellingham, and has been in conversation with a range of stakeholders such as Bellingham Tenants Union and Tenants Revolt to learn more about their concerns.  
Lyon said it will be a "deliberate evaluation process."  
Back on the city council table on April 23, is an update on the Rental Registration and Safety Inspection Program, which was adopted in 2015. The program required rental properties to register with the city, and to be inspected.  
As of the end of March 2023, more than 11,000 units in Bellingham had been inspected through the program, according to a city council agenda packet. Of those inspected units, 1,510 failed the first inspection.  
A chief complaint of Tenants Revolt is that of property management companies' consistent refusal to address code violations at their properties. Quirke has identified a multitude of housing code violations in her own rental — like deteriorated walls, sagging ceilings and a lack of sufficient heating, identified through inspections conducted by the city. 
Code violations and unresponsive property management companies were just some of the talking points of a recent panel hosted by Tenants Revolt. Lyon joined city council member Kristina Michele Martens in the panel earlier this month to discuss student renter protections.  
The resounding theme of the night, Quirke said, was a predatory housing market that students are cycled into with few alternatives.  
Camille Larson, a Western Washington University student and event panelist, recounted her experience of mold exposure in her rented home, and the subsequent sickness that left her bedridden for weeks — and a property management company that she said did little to help.  
Audience members chimed in with their own stories of becoming sick from mold exposure, outlining an unsettling pattern of persistent mold issues, along with little to no action on the part of property management companies.  
Tenants Revolt is currently working on providing mold testing to tenants in Whatcom County at no cost.  
"We don't have mold support or legislation here," Quirke said. "We need to insist that legislation be put in place [at the city level]."