Community
Tiny Onion Cooking School empowers kids in the kitchen
Youth cooking classes teach skills, increase confidence
April 17, 2023 at 5:00 a.m.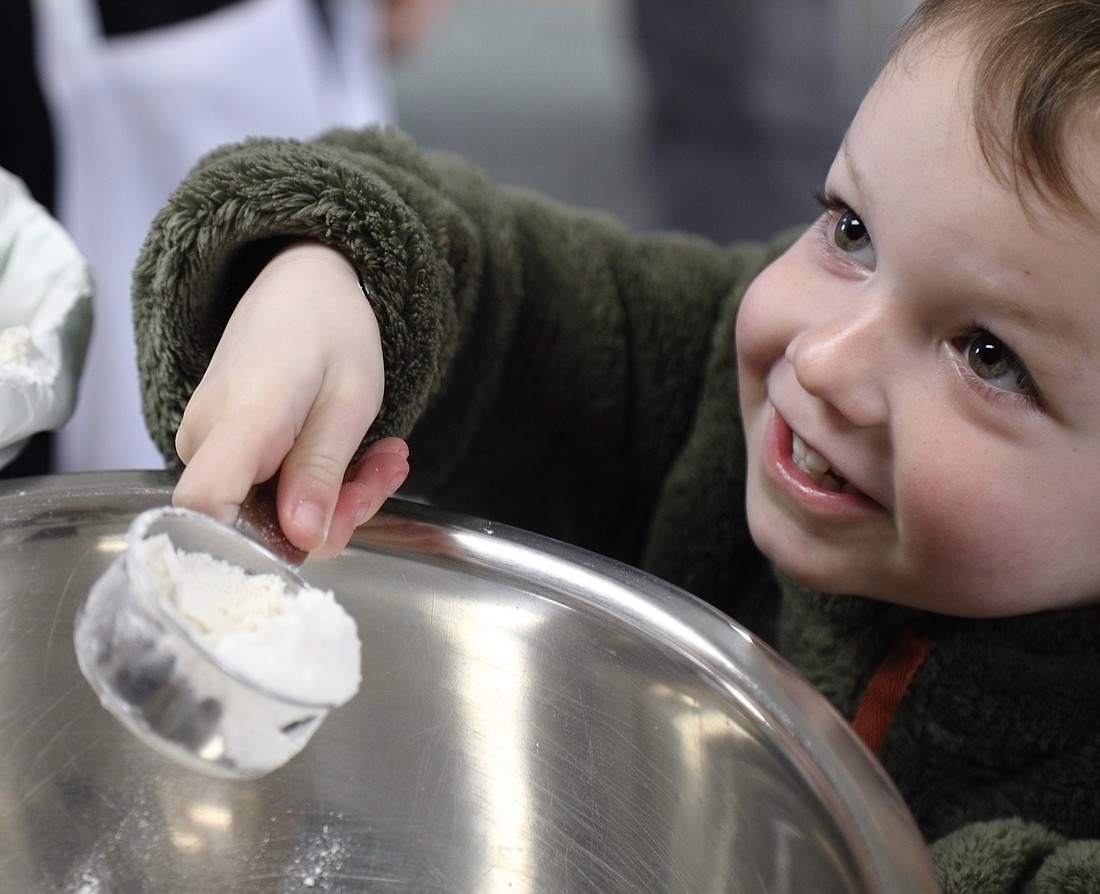 ---
---
In a community kitchen tucked away in Bloedel Donovan's pavilion building on April 16, tiny hands grasped kid-proof knives to chop an assortment of veggies. Joined by their parents, kids ages 3 to 5 learned to make a spring green soup and vegan flower-shaped shortbread cookies for dessert. 
This is Tiny Onion Cooking School, founded by Annalee Dunn in 2015. The school offers cooking classes to kids of all ages, from preschoolers to young teenagers.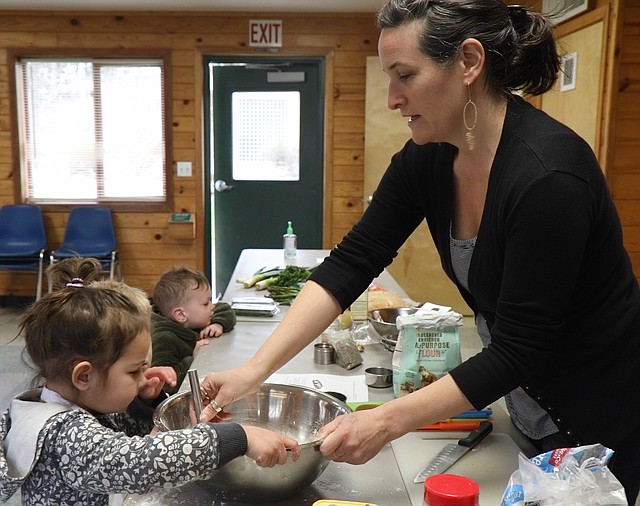 Dunn, who attended culinary school and has worked in restaurants throughout her life, wanted to bring her long history of culinary expertise to help kids feel more comfortable in the kitchen. 
Dunn first began offering cooking classes to kids when a friend asked Dunn to teach her teenage son and his friends how to cook — they were set to leave for college soon but didn't know the first thing about cooking for themselves. Dunn began hosting weekly Sunday evening lessons for the boys, where she taught beginner cooking techniques and shared simple recipes. 
From there, something bigger was born. 
Since 2015, Dunn's evening lessons evolved into classes for the community, and even collaborations with local organizations.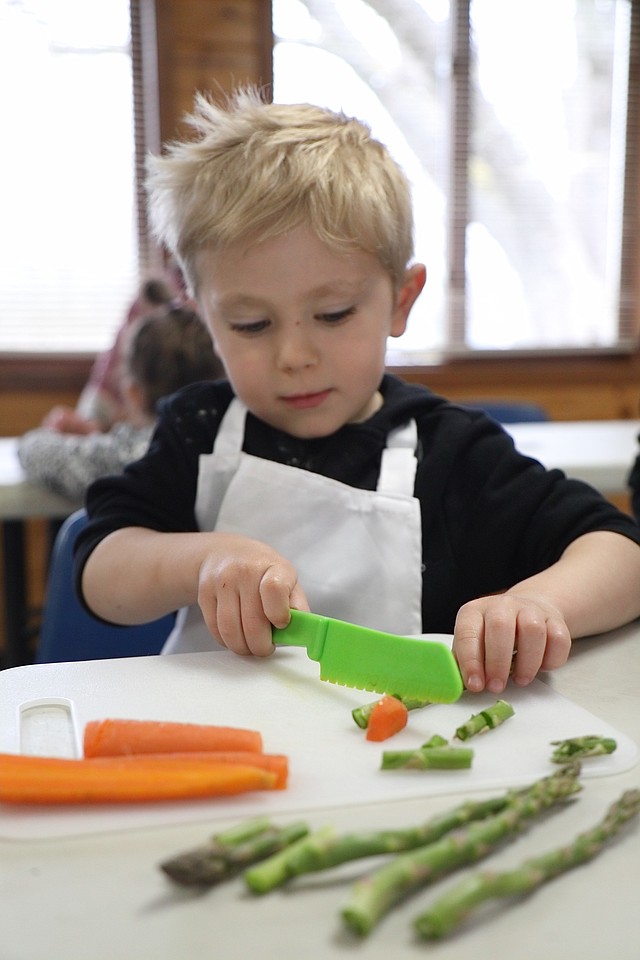 Sunday's lesson — spring onion soup and shortbread cookies — was part of a recurring class series with Bellingham Parks and Recreation's preschool. Tiny Onion Cooking School has also worked with the Community Food Co-Op to offer summer camps, and with the Opportunity Council to teach classes to low-income families.  
"I feel really privileged and lucky that I just threw something out there into the universe, and it's been so well-received and supported," Dunn said.  
She also offers private, recurring classes out of her own kitchen — homemade doughnuts and ramen from scratch are a few of the recent noteworthy culinary adventures she has taken her students on. Next week, the group will make southern-inspired cuisine: biscuits, vegetarian gumbo and banana pudding.  
For her younger chefs, Dunn said she focuses on their chopping skills. Using special, kid-safe knives, the 3- to 5-year-olds practice the motion of cutting up fruits and veggies. In Sunday's preschool class, they chopped up asparagus and broccoli for the soup, and decorated their shortbread cookies with icing colored by vegetable-based food dye.  
Dunn is intentional in her recipe creation and ingredient sourcing. She tries to incorporate whatever is in season. This winter, she highlighted root vegetables throughout her classes. 
She also shares tips and tricks with families on how to keep costs low, and always tries to use affordable, while healthy, ingredients. 
"Cheap food can taste really good, especially if you make it yourself," she said.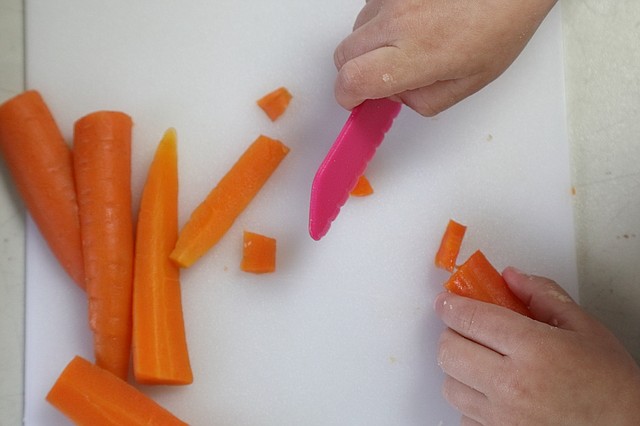 Tiny Onion not only helps kids learn cooking skills, Dunn and parents of the young chefs said, but also helps shape their relationship to food and make them feel more empowered in the kitchen. 
Emmy Lujan, 10, has been taking classes with Dunn since she was 6. In that time, she learned to make a variety of recipes and oftentimes recreates them on her own at home for her family. She'll even make breakfast for herself from time to time, her mom Jolyne Lujan said. 
"She feels really accomplished when she can get out her recipes and is able to identify what ingredients we need and then make it and enjoy it, and see it from beginning to end," Jolyne said. "She feels pretty proud of that." 
Samantha Campbell, who has three children who have taken classes with Dunn, said she's watched her kids become more adventurous eaters over time — and be more willing to try new foods just because they're proud they made it themselves.  
For Campbell, the opportunity to slow down and get creative in the kitchen has offered a chance for her to bond with her children over something that's usually rushed in their everyday life.  
"[Dunn] takes something so mundane and turns it into a little space of magic in the kitchen," Campbell said.