Softball
WWU has the pitcher the conference fears
Mareena Ramirez brings wins, competitive fire to Vikings
April 12, 2023 at 5:55 a.m.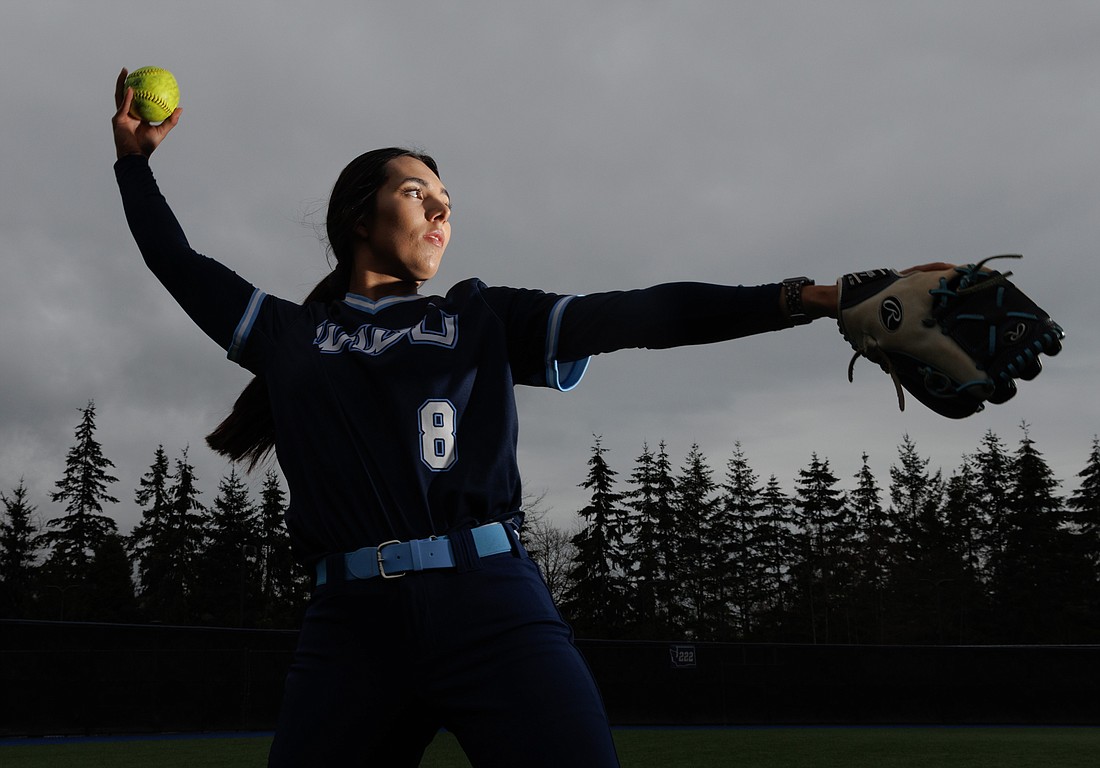 ---
---
The official roster may list her an inch taller, but — by her account — Western Washington University softball senior pitcher Mareena Ramirez stands at 5-foot-3, making her the shortest pitcher in the Great Northwest Athletic Conference.
Even though everyone else has more size-driven power, nobody can win more games. 
Ramirez leads the GNAC in wins (13), ERA (1.95) and strikeouts (142) — a stat line good enough to land her on the 2023 Tucci/National Fastpitch Coaches Association (NFCA) Division II Player and Pitcher of the Year Watchlist that was released March 30.
Outside of former Western pitcher Anna Kasner's 1.92 ERA during the shortened 2020 season, Ramirez's current figure is the best by a Western pitcher since Jessica Rosencrants' in 2008.
Responsible for 13 of Western's 18 wins in the circle, Ramirez's strikeout total has her tied for 14th in the nation at the NCAA Division II level as of April 10.
But Ramirez's purpose in her on-the-field performance stretches far beyond a strong desire to be a good softball player. 
She aims to inspire the next generation, including her younger sister, who is in eighth grade.
"Growing up, there weren't a whole lot of girls who look like me playing the position that I do — I would say I'm smaller for this position," Ramirez said. "I want little brown girls to know that they can do it. I want them to know that they can succeed, and I really want to pave a path."
Ramirez's height and overall size limited the power behind her pitches for most of her career, she said. She didn't begin pitching in the 60 mph range until her sophomore year of college.
As a result, she was forced to focus on her mechanics, which was what initially got her recruited from Tahoma High School in Maple Valley, King County.
"I'm not going to overpower somebody with a lot of speed," Ramirez said. "I focused more on spin and movement and location growing up. I've been pretty successful with that, and I just really want to be a role model for those girls who don't throw very hard, who aren't very big."
In her first — and potentially last — season with the Vikings, it's that versatility that has propelled her to rapid success, coupled with her fiery, competitive nature.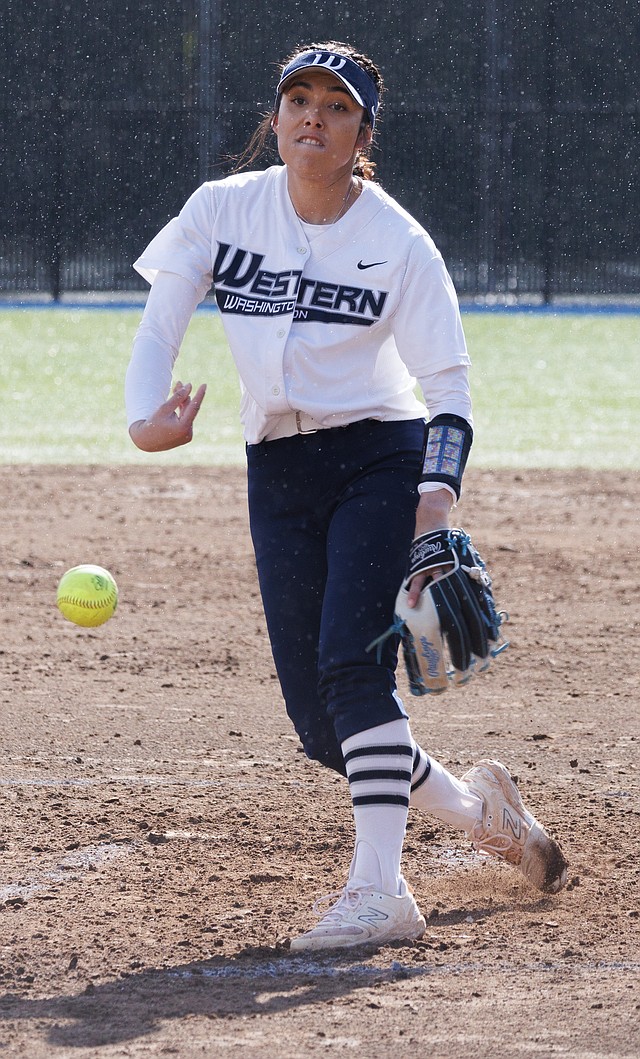 A winding trip back home
When Ramirez began playing softball at the age of 11, she immediately took to pitching.
At the time, playing in college wasn't even on her radar. As a freshman in high school, Ramirez began playing travel ball, which quickly exposed her to an often-more talented group of players from other states.
Her recruiting process largely began during her junior year, and she settled on Central Washington University. But, after being there for just three weeks in 2019, the coaches that recruited her left. 
Ramirez stayed for three months, from September through December, mulling over what to do next. The school didn't hire a new coach until January — about a month before the season's opener — and she opted for the transfer portal.
It wasn't all bad, however, as Ramirez had a chance to pitch against the University of Washington during fall ball, a program she had admired her entire life.
"I was able to pitch in front of my home, basically," Ramirez said. "My parents came, my old team came — it was really fun."
Ramirez landed at Idaho State University, a Division I program. She was forced to sit out the 2020 season, which was also the shortened COVID-19 campaign. 
From there, Ramirez played with Idaho State in 2021 and 2022, compiling a 6-10 record, 5.70 ERA and 77 strikeouts in 129.2 innings pitched.
Idaho State had also undergone a coaching change after the 2021 season, and Ramirez wasn't satisfied with where she was at.
"I was just really far from home," Ramirez said. "I wasn't having quite the success that I wanted to, I just wasn't developing the way I thought I would, and it was taking a toll on me mentally and physically … I got really homesick."
So, once again, she put her name in the transfer portal. Only this time, she reached out to an old coach she knew from her high school career.
Ramirez's competitiveness is her 'superpower'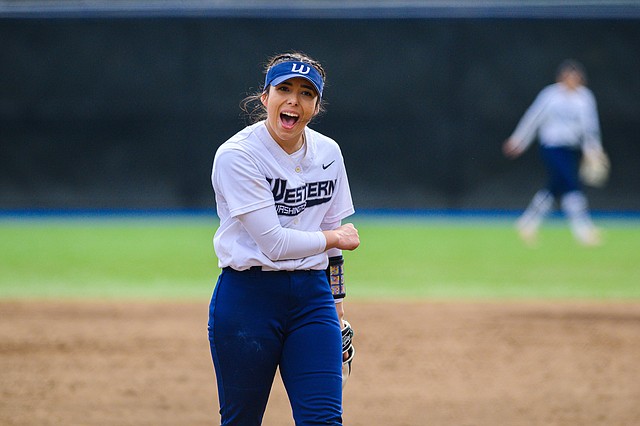 Ramirez immediately sent an email to Western coach Sheryl Gilmore after putting her name in the portal. Ramirez had attended a camp at Edmonds Community College in high school when Gilmore was still the head coach there. 
The pitcher's presence in the circle was what immediately attracted Gilmore to the idea of bringing the ace aboard.
"One thing I noticed when she sent the film was that every strikeout she got, she's pumping her fist and she's yelling and she's fired up," Gilmore said. "That's something that [former Western pitcher] Anna Kasner did, that's something that Kira [Doan] did ... I really enjoyed the fact that she would get fired up."
During the pair's first phone call, Gilmore asked Ramirez what she wanted out of a program. Ramirez replied, "I want to win."
All the pitchers she has coached are different, Gilmore said. Some are stoic in the circle, while others leave all their emotion on the field.
Ramirez is the latter, and that passion is what makes her successful.
"That fire, it really does rub off on everyone else," Gilmore said. "That's something that I think is kind of her superpower."
Ramirez had a chance to be closer to home and to develop as a player. The beautiful campus and the fact her sister already attended Western helped, too.
As the Vikings near the end of their season, Ramirez continues to surprise herself, she said. After being, as she described, "very much average" at Idaho State, she now finds herself vaulted to the top of the NCAA Division II pitching landscape.
"I wasn't really expecting these crazy numbers," Ramirez said. "I wasn't expecting to do as good as I'm doing."
As it stands now, the coaching staff can't get enough of watching her play.
"She keeps us in games, and she gives us a chance to win every time she's in the circle," Gilmore said.
Another year?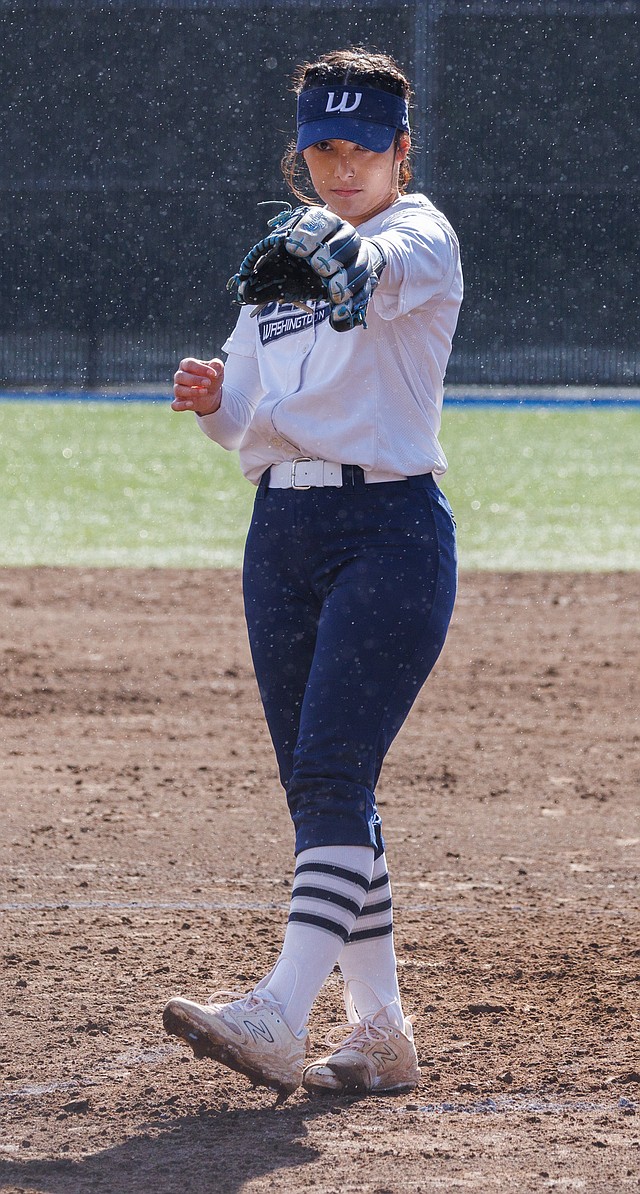 Ramirez arrived at Western this year as a junior, assuming she regained the year of eligibility that all other NCAA athletes did from the COVID-19-shortened season.
In early March, just before the Vikings were set to begin their league schedule, she was notified that Central Washington would not be giving her that year back.
"It was a rough, probably, almost 48 hours," Ramirez said. "The way that it happened was very upsetting, just because rosters were already published back in September ... For people to bring it up midway through my season was really upsetting."
She hadn't mentally prepared for playing her final season, and she now leaves it all on the field every game.
Ramirez is actively searching for a way to overturn that decision. Gilmore said she is proud of the way Ramirez has handled it and loves to watch her compete in blue and white.
"I hope we get another year of it," Gilmore said. "But, no matter what, we've got her back forever."
Regardless of the result, Ramirez will be around the team next year, she said. She is currently studying linguistics at Western and has another academic year to complete where she could return as a manager or coach, in some capacity.
"We would love that, and I think it would be pretty cool to have her around the team," Gilmore said. "Talk about someone who would be the ultimate batting practice pitcher to challenge our team."