Football
Nooksack Valley runs through Meridian to remain unbeaten
Pioneers rack up nearly 400 yards of offense in 48-15 win over Trojans
September 30, 2022 at 11:53 p.m.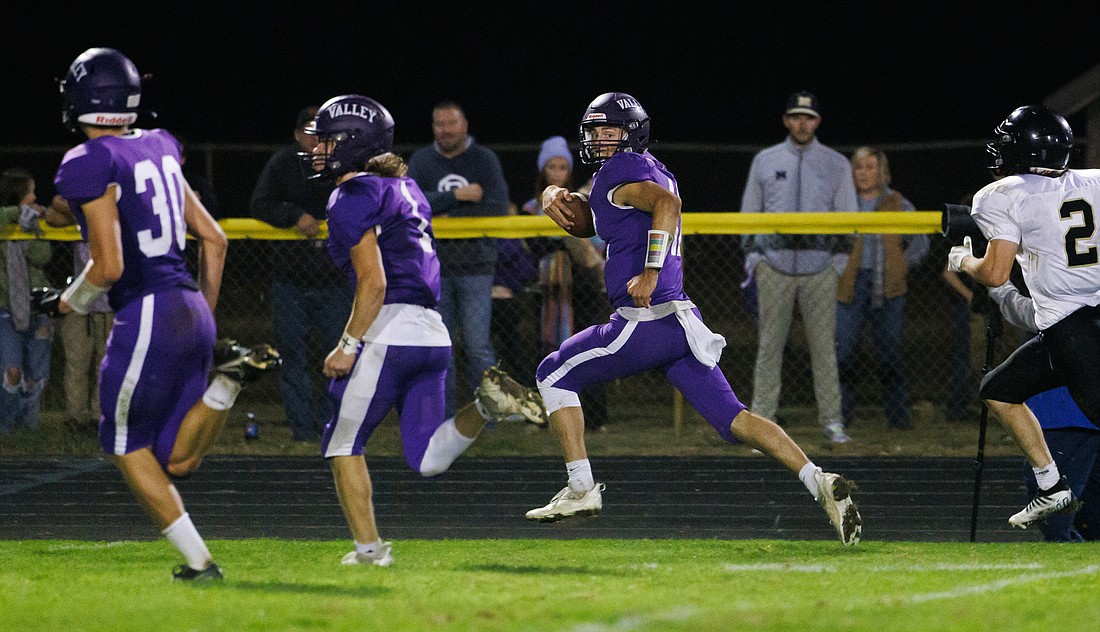 ---
---
EVERSON — Once the Pioneers hopped on their wagon, the Trojans had no chance of creating a pothole big enough to break a spoke in Nooksack Valley's ever-turning wheels.
Nooksack Valley gashed Meridian for 259 rushing yards and nearly 400 total yards of offense during a 48-15 victory at home in 1A Northwest Conference action. Despite their explosiveness offensively, and a big victory on the scoreboard, Pioneers coach Craig Bartl said it wasn't his team's best performance.
Bartl's critiques of his team lay mostly in penalties, energy level and discipline. 
"I think we left a lot out on the field," Bartl said. "In the end, a win is a win and it's good to have that one, but we have a lot to work on."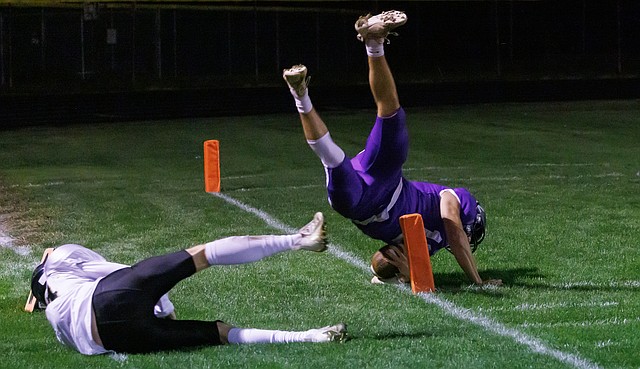 Nooksack Valley junior quarterback Joey Brown agreed with Bartl's sentiment. 
"We have the physical ability," Brown said. "At times, we hit them out the gates, but we tend to sometimes lose focus and play down to their level. It's that mental ability [we need] to climb back up."
Brown did it all for the Pioneers, completing 7-of-12 passes for 122 yards and a touchdown. He also gouged the Trojans for 113 yards and three touchdowns on the ground on just five carries.
His first score came on the game's opening drive — a 7-yard touchdown run through the teeth of the Meridian defense. NV junior running back Skyler Whittern got the next one on a 10-yard run to put the Pioneers up 14-0. With just over a minute remaining in the first quarter, Brown connected with junior wide receiver Jackson Bennett for a 55-yard catch-and-run score.
Bennett dropped a would-be touchdown before the half, which would have bolstered his stat line even further. Despite that, he said the Pioneers are in-sync with one another.
"[I love] our connection," Bennett said. "Sadly I dropped the ball over there, but that was a hot route."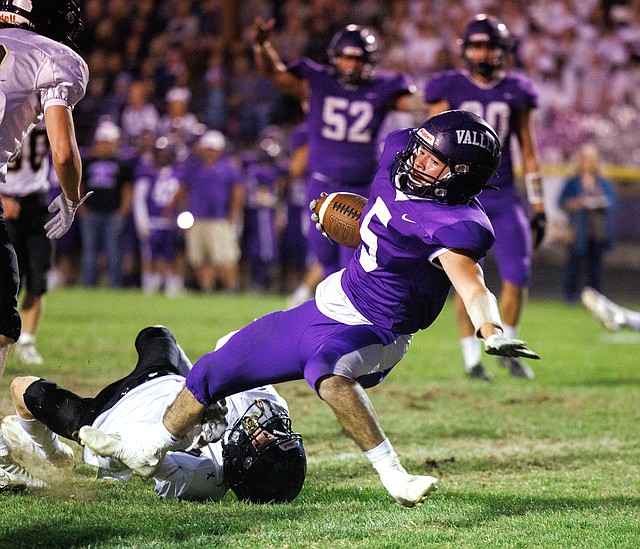 NV kept its foot on the gas in the second quarter. Brown took matters into his own hands on a scramble up the middle with 10:36 remaining in the half, bursting to the left sideline and front-flipping over a Trojan defender to land just inside the pylon — completing a 48-yard touchdown run.
Meridian was oh-so-close to getting back in the game midway through the second quarter. The Trojans, snapping it from the 2-yard line, fumbled on a give up the gut, scooped up by NV sophomore linebacker Colton Lentz who returned it 99 yards to the opposite end zone. The point-after attempt was blocked by Meridian.
Lentz wasn't done. On the Pioneers' next drive, he got loose for a 40-yard run and followed that up with a 36-yard rushing touchdown. NV led 41-0 with just under four minutes left in the first half.
The Trojans got on the board before the halftime buzzer via a 2-yard run from sophomore running back Landen Downey.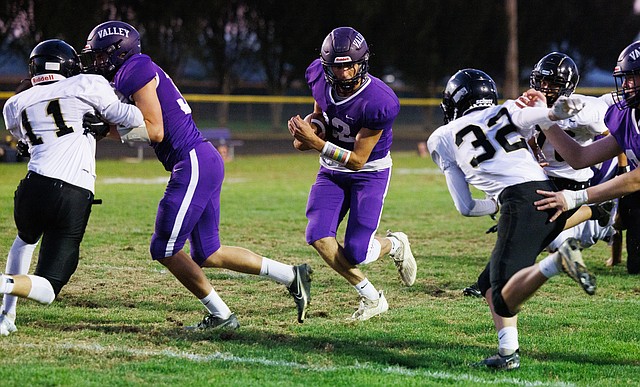 Brown kickstarted the third quarter with his fourth and final touchdown of the game, scampering 43 yards into the end zone to make it 48-7, prompting the Pioneers to empty their bench.
Bartl complimented Brown as he continues to progress as a passer and a runner.
"I think he's getting more confident, and he's starting to see the field a little bit better," Bartl said. "At times things are slowing down, but I mean there's still a lot of work he needs to do as well."
Meridian senior wide receiver Hunter Jones got the final points of the game on an impressive catch over a Pioneer defensive back, taking it 75 yards for the score. The Trojans converted the two-point attempt.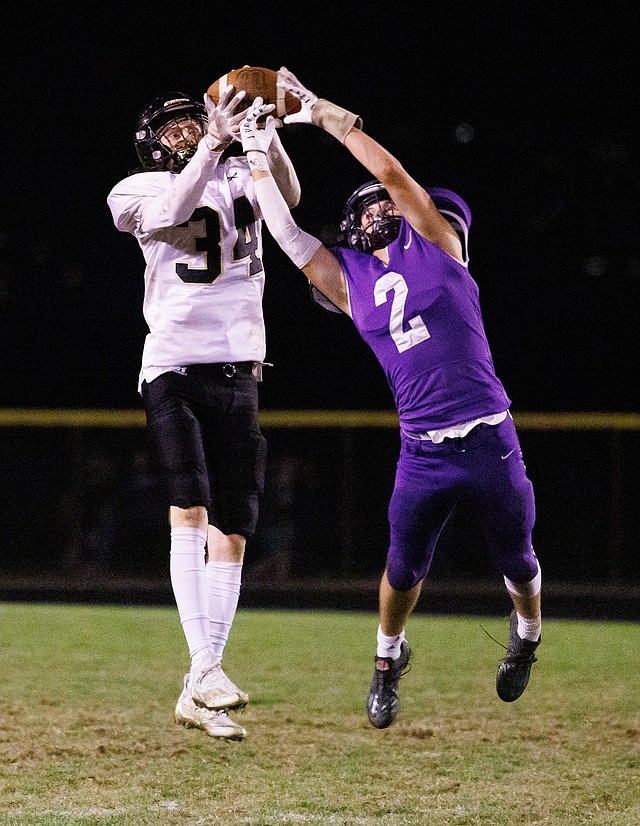 Lentz finished the game with 98 yards rushing and two scores on five carries. Bennett totaled three catches for 72 yards and a touchdown. Whittern also tallied 48 yards rushing and a touchdown on five carries.
Meridian sophomore quarterback Jaeger Fyfe finished 15-for-30 passing for 198 yards, a touchdown and an interception. Jones caught seven balls for 153 yards and a score. Junior running back Joshtyn Elmer totaled 34 yards on the ground and 30 yards receiving.
The Pioneers advanced to 5-0 overall (1-0 NWC) with the win. They will travel to Lynden Christian in a key league contest on Oct. 7 at 7 p.m. Meridian dropped to 3-2 overall (0-1 NWC) and will host Blaine on Oct. 7, also with a 7 p.m. kickoff.