Business Matters
From catch to takeout: The business of fisherman family food trucks
Captain's Cod, Alaska Weathervane leverage Alaska boats
September 28, 2022 at 4:50 a.m.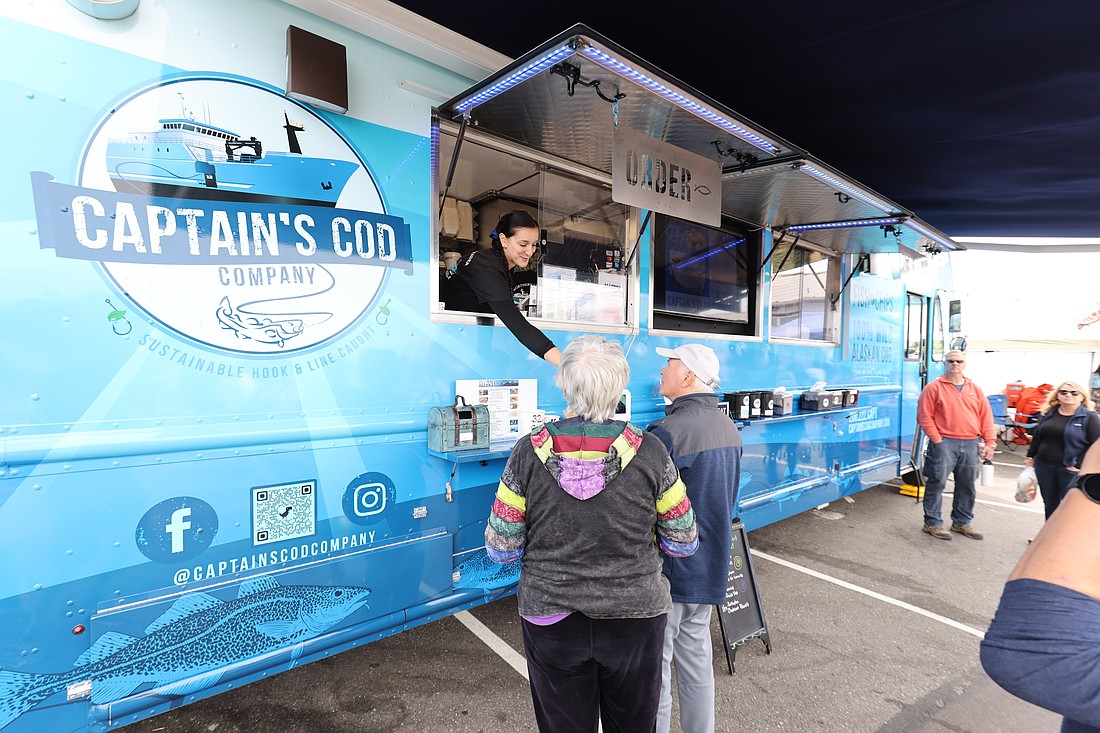 ---
---
Mobile storefront vs. pop-up marketing. The banner strung between the blue and black food trucks at Bellingham SeaFeast read "100% Fisherman Family Owned - Operated - Caught." 
The roughly 9,000 visitors to Squalicum Harbor that day may not have realized it, but they were witnessing a reported rarity: two direct sea-to-serving model food trucks, Captain's Cod Company and Alaska Weathervane Scallops, in the same place at the same time.
While the businesses share similarities, how they got from concept to curb significantly differs.
First, the similarities. Both food trucks serve wild Alaskan seafood, caught from boats on which family founders work. Both have other cash outlets for their catch. And yet, for both, the food truck business is important.
Bellingham-based Captain's Cod Company has ties to — and some owners in common with — Alaskan Leader Fisheries, headquartered in Lynden. Alaskan Leader's vacuum-sealed frozen fish products may be familiar to Costco and other grocery shoppers. Food trucks, though, supply the company with a missing connection.
"We do have the distribution but we wanted to be able to prepare it and take it directly to all of the communities we can," said Amanda Andrew, Captain's Cod's co-owner, whose husband Shaun is also part owner of Alaskan Leader and captain of the fishing vessel Northern Leader. "There are not always big grocery chains; there are not always Costcos in some of the smaller communities around our areas."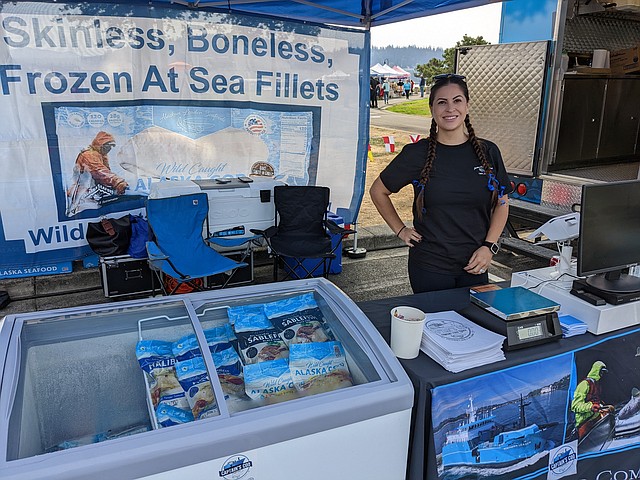 Andrew said Captain's Cod, with other co-owners Rob Wurm (also an owner of Alaskan Leader) and Baz Lloyd (a retired captain), purchased its first food truck in 2020. The company has grown to two food trucks and 20 employees. 
The initial focus was Eastern Washington by way of Wenatchee, where Andrew said Lloyd currently lives and where Shaun was born and raised. She said the nine counties served by that first truck expanded west when the second truck started serving in March 2022.
"Our plan is to serve Western Washington now in four counties, soon to be five," Andrew said, with Snohomish County next. "Being mobile is huge for us." 
For Alaska Weathervane Scallops, the road to the food truck business was different. 
"We were trying to improve the pricing we were getting because we were selling [our scallops] to one distributor and thought we could do better," said Jim Stone, the company's managing partner. "In our innocence of being sales people, we thought we could walk into the back door of a restaurant, and we found out chefs don't like that."
Instead, Stone said his wife Mona — who has the title "culinary events coordinator" — helped arrange pop-up food booths at events "to let people taste our delicious scallops. As word spread, we began meeting those same chefs that wouldn't let us in their back doors." 
The food truck followed, much later. 
"Setting up food booths was a ton of work, so after about 12 years, in 2018 we finally decided to put four wheels under our pop-up scallop booth," Stone said. "We finally just realized that if we put this on a truck, we could drive in and drive out."
Today, Stone said, they have one truck with about four employees. All told, he said there are six fishermen partners in Alaska Weathervane Scallops, some of whom still fish on its three boats. None of the owners currently live in Whatcom County, though Stone said two of them once did.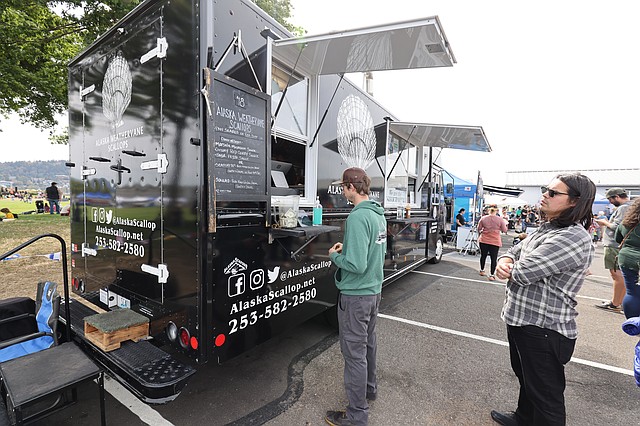 While Captain's Cod operates its two food trucks on roving, near-daily schedules, Alaska Weathervane Scallops sticks to seafood festivals like SeaFeast and other, larger events. With the company's sales to restaurants, seafood stores and distributors, "the truck has been a marketing tool to spread the good word in the northwest of Alaska's amazing scallops," Stone said. 
So the initial reasons for the food truck businesses are distinct. What seems the same is an emphasis on quality and sustainability.
"We freeze our scallops at sea as soon as we catch them," Stone said, and the company's website highlights the scallops "are fished sustainably in a manner respectful to the environment and other fisheries." 
Andrew said Alaskan Leader crews are longline fishermen, using baited hooks and not trawl nets that can pick up unwanted sea creatures as the nets drag on the ocean floor. Individual fish "are then processed and frozen at sea in less than an hour," she said.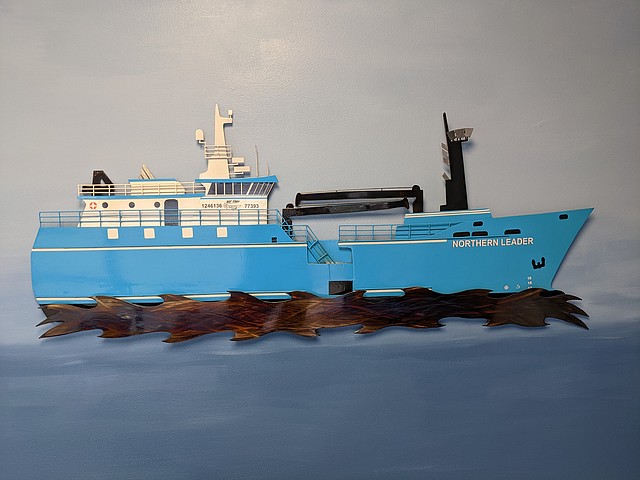 Captain's Cod menu, too, reflects a waste-not mentality. 
"We want to be able to use all of the cod meat that we get," Andrew said. "So with that, we're able to have the sandwiches, which is a certain part of the fish meat. We hand-cut our fish loins. And then the meat that's left over, instead of throwing it back, that's what we use to create our cod fritters."
High standards aside: How does it taste to a paying customer?
On a wet June day at a damp picnic table by the Bellingham Dockside Market, I tried Captain's Cod fish and chips. The cod was lightly battered and not overseasoned. You could actually taste the fish itself. I found it good.
At SeaFeast in September, I sat down with a bowl of pan-seared scallops on rice pilaf in a basil pesto sauce purchased from the Alaska Weathervane Scallops truck. They were delicious, delicate and slightly sweet — not at all like the bouncing balls I'd once overcooked at home. 
This direct-to-consumer truck model has its benefits, and perhaps not just for the fishermen.
Places & things
Sonic Drive-In in Ferndale has closed. Signs taped to the doors and order screen read, in part, that the closure is effective "until further notice. We are transitioning to new ownership." Sonic's corporate website lists the location at 1851 Main St. as "temporarily closed," along with Sonic restaurants in Poulsbo, Renton and several in Eastern Washington. 
(For the latest Places & Things, check here throughout the week.)
Frank Catalano's column appears Wednesdays. Email: frankcatalano@cascadiadaily.com; Twitter @FrankCatalano.