College
Longtime WWU coach, director of athletics sets retirement date
Steve Card spent last 9 years as director of athletics
September 26, 2022 at 2:51 p.m.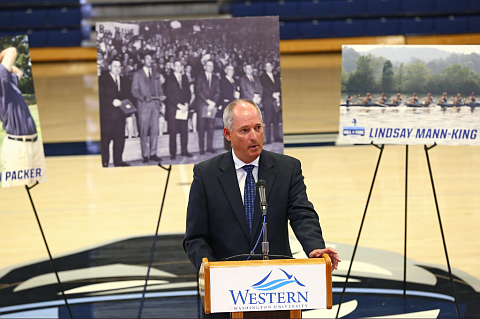 ---
---
Western Washington University Director of Athletics Steve Card has set his retirement date for June 2023 following a 33-year career at the university, according to a Monday press release.
Card, who has served in multiple roles in WWU's athletics department over the years, has been the director of athletics for the past nine years following the retirement of Lynda Goodrich, who was in the role for more than four decades.
Card's journey with Western began in 1990 when Goodrich hired the then-24-year-old to be the associate athletic director for business and financial affairs.
Three years later, Goodrich asked Card, who had been a standout golfer and two-year team captain at Washington State University, to also be the head men's golf coach.
Card spent the next 19 years taking Western's most decorated athletic program at the time to even greater heights. In his second season at the helm, he led the Vikings to their first nationals appearance in nine years. In year three, they finished tied for fourth in the nation.
Card's golfers qualified for regionals all 15 seasons his team competed in the NCAA; a string that is still running following the 2021–22 campaign.
In all, Card led Western's men's golf to 12 national tournament appearances, including a program-record six straight from 1995–2000. He racked up eight top-10 finishes, the best being a tie for third in his final season in 2013. He was named league Coach of the Year 11 times.
He finally stepped down to take over as director of athletics when Goodrich retired in May 2013.
During his tenure, WWU has won 43 GNAC team titles, two NCAA national championships, three national runner-up finishes and has been among the top-50 programs nationally in the Learfield Directors' Cup Standings numerous times.
WWU's student-athletes have also excelled in the classroom, winning the NCAA Presidents' Award for Academic Excellence four of the last five years for accomplishing an academic success rate of more than 90%.
"Steve Card has been a passionate champion for Viking athletics and I am grateful for his long service to WWU," Western President Sabah Randhawa said in a news release. "Our competitiveness … across all sports has been exemplary for decades, yet Steve has never lost sight that real success comes when students grow in their academic preparation and leadership, both on and off the field, and he has instilled that same drive in our coaches and athletics staff."  
Melynda Huskey, vice president for Enrollment and Student Services, heaped praise in the news release.
"Steve has been an extraordinary leader," Huskey said. "His focus on student success on and off the field over the last 33 years has resulted in a program that out-competes and out-succeeds any of our peers. We will miss him."  
Card said it's been rewarding helping transform the athletics department into a powerhouse, and he's grateful he was given the opportunity to do so.
"It has been a privilege to be part of the Athletics Department at WWU for the past 33 years," Card said in the release. "When I started at Western, it was a career goal of mine to one day become athletic director. I will take with me positive memories of my career and a deep appreciation for the life that I and my family have enjoyed in Bellingham.
"I am looking forward to the next phase of my life, including spending more time with my wife, children, and particularly my grandchildren."
Later this fall, Western will begin a national search for a new director of athletics.  
"They're big shoes to fill," Huskey said. "We expect a great pool of applicants, though, because of the strong reputation Steve has built for Western over the years."  
The university plans to hold a celebration of Card's service to Western in spring 2023.