Football
From LC to LA: Kade Eldridge preps for the big stage with USC football
Eldridge is first county football player to sign with USC in 71 years
September 21, 2022 at 5:00 a.m.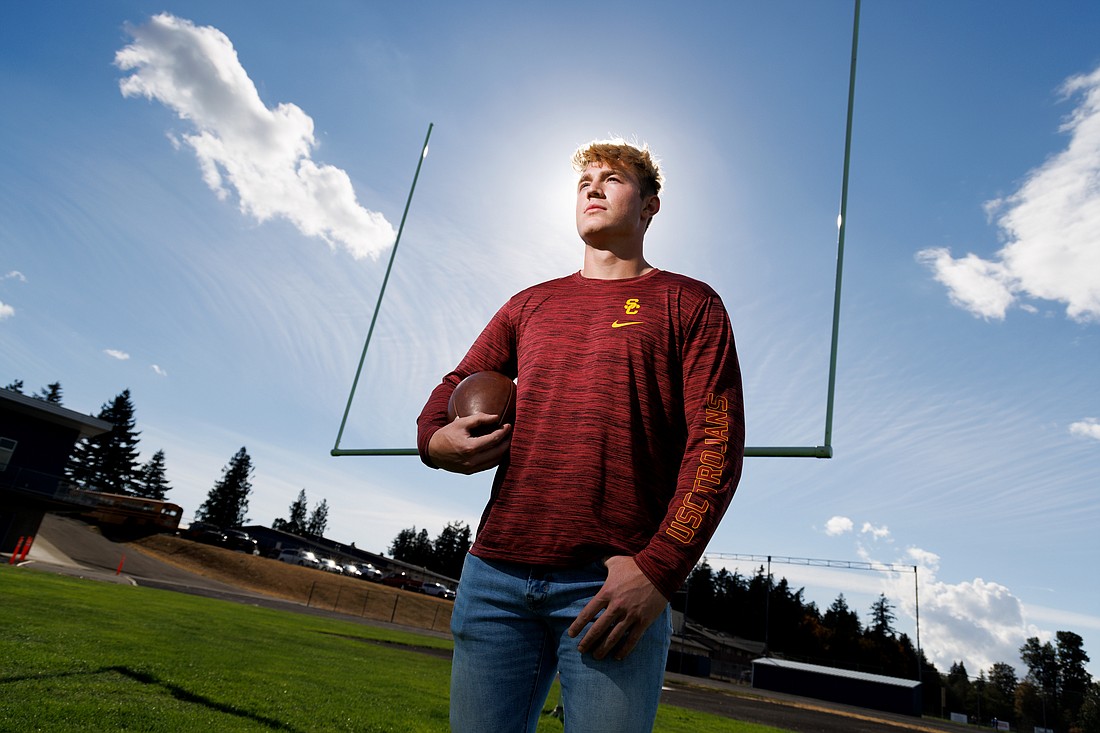 ---
---
It's Labor Day, three days after Lynden Christian football's season-opening win, and senior Kade Eldridge is helping a Lynden farmer buck hay bales.
Most people are basking in their day of rest. Eldridge is working to get stronger — and for good reason.
Eldridge, a 3-star athlete, became the first Whatcom County high school football player to sign with the University of Southern California (USC) in 71 years, since Bellingham High School's Monte Bianchi in 1951, who played for the Trojans two seasons before serving in the Korean War, according to Whatcom Preps.
Currently the 10th-ranked class of 2023 prospect in Washington state, Eldridge has been on a meteoric rise following a breakout junior season.
As a freshman at Nooksack Valley High School, Eldridge saw sparse varsity time before transferring to Lynden Christian for his sophomore year. That axed his eligibility that season, giving him his first full season of varsity as a junior in 2021.
Eldridge exploded onto the scene, filling in at running back after the Lyncs' starter went down with an injury. He proceeded to rack up 709 yards and 10 touchdowns on 85 carries, averaging a school-record 8.3 yards per carry, according to Whatcom Preps. He also had eight catches for 85 yards and a score.
He was equally dominant on defense, racking up 62.5 tackles, including 15 for loss, along with 4.5 sacks, two forced fumbles and two pass deflections.
It earned him the Class 1A Underclassmen of the Year award from Cascadia Preps — and the attention of Division I scouts.
His first Division I offer came from Washington State University on Feb. 9, and he would eventually garner about 20 offers over the next five months.
One of those was USC, whose coaching staff followed him on Twitter and texted him out of the blue, asking if they could get on the phone with him that day. Later that night, he was on the phone talking with head coach Lincoln Riley.
Riley offered him on the spot, but Eldridge had to take some time to think his future over, especially with an unofficial visit to the University of Oregon the following week.
"I had to take a step back and make the decision for myself," Eldridge said. "I like Lincoln Riley and the coaching staff and felt I could relate to them. We're both small-town boys. It was a good connection, and I know I'm going to have good quarterbacks getting me the ball."
He announced his commitment to USC on June 22. Whatcom Preps' Tyler Anderson, the county's football and stat historian, let Eldridge know he was the first football player in the county to sign with the program in 71 years.
"When I heard that I was like, 'What?'" Eldridge said.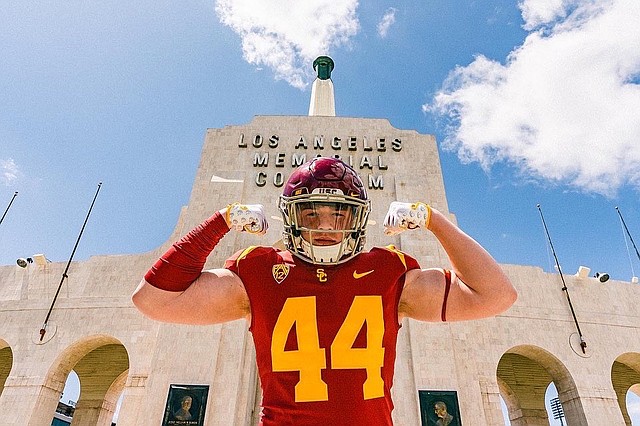 Recruited by USC as a tight end, Eldridge's road to a Power-5 scholarship is no fluke: He's toiled, wrought and earned it through a grueling training regimen.
That first started with giving up basketball and lacrosse his sophomore year to focus solely on football, wanting to keep his speed and weight up. It wasn't a tough choice.
"Football just came to me easiest," Eldridge said. "I've always loved hitting kids."
Since then, he's been training nonstop. The summer before his junior year, Eldridge joined Ford Sports Performance in Bellevue, where he drove to three times a week, four hours roundtrip — alone.
"It is quite the commitment but I know I needed to grind," Eldridge said. "I'm just trying to get as good as I can and as fast as I can before I get to USC."
He began training at Gritworks in Bellingham six days a week this summer. Eventually, he gained 20 pounds of muscle and burned most of his fat. At 6-foot-5, 235 pounds, he also has the speed to match.
Lynden Christian's first-year head coach, Greg Terpstra, began timing players in the 40-yard dash during preseason training this summer. No one was getting to the 4.6 mark.
"Kade showed up and I thought, 'We'll see where Mr. USC clocks in at,'" Terpstra said. "He clocks in at 4.62 and I was like, 'No way. I must have pressed the button wrong.'"
Terpstra asked Eldridge if he wanted to try again, so he lined up again and ran a 4.60. 
"I could tell he could tell I wasn't quite buying it," Terpstra said. "He texted me a couple days later [at Gritworks] with a video of him being laser-timed at 4.60."
Eldridge isn't just a physical freak; he has the analytical skills to match.
Terpstra said Eldridge is constantly learning more and more about the game, analyzing film to see where and how he can improve. He grasps concepts, understands them on a deeper level, then conveys them to his teammates to help them improve as well.
A Swiss army knife, Eldridge has the skill, physicality and willingness to play nearly any position on the field, including on the line during the Lyncs' preseason jamboree versus powerhouses Lynden and Ferndale.
His primary positions for the Lyncs are running back and on the defensive line, though Terpstra said Eldridge has the ability to play any of the front-seven positions on defense. He's also turned into the team's punter, averaging 32.5 yards per punt through two games, according to Whatcom Preps.
"His value to the team, above and beyond physical attributes, is the fact he's the hardest worker," Terpstra said. "He's the most serious about his position. He wants to explore different positions and is open and adaptable to be used wherever he's needed. Whatever it takes to win, he's willing to do it."
Eldridge is also good with the underclassmen. He's tough to practice against because of his strength and explosiveness, and has to check himself a bit so he doesn't bury the other kids.
"If he has to blow through the line and get a tackle, he'll pick the kid up and set him to the side," Terpstra said.
He does not show the same mercy to opponents. Through the first two games of the season — both wins — Eldridge had 15 carries for 156 yards and three scores, at a county-leading 10.4 yards per carry, according to Whatcom Preps.
And that's during two blowout wins — 60-6 and 42-0 — where he was taken out early so backups could get playing time.
For now, Eldridge will continue breaking tackles and blowing up blockers, biding his time until he gets his chance to shine at the college football stage.
"It doesn't feel real. Just a small-town boy from LC going to LA to play football," Eldridge said. "It's so surreal. Honestly, it was always a dream of mine. It was hard for me to imagine. It is a dream come true."