Education
Pandemic's effects wane as WWU returns
Campus and classrooms fully open; masking, COVID boosters optional
September 21, 2022 at 5:55 a.m.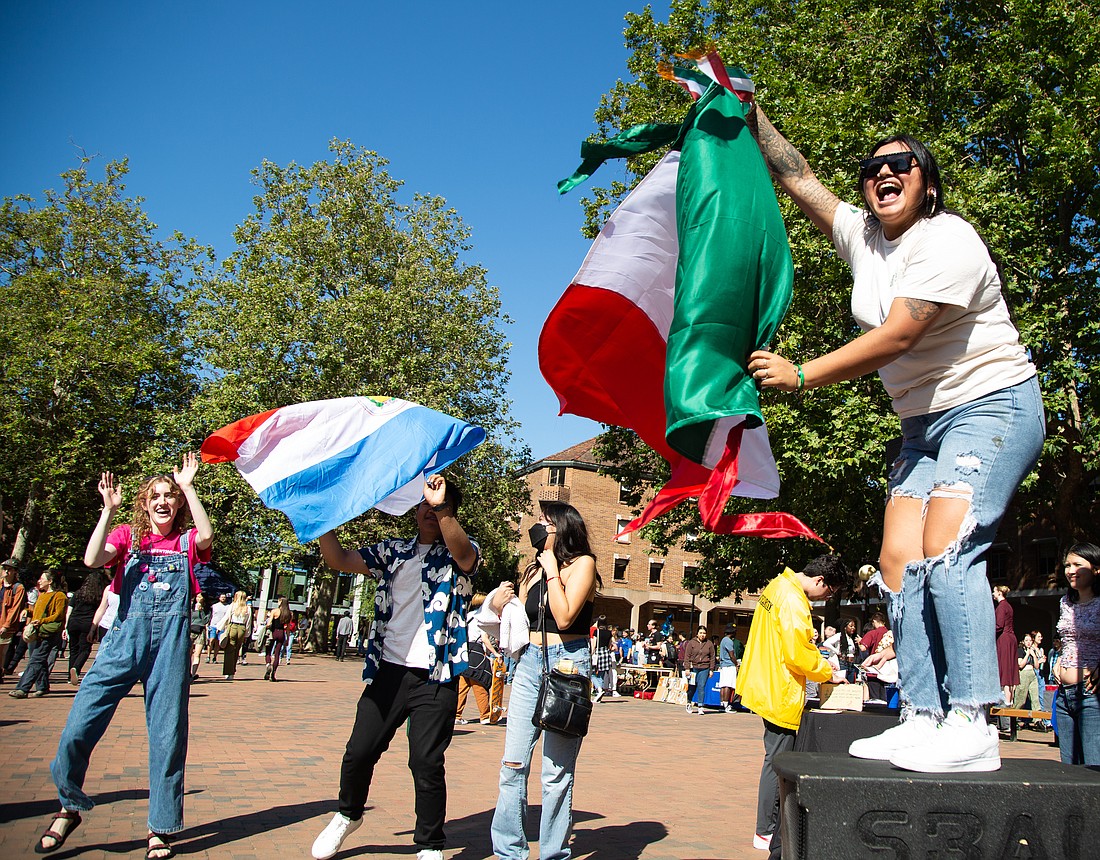 ---
---
Western Washington University students, faculty and staff began fall quarter Wednesday as close to "normal" as anyone has seen in years, with "early signs of recovering enrollment" and more in-person classes after multiple quarters of online learning.  
Upcoming events 
The first few weeks of the school year are always buzzing with events on campus and around Bellingham to introduce and welcome back new and returning students. This year is no exception.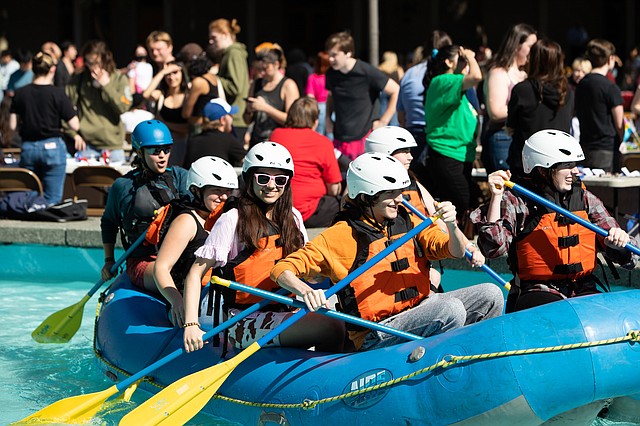 Western Associated Students will be hosting welcome booths for newcomers at the flag pavilion on the south side of campus at 11 a.m. on Wednesday, Thursday and Friday. 
Associated Students will also host a movie night on the lawn in front of the Communications Hall, screening "Everything Everywhere All at Once," at 8 p.m. Wednesday.  
The Downtown Parking Lot Party, formerly known as Paint Bellingham Blue, will host festivities on Saturday, Sept. 24 at 1129 N. State St., in the parking lot across the alley from Depot Market Square. The party starts at 10 a.m. during the Bellingham Farmers Market, and goes until 7 p.m. After the parking lot party, students and family are encouraged to catch a live concert at the Blue Room downtown, an all-ages live music venue.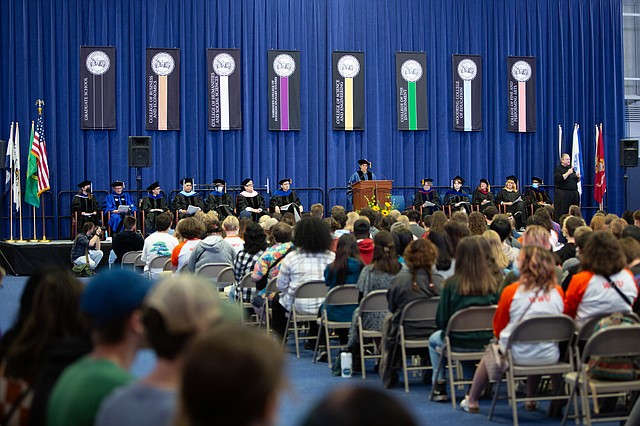 COVID-19 policies on campus 
In an effort to safely bring life back to campus, Western is mandating all students submit either proof of being fully vaccinated against COVID-19, or an approved vaccine exemption. According to an email sent out by the university to all students and employees on Sept. 9, Western specified it only requires students to have one dose of the Johnson & Johnson vaccine, or two doses of the Pfizer or Moderna vaccines.  
Western is not currently requiring booster shots against COVID-19, but insists it is "strongly encouraged." 
Wearing a mask on campus or in classrooms is also, "encouraged but not required on Western's campus," according to the statement issued by the college. Mask requirements are still in effect in health care environments, such as the Student Health Center and the Counseling and Wellness Center.  
Gianna Ginsburg, a senior communications major, went on campus Tuesday to scope out the info fair and go to the ever-popular poster sale in the Viking Union. Ginsburg said she wasn't prepared for the crowd of students trying to get the perfect room décor.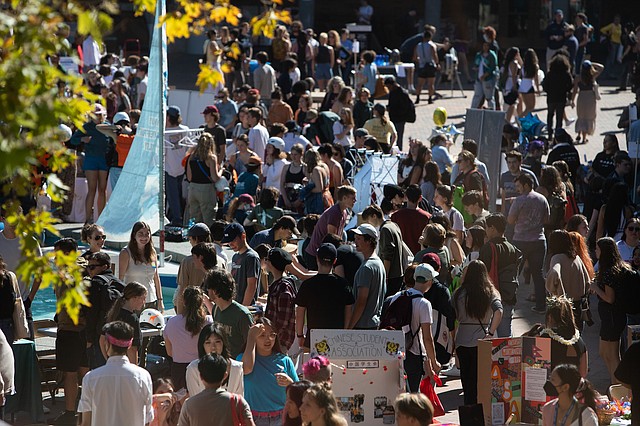 "It was so packed in there. I was sweating, it was so hot," Ginsburg said. "Obviously, no one had a mask on because no one really does that anymore, but I walked in and was like, 'If I saw me doing this a year ago, I would be mind-blown.'" 
According to statistics provided by the university, 97.2% of students and 97.5% of employees at Western have received their first full dose of vaccinations against COVID-19. Those statistics are from April 4, the last time Western was at a full capacity of 13,223 students. The employee vaccination rates are an estimate of the roughly 2,400 employees on campus, according to the university. 
Those with vaccine exemptions granted by the university are no longer required to conduct mandatory weekly testing as they were in spring quarter. The university said the policy to not require testing for unvaccinated students, as well as the masking policy, is subject to change based on local transmission in Whatcom County.  
Current vaccination rates for the fall quarter have not been released by the university, but all new students without a vaccine exemption must be compliant with the requirement prior to attending in-person activities by the start of the quarter on Wednesday. 
Enrollment  
Enrollment at Western has dropped throughout the two years of majority-online pandemic learning. According to enrollment statistics provided by Western's Office of Institutional Effectiveness, an all-time high of 13,577 undergraduates were enrolled at the university in spring 2019.  
By spring 2021, that number had dropped by more than 1,000 students, down to 12,306 undergraduates. While enrollment won't be considered official until the first week of October, there are some early signs of recovering enrollment, said John Thompson, Western assistant director of the Office of University Communications.  
"After two years of smaller cohorts entering Western, the fall 2022 cohort of new first-year students is on track to be comparable to our largest classes in the years just before the pandemic," Thompson said in an email. "Overall enrollment will continue to be smaller, while the smaller classes of the last two years progress through their studies. The new batch of first-year students this fall is a wonderful sign for what is ahead for Western."
For Ginsburg, the stimulation and sense of community from in-person learning makes a massive difference in her college experience.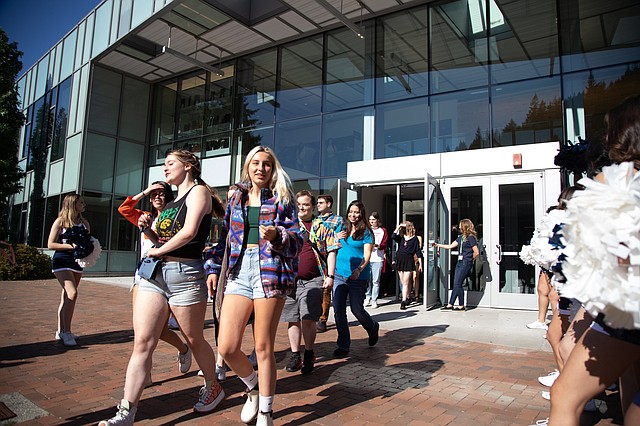 "For me, I guess, I learn better when I'm trying and I'm actually there on campus," Ginsburg said. "Whereas when it's literally rolling to the side of your bed and pressing a button, it's like, 'I don't care about this at all.'" 
For the 2022–23 school year, 96% of classes will involve face-to-face instruction, Thompson said. 
Western has not ruled out the possibility of moving classes online yet again if local case numbers rise.