Business Matters
Big Cascadia climate action ideas, meet small business
Asking the uncomfortable 'What's in it for me?' question
September 21, 2022 at 4:50 a.m.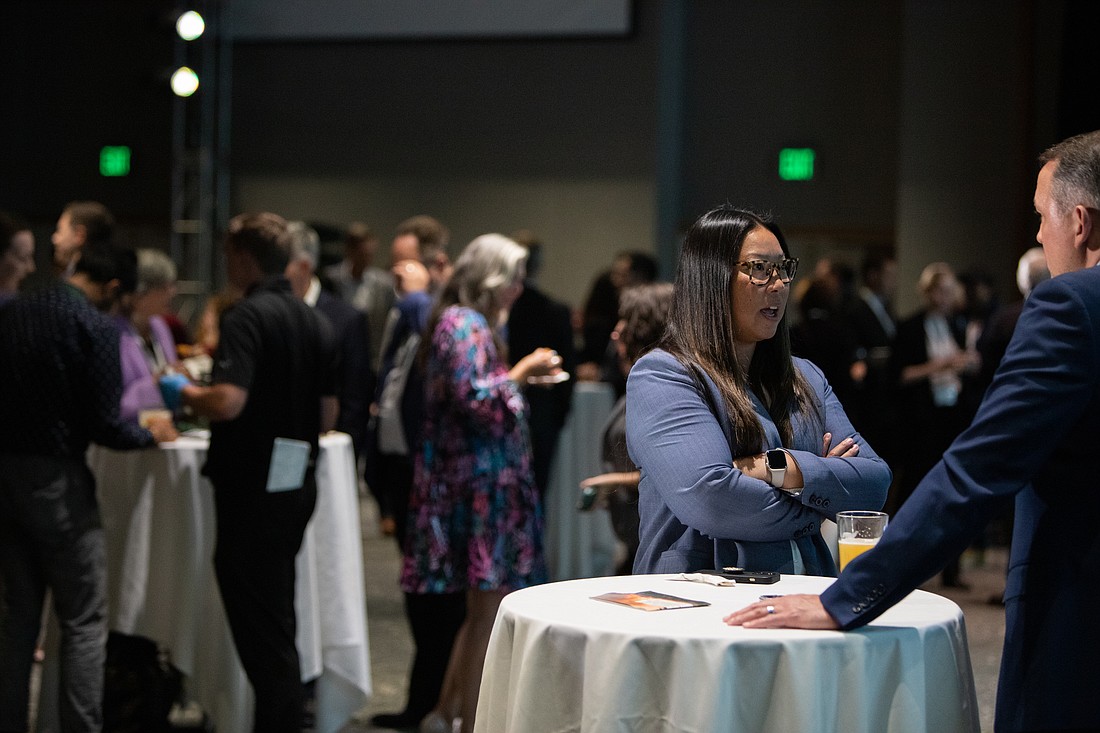 ---
---
Pave the way, or bulldoze it? Climate change affects every business and its workers, either directly or indirectly. But can every business — no matter how small — participate in the vaunted "public-private partnerships" that are being promoted as the recognition of climate risk turns into climate action?
The answer appears to be, perhaps not surprisingly: It depends. 
I kept that play-or-watch question in mind when I attended the high-profile Cascadia Innovation Corridor conference with the high-minded theme of "Cascadia 2050 Vision: Moving to Climate Action." Held in Blaine on Sept. 12 and 13, the event drew to Semiahmoo Resort a sold-out crowd of nearly 350 from government, corporations, academia and nonprofits. 
The Cascadia Innovation Corridor Initiative, for those unfamiliar, ties together the area anchored by Portland, Seattle and Vancouver, British Columbia, into what organizers call the Cascadia "mega-region." 
The Corridor's purpose is openly, as a conference news release stated, "increasing economic opportunity beyond what the cities and their surrounding regions could expect to achieve independently." The Corridor also has made becoming the world's first sustainable mega-region a key part of maintaining economic growth. 
The big ideas at the conference to help achieve that objective came in a detailed 35-page report developed by Boston Consulting Group. It methodically highlighted a number of recommendations where public-private partnerships could move the climate thermostat.
In transportation, for example, the report recommends increasing the number of electric vehicle charging stations in public and private parking lots, converting forestry and municipal waste into sustainable aviation fuel and scaling the use of medium- to heavy-duty electric-powered vehicles (think trucks).
And in buildings and energy, it suggests developing new programs to reward heat pump and other energy-efficient retrofits, promoting opt-in renewable energy programs by utilities and adding on-site renewable energy storage to industrial and commercial sites (think solar and batteries). 
These and more recommendations, 14 in all, came with details of who might collaborate and potential funding sources.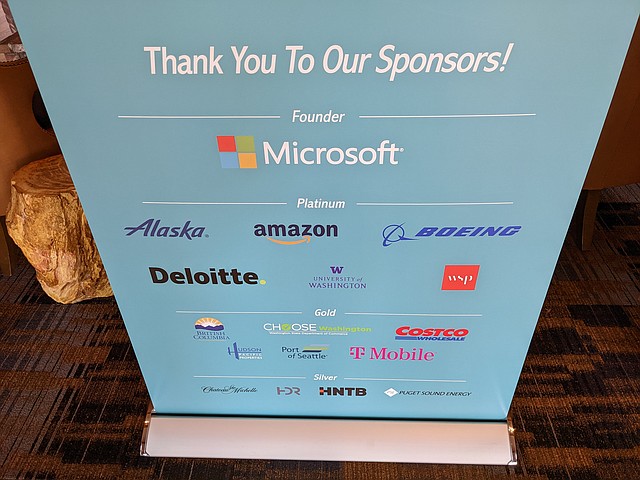 Pursuing these public-private partnerships might work for the large corporations in the region that were onstage or sponsoring the event — Microsoft, Amazon, Boeing, Costco and Alaska Airlines among them. It was less clear how the far greater number of small and medium-sized businesses in Northwest Washington, the location of the conference, and throughout Cascadia could help pave the way and not simply have to follow the bulldozers.
That was also on the mind of other attendees. In the "Corporate Climate Leaders" conference session, one participant asked via the conference app, "How can large companies like Boeing and Microsoft drive net zero transitions in your surrounding community and at smaller companies that may not have the resources or expertise to achieve net zero?" The question, and another like it, was not addressed by the speakers onstage from Boeing or Microsoft.
Still, the outsized prominence of the big players may be unavoidable because of their scale and the possible costs of climate risk to them. 
The large companies "have the most to gain and the most to lose from this," said Charlie Davis, managing director and partner for Boston Consulting Group, as we spoke after his report presentation. "They're obviously in the spotlight a lot more than maybe smaller or medium-size players." For the big firms, he said, having a plan to deal with climate risk is "kind of table stakes at this point."
Smaller businesses may leverage a potential upside, downstream. "You need to look at the demand that these large companies actually generate for these technologies that would help us get down that cost curve," said Bahar Alipou, project leader for BCG, ultimately making the emerging climate tech more affordable.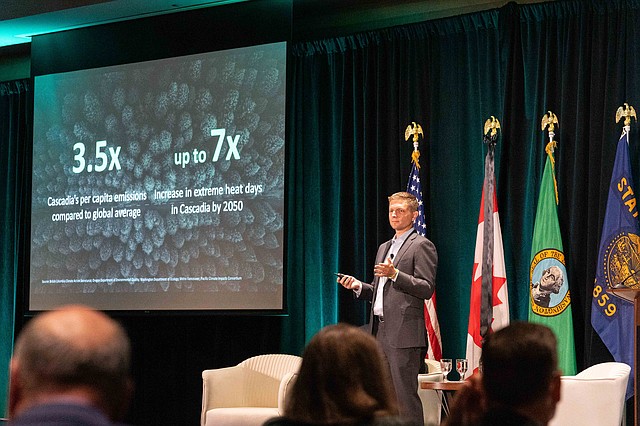 Yet short of being a climate tech startup seeking funding, opportunities for small businesses to drive these partnerships rather than follow are limited. 
One no-brainer directly tied to the recommendations "is the heat pump opportunity," said Sean Mathewson, also a BCG managing director and partner. "That is one that really does have pocketbook effects immediately." 
While upfront capital is required for a retrofit, "even if you're a smaller business, that's an opportunity to really change your income statement in a positive way and hopefully avail yourself of some of the programs that would encourage that transition over time," he said.
It also helps address the inevitable what's-in-it-for-me question smaller businesses with limited resources will have about taking some climate actions. When I pressed on that, Mathewson had an immediate response.
"More customers," he said. "If customers, as we highlighted, are going to be attracted to companies that are highlighting sustainability and are thinking ahead, that's going to create opportunity for retailers."
Rachel Smith, president and CEO of the Seattle Metropolitan Chamber of Commerce and a member of the Corridor steering committee, pointed to the longer-term financial incentive for smaller businesses to take action as a "shared benefit."  
"At the end of the day we know that climate is going to have billions of dollars of impact and that's going to hit everybody," she said. Smith said it can be helpful for chambers of commerce, such as those in Bellingham, Burlington and Ferndale, "to grab this report and read it." Then, to share it with businesses, no matter what their size.
"It is always a critical role for chambers to be that connective tissue between the business community and government and that regulatory environment," she said. "So I encourage my fellow chambers to be that connective tissue when it comes to climate, because we're all in this together."
People
After three years at the helm, Ferndale Chamber of Commerce Executive Director Anya Milton stepped down Sept. 14 to take a position in higher education. Megan Juenemann has been hired as interim director through the end of the year while a new executive is selected.
Places & things
Mystery Thrift opened its new Bellingham location on Sept. 3 at 1215 Commercial St. downtown. The thrift store began with a Ferndale shop at 1920 Main St. that remains open. The "mystery" part apparently includes a changing word that, when spoken, provides a discount. 
(For the latest Places & Things, check here throughout the week.)
Frank Catalano's column appears Wednesdays. Email: frankcatalano@cascadiadaily.com; Twitter @FrankCatalano.