Cross Country
Squalicum boys XC loaded for a repeat
Defending state champs return 5 state placers
September 20, 2022 at 5:00 a.m.
|
Updated September 20, 2022 at 2:31 p.m.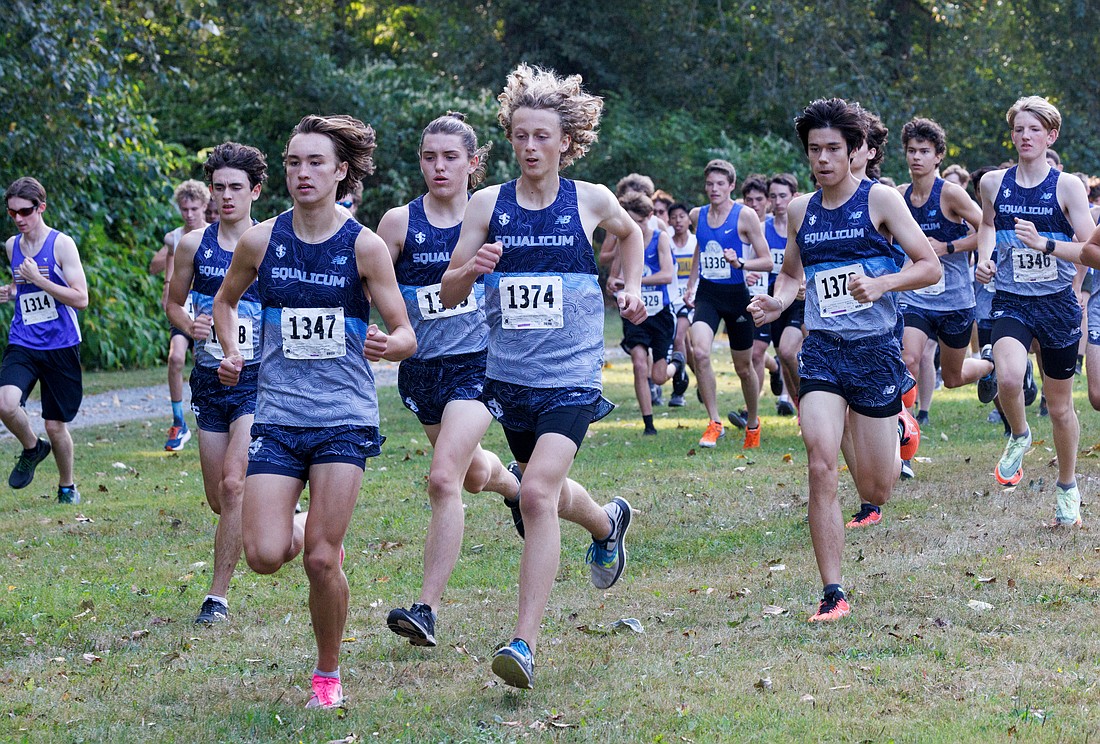 ---
---
As runners looped back around toward the finish line to begin their second and final lap of the 2A boys state cross country championships in Pasco in November 2021, pandemonium ensued.
Squalicum's sixth-year coach Erin Hoopes remembers the moment well.
"They were all right there with each other," Hoopes said. "Once they came through the second time, everyone was screaming. We were screaming. The Selah parents were right next to us screaming."
When the dust finally settled and all the Storm runners had crossed the finish line, assistant coach Jami Hoeger, a math teacher at Squalicum, began crunching numbers in her head.
"She said, 'I'm pretty sure,'" Hoopes recalled.
Hoeger was referring to Squalicum's chances of winning the state title. Hoopes and her coaching staff decided not to say anything to the Storm's athletes. 
It wasn't until the stadium announcer called out Selah, with its 99 points, as second-place finishers to Squalicum's 77 points, that Storm runners, coaches, family members and fans erupted in cheer.
"Still kind of surreal to talk about," Hoopes said. "'Is this really happening? Is this for real?'"
It was Squalicum boys' first state championship in program history — and a moment Hoopes said she'll never forget. It was a magical season, one she hopes they can replicate once more.
"The pandemic brought us all very close because most people didn't have a lot to do or look forward to," Hoopes said. "We trained the days we were allowed to and the team grew close. The boys kept getting faster, things kept happening and we kept looking better and better."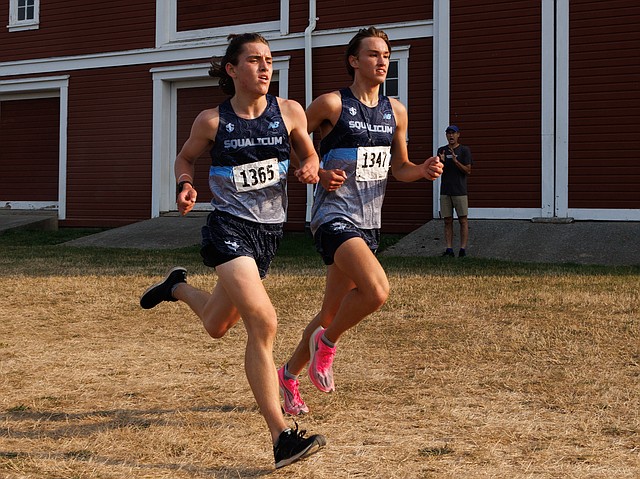 Now, as the fall 2022 season approaches, the Storm are primed to make a run at a repeat. They bring back five of their seven varsity runners from a year ago — including their top three athletes.
Gone are seniors Benjamin Latta, who placed 24th, and Noah Mason, who was 153rd.
But back are a quartet of juniors who all placed top 31 at state: Owen Voigt (19th), Tyler Nielsen (20th), Evan Rush (23rd) and Chase Bartlett (31st). Also returning is senior Gabriel Salomon, who placed 46th.
"They really love the sport of cross country," Hoopes said. "They really listen to [assistant] coach Chris Fredlund. They listen during workouts and work together really well. They're really close. You don't always get to see that."
Keenan Gray, owner of cross country and track and field website The Runner WA, who is one of the top high school running analysts in the state, said the Storm have the talent to win back-to-back state titles.
"I think with the amount of talent they have coming back and only losing two guys, particularly their sophomore-now-junior group, that will play a big role for them in this upcoming season," Gray said. "Nielsen and Voigt had really good springs."
Gray expects to see Voigt, Nielsen and Rush all vie for top-10 individual finishes at the state meet this fall. All three are currently top-13 in the state for returning times, and with Bartlett, they have four runners in the top 20.
"Erin knows how to prepare her teams," Gray said. "Bellingham [High School] is up there, too. It boils down to what Bellingham provides. Will Giesen had a really good spring for them. I can't see why those two teams don't go 1-2 at state next season."
With the Storm losing only two seniors, they don't have much reloading to do. Hoopes said there are three key newcomers who will vie for those two remaining spots: senior Wesley Sluys and sophomores Ty Hoffman and Pedro Bojorquez.
"We've worked at building the program," Hoopes said.
The buy-in level is already there for this team, as well, she said. The team recently spent a week at a cross-country camp in White Pass, Washington. The entire team follows what's going on at the college and national levels, and they all were gung-ho about the World Athletic Championships in Eugene, Oregon in July.
The goal now is to get back to the state meet. Hoopes and her team are attempting to recreate the magic of last season. The Storm plan to attend all the same invites as last year, replicate the same workout regimen and put the same amount of effort into everything.
"Excited for another real season," Hoopes said. "You don't take it for granted anymore. This is a chance to see which athletes really want it and which will develop. We get to have more team dinners and team bonding. I always look forward to the Nike Twilight Meet in Marysville. The kids always have a blast. We're just excited to have another season together."
A previous version of this story misspelled The Runner WA owner Keenan Gray's name. The story was updated to reflect this change on Sept. 20 at 2:31 p.m. The Cascadia Daily News regrets the error.