Prep
Unbeaten squads, rivalry matches and an NFL stage dot weekly roundup
Ferndale plays at Lumen Field while rest of county prepares for league matchups
September 19, 2022 at 3:02 p.m.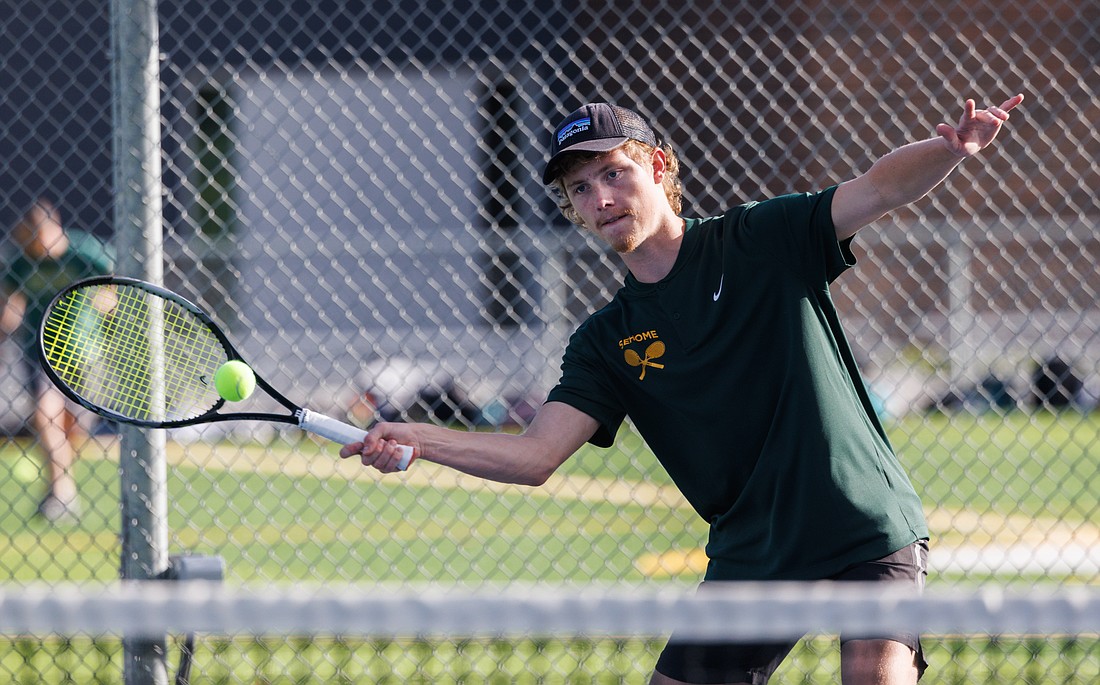 ---
---
Ferndale football got the opportunity to play in an NFL stadium, Meridian and Nooksack Valley volleyball both remain unbeaten and Sehome boys tennis stayed undefeated after drubbing a previously-unbeaten Bellingham squad in an electric week of prep sports.
Here are some of the top performances from around the county last week.
Prep
Volleyball
Meridian remains unbeaten after picking up two more wins. On Sept. 14, the Trojans completed a 3-1 victory over Squalicum, 25-15, 25-22, 25-27, 27-25.
Emry Claeys smashed 29 kills and four aces, while Avery Neal added 17 digs, Rylan Bernardy finished with 12 digs and Hayden Claeys had a team-high 40 assists.
The Trojans kept rolling Sept. 16, sweeping Granite Falls on the road, 25-3, 25-11, 25-13.
Meridian (4-0) combined for 21 aces and hit .354 as a team. Emry Claeys had 27 kills in 36 attempts, hitting a super-efficient .694. Rainn Hull scorched eight aces and Neal added five. Hayden Claeys chipped in 30 assists.
Nooksack Valley (3-0) also remains undefeated following a sweep of Class 2A Sehome on the road Sept. 15.
Sehome, which drops to 1-2 overall with the loss, was led by senior Samantha Valett's seven kills and two aces. Freshman Hayden Niewiadomski contributed four kills, one ace and one block, while senior Zoey Soden added points with three blocks.
"The team fought through a challenging match from an incredibly offensive and talented Nooksack team," Sehome coach Clayton Sin said. "I am proud of our drive and determination to compete on every point. We are hungry to return to the gym and continue working towards our goals and growth."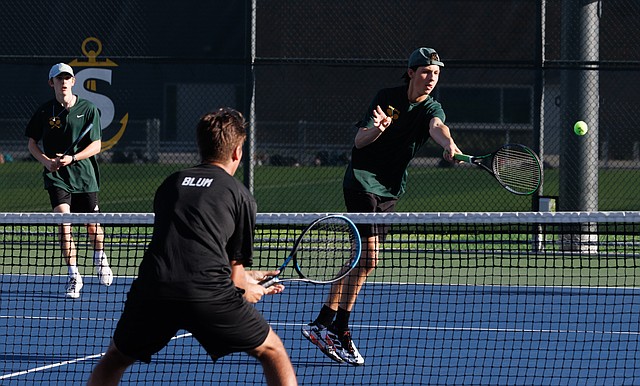 Boys tennis
Sehome swept all three doubles matches and three of four singles matches to claim a 6-1 victory at home against crosstown rival Bellingham on Friday.
"Fans from both schools enjoyed exciting doubles contests with aggressive net play and poaching," Sehome coach Tom Sloane said.
Bellingham's lone victory came when senior Nate Hadley fought out a 1-6, 7-5, 10-4 victory over Sehome freshman Justin Barras in fourth singles.
"Our team has been playing and practicing well, and we will continue to try to improve in stroke mechanics, strategic thinking and mental toughness like we always do," Bellingham coach Steve Chronister said.
Girls soccer
Sehome (3-0-1) remains unbeaten following a 3-0 shutout of Squalicum on Sept. 15. Bellingham took its first loss of the season, 2-1, at the hands of Sehome, Sept. 13, after reeling off three-straight wins to start the year.
Lynden (2-1-1) has won two in a row after defeating rival Lynden Christian 1-0 on Sept. 15.
Football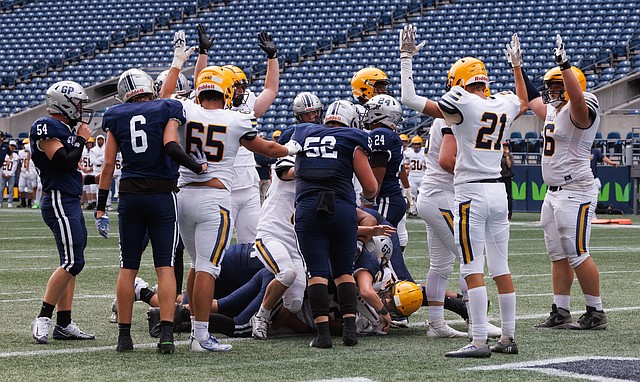 Ferndale had the highlight last week, playing in one of eight high school games at the Seattle Seahawks' Lumen Field, Sept. 16–17.
Unfortunately, the Golden Eagles were matched up against Class 4A's second-ranked Glacier Peak and took a 42-14 defeat to the tough Grizzlies.
The biggest local game was Lynden and Squalicum at Civic Stadium — the Lions the defending state champs and the Storm coming off a state semifinal appearance. Friday, it was all Lynden as the Lions romped to a 41-13 victory.
Meridian racked up 453 rushing yards, led by junior Joshtyn Elmer's 134 yards on 10 carries, en route to a 50-13 victory over King's Way Christian Friday, according to Whatcom Preps.
Blaine had another rough outing, outgaining Vashon Island but ultimately taking a 17-6 loss Friday. Victor Gervol led Blaine with nine tackles, two sacks and a forced fumble, according to Whatcom Preps.
Cross country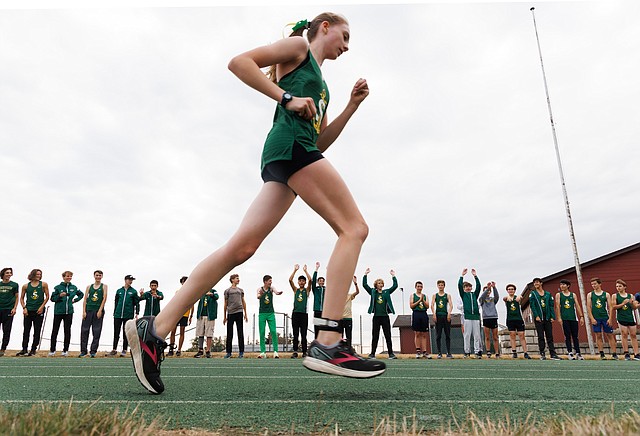 Sehome boys placed third at the 12-team Fort Steilacoom Invite Saturday, led by senior Zach Munson's second-place finish in 15:09.0, eight seconds behind the winner, Cruize Corvin of Lakes.
Skyler Gillham placed 12th in a time of 6:18.2, Sabastien Vahid was 26th in 16:50.0 and Nick Gargano was 34th in 17:13.4.
The defending state champion Mariner girls placed eighth, led by senior Evelyn Buetow's 25th-place finish in 20:03.8. Marcella Leita was 29th and Kaia Szymczak was 31st.
The defending state champion Squalicum boys won a three-team meet versus Sedro-Woolley and Ferndale Sept. 14.
The Storm claimed the top four spots, with Evan Rush taking first (16:27.3), Chase Bartlett finishing second (16:39), Tyler Nielsen in third (16:48.6) and Owen Voight coming in fourth (17:13.6).
WWU
Men's soccer
The No. 23 nationally ranked Western Vikings battled Point Loma Nazarene University to a scoreless draw at home Saturday.
Western (4-0-3) now begins its 12-match conference schedule, starting on the road at Saint Martin's, Sept. 22.
Women's soccer
The Vikings scored three goals for the second-straight match, including a pair in the second half, to defeat No. 19 nationally ranked Western Oregon 3-2 on the road Saturday.
Payton Neal (40'), sophomore Ashley Nguyen (49') and freshman Claire Potter (77') all scored to lift the Vikings to victory.
Volleyball
The No. 9 nationally ranked Vikings completed a 3-0 sweep (25-16, 25-21, 25-20) over visiting Simon Fraser in front of a packed Carver Gym Friday.
The Vikings have now won 59 of the last 60 matches on WECU Court in Carver Gym dating back to 2017.
Football standings — Sept. 19
Wesco 3A North
| Football | League | Overall |
| --- | --- | --- |
| Team | W-L | W-L |
| Arlington | 2-0 | 3-0 |
| Stanwood | 2-0 | 2-0 |
| Ferndale | 1-0 | 1-2 |
| Marysville-Pilchuck | 1-1 | 2-1 |
| Mount Vernon | 0-1 | 0-3 |
| Marysville-Getchell | 0-2 | 0-3 |
| Oak Harbor | 0-2 | 0-3 |
2A Northwest Conference
| Football | League | Overall |
| --- | --- | --- |
| Team | W-L | W-L |
| Anacortes | 1-0 | 3-0 |
| Lynden | 1-0 | 3-0 |
| Burlington-Edison | 1-0 | 2-1 |
| Sedro-Woolley | 1-0 | 3-0 |
| Squalicum | 0-1 | 1-2 |
| Lakewood | 0-1 | 1-2 |
| Archbishop Murphy | 0-1 | 0-2 |
| Sehome | 0-1 | 2-1 |
1A Northwest Conference
| Football | League | Overall |
| --- | --- | --- |
| Team | W-L | W-L |
| Lynden Christian | 0-0 | 3-0 |
| Nooksack Valley | 0-0 | 3-0 |
| Meridian | 0-0 | 2-1 |
| Mount Baker | 0-0 | 1-2 |
| Blaine | 0-0 | 0-3 |
Independent
| Football | League | Overall |
| --- | --- | --- |
| Team | W-L | W-L |
| Bellingham | N/A | 2-1 |