Football
Ferndale frazzled by 4A power Glacier Peak at Lumen Field
Golden Eagles outmatched on both sides of the ball by Grizzlies
September 17, 2022 at 5:58 p.m.
|
Updated September 19, 2022 at 11:52 a.m.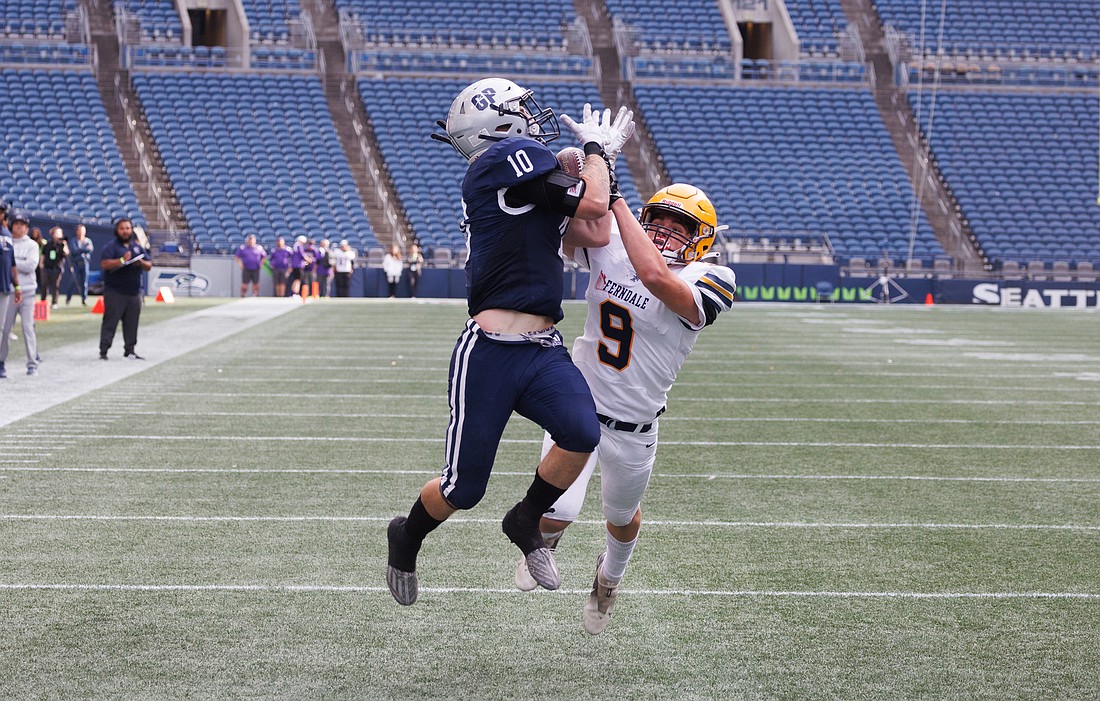 ---
---
SEATTLE — Glacier Peak's 55-yard run down the sideline on the opening play of the game perfectly summed up what Ferndale should expect during a cross-classification showdown at Lumen Field Saturday afternoon.
The Class 3A Golden Eagles were outclassed by Class 4A's second-ranked Grizzlies in all phases of the game, taking a 42-14 loss in front of a raucous crowd.
It was all part of a New Jersey-based youth sports software company, Playbook Sports, which organized eight high school football games at the Seattle Seahawks' stadium Friday and Saturday. Those included O'Dea, Rainier Beach, Garfield, Seattle Prep, Evergreen of Seattle, Sammamish, Steilacoom, Orting, Tenino, Klahowya, Glacier Peak, Ferndale, North Kitsap, Port Angeles, Hazen and Juanita.
For Ferndale, taking on one of the top teams in the state provided a learning experience, if anything.
"We know where we've got to get to to be a postseason team," Ferndale coach Jamie Plenkovich said. "We're going to learn some things from this film. They're a very good football team and created some matchup problems for us."
Nothing was more glaring than Glacier Peak's potent passing attack as senior quarterback River Lien connected on six passing touchdowns, five of them to senior wideout Trey Leckner.
As Lien and Leckner tore apart Ferndale's defense with surgical precision, the Golden Eagles' offense sputtered for large parts of the game, pulling within a score in the second quarter, though they would get no closer.
Ferndale's offense was held to 205 total yards, 94 passing and 111 rushing, often running into a wall of Glacier Peak defensive linemen for a loss or no gain.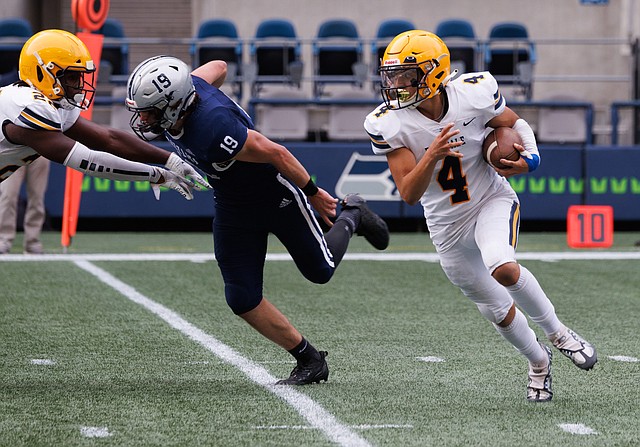 The highlight of Ferndale's offense was backup quarterback Bishop Ootsey — taking over for an injured Conner Walcker — connecting with a wide-open Zach Nielsen for a 51-yard touchdown strike in the second quarter to bring Ferndale within seven points (14-7).
"[Nielsen] is capable of making some big plays," Plenkovich said. "[I] give Bishop credit coming in after Conner got hurt and putting a dime out there for Zach. I thought it was overthrown when he threw it, but he did a good job on that play."
Glacier Peak responded with Lien hitting Leckner on touchdown passes on back-to-back drives, from 63 and 13 yards out.
The Golden Eagles punched back by driving the length of the field before senior tailback Isaiah Carlson blasted through for a 1-yard touchdown run to make it 28-14 with 1:15 left before the break.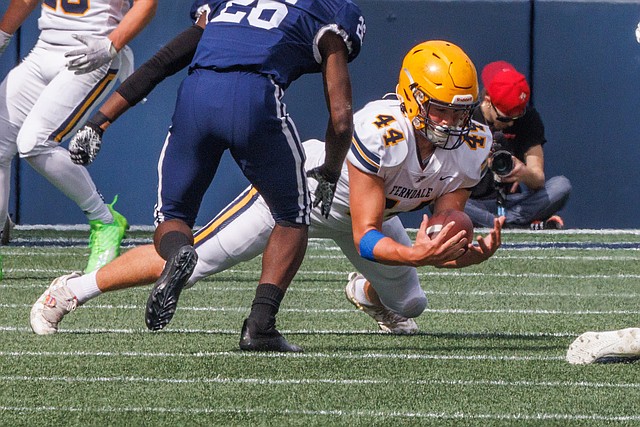 But, once again, Lien found Leckner on a 59-yard touchdown pass to put the Grizzlies back in full control with a 35-14 advantage at the break. 
Ferndale found some life midway through the third quarter after botching a punt return that gave Glacier Peak the ball on the Golden Eagles' 19-yard line. That set up Damien Toney's interception in the end zone to prevent another score, bringing the ball out to Ferndale's own 15.
Ferndale was unable to capitalize, eventually punting, when Lien got his sixth passing TD on a 14-yard score to Ryan King to close out the scoring on the day late in the third quarter. The fourth quarter was played mostly by backups on both sides.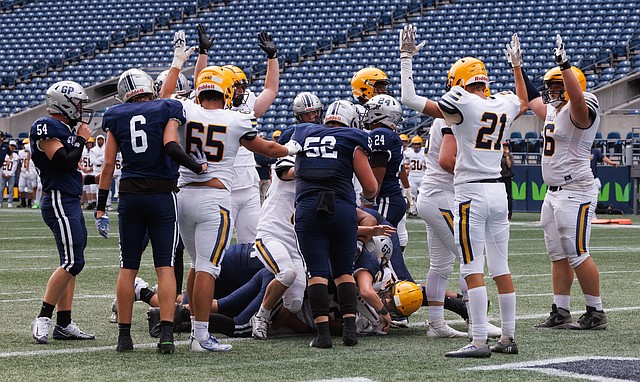 Senior lineman Jake Mason was on fire defensively for the Golden Eagles, racking up three sacks, including a sack-fumble in the first quarter that was recovered by his twin brother Jordan Mason. Toney and Aydin OTool each nabbed an interception.
"Our turnover game was pretty good today; we had quite a few turnovers," Jake Mason said. "Our defensive line played pretty well."
Offensively, Ootsey was 4 for 8 passing for 94 yards and a touchdown. Nielsen had one catch for 51 yards and a score. Carlson led the rushing attack with 10 touches for 25 yards and a score. Talan Bungard carried the ball eight times for 52 yards.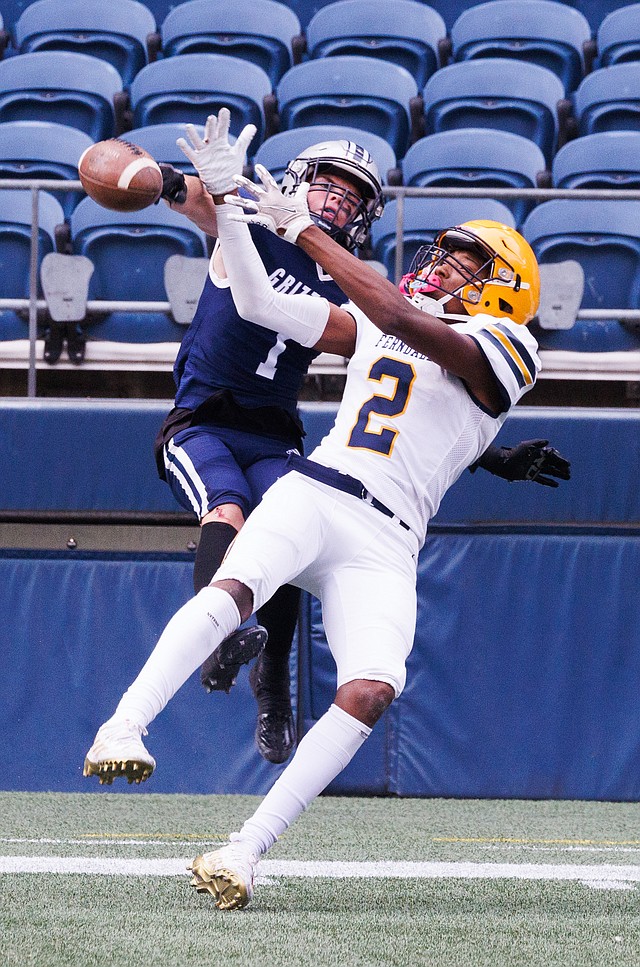 Ferndale (1-2, 1-0 Wesco 3A) continues league play when it hosts Wesco 3A foe Arlington at 6 p.m. on Saturday, Sept. 24. 
"We've got to get back to work," Plenkovich said. "We've got to learn some things from this on film and bring our lunch pails and hard hats next week and get ready for league games. Nothing's been taken from us yet, so we've got to come to work next week."
BOX SCORE
Grizzlies 42, Golden Eagles 14
Ferndale  0 14 0 0 — 14
Glacier Peak 14 21 7 0 — 42
Scoring Summary
GP — River Lien 5-yard pass to Trey Leckner, 4:16 1Q
GP — Lien 70-yard pass to Leckner, :52 1Q
FER — Bishop Ootsey 51-yard pass to Zach Nielsen, 2Q
GP — Lien 63-yard pass to Leckner, 9:19 2Q
GP — Lien 13-yard pass to Leckner, 4:17 2Q
FER — Isaiah Carlson 1-yard run, 1:15 2Q
GP — Lien 59-yard pass to Leckner, :42 2Q
GP — Lien 14-yard pass to Ryan King, :32 3Q
Team Stats FER GP
Rushing Yards 111 N/A
Passing Yards 94 N/A
Total Yards    205 N/A
Comp-Att-Int 4-9-1 N/A
Individual Stats
Rushing: FER — Talan Bungard 8/52 — Isaiah Carlson 10/25/TD Aydin OTool 1/21; Bishop Ootsey 3/16
Passing: FER — Bishop Ootsey 4-8/94; Conner Walcker 0-1/0
Receiving: FER — Zach Nielsen 1/51/TD; Damien Toney 2/31; Aydin OTool 12
A previous version of this story misspelled Ferndale player Zach Nielsen's name in a photo caption. The story was updated to reflect this change on Sept. 19 at 11:52 a.m. The Cascadia Daily News regrets the error.