Restaurants
Review: The Bistro at Shuksan
Welcome to your new everything spot
September 16, 2022 at 5:00 a.m.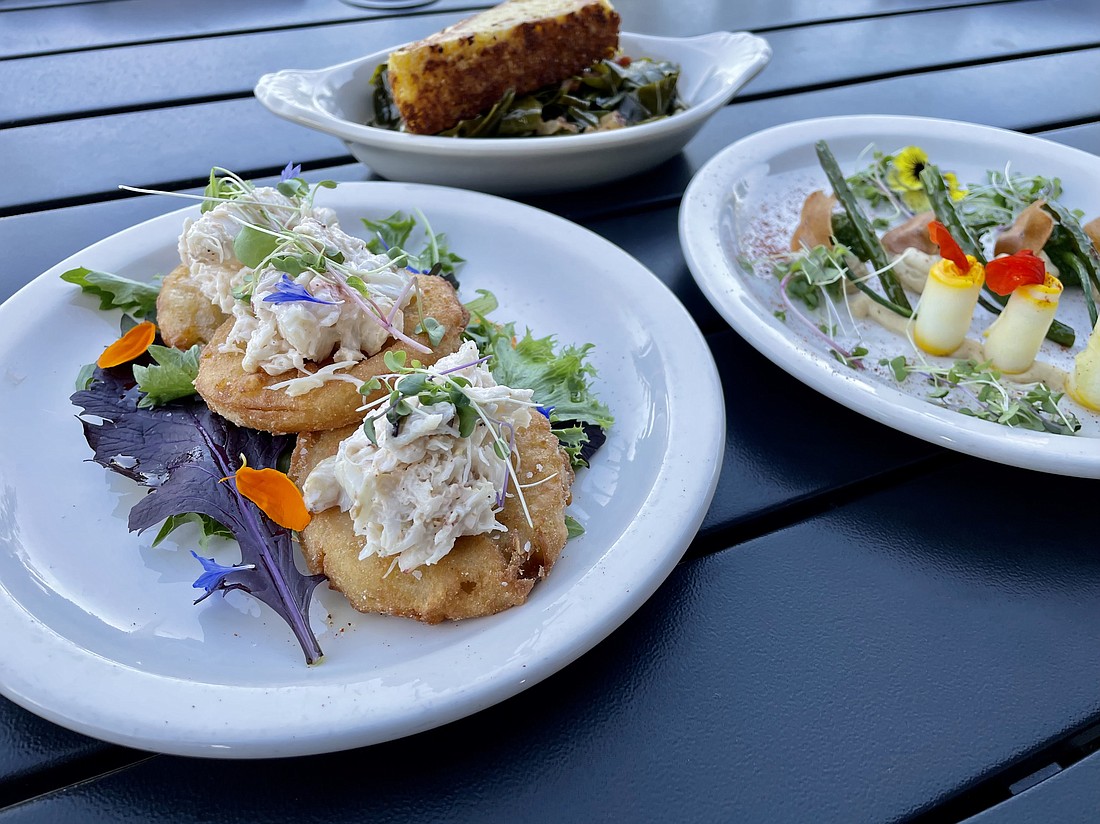 ---
---
Golf courses are not my scene, but I'll go pretty much anywhere for excellent food, and that's exactly what The Bistro at Shuksan delivers. Situated overlooking Shuksan Golf Course on Axton Road, The Bistro serves up Southern-inspired farm-to-table fare that's well worth the short drive from Bellingham.  
Originally from New Orleans, Chef Matthew Boudousquie settled in Bellingham in large part because of our region's agriculture. As a result, The Bistro's menu reads like a love letter to the dishes that defined Boudousquie's childhood and to the farmers who make our part of the country a farm-to-fork haven.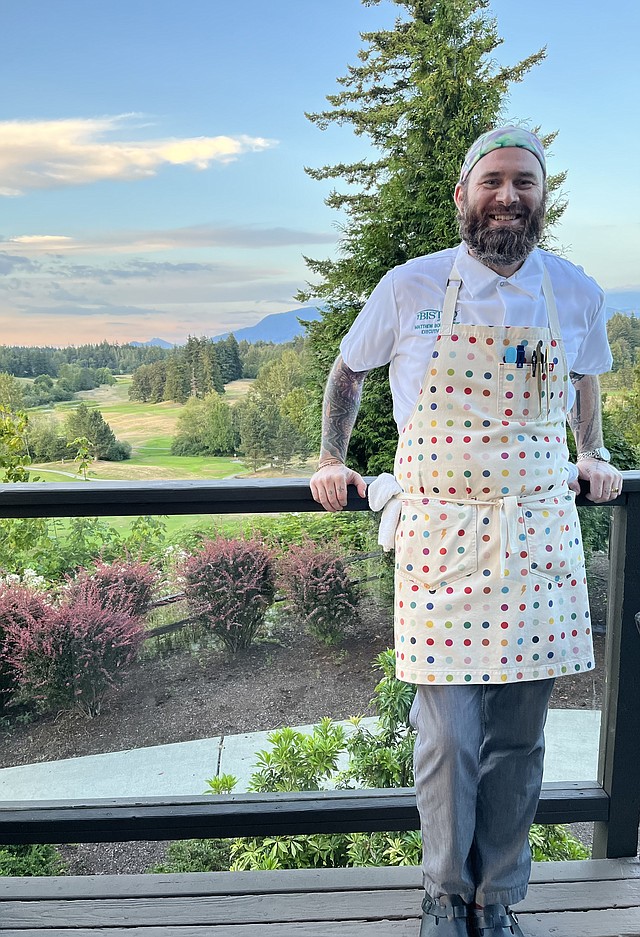 Start with the collard greens and cornbread ($13), which are aquaponically grown at the nearby FarmWild — which can be visited Saturday, Sept. 17 as part of Sustainable Connections' Whatcom County Farm Tour — and cooked using Asian techniques Boudousquie picked up in New Orleans. The greens are cooked in duck and prosciutto fat but kept rare so you can taste the flavor of the vegetable. The result is a mouthwatering starter or side that should be mandatory with every meal. Plus, the greens come paired with a generous wedge of cornbread that's crispy on the outside and soft on the inside. 
Some dishes are more imaginative than others. The day my boyfriend and I visited, The Bistro was serving a playful "Chips & Dip" special featuring garlic chips, chickpea tahini hummus, blistered Padron peppers, sautéed garlic scapes and rolled-up sweet pickled yellow squash, all served with microgreens and nasturtium petals. The pickled squash, almost too pretty to eat, was a highlight of the meal.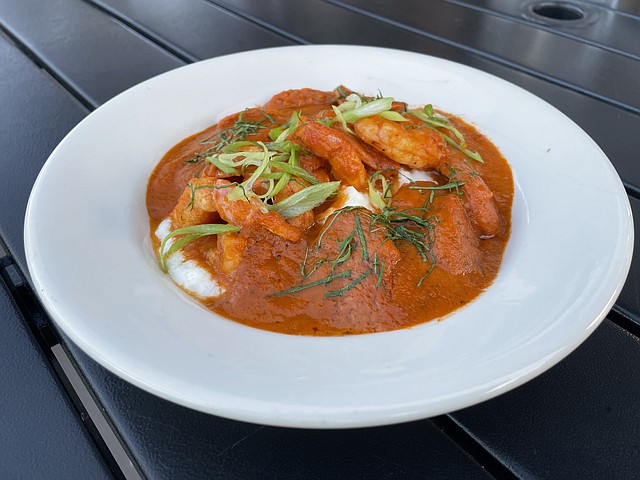 Another stand-out dish was the shrimp and grits ($23). As a girl from Kansas, I've never been a huge fan of shrimp (explain to me how they are not water aliens), but these had an incredible, mild flavor and texture and came served in a bed of soft, buttery grits. The sauce was flavorful, with just the right amount of kick. (Those afraid of Cajun spiciness have nothing to fear at The Bistro.) 
Shrimp-lovers will also enjoy the surf and turf po' boy ($19). The classic Louisiana sandwich is stuffed with fried shrimp and roast beef, along with shredded lettuce, tomatoes and pickles. Because some ingredients simply can't be replicated, the French bread is shipped in from New Orleans' Gambino's Bakery.
Gluten-free guests will be pleased to know that many of The Bistro's dishes are sans gluten, including fried favorites like the pommes frites ($7) and fried green tomatoes ($17). These items are breaded in brown rice flour, placed in a buttermilk soak, and then freeze-blasted so the coating sticks when it comes time to refry. The green tomatoes are topped with Dungeness crab and lovely edible flowers from Crow's Farm. The french fries are some of the best I've had in town.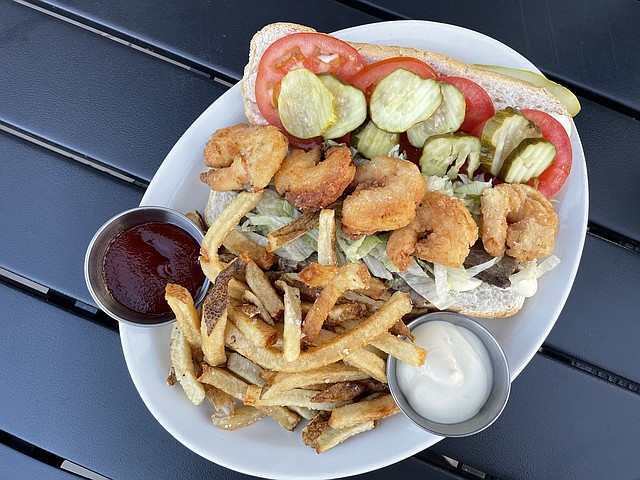 If you're not feeling like anything Southern, keep it classic and go with the Shuksan burger ($17). The beef comes from Painted Hills Beef in Oregon and is cooked to juicy perfection. It's served on a soft bun from Avenue Bread along with bacon, the typical fixings, and a secret "boss sauce." Though not the best burger in town, it safely makes my top five list. 
Despite high hopes, the gumbo ($15) didn't do much for me. I expect any kind of stew to pack a massive punch, but the flavors here felt muted, and despite the generous chunks of Andouille sausage and okra, the portion was somewhat small compared to the other dishes. It also lacked the dark-red color and depth I associate with gumbos. 
For drinks, I ordered a Pimms cup ($13) and my boyfriend ordered a Vieux Carré ($12). The Pimms cup was nothing to write home about, but it did come with a jumbo Sour Patch Kid on top and one of the best maraschino cherries I've ever tasted. So if you're like me and choose your cocktails based on whether they come with candy, I recommend it.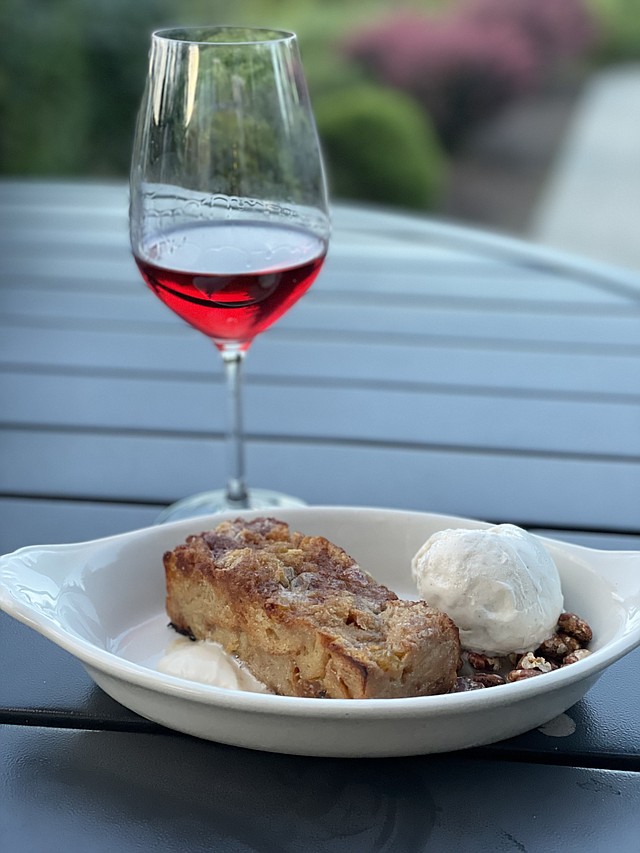 We also enjoyed a bottle of 2019 Pinot Gris from Kelley Fox Wines. The wine is dry and refreshing with notes of peach and berries, and looks and drinks more like a rosé than a pinot gris. 
We capped our meal with two desserts: an insanely delicious bourbon bread pudding served warm with candied pecans and vanilla ice cream, and a slice of triple chocolate cheesecake with a gluten-free graham cracker crust and caramel drizzle. All desserts come from Morgan Bachman at June Pie Pastries in Everson. (I don't know you, Morgan, but consider me a fan.)
One thing that makes The Bistro so special is the outdoor patio, which boasts an unparalleled glimpse of the Baker foothills and Koma Kulshan herself. The panoramic view isn't one you get in town, and couldn't be lovelier, especially on a temperate late summer evening. If the weather's not ideal, the indoor tables enjoy an almost equally delightful view.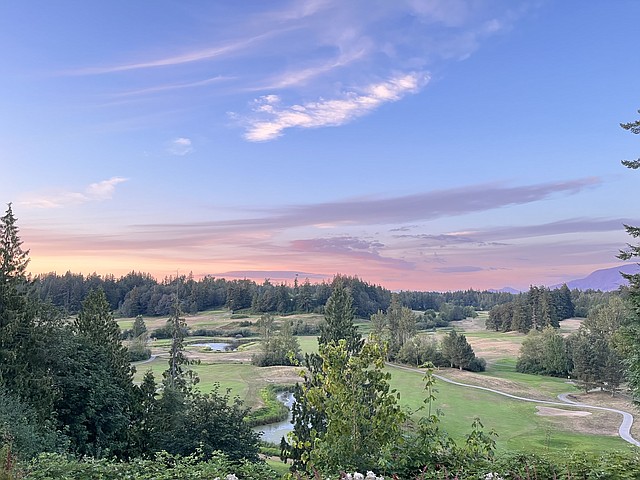 Whether you're planning a romantic date night, a girls' night out, or a business lunch, The Bistro is an excellent option. My boyfriend and I left feeling full and slap-happy. The drive home at sunset, with pastel colors streaking the sky, was the maraschino cherry on top. 
The Bistro recently shifted to its winter hours: Dinner is served from 4–8 p.m. Wednesday through Sunday, with live music on Thursday nights, and lunch is available all week from 12–4 p.m. at 1500 E. Axton Rd. The restaurant can get busy and is sometimes closed for events, so be sure to call ahead for reservations. Info: 360-398-8888 or shuksangolf.com.