Prep
Whatcom Preps' Tyler Anderson is county's stat junkie
Anderson is the de facto prep football historian for Whatcom
September 14, 2022 at 5:55 a.m.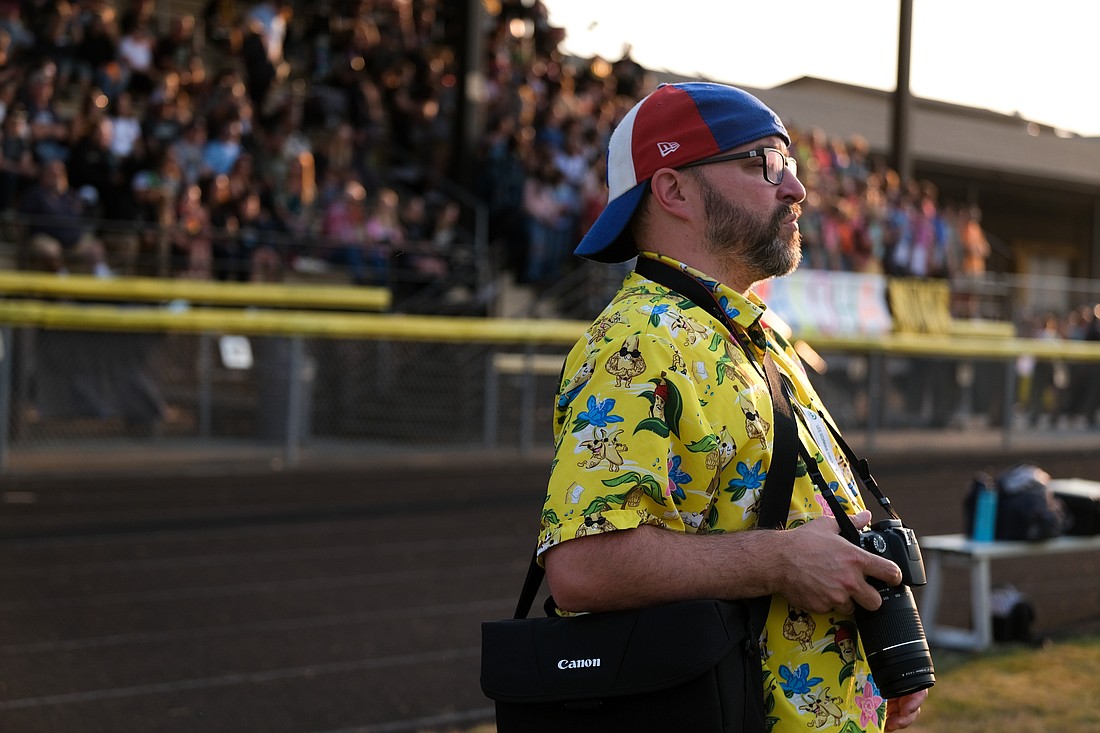 ---
---
It's 10 p.m. on a late-summer Friday night. Most normal people who aren't partying or out with friends are settling down for the evening. But Blaine resident Tyler Anderson is just getting started.
Anderson, 43, is owner of Whatcom Preps, a stats and game recap website for prep sports in Whatcom County. His main focus is football, and he has painstakingly compiled every offensive stat — and most defensive stats — for nearly every football game played by a county team since 1975.
There's nothing else like it in the state, and probably few in the entire country — and he does most of it by himself, for free.
Anderson's journey began 30 years ago as an eighth-grade ball boy for Mount Baker High School football in 1992. He began keeping stats on his own accord, typing them up on a Mac, until one day he handed them over to the Mountaineers' coach at the time, Duane Rilla.
Rilla then asked him to start keeping stats for every team in the league. By 1994, Anderson was keeping stats on every team in the county, and has continued every year since then.
"I got so attached to it," Anderson said. "There was something special about it."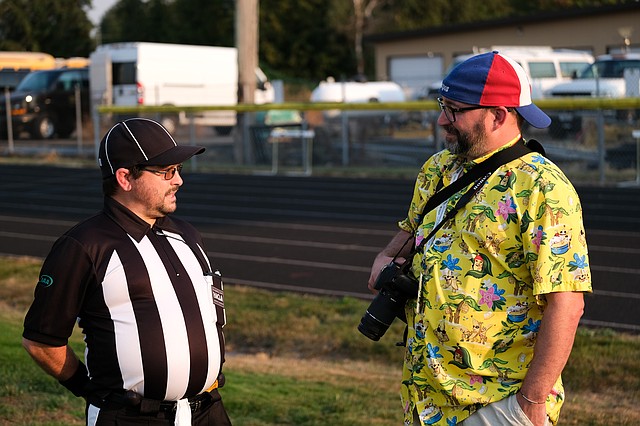 In the early 2000s, Anderson decided he wanted to have a complete football record book for the county. He spent almost every Saturday for the next 10 years poring over old newspaper articles on microfilm at Bellingham Public Library. He'd arrive at 10 a.m., stay until closing at 6 p.m. and stop at KFC on his way home. He was able to complete about three seasons per year.
He discovered box scores only went back to 1975, and when he was finally finished, there were only about 40 games over the last 45 years that were never reported.
So he went to the past coaches, who passed off old VHS tapes of game film so he could add to the record books. As of now, about 95% of football games in the county since 1975 have been accounted for. 
"I just love it," Anderson said. "I love the numbers. If I could do it without writing stories, it'd be easy-peasy. It's cool to accumulate stuff and compare eras. The kids love it."
Anderson started whatcomcountyfootball.com in 2014 to provide a place where people could view the stats. He began whatcompreps.com in March 2018 after The Bellingham Herald quit its daily prep coverage and parents began asking him to cover games.
Now, Anderson has become the de facto historian for Whatcom County football and the go-to source for statistics.
On a typical Friday night, Anderson will attend a big local football game and chart offensive stats and scoring plays in a notebook. He'll take a few photos, too, to go with the game recap he writes afterward.
After the game, he arrives at his house in Blaine around 10 p.m. and turns on his gaming desktop, which he bought not to play games but to handle his slew of tabs and Excel spreadsheets.
Next, he waits for all 10 local coaches to upload their film into Hudl, an online service that allows coaches to store, review and share game footage. Teams include game-planning information and strategy on their Hudl accounts, so Anderson had to build the trust of each coach.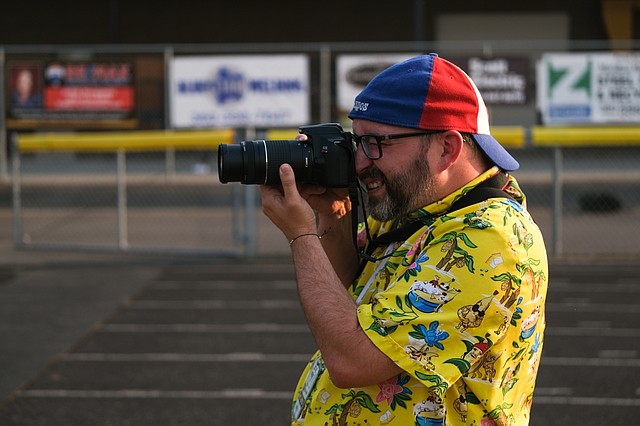 It first started with Blaine coach Jay Dodd, who offered Anderson access instead of having to manually send him the film after each game. 
"All the other coaches fell in suit," Anderson said. "Ferndale was the last one a couple years ago. Before, I had to have a rogue assistant coach send me an email after games."
Lynden football coach Blake VanDalen uses Anderson's stats to double-check his own. And the Lions gave Anderson their yearly Golden Lion award in 2021, given to a person who greatly contributes to the football program.
"He gives the kids a little bit of a feeling of what it'd be like to be in a college program," VanDalen said. "He talks about the kids like they're all-stars and superstars. Our kids cling to everything he says and look forward to his top-100 list. A lot of coaches rely on his stats. Our kids are really lucky to have him."
When Anderson logs in, he has film access for all 10 schools. He charts every play for every local team, including which player records each stat, starting with offense.
It can be difficult to see jersey numbers on film, but as the season goes on, he begins to learn their mannerisms, if a certain player wears a towel, or if they wear white or black socks — all to expedite the identification process.
He then goes back for a second viewing, this time tracking defensive and special teams' stats, which can be trickier.
Everyone tallies tackles differently, and Anderson isn't very lenient. If a player is the first one to hit a ball carrier on a tackle, they get credited for the tackle. If a player is second or third to hit the ball carrier, they get an assist.
"Tackles for loss, passes defended, sacks. Anything I can capture, I do," Anderson said.
After completing stats and box scores, then comes the writing — his least favorite part.
In all, it takes about three hours per game, and he typically has between seven and 10 games per week. He'll often go to sleep around 2–3 a.m. early Saturday after working a full day Friday, then be back at it around 8–9 a.m. By then, all game film is loaded on Hudl, and he'll spend his entire Saturday watching film.
All of his recaps and stats are usually up on his website by Sunday night. That includes a list of current stat leaders for the season and players of the week, followed by podcasts on Monday and Wednesday.
It leaves Anderson, who works full time at Totally Chocolate in Blaine, little free time, especially in the fall. He spends about 50–55 hours a week on Whatcom Preps, basically working two full-time jobs while only getting paid for one.
He does all this without coffee, it should be noted, and he constantly has to remind himself to eat or he'll forget. He keeps granola bars and almonds next to his computer as reminders.
"It's all about balance, but when you're passionate about something, it makes it a lot easier," Anderson said. "I just love watching the film. I don't dread it at all."
To top it off, he's in the process of selling his house and has a new girlfriend, Laura. He had a rare night off on Sept. 7 to take her to Seattle to watch "Hamilton."
"When I started dating Laura in March, I warned her — when football season happens, I'm kind of out of the loop," Anderson said. "She moved in with me, so it helps, and she's totally on board. She lets me do my thing."
Anderson is easy to spot at games: just scan the sidelines of a local football field for a short, stocky, middle-aged guy with a backward hat, glasses and a colorful shirt.
"The kids are starting to recognize, 'Oh, he's here, this must be an important game,'" said Anderson, who is shy and nervous to talk to new people. "I'm starting to get used to it. Because I'm in my element, it's not so bad."
He now gets all kinds of requests for stats. One Lynden football player who played in the mid-'90s messaged him explaining that he ran the ball one time in his career and wanted to show his son the box score. Anderson was able to track it down.
"I get emails all the time, 'What was my punting average in 1993?'" Anderson said. "One guy at the grocery store asked what his kid's ERA is. I'll go home, find it and email them."
Anderson is still seeking a way to make Whatcom Preps profitable and a full-time job. He got his business license in August 2021 and has had a few promotional deals with local businesses, but nothing long term. He totaled $1,500 in 2021, all from promotions, and used all of it to buy trophies for his end-of-season awards.
"I'm horrible at asking for money and afraid of talking to strangers," Anderson said.
Whatcompreps.com averages about 10,000–12,000 clicks per week during football season. On Sept. 3, the day after the first Friday night of football this season, he had 4,000 alone. The site averages about 1,000 clicks per day year-round. Anderson's biggest day was 19,000, during fan voting for the end-of-season awards.
He hopes to one day have the site fully supported by local businesses, so he can put 100% of his focus into it. Eventually, he wants every athlete to have their own stats page for every sport they participated in.
For now, he'll keep chugging along and doing what no one else has the time, wherewithal or determination to do.
"I'm a perfectionist," Anderson said. "I won't rest. I want [Whatcom Preps] to be the best it can be. I love Whatcom County sports so much. I just want to stay in Whatcom County and do what I do. I always say, 'Tonight's game is tomorrow's history.'"