Indigenous Affairs
Lummi-carved totem will travel to Pittsburgh for climate action
Carvers, local politicians attend send-off for totem
September 14, 2022 at 9:56 p.m.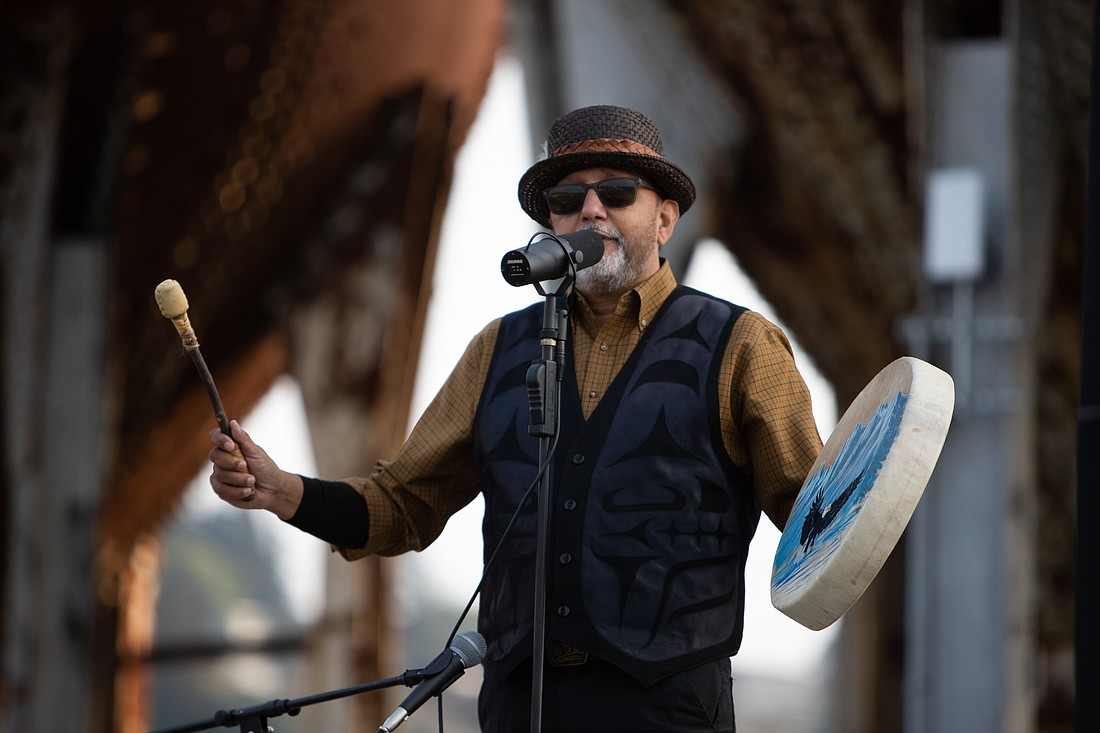 ---
---
Dozens of Whatcom County residents gathered for speeches, musical performances and prayer during a blessing ceremony for a totem pole carved by members of the Lummi House of Tears Carvers.
Carvers prepared the totem pole, named after late Chief Tsilixw, for a journey to Pittsburgh where it will be presented at a clean energy ministerial hosted by the U.S. Department of Energy in late September.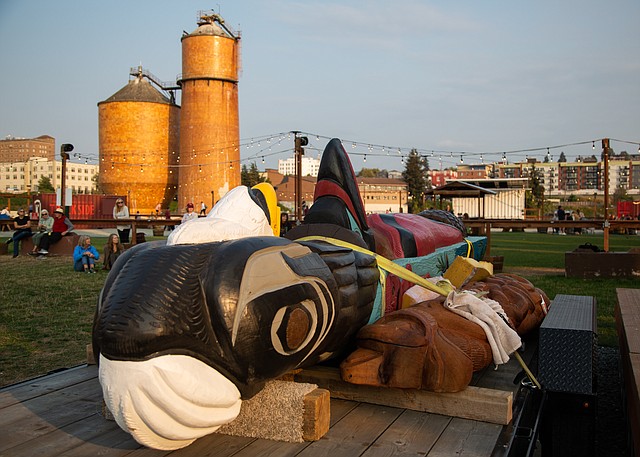 The totem, carvers hope, will serve as an anchor for public gatherings and conversations about clean energy use, salmon health, orcas and the removal of the Snake River dams. 
"These journeys aren't about us," said Doug James, one of the carvers. "It's about what we can do to make a difference for the children. It's about coming together with one heart and one mind, knowing that it's this generation that can make their voices heard. When we're long gone and dust, we should leave something behind for the little ones." 
The 14-foot totem pole will arrive in Pittsburgh on Sept. 19. At least 13 people will be accompanying the totem on its journey, including carvers Douglas and Siamel'wit James, as well as Lummi tribal member Freddie Lane. 
"This is not just a Pittsburgh fight," said Lane, whose Lummi name is Sul ka dub. "This is not just a Lummi or Standing Rock fight. This is all our fight." 
Sul ka dub said the carvers took an oath to protect the Earth as part of the Alliance of Earth, Sky and Water protectors, a Pacific Northwest-based group of climate justice and Indigenous groups, in 2020. 
During Wednesday's event, carvers, musicians, ministers and local political leaders gathered to bless the totem before it starts its journey. The event was led by Swil Kanim, a Lummi musician who performed and spoke during Wednesday's event. 
"The story pole carries the spirit of the people," Swil Kanim said. "We want the people of Pittsburgh to know our way of life can be shared." 
Speakers included members of the Bellingham City Council, several candidates in the 2022 midterm elections, members of the Whatcom County Council, Bellingham Mayor Seth Fleetwood, Ferndale Mayor Greg Hanson and County Executive Satpal Sidhu. 
"People believe the totem pole is sacred, but it's the gathering of the people around the totem — that's what really makes it sacred," wrote carver Jewell James. 
James was unable to attend the totem journey due to health issues, but was the lead carver of the totem. 
"Our journey is about bringing the people together around the totem pole so we can confront the fossil fuel industry," he continued, "and demand an energy transition that protects the land, air and water for future generations."
This is the second totem journey the House of Tears Carvers have led this summer. Though on separate journeys, both totems have called for more emphasis on environmental health and climate change. 
In closing, Doug James called for prayers for safe passage for the totem and those accompanying it. 
"Pray for the waters, pray for the birds, pray for those who don't have a voice," he said. "There's no distance prayer can't travel."