Business Matters
A coffee ecosystem grows again in the shadow of Starbucks
Tony's, Woods, Maniac and others thrive in northwest Washington
September 14, 2022 at 4:50 a.m.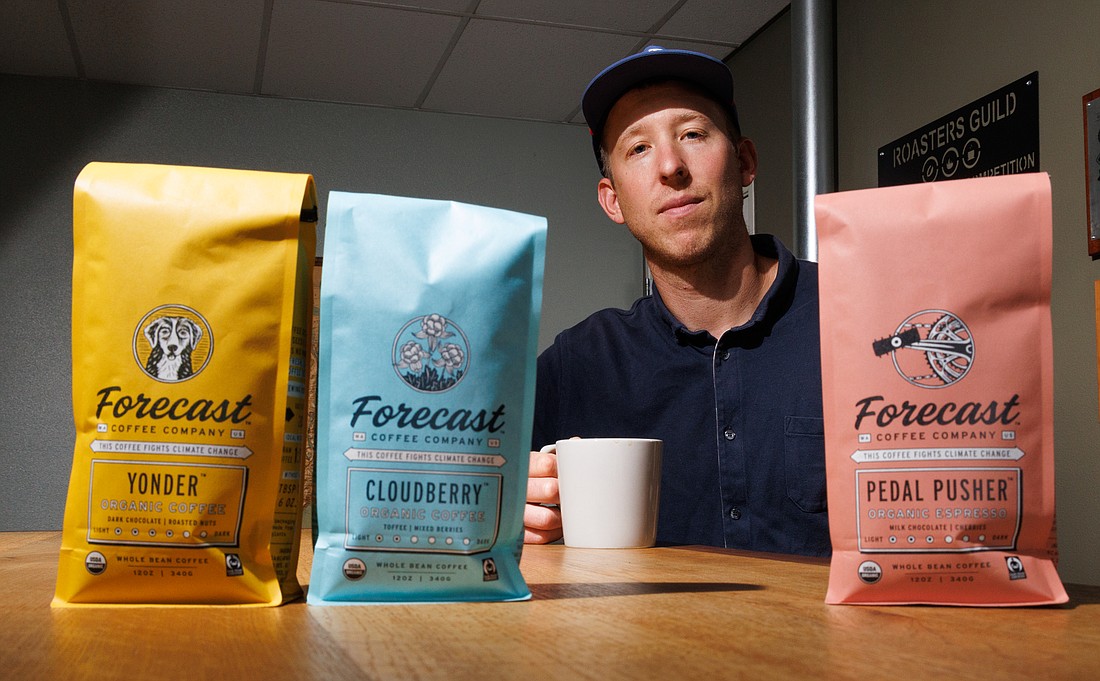 ---
---
An upbeat "Forecast." While Seattle-based Starbucks has towered over the nation's coffee experience for two generations, a separate ecosystem has grown in the giant's shadow in northwest Washington state. Grown, thrived and now is expanding again.
A number of established coffee roasters call this area home — so many, that several locals and even the sometimes suspicious denizens of NextDoor cheerfully shared favorites unique to the area. Prominent among them: Tony's Coffee (Bellingham), Woods Coffee (Lynden), Hammerhead Coffee Roasters (Ferndale), Fidalgo Coffee Roasters (Burlington) and Maniac Coffee Roasting (Bellingham). 
Yes, Starbucks is unavoidable. But that may be OK.
"Starbucks has really paved the way for smaller chains like ours to be successful by setting a global expectation for what a typical coffee experience should look like — a sort of baseline," said Ryan Spiker, director of brand and culture for Woods Coffee. "We then can work to exceed that expectation and push the boundaries of what's expected by our guests."
"Early on, they kind of dictated what coffee was in the Northwest," said David Yake, director of sales and sustainability for Tony's Coffee. "But there are so many roasters, they are not anymore."
Tony's should know. It was founded in 1971, the same year as Starbucks, operating out of an eponymous Fairhaven neighborhood cafe. In the five decades since, Tony's has grown to nearly 50 employees and roasts "right around a million pounds a year," Yake said. In 2021, specialty coffee trade publication Roast Magazine named Tony's as Macro Roaster of the Year, coinciding with the company's 50th anniversary.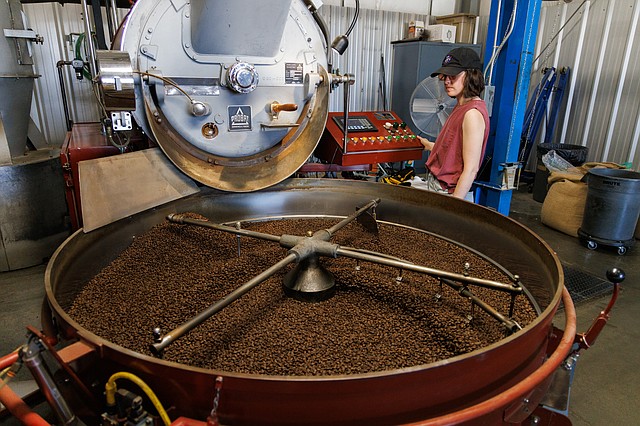 This year, Tony's shed the last vestiges of direct retail involvement and ended its partnership with the now-no-longer namesake Fairhaven coffee shop. 
"They still use our coffee" at the rebadged The Old Independent Coffeehouse, Yake said. "It's a very amicable relationship."
Tony's expansion, instead, has focused on sourcing and roasting. The latest is what Yake said is a "whole new brand," Forecast Coffee Company, that soft launches later this month. 
"It's all about sourcing coffee from farms that are using agroforestry," which Yake described as a very responsible way to grow coffee. 
The standalone organic brand — with blends named Cloudberry, Pedal Pusher, Yonder and Clouds Rest and a slogan on the bags, "This coffee fights climate change" — will have a separate identity and website. To start, Forecast will be available regionally in all Haggen grocery stores and PCC Community Markets, nationally in nearly 400 Sprouts Farmers Market locations and in the new Roam Coffee + Beer when it opens in downtown Bellingham. 
Woods Coffee, meanwhile, is focusing expansion on retail outlets. Woods celebrated its 20th anniversary this year. It now has 19 locations, primarily in Whatcom and Skagit but also in Snohomish and King counties.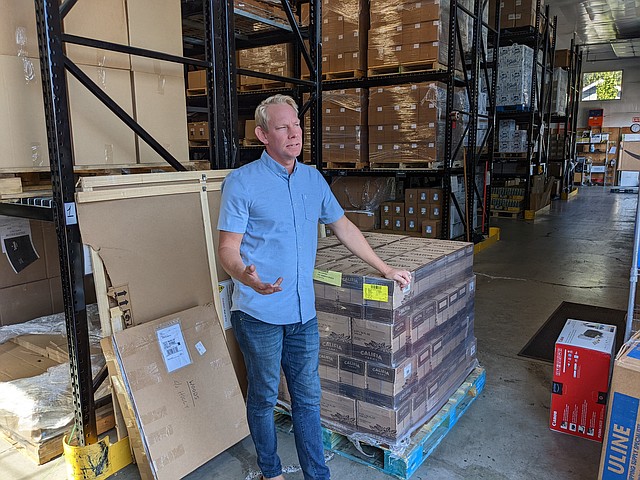 The emphasis on retail is what accounts for the "just under" 400 employees Spiker cites. Its annual roasting volume is about 275,000 pounds, not quite a third of Tony's. 
Spiker said the still-family-owned Woods hopes "to open roughly two-to-four new locations per year." Next up is a new drive-through, planned late in September, on Evergreen Way in Everett followed by another location at the Port of Everett near the naval base, next spring. 
"We are staying local to the Pacific Northwest for now, but we have feelers out in a few other states as well," Spiker said.
Part of what enables Woods' expansion is what business nerds might call vertical integration. Not only does Woods roast its own coffee (at its roastery in Bellingham), it makes all of its own pastries and sandwiches, warehouses everything itself and has a fleet of three delivery trucks by its unpretentious office-bakery-warehouse complex in Lynden.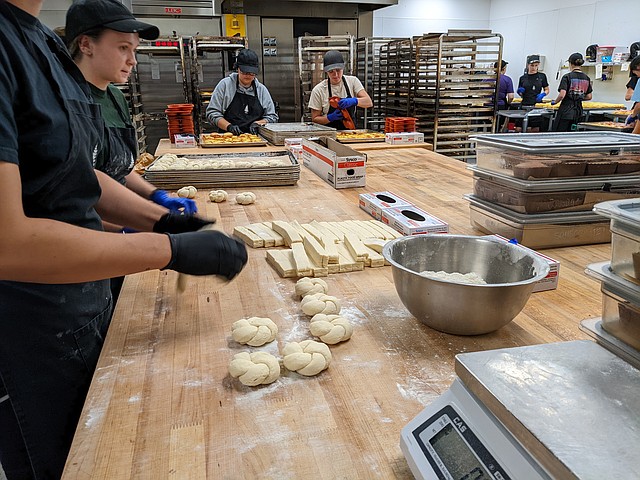 It wasn't always that way. Spiker said Woods brought all warehousing and distribution in house a few years ago. The objective was to "control the quality." That, in itself, can be a competitive advantage.
"In a lot of ways, the sheer scale of Starbucks makes it difficult for them to execute in some of the ways that smaller companies can," Spiker said. "This level of freshness is just not possible for Starbucks. Their products have to be able to travel long distances and need to be refrigerated/frozen."
The importance of quality control was echoed by Alexarc Mastema, co-owner of Maniac Coffee Roasting. Of the three operations, Maniac is the smallest both in terms of volume — roasting about 23,000 pounds of coffee a year out of a compact metal building in Bellingham — and staff. Mastema and his partner Teri Bryant are it. 
Maniac emerged a few years after the partners' first venture, the late Black Drop Coffeehouse, opened in 2002. 
"We really wanted to master third-wave coffee, and as we got nerdier about our products, we realized that roasting our own was one of the last lines in controlling our quality," Mastema said. So in 2006, they founded Maniac and eventually sold the Drop to its employees (Drop closed earlier this year).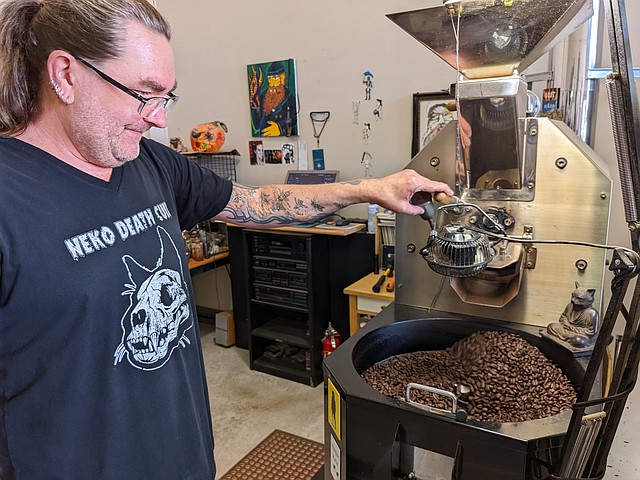 For his part, Mastema has no plans to open new roasteries. However, he does have a large new coffee roaster waiting to be installed, "since I'm still using the same lil' roaster when we opened forever ago." 
Yet Maniac's roasts get multiple raves on NextDoor and, candidly, from a business columnist who is at risk of addiction to its Bellinghamster breakfast blend. I purchased coffee from all three, and I like everything I've sampled (with the caveat that my tastes are equivalent to my thoughtful moods: dark, but not too dark).  
It's a respect for equals that local roasters echo.
"I have something to learn from everyone and something I'm doing better," Mastema said. "While Whatcom has some pretty big competition, I think most of us have found our niches."
Niches to fill a local ecosystem that — even with Starbucks casting its large shadow from the south — is thriving in its own shade-grown way.
Places & things
Bellewood Farms & Distillery has opened its U-pick season for 22 varieties of apples on 62 acres at 6140 Guide Meridian in Lynden. U-pick runs Wednesday to Sunday through Oct. 23. 
(For the latest Places & Things, check here throughout the week.)
Frank Catalano's column appears Wednesdays. Email: frankcatalano@cascadiadaily.com; Twitter @FrankCatalano.